Anti Fed Ed Warriors, are you like me and think that flowers are beautiful? Have you ever heard the comparison of people to roses throughout literature and/or Scriptures?
The images stirred in our minds are ones of joy, contentment, and peace. If you've smelled flowers, especially roses, you know their fragrances can be delightful.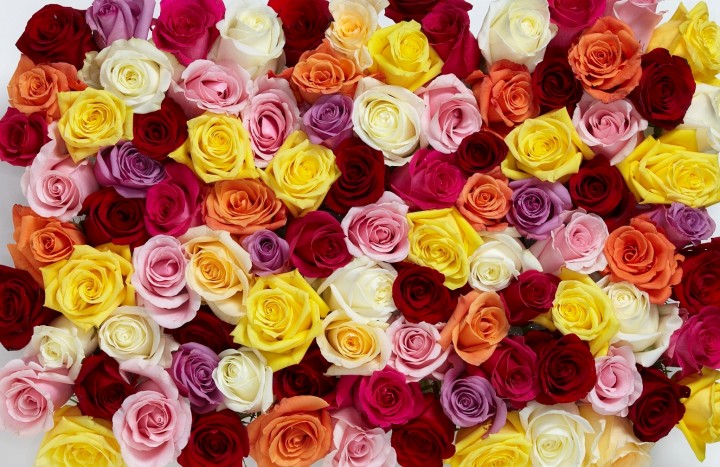 (photo as seen on FTD's website)
So, Warriors, imagine if a group took that beloved image and reworked it to fit social justice for children. What would that look like? What would be involved?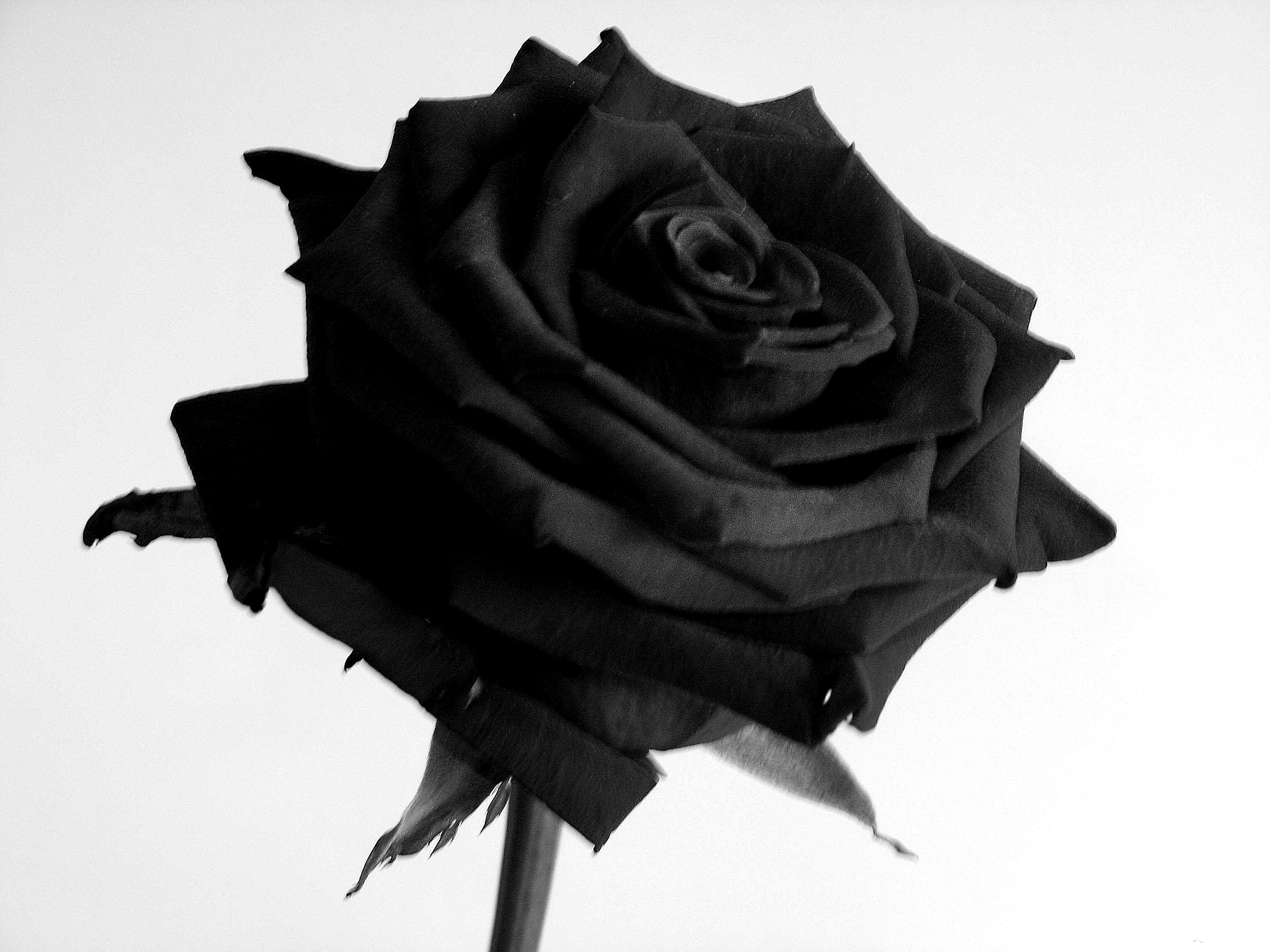 Meet the Black Rose Anarchist Federation's Summer Camp For Kids: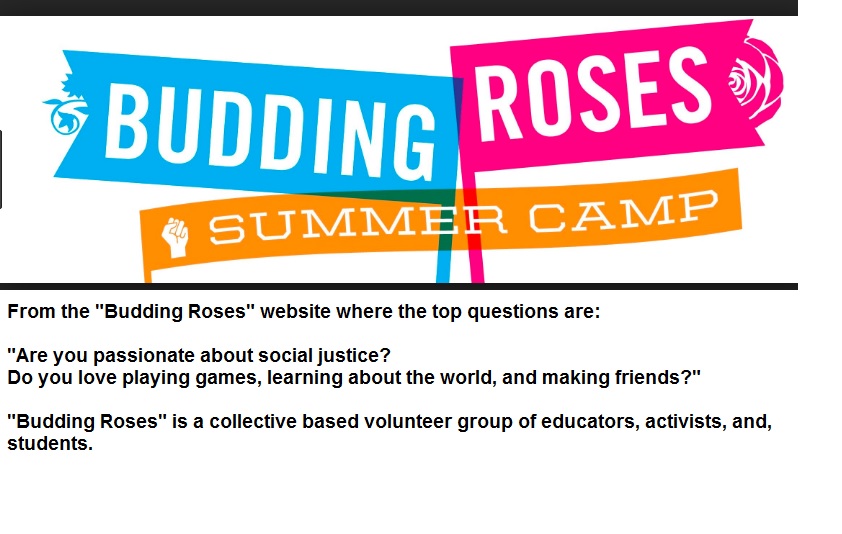 Warriors, look at what else is on the website: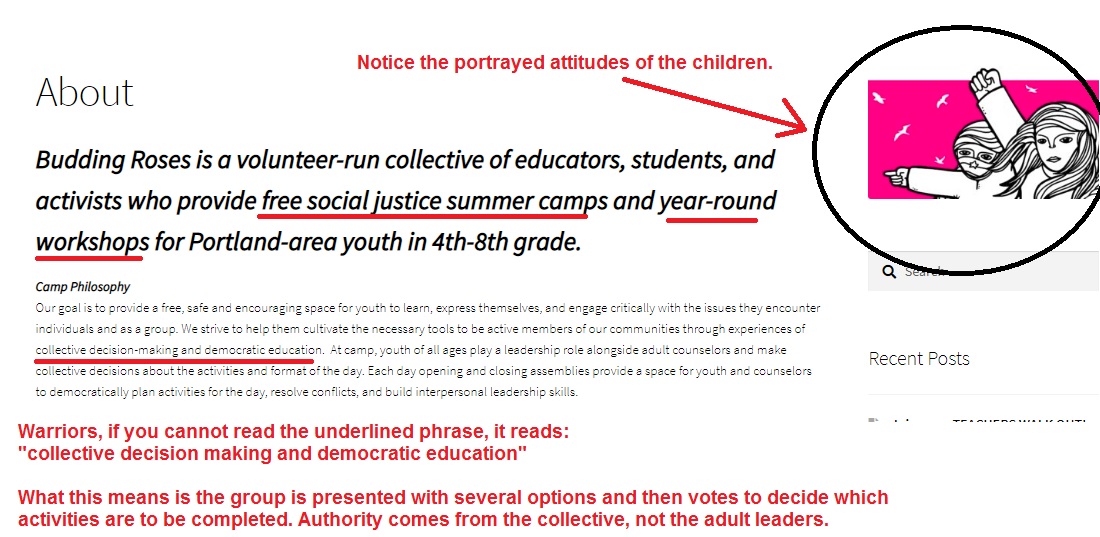 (Original source)
So where's the Black Rose Anarchist Federation (BRAF) ? In the funding. You'll find this on the "Budding Roses" About page near the bottom. Funds were raised on-line.
However, Warriors, look at what's on the BRAF's website: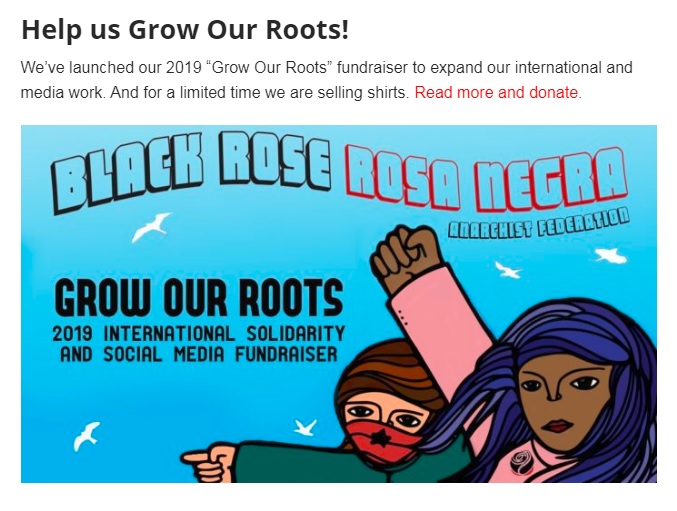 Do you see the difference color makes as far as the visual of the children? Do you see the attitudes portrayed?
Here's a quote from their "About Us" section, "Black Rose Anarchist Federation / Federación Anarquista Rosa Negra (BRRN) is a political organization with locals in over a dozen cities sharing a common set of politics and creating a shared strategic vision of how to build "popular power" in workplaces, neighborhoods, schools and all sectors of society towards the goal of libertarian socialism."
(*Note: if you're not sure what a 'libertarian socialist' is, read the 1997 definition from the Anarchist's Library. It's pretty eye-opening stuff.)
If you're like me and have never heard of this political party, here's a visual I found from Reddit which shows you about where their beliefs and practices will be: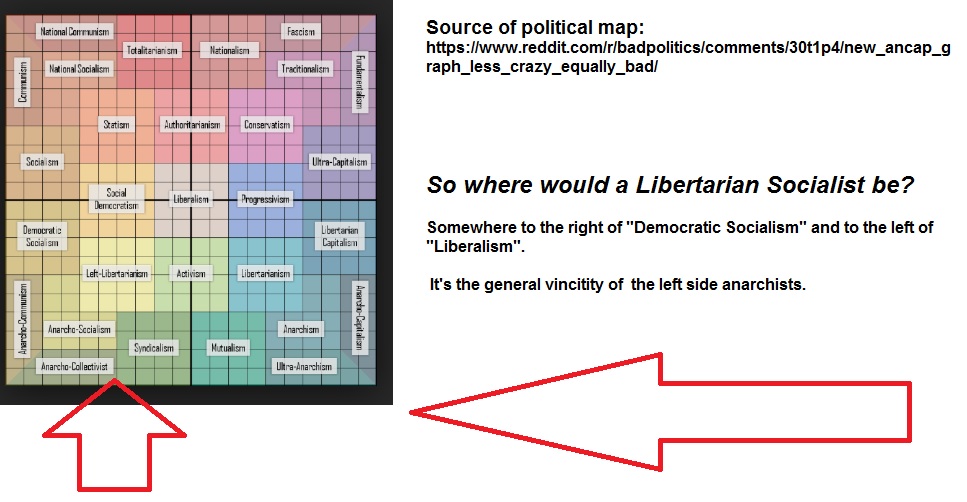 ********************************************************************************
Warriors, think about the ramifications toward the 4th-8th graders.
Think about the fact this is in over 12 cities (see below).
Think about this is a free camp/year round effort, so not only public school kids will have access.
Think about activist leaders. Will their beliefs match your family's?
Think about it this way, what if other political groups hosted free summer camps/year round activities? They would become breeding grounds for each specific set of beliefs.
Again, what if they don't match your family's?
Think about the educators involved. Are they using their classrooms as 'bully pulpits' the rest of the time they spend with students?
Think about this from the international, or global, perspective. This type of camp would easily fit right into the UN's SDGs (Sustainable Development Goals).
Think about how this will turn the students away from honoring all authority.
**********************************************************************************
Black Rose was formed in 2013 and merges 6 different US local and regional entities.
You'll find BRFA in WA, TX, VA, OR, NY, FL, IL, NM, CA, and, MA. Cities are: Los Angeles, Miami, Boston, Chicago, Austin, San Antonio, New York City, Richmond, Albuquerque, and, Seattle. Regions are the Central part of IL and the Bay Area of CA.
While At Camp:
So, Warriors, let's say one of your kids goes to a Budding Roses Camp. What will they do? What educational resources are available?
Below is a screen shot excerpt of one of the recommended reading resources: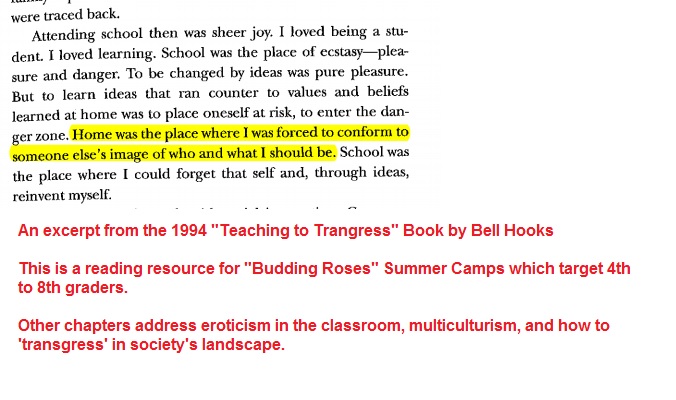 (Source)
Warriors, "Bell Hooks" is always written in lower case and is a pen name. The bell hooks Institute is housed in Berea College (KY). Her own words about "Teaching To Transgress" can be read here. In summary, her views are progressive, whole child, and, social justice. The 'perfect' blend of the CCSS Machine has sold as 'personalized social emotional learning for the greater global good'.
Warriors, if you're not sure what camp-like activities your child would have, go to the Budding Roses "About" page and read the very short paragraph on 'Daily Activities'.
It certainly isn't the type of summer camp adults may remember having fun at.
Supporting The #RedForEd Teacher Walkouts:
Warriors, it's not been a secret that the roots for the #RedForEd Teacher Walkouts have been identified. The 3 States in May 2019 and the AZ one are very troubling, as kids ended up being the biggest losers of the day.
But did you know the BRAF supports Teacher Walkouts? From their 5th Annual Convention (2018), you'll see evidence. You can also find evidence (see below) on the Budding Roses Camp website. If you read more of the 2018 Convention Report, you'll see Latin American countries were invited to participate. You'll also see lots of militant viewpoints about the United States.

One last thing I can share with you about the BRAF. It's known by the initials BRRN, not what I referred to them as. The BRRN stands for Black Rose/Rosa Negra Anarchist Federation.
Closing:
Warriors, not much more information is out there about the BRRN (BRAF). What should stick with us, however, is how un-American all this is. It should bother us that this is open and accessible indoctrination in our communities. It should be an action point to combat the over militant and sexuality prongs of the Libertarian Socialism political views in our schools. Teaching children, in schools and in our communities, to reject all authority will leave us, as their parents, grandparents, friends, and, neighbors in terrible situations.
Not that I'm being over simplifying things here, but think about the kids movie "Jimmy Neutron". The part where all the parents vanished and the kids were in total control.
It didn't take long for their town to become out of control.
BRRN (BRAF)'s social justice camp for kids they are producing will breed anarchist Jimmy and Jill Neutrons.