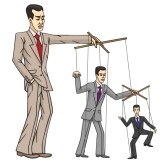 Let Me Introduce You:
The Council of Chief State School Officers (CCSSO) is half owner to the copyrighted Common Core State Standards. This is well documented, so I won't elaborate. However, did you know there are a small number of our neighbor States across America who are the 'innovation lab' participants? Yes, that's correct. Certain States are among the 'go to' areas when CCSSO wants to ramp up innovation in several Common Core channels. Oh, the Officers won't come out and be honest that their work in this is all about CCSS, but they'll use almost every other descriptive word to convey it. But, first, the participating 'laboratories': California, Iowa, Kentucky, Maine, New Hampshire, Ohio, Oregon, West Virginia and Wisconsin.
What The 'Labs', I mean 'States' get to do:
With the State level Department of Education in each US location's approval, any type of program, idea, initiative, or assessment is tried in these places first. There are goals, with the typical 'global citizen' sounding phraseology used; the digital learning ('anywhere/anytime'). You can probably guess the other  goals (more below, so don't stress if you didn't guess).
Same old, same old. But, since CCSSO, is, afterall half owner, what else have we come to know about them? In my researched opinion, 'Agenda' is their missing word. These 'lucky labs' are encouraged to work inside the school system as well as outside, especially with businesses. (Every heard of a Public Private Partnership, orP3? Toxic for education when mishandled.)
Other Groups promoting College/Career Readiness:
Topping the list of the CCSSO's Lab programs: College and Career Readiness! Probably one of the most over-used false claims ever to be associated with CCSS (the Standards, not the owners). As a member state, each one not only developed, but  share a common framework of CCR (College and Career Readiness). Spanning from early childhood education all the way to post secondary schools, all students are to be impacted.  Special needs students are encompassed via IDEA.
I want to steer you to other groups. Why? Because while not located in the "Lab States" or 'puppet places', they are in other states brewing up all kinds of stuff..to be shared, not only the 'lab states' but the rest of us, too.
First up,  "Global Center for College and Career Readiness", its a non-profit (grant funded) NGO (non governmental organization) based here, in America. (website: http://www.collegecareer.org/index.aspx) This group is SO into Common Core, they have tons of resources, free and fee based AS WELL AS Common Core consultation sessions. (grant funded, just by whom is hard to find. You are given a grant number, but no date, no grantor)
C2Collaborative/Common Core Institute:
While I cannot find a direct tie between CCSSO and the above group, I can tell you they work closely together. Joining them in even more partnerships: C2 Collaborative, http://c2ready.org/ (more 'College/Career Readiness' where you can even earn a black belt in CCSS), and The Common Core Institute. If you search for the CCI (Common Core Institute), you'll be taken to the C2 homepage. Note how many OTHER standards they are 'into', TEKS, STAAR, Next Gen, Catholic schools. The list is insane.
You won't find much history on the Global Center for CCR  group, but they sure are busy. The have taken CCR alignment to Bermuda. Their parent company is the "Curriculum Improvement Institute".
I can at least find dates  for CCI, as far 'back' as 2010. Here's an excerpt from their history:  "Oakbrook Terrace, IL (September 8, 2010) ‐ The Curriculum Institute™, in conjunction with corporate sponsor Collaborative Learning Inc.™, is pleased to announce a plan to provide free access to state‐of‐the‐art proprietary software developed by Collaborative Learning. A function of the software is alignment of curriculum to the Common Core State Standards recently released by Council of Chief State School Officers (CCSSO) and the National Governors Association." (rest of the news release:
http://www.curriculuminstitute.org/news/Curriculum-Improvement-Institute-Provide-Software-Announcement-090810.aspx) 
Oh, their CCSS consultations are also a fee based purchase, as high as $2500.00 per day! (website: http://www.curriculuminstitute.org/professional-development/)
Connecting all this back to the 'Lab States':
Taking into consideration the CCSSO has stated on their website page explaining the 'Lab States', it stands to reason to know just how many other groups are in the mix as well. The rhetoric sure sounds like it's a 'we will do what it takes at all costs.' While you're looking into all this (as I always encourage you to do, that way you have the perspective of your mind, not mine), notice what colleges are involved. Some colleges and universities named have been at it for years..longer than we've had the CCSS. Others of the ones involved, are a bit newer to the 'puppet show'.
Other goals:
Covering their digitally blinged out backsides, CCSSO has at least 3 goals for the 'anytime, anywhere' learning spiel. Personalized learning, balancing assessments, network improvement and innovation. For the anytime students and teachers, they are experimenting with school district approved ways to create pathways for more college/career prep, competency based learning for everyone AND helping teachers with all this aligned newness. Assessments, well, I think you know where this is going…using online assessment to measure everyone, principals, teachers, and students both formatively (which research has shown to be the best) and summative (which is the least privacy respecting). Again, alignment, is key. Network innovation, well, that's where all kinds of collaboration from a national level on down takes place, complete with workshops, seminars, and teamwork. Guess the goal of this one! Yes, new approaches to all this alignment.
Finally, there's the goal to get your state legislators involved in how great all of the above is, especially, college and career ready students for that global economy. It's called 'implementing policy to support innovation'. Don't forget, mixed in all to of this is the massive data mining that's impacting everyone of us.
To see all 5 programs (which you'll not see many details, but you will see the related initiatives and programs for each (http://www.ccsso.org/What_We_Do/Innovation_Lab_Network.html)
The 'Classic' File:
As is my custom on Tuesdays, you get a file full of all kinds of information that we, the citizens, usually aren't privy to. This one I leave you with is from the founder of the Global Center for College and Career Readiness, Kevin Baird. Of the many, many slides in this presentation, pay close attention to slide 6, the 'gap' between students that supports 'college and career readiness'; slides 7-9, how students reading scores are used to determine their 'college career readiness'; slide 45, this one, as far as I'm concerned, is the most disturbing. Dubbed the "Success Model", you'll see a graph with words like 'vision', 'skills', 'incentives', 'resources', and 'plan'. Those don't sound so bad. Even the result all these put together equal, "Sustained Change" isn't so bad. However, all these are not what you notice first. What you will notice first are the much larger, bolder print words of "Confusion", "Anxiety", "Resistance", "Frustration", and "Treadmill".
Kevin Baird Follett Back to School
My Final Thought for Today:
We, simply, MUST inform our school districts, our local and state legislators about things like this! If they truly serve the people, they will be ready to act to stop this. As I've been working with legislators more closely in the past 2 years than I ever have, I'm amazed at how much up to date information they have AS WELL AS how much people like you and I bring them.