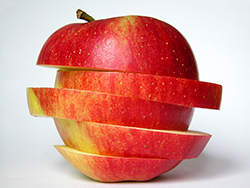 For today's special "Riddle Me This" entry, what are YOU, my fellow anti CCSS Warrior up to on April 6th? If you're not busy, why not join thousands of us as we take to Twitter to blast our leaders about HR5 (Student Success Act)?! I'll be there and I'd LOVE to know you're right by my side, helping me turn the CCSS apple into applesauce!
Who's Our Host?
Patriots Journal Network! If you've not heard of the group before, their website link (which I'll share), has a short video to help you get to know your host a bit better. You might like to know I've joined in with the PJNet a few times. They are a respectable bunch of warriors, citizens, and all kind of Americans in between.
Where Are We Going?
Actually, you can join the PJNet Nation and myself right from your own home! We'll be on our 'date' in cyberspace on Twitter! Now, if you've not used Twitter, it's okay. It's free, easy to use, and if you have questions about using it, ask your kids, their friends. If they aren't around, use Twitter's help section to get you set up. I was a bit nervous about the social media outlet at first, but now, I've got it down. So, if all else fails, ask me how!
How Do I RVSP?
That's easy! Refer to the screen shot below.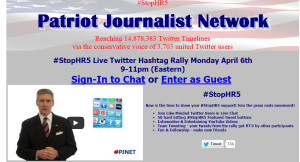 To find out more about them, here's the address for their full website: http://patriotjournalist.com/
What If I'm Late for Our Date?
All will be well, come for as long as you can.
Will I Need Talking Points?
While talking points would be helpful, I would suggest 'live tweeting'. Meaning see what's shared and respond accordingly. However, if you're a bit uncertain about how CCSS is related to HR5, see my points below:
Common Core via Career Tech Ed will be further embedded.
Title One funding will be impacted.
While 'local control' is being said to be handed back to the States, it really isn't.
HR5's passage will be a major victory for those profit-makers of CCSS. It will also be a major boost to the federal control.
Secretary of Education's power would be increased. As would the LEAs, SEAs. Therefore, the promise of parent involvement may not be all it should be.
Should you need talking points, rather than me spoon feeding them to you (so not my style), I've included for you all the articles from my blog tagged with HR5 where you can read all the above AND more! See: https://www.commoncorediva.com/tag/hr5/
What you really need to know, though, is that back in Jan. 2015, the title of the bill we know as HR5 (Student Success Act) was titled "Every Child Ready for College or Career Act". I wrote in detail about it (some of the main points are still in HR5) back on Jan. 18th. You can read that one: https://www.commoncorediva.com/2015/01/18/rmt-will-you-help/
Closing:
I'll see you for our date, 4/6/15! I can't wait!!