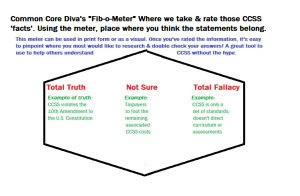 Think of today's "Fib-o-Meter" as the collection of the biggest fallacies we've heard/seen/experienced about CCSS so far. Enjoy!
Aligned School Leaders:
So far, 3 articles about Common Core and superintendents! Not only do students get penalized by Common Core, or teachers, but superintendents are being held to the Standards as well. Given that many of our state level superintendents are pro Common Core, you'll need to see the first one from Sept. 2014: https://www.commoncorediva.com/2014/09/19/fib-o-meter-friday-state-superintendents-common-core-standards/ Not only will you see the attempt to rebrand CC, you'll get to see how. Follow that with the 2nd CC/Super article that was created via reader/follower requests. It's from Sept. 2014 as well and features more switcheroo tactics as well as bold face lies! See: https://www.commoncorediva.com/2014/09/26/fib-o-meter-friday-more-cc-aligned-superintendents/ The final CC/Super article from Oct. 2014, features Teach for America troops in addition to the final requested state superintendents. See: https://www.commoncorediva.com/2014/10/03/fib-o-meter-friday-even-more-state-superintendents-common-core/ For research purposes, see how aligned each of these Supers are. More than likely they will still be just as CC discipled as before.
Related article:
School counselors are some of the best leaders in schools with access to not only faculty and students, but parents as well. Don't think for a moment the CCSS Machine has missed the opportunity to ensure these counselors are selling the Career Pathways, Career Tech Education, and other CCSS related courses. While not a Fib-o-Meter Friday article, it WAS a Friday "Breaking News" post. See to what extent the federal overreach goes when it comes to the guidance students receive. See: https://www.commoncorediva.com/2014/10/10/fridays-post-breaking-news-you-need-to-know/
The Fallacy About CCS and IB Schools:
Maybe your student doesn't attend a traditional school. Maybe they attend an IB (International Baccalaureate) one. Think Common Core isn't there? Oh, my friends..it is. In fact, because IB schools are rooted in the UN (United Nations), CC is certainly there. Think about it, the global citizen aspect so much in Common Core. UN and UN related organizations helped shape that. See: https://www.commoncorediva.com/2014/11/14/fib-o-meter-friday-ib-international-baccalaureate-schools-common-core/
Fallacies About the Core Itself:
Lastly, for those new to the fight, you might find the fallacies of the Common Core interesting.
Originally written as a 'see how much you know about the Core' presentation for an audience, I shared in on the blog. There are many lies out there, would you know these? See: https://www.commoncorediva.com/2014/09/12/fib-o-meter-friday-history-of-ccs/
In Jan. 2015, I wrote another FOM Friday about the lies of CC. See how many of these you know: https://www.commoncorediva.com/2015/01/16/fom-friday-update-truths-lies-of-ccss/
Closing:
Got something related to Common Core you'd like to see run through the Fib-o-Meter? Let me know and I'll do my best to research it. Thanks!