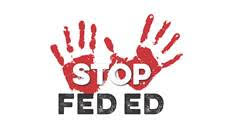 Anti CCSS Warriors, have you noticed how "no" is working in our fight to free our nation of all things 'Common Core'? Slowly, but surely, our voices are proving effective. However, we have a lot more speaking to do! In this edition of my Weekend News, I have some ways in which we are proving 'no' is succeeding in chopping up the CCSS Machine!
Just Saying "No" to Dr. King:
A few days ago, someone posted on Facebook to use the hashtag: #saynotoking on Twitter. There have been a few comments shared. We need many more Tweets, Warriors!
Another hashtag which needs more comments and is related: #sayno2king.
You can post your anti-King comments on the account #noking, but be warned, there are many other comments referring to more sexual topics than anything else. The same will ring true for the hashtag #no2king.
Of interest and can be related to saying 'no' would be to 'crash' the NEA Summit's Trending Twitter account, happening this weekend. NEA (National Educators Association) is a well known member of the CCSS Machine and was totally supportive of the ESSA (Every Student Succeeds Act). Let 'em know, we the opposed, are saying 'no', 'no', and a 'thousand times, no!' to Dr. King AND ESSA!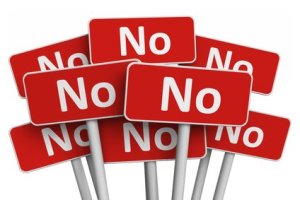 The Devil is in the Details:
While the date of 2/25/16 was widely shared as the confirming/denying vote for Dr. King, little was shared about the the 'quiet approval' of the U.S. Senate HELP Committee (Health, Education, Labor, and Pensions Committee) on the 25th of February 2016.
Since it is, in fact the entire U.S. Senate who must confirm or deny Dr. King's appointment as the U. S. Secretary of Education, let their Twitter feed reflect our ire and disgust! Use #USSenate! To date, there is only one Tweet devoted to saying 'no' where Dr. King is concerned. Let's see if we can increase that number exponentially, shall we?
We must use the days between now and 3/9/16 to continue to raise awareness, to speak louder to EVERY U.S. Senator in saying "no". How do I know the vote was cast? A pro-side CCSS Machine member's Tweet: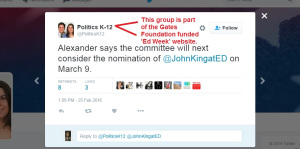 By looking further into the Tweet, I found the U.S. HELP's proceedings were quick (about 2 and 1/2 hours) and another step in the WRONG direction for education!
Follow this link to get the EdWeek viewpoint (will be the second article you see) Then go to the hearing itself from the HELP Committee.
The EdWeek link: http://blogs.edweek.org/edweek/campaign-k-12/
See: http://www.help.senate.gov/hearings/nomination-of-dr-john-king-to-serve-as-secretary-of-education
(Warning: Sen. Alexander begins the entire hearing, so have a punching bag ready! You will also need to hear the new Coalition Alexander spews off in his opening comments.) While it painful to listen to, as an anti CCSS Warrior, you must! It gives us plenty of clues as to where to target our 'no' voices!
To see Dr. King's prepared statement given before the U.S. HELP Committee:
http://www.help.senate.gov/imo/media/doc/King8.pdf
(Note: Dr. King directly points out the work to be done to update the HEA, Higher Education Act. Big warning for MORE alignment to the CCSS Machine, Warriors!!)
To contact your Senators directly, use the U.S. Senate contact pages:
http://www.senate.gov/senators/contact/
To help put together a Twitter rally and/or Facebook campaign of urging the Senators to 'just say no' to Dr. King and his reign of pain in education, help me urge your state groups or national groups against CCSS, to get this 'no' effort to increase! If you have ties to the Patriot Journal Network and are familiar with their awesome Twitter rallies to bring attention to a cause, let them know we need help immediately! Together, we CAN do much! Together, we can say "NO" forcibly enough Washington will have no choice in confirming Dr. King, they will have to deny him! Are you with me?! Great! Keep saying NO to federally led education! Keep saying NO to the embedded CCSS in the ESSA, in spite of what lies you hear that it isn't!! Help us unite to say 'YES' to Stop Fed Ed!!