Anti Fed Ed Warriors, mental health overreaches in education has turned out to be quite the in-depth focus of 2018 I hadn't counted on. In this article is still more evidence our nation's leadership, under the direction of the CCSS Machine, is coming TOTALLY unglued!
Before I get to the 'new' stuff, a recap of evidence and research I've put together so far. (This will be a helpful reminder for those who want to connect the new stuff to the previous, as well as catch anyone new to this, up to speed.)
Recent Fed Led Ed Overreaches And State Proof Of Compliance:
Links:
1) Examples from NC and KS about SEL (Social and Emotional Learning) and mental health; Medicaid transformation grants, etc. (*Note for NC, it's House Bill 933, for KS, it's a specific school district's evidence)
2) This one gives you a look at the early education SEL conformity; the overdosing of our school children; and a brief history of how the mental health push is at least 50 years old. (*Note all 50 States have been a 'player' in this.)
3) This article is where I embedded my first Facebook live video exposing the Resilience documentary and supporting evidence/links for Warriors to use seeing how all this is embedded in ESSA, Every Student Succeeds Act).
4) The follow up to #3, has the 2nd Facebook live video I made on exposing Resilience and links showing the different programs, documents, etc. This will involve many different States.

5) Then, from the Patriot Institute, a more condensed version of all of most of the above information. This one even has action steps, using NC as an example. (*Note: to my NC Warriors, HB 933 is woven into almost all of my evidence, but it is still more we need to be watching for!)
6) My interview on the Kate Dalley Show gave the entire nation a huge wake up call! Kate noted that in UT, as in other States, the #1 issue for legislators is NOT quality education it's mental health mandates!
A Bit Deeper Look At NC's General Statute:
Warriors, I know not all of us live in the same State, but I want to give you some context to base ALL new mental health/education related legislation on. WHY? By using the pre-existing laws for such in our States, it will be very easy to attach the ESSA mandates! By using NC as the example, you can begin to know where in your State similar laws/actions can be not only found, but linked together!
We HAVE to know what we're fighting and from WHAT direction to be successful in protecting our families.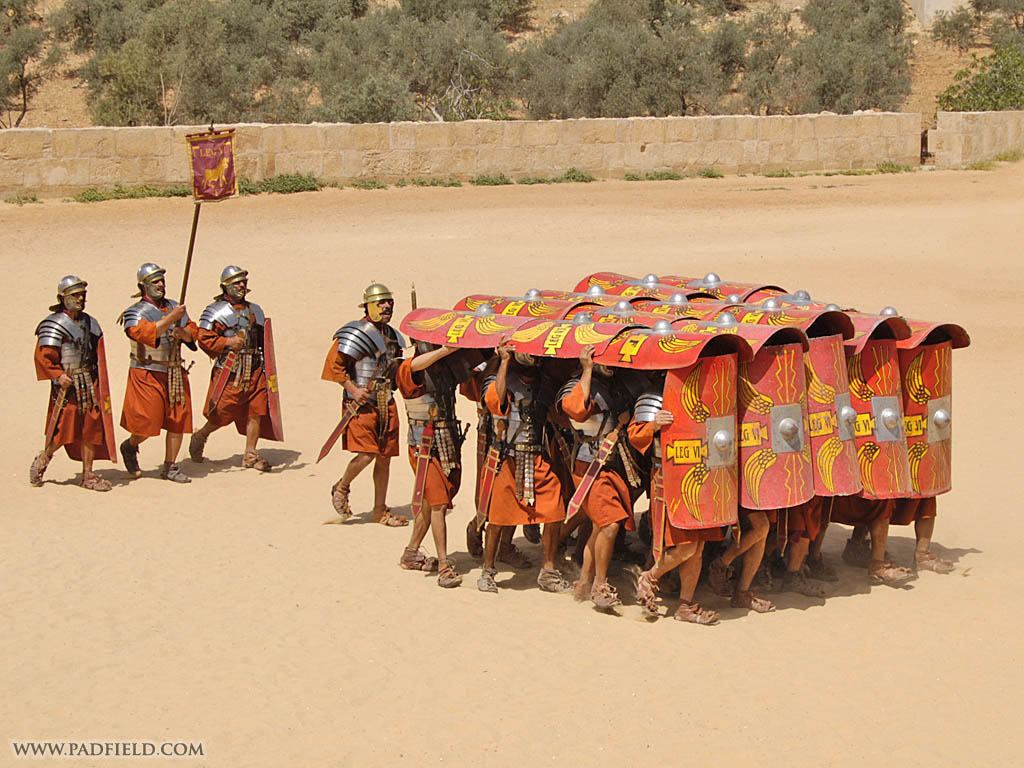 The NC General State Statute I'm referring to is NC GS Chapter 122C. If you're drawing a blank as to its contents and how it intersects with the ESSA mandates for 'school safety' (where mental health overreaches will be inserted), please refer to Link #1 above (that's my "Brains and Agenda" article).
The context surrounding Chapter 122C is this:
This 1985 Law for Mental Health, Developmental Disabilities and Substance Abuse set up POLICY for NC to ASSIST the citizens who NEED these services. The assistance was (and still should be) consistent with dignity, citizens' rights, and responsibilities. (*Note: who or what is the responsible party? Responsible for what?) The Chapter further obligates the State of NC to provide community based services.
Warriors, pause for a second and consider the family wrap around service mandates in ESSA for 'student success'. These are embedded in the 21st Century Community Learning Centers, the Community Schools, the after-school enrichment programs, etc.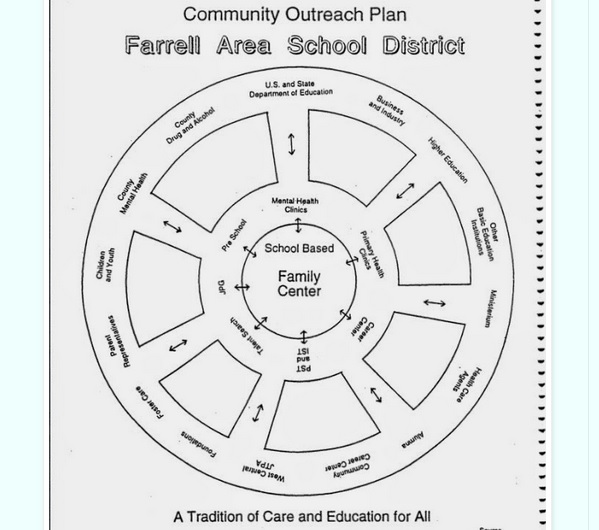 What State organization is in charge of such services? According to Chapter 122C, the NC State Dept. of Health/Human Services. Also in the Chapter is the provision for any money allocated or 'otherwise available' for us in mental health, developmental disabilities, and substance abuse. Warriors, with the amount of federal education funds being earmarked for mental health assessments and interventions, this means those funds will be inserted, too!
To further illustrate the dire situation this creates with a pending bill like NC HB 933 (increases school mental health staff/services), Chapter 122C also allows the State to use appropriate State funds (taxpayer dollars), non-state funds (?) and OTHER 'mental health resources'. (You'll find these under the phrase "within available resources".)
Chapter 122C also puts the State in charge of any State and/or local government development and maintenance of a unified system for all mental health and related services. This system is part of a continuum (public service, never ending system) for any client (person receiving mental health and related services) WHILE considering any available services in the PRIVATE sector! (*Note, this is where the 'withing available resources' comes into play. The 'within available resources also targets populations as well as sets the State and local counties up for 'matching funds' to continue these entitlement programs.)
What are those services, you may be asking? How do they fit into the ESSA mandates?
Front end services and indirect services will BOTH fit ESSA.

HOW? Front end activities are: screening, assessing, emergencies, and referring anyone suspected of needing mental health/developmental or substance abuse aids.
Indirect service activities are: coordinating plans for treatment/services rendered, consultations, prevention, and education.
Warriors, within this one NC General Statute, 'school' is embedded 44 times! Remember, much of these types of services before and since ESSA will tap federal and State Medicaid funding. It's been recalculated to be included in the education funds of Title 1 and others!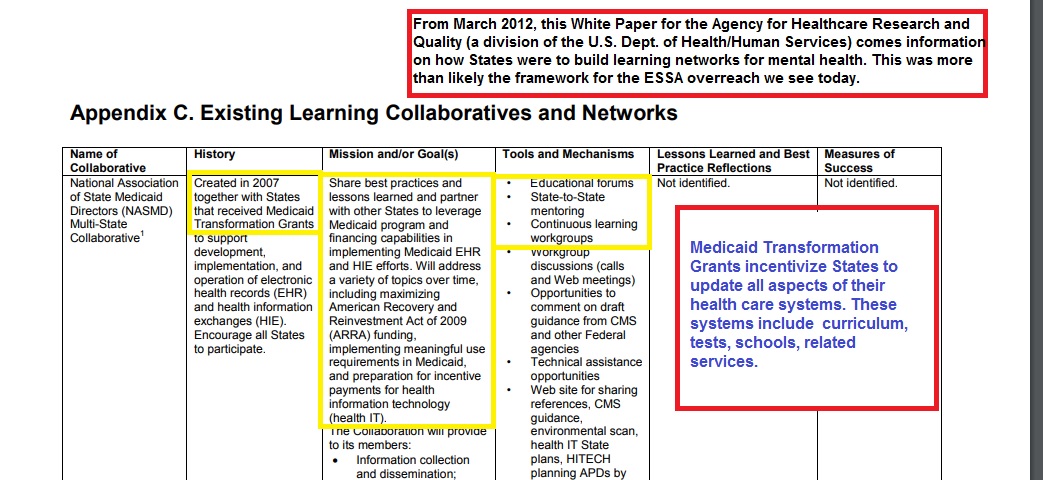 New MH (Mental Health) Information And Related Items:
Warriors, recently the Leadership Conference Education Fund hosted a webinar on school safety. Much of the conversation dealt with school discipline. There's quite a bit of language in ESSA which sets up what 'safe schools' should look like, too. From this webinar, the concerns from the Leadership Conference Education Fund (part of CivilRights.org) centered on the U.S. Dept. of Education's wavering stance on a 2014 School Discipline Guideline Document. The Fund (for short) noted all kinds of facts/figures during the webinar about bullying, discrimination and that we, as a nation need to keep the 2014 School Discipline guidelines. (*Note: from my archives, The Leadership Fund/CivilRights.org supported ESSA's passage into law and all that goes with it.)
(*Note: if you cannot get the 'webinar' link to display, try downloading and opening from there.)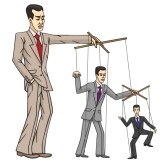 How this is playing into the ESSA mandates is this: by ramping up the need for school discipline, you in turn ramp up the need for interventions as to WHY Johnny and/or Suzy are acting so negatively. The Fund is actually calling for MORE services in schools to intervene with behavior management! The Fund is seeking out Americans who will challenge U.S. Dept. of Education to exercise more consistent control in schools when it comes to anything from 'minor infractions' to violence.
Warriors, as the mental health grab continues on our families and students, 'minor infractions' are the first step into labeling a child as 'mentally in need on interventions'. When that label is attached the money to the schools increases! (*Note, listen to the interview with Kate Dalley)

From ESEA As Amended By ESSA:
Warriors, so there's no doubt about the mental health overreaches in ESSA. Check out the references below from the official U.S. Law books. It's ESEA (Elementary and Secondary Education Act of 1965) as Amended by ESSA, (Every Student Succeeds Act of 2015).
Page 69,  'school based mental health'
Page 71,  LEA (local education agents) and funding for school based mental health via tiered school wide systems. Will include P3s (public private partnerships) and mental health assessments
Page 214, those 21st Century Community Learning Centers
Page 217, increases to include school psychologists
Page 219, mental health awareness
Page 220, school based mental health
Page 226, early identification of mental health
Page 227, mental health providers
Page 238, read for yourselves. It appears to suggest 24/7 monitoring
Page 281, Items D, F, and G (part of the 'school pipeline services') see the picture below.
Page 284, Item 7D (see the picture below)
Page 287, Full Service Community Schools
Page 439, Teachers mental anguish interventions
Items  from Page 281, with emphasis: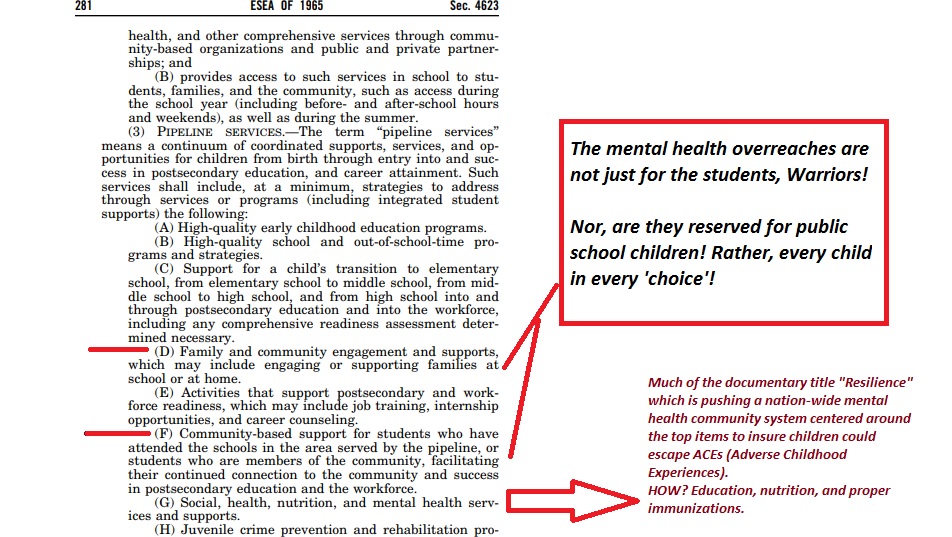 Page 284, with emphasis (*Note: read ALL of Page 284):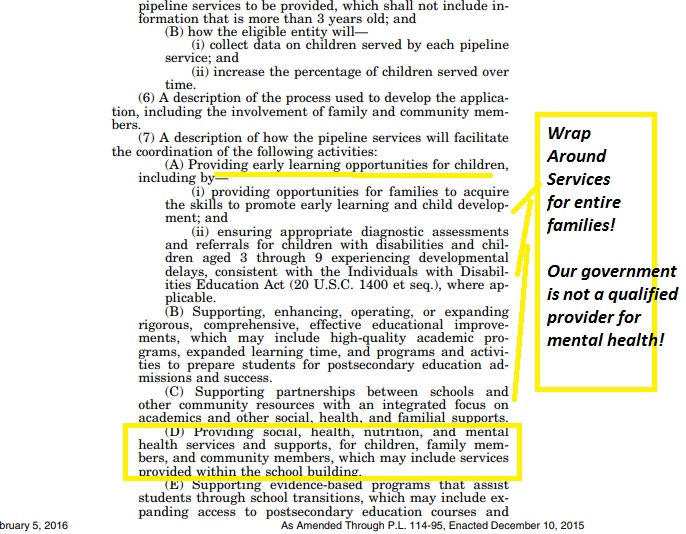 The NIH's BRAIN Initiative:
The NIH is short for National Institutes of Health and is part of the U.S. Dept. of Health and Human Services. Back in 2016, I had this screen shot in one of my articles exposing the BRAIN Initiative: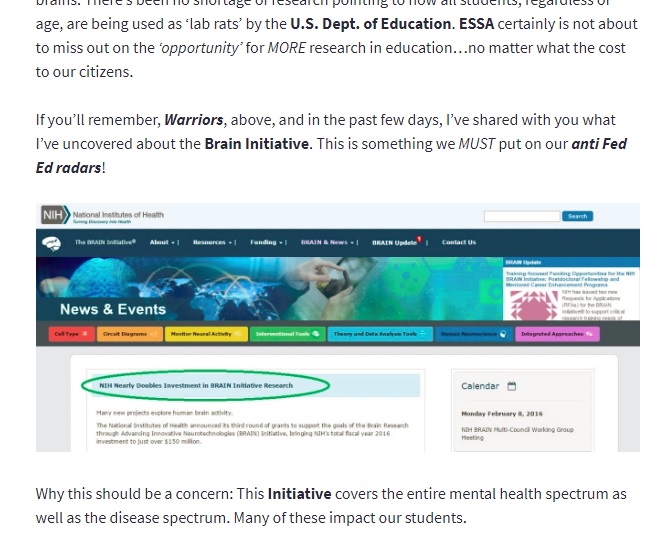 Why you should read that 2016 article: COBRE Grants, they're used in all the States.
Related is this article from 2016, where the 2017 federal budget winners were all oddly in health agencies with direct access to education, thanks to ESSA. Why this matters now:
what was started in 2017 hasn't gone away. It was in 2018's and will be in 2019's, too.
From 2017, this article of mine has several links to others and focuses on Congressional legislation to beef up biometrics (used in mental health interventions and assessments).
Why is this important NOW? Biometrics is to be used on every American, at every level of education.
The latest on the BRAIN Initiative from the NIH can be found here. By the way, BRAIN is short for "Brain Research through Advancing Innovative Neurotechnologies®"
However, look below at one of the distinct purposes of BRAIN.
This is from the BRAIN Initiative's 2025 Plan: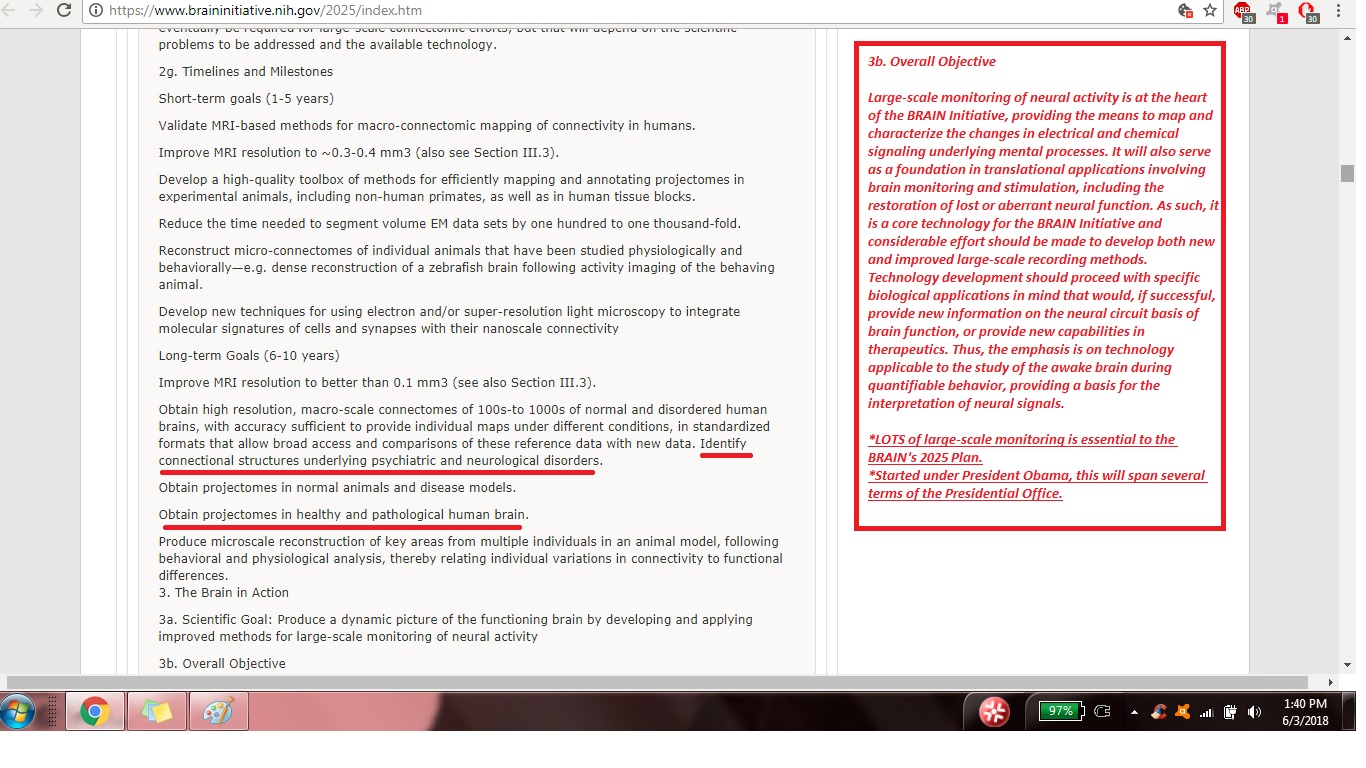 I urge you to look into the P3s the NIH has for the BRAIN Initiative. The international connections, and so much more.
From  Innovative Schools  ('innovation' is part of the student data raping mandates in ESSA):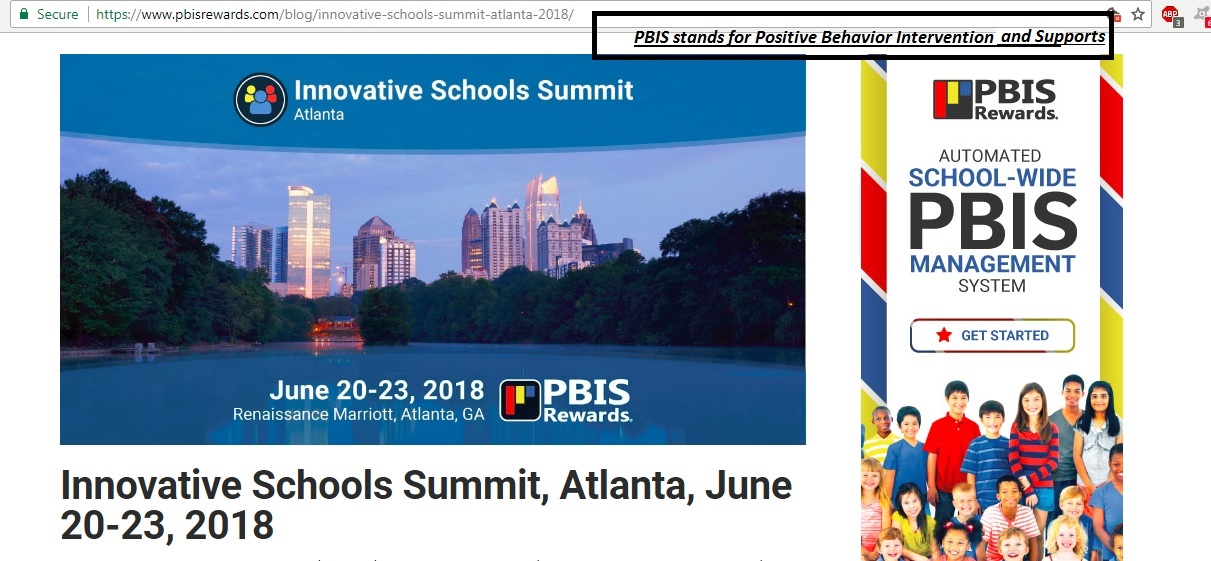 The brochure is full of not only PBIS, but school discipline, 'whole child' learning and more.
Closing:
Warriors, as I've stated before (and you can hear it on Kate's interview), I am NOT opposed to helping those who truly need mental health services. ESSA's mandates and the government intrusion create an environment where EVERYONE stands to be somehow mentally impaired! Our children have had ENOUGH of being 'test subjects' for what MAY or MAY NOT work in education!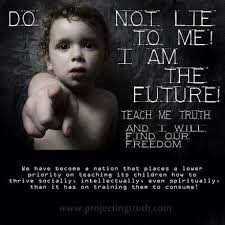 Based on the evidence I have researched, I do not believe mental health overreaches belong in school, using taxpayer funds to combine education and mental health care. I do not believe our federal government should be misusing our tax funds for their idea of what a healthy, mentally balanced person should be. It is not their right, it is not their jurisdiction! If a child/student/or adult/student needs mental health care assistance, we should certainly help them get to the properly licensed and qualified health care professionals, not wannabe doctors or quasi professionals.
*Personal note: I'll be out of town most of this first full week of June 2018. I'll update you as much as I can via my Twitter account (@commoncorediva) or on Facebook. Please, take the time to really comb through this in-depth article. Find out what's happening in your State. Stand up and fight it! Share this information, we have all our children to lose if we are not aware of what's going on.