Recently, my fellow anti CCSS/Fed Led Ed Warriors, I had a very concerned citizen from a state with several U.S. Tribal Schools, contact me. The concern? How ESSA, Every Student Succeeds Act, (and its school reform clauses) is to impact the schools for Native Americans on their reservations (or serving nearby). While I know there are mandates in ESSA for the Native American Tribes, as well as a separate section for the Hawaiian Tribal education, this concern raised the question to a level I cannot ignore.


Notice the banner from the BIE (Bureau of Indian Education). "Doing What's Best for Students!".
Not to be cynical, but are you kidding me? It is NO secret that our U.S. Government has hardly done the best it could for the Native Americans, so HOW in the world are we (or expect those impacted by the BIE)  to 'buy into' the fact that ESSA is NOT the best for ANYONE!?
Does BIE also support WIOA (Workforce Innovation and Opportunity Act), HEA (Higher Education Act), STEM, American Apprenticeship Initiative, Career Tech Education, Competency Based Education, Universal PreK and/or College and Career Readiness?
Why do I ask this? Every one of this laws or concepts is embedded in ESSA.
We already know ESSA and all its relations are to impact every school choice, so the answer would have to already be a 'yes' one. You will see more of the connections as you read on.
School Reform:
Since the concerned question I received was on the school reform issue, just what does the BIE have to say about this topic? In a summary, the BIE is choosing to reform itself as a government agency FIRST, then address the individual schools.
Here is an excerpt, "To effect real change in BIE-funded schools, the BIE organization must change how it delivers services to schools. The current administrative structure is a relic of the past when all BIE schools and dormitories were directly operated by the federal government and oriented towards "command and control" of its own schools. Today, the federal government no longer operates the majority of BIE schools; rather, tribal nations or locally controlled school boards directly manage 68 percent of BIE-funded schools. The BIE's administrative structure, however, never evolved to meet this new reality.    The proposed reorganization will modernize the BIE and help it take a critical step towards becoming a school improvement organization rather than a direct operator of schools. After extensive consultations, the BIE proposes important organizational changes which are essential to improve outcomes for Native American youth."
To see the entire topic, http://www.bie.edu/BFRI/index.htm
According to the 2014 "Blueprint for Reform Implementation" (approved by Congress), look at HOW the Reform is to work: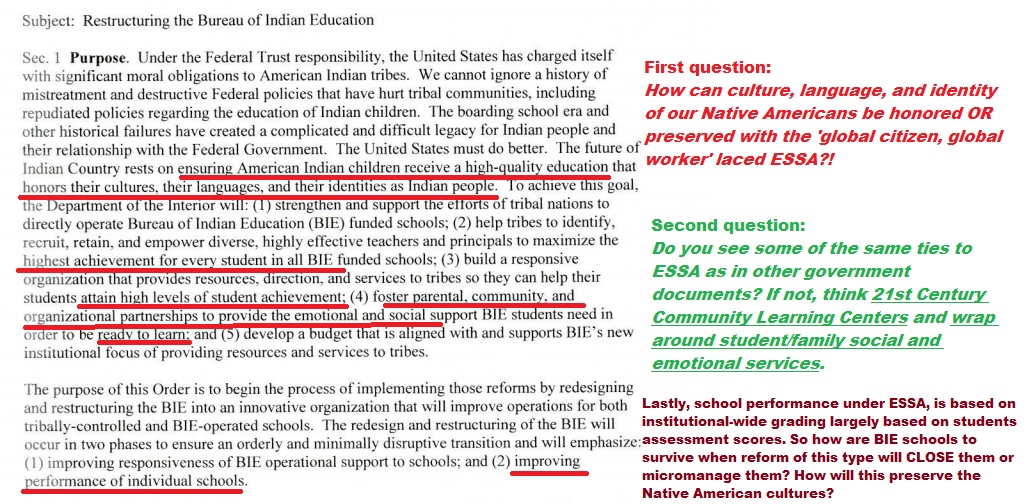 To access the entire Reform Order: BIEsecOrder
To see how I learned about this Order, see: http://www.bie.edu/BFRI/Schools/index.htm
Before we move on, it should be pointed out the Bureau of Indian Education is part of the U.S. Dept. of the Interior.
Is THAT Dept. aligned to the CCSS Machine?! Yes! Here's just one way to prove it: Lesson Plans (available to ALL educational choices),
https://search.usa.gov/searchutf8=%E2%9C%93&affiliate=doi.gov&query=Common+Core+State+Standards
The Interior is big on STEM, too. STEM is embedded in WIOA, ESSA, HEA, and all the other places you find CCSS or College/Career Readiness. See: https://www.nps.gov/choh/learn/education/classrooms/upload/CM-1-STEMguide.pdf
Other BIE Ties to the CCSS Machine:
BIE 21st Century Community Learning Centers:
http://www.bie.edu/Programs/supprog/TitleIVB/index.htm
Includes after school programs, character education, and, so much more! Per ESSA, 21st Century Community Learning Centers are mandated. Notice, however, when you visit the above page the dates on the supporting documents are before ESSA's passage. Also notice that every one of the related Titles on the right, are in ESSA and other laws connected to it. Connected to the 21st CCLCs is Career Pathways. See the below screen shot for what I found: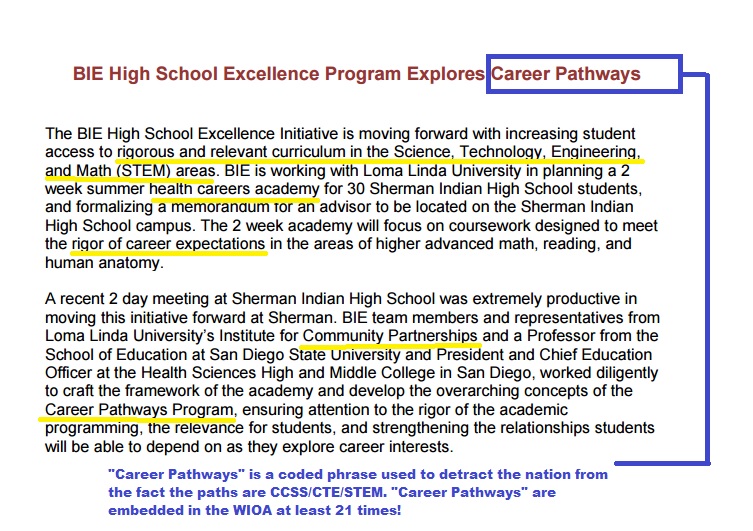 If you would like to see the rest of the document above:
http://www.bie.edu/cs/groups/xbie/documents/text/idc009804.pdf
BIE 2009 ARRA Funds:
http://www.bie.edu/Resources/index.htm
Just like the rest of us, this funding opened the door for massive data mining.
E-Rate and BIE:
The E-Rate legislation created a not-so-obvious way for the CCSS Machine to not only overreach into education, but into our entire communities for streamlined alignment connecting work and education. I exposed this on Prevent Common Core awhile back.
If you aren't sure how this connects to all of us, http://preventcommoncore.com/?p=1223
E-Rate legislation also opened the door for the White House led (ie: top-down control) ConnectED Initiative. BIE is impacted in this way, too.
See: http://www.bie.edu/Resources/ERate/index.htm

BIE and the ESSA:
I found 2 documents detailing what BIE has done already to conform to ESSA.
This first one is for Special Education. See: http://www.bie.edu/cs/groups/xbie/documents/text/idc1-034217.pdf
The second one is from the Federal Register and is definitely worth reading. Begin on the 3rd column of the first page you see and then continue to the next page's first column. Remember, this Register is not written from an anti CCSS/Fed Led Ed Warrior's viewpoint. See: http://www.bie.edu/cs/groups/xbie/documents/text/idc2-042401.pdf
As far as BIE and Universal Design for Learning? There is a Power Point Presentation available under the heading 2012 Presentations. See: http://www.bie.edu/Programs/SpecialEd/index.htm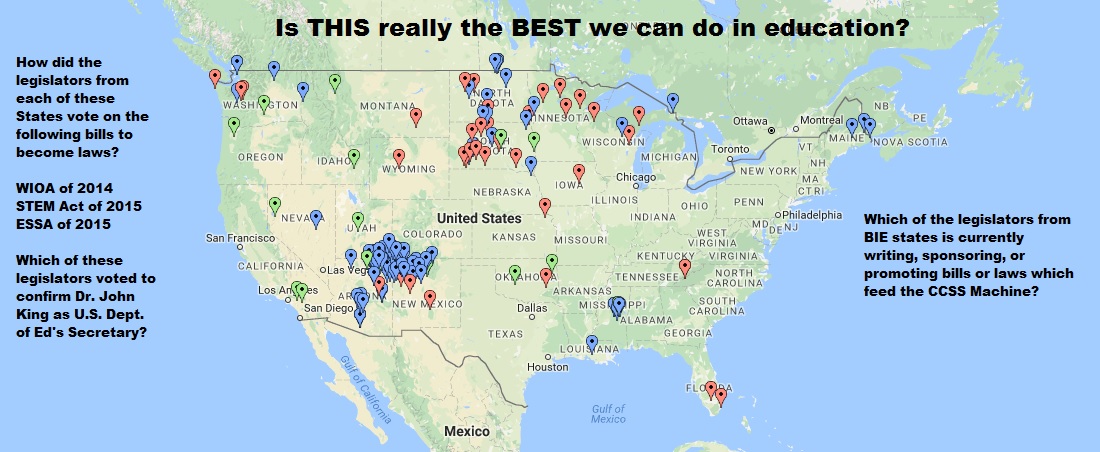 Related to the BIE and Native American Education:

NIEA, National Indian Educators Association:
Website: http://www.niea.org/
This organization has been around since the 1960s. It is the largest Native American Educator group in the nation. Thus, lots of influence. NIEA was also among the collection of groups signing a supportive letter from the Leadership Conference's Civil Rights arm to SUPPORT ESSA!
To see the Collective Letter, http://www.civilrights.org/press/2016/ESSA-Oversight-Letter.html?referrer=https://www.google.com/
What else has NIEA done in relation to ESSA and/or the CCSS Machine BESIDES being associated with the Collective Letter? Their upcoming Conference has AFT (American Federation of Teachers) as one of its 3 biggest sponsors.
ESSA is listed as one of NIEA's Education Priorities. To see their resources on it:
http://www.niea.org/for-advocates/education-priorities/elementary-and-secondary-education-act-esea-and-every-students-succeeds-act-essa/
Also among the Education Priorities is their association with the BIE. Among their Reports for Supporting Educators, the U.S. Dept. of Education's Dashboard for adhering to the President's 2020 College Goals: http://dashboard.ed.gov/dashboard.aspx
This screen shot is from NIEA's "Toolkit" for ESSA implementation: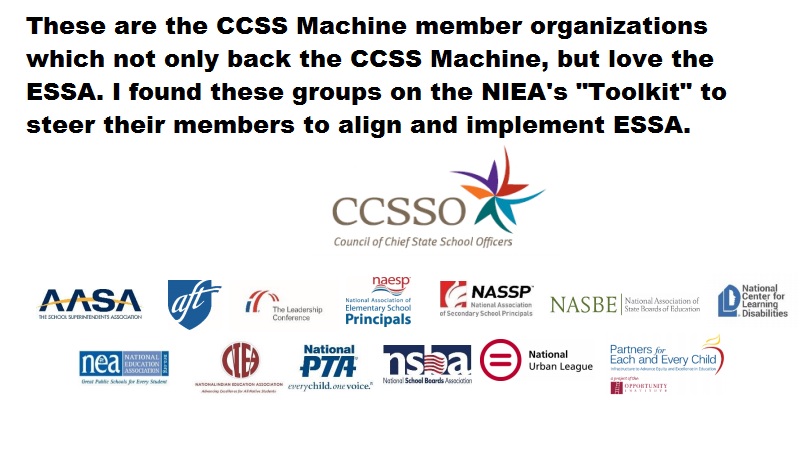 If you are curious, the Guide is NOT NIEA's, but rather, the CCSSO's! See:
http://www.ccsso.org/Documents/2016/ESSA/CCSSO%20Stakeholder%20Engagement%20Guide%20FINAL.pdf
Closing:
One of NIEA's biggest funders? The Gates Foundation. Since around 2009, over $4 million in grants. See: http://www.gatesfoundation.org/How-We-Work/Quick-Links/Grants-Database#q/k=NIEA
I also found a NIEA Grant from Gates for the express purpose of joining BIE in Common Core: http://www.gatesfoundation.org/How-We-Work/Quick-Links/Grants-Database/Grants/2013/10/OPP1094487
Again, I'll ask you: is this truly the BEST we can do in America?