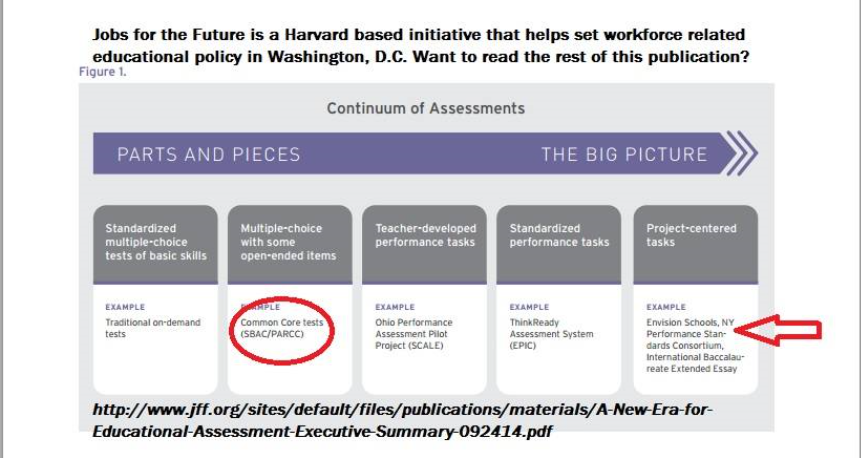 This is a follow up article to my original one from late September 2014. Thank you for expressing such an interest in this subject. I'm planning a third article soon. More about that in the closing comments.
Harvard Graduate School of Education and Pearson Foundation:
Back in 2010, the Pearson Foundation (an arm of the Pearson Publishing Company) and Harvard's Graduate School of Education joined forces to conduct a study called "Pathways to Prosperity: Meeting the Challenge of Preparing Young Americans for the 21st Century", published in Feb. 2011. Pearson, Harvard, and many others gathered to celebrate the report. The gathering was captured on video and placed on YouTube. It is from the video that I'll be sharing some key items about the report. However, I wouldn't be true to you, the reader, the Common Core Standards opponent if I didn't supply the report link as well. So, here's the link to the report. Be sure to look at the sources of information cited in the study. If you'd like to see the Pearson Foundation's announcement, check here.
The YouTube video is over 1 hour and can be accessed here:
Starring in this video are: Bob Schwartz of Achieve, Inc., Secretary Arne Duncan of the US Department of Education and many others. It is Mr. Schwartz's comments that I wish to use as a springboard for this article. In his short speech, he revealed quite a bit of useful detailed information that helps a Common Core opponent/warrior find more hidden ties. If you'll remember, Achieve, Inc. is heavily involved in CCSS. Be sure to listen to the glowing introduction given about Mr. Schwartz and his work with Achieve, Inc. In the comments were the following:
We no longer separate college bound students from career bound students

"Learning for Jobs", a 2009 Look at 16 European Countries and how they solve their youth education/workforce. Basically,  aligned class work and lessons that combine work base learning. Think aligned schooling, paid apprenticeships. Employer driven program. The EU (European Union) is moving toward the 'Youth Guarantee'.

Here are four take homes I want to leave you with –

ensure all kids get a common, solid academic experience during the first 10 years of their education. The work of the standards movement during the past decade or two supports this. Common Core Standards will only strengthen that work.
 create greater career guidance in the middle grades.
 bring business, community leaders, and schools together for combined workplace education.
embed all these in a compact
What Mr. Schwartz appears to be telling us is not only is Common Core great, but it can tied up in neat legislative bundles to be given to us. Also mentioned by Mr. Schwartz and very helpful were Ron Ferguson, Bill Gates, The College Board, Lumina Foundation, "Complete College America", Obama's 2020 Plan, and Sam Helprin. Mr. Ferguson helped create the "Tripod Study" (along with Cambridge Education) that was used in the Gates Foundation MET (Measure Effective Teaching). "Complete College America" is yet another Bill Gates funded education project. Sam Helprin wrote 2 studies that the Pearson/Harvard study based their work on. ("The Forgotten Half, 1988 and 1998's updated version) As far as Obama's 2020 Plan, I've not looked into it yet. Be sure to look into the AYPF (American Youth Policy Forum) as well. This group was highlighted by the hostess of the gathering.
Jobs for the Future:
You can access their website and find all the latest concerning the progress of the movement/initiatives the 2011 "Pathways" Report sparked. Headed up by Harvard's Graduate School of Education, it's come a long way from the You Tube video featured above. The organization has several education initiatives going (it's amazing to see the CCSS rhetoric in all of them) The one I'm focusing on for this article, however is the Pathways to Prosperity Network. Currently, eleven U.S. States are members: CA, AZ, GA, NY, OH, TN, MO, IL, DE, and MA. From the PPN's webpage, "Building systems of career pathways linking high school, work, and community college, to increase the number of youth who complete high school and attain a post secondary credential with labor market value."
Targeted grades in schools? Ninth through Twelfth. In one of their downloadable documents is one for an RFI (Request for Information) directed to the US Department of Education, Health/Human Services, and Labor to address aligning Career Pathways! Here's the page, to access the download at the bottom of the page, select "Request for Information: Career Pathways Programs" Once there, be sure to see the "Career Clusters" from Career Technical Education (which is adult education's Common Core Standards) How do I know this? Where did I find the verification for such? Here's my published post from a couple of weeks ago (it is also mentioned in the first article from THIS series) 
Lumina Foundation:
How is this foundation connected to Common Core, Career Clusters and such? "Lumina Foundation is an independent, private foundation committed to increasing the proportion of Americans with high-quality degrees, certificates and other credentials to 60 percent by 2025." Lumina is a private foundation with a tremendous amount of money and policy making influence. Among the partners in Lumina are Apsen Institute, National Governors Association. Aspen Institute has been an ardent supporter of the Common Core. The NGA owns half the copyright to CCSS. Want to learn more about the Foundation?
Gates Foundation:
Through Gates Foundation, we've been saddled with so much Common Core Standards items, we could scream. The study and reports published by the Foundation for MET (Measure Effective Teaching) are also connected. How? The 'best practices' gleaned from the MET were published in a separate report that gave us 9 different applications divided up into 2 main categories. The first category was about massive data mining, the second was about using CCSS as an assessment tool on the teachers AND students. Here's that report and here's the MET report.
"Learning for Jobs":
Mr. Schwartz was SO impressed with this OECD study in the YouTube video. Wait, what's OECD? Organisation (yes, the European spelling IS correct) for Economic and Cooperation and Development. The USA is a member country of this organization tied to the UN (United Nations) via the UN's Global Compact. The UN's Compact mission: 'The Global Compact involves all relevant social actors: companies, whose actions it seeks to influence; governments, labour, civil society organizations, and the United Nations as an authoritative convener and facilitator.' Learn more & search for OECD.
"The mission of the Organisation for Economic Co-operation and Development (OECD) is to promote policies that will improve the economic and social well-being of people around the world."  Learn more here. 
The Study, see the link here. The study details how countries like Denmark, Germany, Austria and others have taken the issue of education and a trained workforce to new and effective levels. Levels the US can't wait to use, put into place, and enjoy. Also connected is the "EU Youth Guarantee". Here's the website detailing the YG, however, take a few minutes to watch the embedded video. You'll see how students have a limited time after either graduation or their last job to get on one of 3 tracks. They can choose, apprenticeships, training workships or more education. The goal? So no one will be left alone or without support. Be sure when you take a deeper look into the program that you see how watched the participating countries are.  Here's a snippet: 'multilateral surveillance on its implementation' Why should we, as Americans care? IF we're becoming just like every other country in education, we need to be aware of the negatives/positives that come with it. Personally, I do NOT wish to see American education become just like every other country's. Somehow, though, the Common Core Entity continues to align us with everyone else.
Closing comments:
Next week, I'll be attending a webinar underwritten  by Lumina Foundation in regards to how to continue to attract and steer our students toward trained workforce status. I'll be sure to share my findings.

NOTE: This article was first published on the Prevent Common Core website [ https://web.archive.org/web/20160618223740/http://preventcommoncore.com/?p=1201 ]