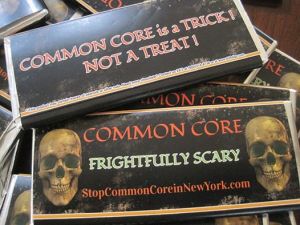 Yes, October is here and that means Halloween will bring out all kinds of treats..and tricks. Common Core and all that goes with it are some of the worst tricks ever to be played upon us, the citizens of America.   With some of us not too crazy about Halloween, you can go as 'all out' or as 'low key' as you like to help out in opposing the Core. Many warriors of the Common Core (opponents of these set of standards) are finding some very creative ways to get the message across. With elections not far away, this is a GREAT time to help raise awareness about the toxicity of CCSS!
Candy is dandy:
So where can I get candy bars like the ones in the picture? Shindigs has an option for your to personalize wrappers. (link: http://www.shindigz.com/party/halloween-candy-bar-favors/pgp/11szcbdesigns?source=igodigital) As you can see the Stop Common Core group in NY had these made. Let's suppose, however, you don't have a group OR you don't have time or money to order the candy pictured above? One Pintrest idea was to take snack size candy bars & attach simple facts about CCSS to each one. You can use "Sweet Tarts", "Sour Patch Kids", any type of candy that has both a sweet and sour (or even bitter) mix, if you like. You could use these as well for the local school board offices. Have your kids or friends make small baskets or bouquets and hand deliver them to the local board's office building. Make smaller bouquets/baskets for each teacher or your principal. IF baked goods are permissible, bake some sugar cookies in the same shape and have the label read "Common Core Cookie Cutter Kids" Mix in with the cookies, some "M & Ms" to represent uniqueness, diversity, or variety. With all the candy bar names out there,  there are several inexpensive ways you can create an effective message about CCSS.
Bookmarks:
My fellow warriors based in FL have a great idea that's spread nationwide! Choose to Refuse Common Core has FREE bookmarks as a way to share the message why CCSS is not appropriate for our students.
Here's how Rachel (Choose/Refuse's creator) has things set up, she has the bookmarks, you request some, she mails them, you choose to help offset cost of mailing them. Here's the link: http://www.choosetorefusecommoncore.com/#!bookmark-requests/c4ar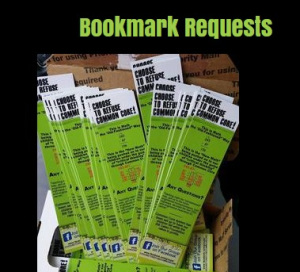 The bookmarks are great on their own OR can be attached to a flyer with your contact information about the next anti CC meeting you're having. You can attach the bookmarks to small booklets like " A Common Core for a Global Community" by Berit Kjos (booklets are $1.95 each) To order, visit this link: http://www.lighthousetrailsresearch.com/blog/?p=13825. 
Also great booklets or other resources you could attach the bookmarks to are: Charlotte Iserbyt's website, http://www.deliberatedumbingdown.com/, has many resources you can access to help share the message about the education reform mess. Patriots Against Common Core posted this flyer on their page as something to attach to goody bags:
One last great resource in the fight against Common Core is Tina Hollenbeck's "Home School Road Map: Common Core Project" (link: http://www.hsroadmap.org/common-core-project/)
My older posts featured on other blogs that would be suitable for helping spread the message about Common Core: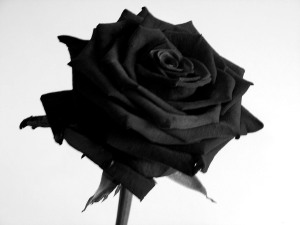 Lady Liberty 1885 has my articles (back from the days before I had my own blog) about CCSS in homeschools, charter schools, extracurricular clubs, honor societies, data mining, and more!
Project RED (massive data mining from Pearson Publishing): http://ladyliberty1885.com/2014/07/24/guest-post-do-you-know-red/ as well as the follow up: http://ladyliberty1885.com/2014/07/26/more-about-project-red-and-nc-ties/
CCSS and homeschools: http://ladyliberty1885.com/2014/06/18/guest-post-homeschoolers-warning-about-common-core/
CCSS in charters, private schools, and more in homeschooling: http://ladyliberty1885.com/2014/07/07/guest-post-common-core-in-charters-private-homeschools/
CCSS overtaking clubs like the Beta Club,etc.: http://ladyliberty1885.com/2014/06/29/guest-post-how-common-core-standards-are-taking-over-our-national-honor-societies/ as well as my look into Common Core in extracurricular activities like FBLA, etc.: http://ladyliberty1885.com/2014/07/03/guest-post-common-core-standards-usurp-leadership-clubs-in-our-schools/
Prevent Common Core has my article about sports being interjected with loads of CCSS agenda and other topics.
Common Core & sports in schools:  http://preventcommoncore.com/?p=1080
Common Core and the Workforce training plans:  http://preventcommoncore.com/?p=1187
Common Core by way of insurance companies:  http://preventcommoncore.com/?p=1154
Your choice:
With so many spooky and/or fun themes this time of year, you can probably come up with tons of ideas to help convey the message that CCSS has got to go. Have an anti CC party, bring the books, homework you'd like to 'recycle' and have a bonfire..make it extra sweet by using it to roast marshmallows. Have a neighborhood party where you have lots of fun and games set up and have anti CC favors available. Take some "Chex Mix" and use it as a fun way to convey you're 'checking out of the high stakes testing' associated with Common Core. If you're going on a hay ride at a local farm, see if the owners will let you use a hay bale or two as a target. Use any pro CC picture or item of choice and have party goers take a shot at the target. People learn so much more about anything when fun is involved. We have a great opportunity to get our message across in a fun, respectful way. It's simply up to you HOW you choose to do it!