For today's "Would You Believe It Wednesday", we'll be taking a closer look at the Common Core Talent Supply Pipeline. All thanks to the U.S. Chamber of Commerce's Ed and Workforce Center.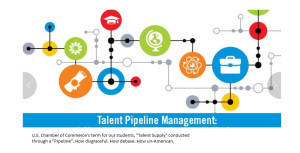 Personally, I absolutely despise referring to people in such a debase term as 'talent supply' or to suggest they are 'pipeline' matter. I think it is offensive, degrading, and inhumane to place fellow human beings into this kind of terminology. However, when you have a bunch of non-educators running education, hoping for correct terminology is a stretch.
USCCF (U. S. Chamber of Commerce Foundation): 
Since it's public knowledge that the Gates Foundation gave millions of dollars to the US Chamber of Commerce to promote Common Core, we don't have to go into the Foundation's history to trace the ties to CC as we normally do for most of our groups.
So determined to undermine the value of a human being, this Foundation has an entire website devoted to "Business for Core", complete with toolkit, videos, pledges, and more. There's even a page for "Leaders and Laggers" where data from the states is used to shame some states and glorify others..all in the name of Common Core, college-and-career-readiness. Aren't you thrilled with this American institution? I know I'm not.
"Make Minds Fly with Common Core":
This portion of the USCCF has its very own website, http://www.maketheirmindsfly.org/
The site is set up to mimic a paper airplane being launched. The spiel is "By nature kids are thinkers, doers, creators, innovators..until they learn NOT to be." By this point in the scrolling graphic you see a traditional America school house, with the banner "American School System: since forever". (Someone clearly has no clue about the timeline for the American education system) The creators of the website are quite good. Why do I say this? Because that paper airplane launched at the top of the page now joins several others in a gutter on the roof of the schoolhouse. We're about to go down the pipeline attached to the gutter. (called the 'no fly zone') As you progress down the line, you'll see many jabs at the American education system. Then, the screen brightens up and you see 'Change is coming…it's called Common Core'. Below this, you'll spot that teachers suddenly have MORE freedom to help students. Then the real rhetoric begins. What would that be? The future of our economy. To have a great economy, you need a great workforce.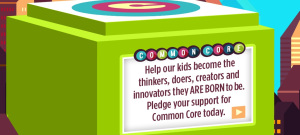 When you visit the above website and get to the point you see the same picture as above, click on the arrow and read the Open Letter to businesses. It's truly a piece of work.
To further the USCCF's agenda, solidify the need for supporting the CCSS, and making sure those businesses get a great return on their investment, is this promotional piece. Be sure to listen for 'talent supply', 'clear career pathways', and 'how all involved share the cost of the talent supply.
[youtube https://www.youtube.com/watch?v=ZMR85Q7oqq0?list=UUU3W5-ApOGKyM4bcZRCL0eg&w=560&h=315]
 CC supporters not ashamed to associate with the US Chamber:
As if there isn't enough to turn your stomach so far, here's an article by the CEO of Amplify, who happens to be the Executive VP for News Corp. The article, titled "Time to Disrupt Class" expresses how much we need the new technologies offered in our classrooms (hmmm, self promotion or greed? I'll let you decide) Read the article:
 http://www.uschamberfoundation.org/time-disrupt-class
This article, "A Nation at the Crossroads of Excellence", stresses the need for education to be exactly like business…where outcome (or produced good) is the goal, NOT the process, the details, or the concepts. Read it: http://www.uschamberfoundation.org/nation-crossroads-excellence
A President's remarks:
President of the U.S. Chamber of Commerce Foundation is John R. McKernan. He was, at one time, the Governor of Maine. Here's an excerpt of what he feels we need to know about the Foundation's word in education, "
The Chamber Foundation is tackling these issues* head-on because we want America's economy to grow, business to be competitive, and all students to have the opportunity for success. Essential to turning around those dismal international comparisons is setting high expectations for all students. We know from decades of experience that setting low standards in grades K–12 results in high remediation rates in 2- and 4-year institutions and workers without the skills employers require.  Rigorous college- and career-ready standards are what students deserve, what higher education requires, and what the business community is demanding. The Chamber Foundation supports the business community through expertise, resources, programming, and communications tools to advance college- and career-ready standards, such as the Common Core, and aligned assessments to ensure students are meeting these higher goals." (*Note: issues: skills gap, strong education, thriving economy. In the President's words 'we work to strengthen the pipeline from early childhood education to post-secondary education and training.')
Institute for a Competitive Workforce:
Never heard of this institute? It's part of the U.S. Chamber of Commerce. Actually, an affiliate. If you're looking for a website address, the only one you'll need is about under the UCCF. No matter what story or link I found, when I clicked on the title "ICW" it always lead me right back to the Chamber's Foundation. I've featured for you below one such source that came up in my searching, which referenced ICW.  Oh, I almost forgot, ICW is a non-profit, non-partisan group dedicated to rigorous education standards.
Related:
The National Collaborative on Workforce and Disability describes the ICW (Institute for a Competitive Workforce) as 'charged with establishing the US Chamber of Commerce as a leader in workforce development strategies. Why? Because through local chambers of commerce, much can be carried out toward streamlining education/workforce. See this and more, http://www.ncwd-youth.info/node/118
National Career Pathway Network:
Website link: http://www.ncpn.info/ This network is a 'members only' one that includes educators, employers, and anyone along the way involved in Career Pathways, Career Technical Education, or any related educational reform. The Network is housed under CORD (Center for Occupational Research and Development). The CP Network is staffed by a  'subject matter expert for the U.S. Department of Education's Designing Programs of Instruction for Career Pathways "Communities of Practice" and serves on the National Advisory Group for the Alliance for Quality Career Pathways initiative.' Her name is Debbie Mills. To read more about the 3 staff members and their ties to other organizations friendly with CCSS, CTE: http://www.ncpn.info/ncpn-staff.php (take note of the advisory board, too) The Network is a non-profit, non-partisan one dedicated to leading changes in education.
Where the two meet:
ICW and NCPN meet in a publication titled "Thriving in Challenging Times: Connecting Education to Economic Development through Career Pathways".
Because the Network is housed under CORD, Cheryl Carrier (a board member of ICW as well as the Program Director for 21st Century Education Programs, Ford Motor Company, known as "Ford PAS"), wrote this in the Foreword of the publication, "There are four key areas that businesses must consider when we make an investment in education:
• The first is the development of "human capital." Human capital has become more important than land and buildings, or tax incentive packages. Through a meaningful and educational engagement with students, we are developing a talent pipeline of students who are ready for college and careers. The cost to communities of not taking action — the lack of a skilled workforce — will cause existing businesses to leave and new businesses to stay away.
• The second area is to help educators prepare students with 21st century workplace skills. Businesses of all sizes are looking for employees who possess higher order thinking and leadership skills. Organizations have become lean and need to empower their employees to make decisions using 21st century skills, such as critical thinking, problem-solving, synthesizing data and information from multiple sources, and the ability to be part of a cross-functional team
• The third area is boomer retirements. The aging of the American workforce and the impending retirement of older workers in key occupations is well-documented. For example, the utility industry projects that 20% to 40% of their workforce will retire within five years, while the pipeline of young workers is insufficient. In coming years, many organizations with a significant number of workers in STEM fields could find themselves with significant worker shortages.
• The fourth area is the increased need for homegrown talent. Communities cannot depend on attraction strategies to strengthen their local workforce. The Millennial generation, today's new employees under age 26, are less likely on average to relocate than preceding generations. That means communities owe it to themselves to better prepare their own students for not just college, but careers close to home as well.
Thankfully, more and more business leaders are coming to understand the direct linkage between workforce and economic development and K-12 education. However, there is still plenty of work to be done."
Other nuggets from the publication include:
It's up to our public schools to produce 'pools' abundantly filled with capable workers
Refers to Career Pathways as 'education with a purpose' (you'll find the familiar 'rigor' rhetoric in this section)
"Strengthening the High School to College Pipeline" (where you'll see dual enrollment, early college touted)
Programs from around the nation, such as "AchieveTexas" highlighted as Career Pathways success stories. (be sure to note Georgia's program, too. That's the one Act, Inc uses as a promo video clip on their website for WorkKeys assessment where you're told, 'no national number, no job') *If you've not seen that promo, here's the You Tube link:
[youtube https://www.youtube.com/watch?v=422sXYNSbVw&w=560&h=315]
Lastly, in the publication, you'll find certain Career Clusters highlighted as how successful all this streamlining of our 'talent supply' is.  Want the publication? Here it is: Thriving_in_Challenging_Times(web) Be sure to note the partners, the participating schools, businesses, and the funding sources throughout the publication. Be sure to read the Career Pathways handy-dandy checklist, too. What 4 words you will NOT see: "Common Core State Standards", but you'll see enough to connect the dots (especially if you've been reading my posts very long).
Closing:
Well, my friends, fellow warriors of the Common Core, and those who are just joining me, I hope and trust you will find the above trail of research help you abundantly. Any contributions you would like to share, please know that I will do my utmost to respect your privacy. Our voices, our stories, and experiences will continue to raise awareness. Your voice is vital. Thank you for all you are doing.