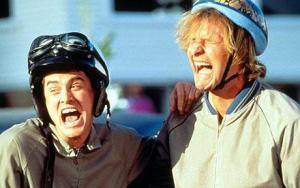 Okay, so it's not new news about the love affair NC has with Common Core. However, the latest move to allow both K12, Inc. AND Pearson into the virtual educational airwaves of the state remind me of the "Dumb and Dumber" guys.
The Backstory:
While I'll not give you the entire past account of NC's Virtual Public School saga, I'll tell you this, it's CCSS aligned. It's been offered as an option for home education students. It's a crock! Tax payer funding AND student disservice..what two wrongs we have. So, has your state made a similar move?
The Legislation:
Giving the state CCSS via Virtual School, the NC General Assembly passed the following:
From 2011, the Funding formula legislation (meaning the fees charged to enroll in the virtual schools paid by homeschoolers, etc.)  HOUSE DRH70171-LE-129A
From a special report on NC's Virtual Charter Schools, this excerpt, "Virtual education is not new to North Carolina. Created in 2007, the state-led North Carolina Virtual Public School (NCVPS) offers supplemental high school courses to public, private, and homeschooled students across the state. NCVPS is the country's second largest virtual school and it continues to expand." Not too long after this, is this bit of fact, "Digital, online, and virtual learning are no longer endeavors of the future. They are here. North Carolina education is becoming more technologically enabled daily. Entire local education agencies (LEAs) are utilizing 1:1 device initiatives, and the General Assembly has mandated that the State transition to digital materials by 2017. The education-technology world is ever evolving, and no one knows yet how expansive it might become. As the State embraces new methods of education delivery and technological advancements, it is important to remember that each is only one piece of a very large puzzle."
More About the NCVPS from the report on virtual charters:
"The North Carolina Virtual Public School opened in 2007, serving over 195,000 students since that first year. It is the nation's second largest state-led virtual school with over 50,000 enrollments in 2013-14 from all 115 LEAs and many charter schools. NCVPS offers over 150 different courses as a supplement to local high school course catalogues and includes Advanced Placement, Occupational Course of Study, electives, traditional, honors, and credit recovery courses. All courses are taught by teachers licensed in North Carolina and provide strategies for active student engagement through a variety of technology tools. Teachers are required to make personal contact with students and parents regularly to maximize the student-teacher relationship. Courses are free to students who enroll through their local North Carolina high school. NCVPS is available to home school and private school students for a fee. The law states that the director of NCVPS shall ensure: 1. Course quality standards are established and met. 2. All e-learning opportunities other than virtual charter schools offered by State-funded entities to public school students are consolidated under the NCVPS program, eliminating course duplication. 3. All courses offered through NCVPS are aligned to the NC Standard Course of Study. NCVPS is a supplemental program and is not a credit-granting or degree-granting institution. As such, the student's face-to-face school awards all credit. Students typically enroll in one or two courses each term with the remainder of their courses taken at their face-to-face school. However, a small number of homebound students take their full course load through NCVPS, yet they are still officially enrolled in their local high school and are granted credit through that school. Currently, all courses offered by NCVPS are high school level courses, although many middle school students who need high school level opportunities enroll with NCVPS. Development of middle school level courses has begun and will be piloted in 2014-15. NCVPS is not the only supplemental option in North Carolina for virtual education. Recently, some LEAs have experimented with similar programs on a local level that offer courses to students in single districts. Because they do not offer courses beyond their borders, they do not fall under the purview of NCVPS." If you wish to have the entire report, visit: http://www.ncleg.net/documentsites/committees/JLEOC/Reports%20Received/2014%20Reports%20Received/Study%20Virtual%20Charter%20Schools%20Report/Virtual%20Charter%20Schools%20Report.pdf
Was it 2005 or 2007?: 
In the above report's excerpt, we saw the year 2007 was given as to when virtual public school began in NC. However, a NCVPS financial audit from 2014, says this, "The North Carolina Virtual Public School was established in 2005 to provide students with free, online classes that are not offered at their local schools. The Virtual School began offering online courses to high school students in 2007 and later expanded its course offerings to middle school students. During the 2011-2012 academic year, student enrollment reached 49,189, up from 6,984 in the 2006-2007 academic year. The school offers more than 100 courses and serves all 115 school districts and 36 charter schools. Total expenditures during FY 2012 were about $19.7 million." Did you see the portion about middle school students? One report says expansion to them was 2014-15, this financial audit doesn't give a specific date, but has lumped it close enough to 2007, you might assume it was about the same time. You'll want to access the audit. It gives a very interesting finding. Enrollment numbers inflated and teacher pay based upon enrollment. Virtual public schoolaudit
According to the NC General Assembly's archives, HB2417 and Senate Bill 1616 from the 2005 legislation session gave $5 million dollars to the NC DPI (Dept. of Public Instruction) begin the virtual school. State Statute 116C-5 was modified to reflect the new type of school. See the Senate's bill: http://www.ncleg.net/sessions/2005/bills/senate/pdf/s1616v1.pdf  House of Representative's bill: http://www.ncleg.net/sessions/2005/bills/house/pdf/h2417v2.pdf
Related:
Interestingly enough in 2005, the Senate had a bill that's been tabled for quite awhile, but COULD be playing into today's educational snafu. The title of the bill was "Education Improvement Act of 2005" (SB 965). Part 4 of the Bill was subtitled, "21st Century High Schools". You really should see this section. 
http://www.ncleg.net/sessions/2005/bills/senate/pdf/s965v1.pdf (*Note: you'll notice in this bill it discussed the Governor's plan for education. To see the General Statute it refers to: 
http://www.ncga.state.nc.us/EnactedLegislation/Statutes/HTML/BySection/Chapter_116C/GS_116C-4.html )
To see the NC DPI's financial information for the Virtual Public School: http://www.ncpublicschools.org/fbs/finance/ncvps/
To access the official Virtual School website: http://www.ncvps.org/ (*Note: be sure to look at the RttT and STEM page in the "About Us" portion. Look at the partners under the "Our Partnerships". Leading the partners, SAS Inc. with the CCSS algebra portion.)
The RttT Funding: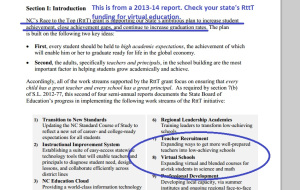 From the 21-3-14 Race to the Top update, Virtual Schools were #8 on the priority list. Pages 18 and 19 of the report give all kinds of information about what's been going on. Full report: Statewide Education Initiatives in RttT
The Latest Part of the Story:
This is where Pearson and K12, Inc. enter the story. From the Raleigh's News and Observer edition (2/5/15), the CCSS supporters will gain access to our students via virtual charter schools. (Be sure to read the virtual charter study. Ask yourselves, what accountability does a charter school which is virtual have? Where's the funding, etc.) To see the N and O's story, http://www.newsobserver.com/2015/02/05/4533524_two-online-charter-schools-approved.html?rh=1
Buzzfeed have a similar story on 2/5/15, however their's was a bit more revealing. It shared that because of a 'rider' in the state budget, that's how the 2 pro CCSS companies gained a victory in having access to students. See: http://www.buzzfeed.com/mollyhensleyclancy/online-charter-schools-winning#.fg2VPO4AM1
Related articles:
Huffington Post has an entire page of articles on the poor performance of K12, Inc. See: http://www.huffingtonpost.com/news/k12-inc/
From 2012, "Getting Smart" shared how NC blocked the K12, Inc. from operating in the state. See: http://gettingsmart.com/2012/06/north-carolina-blocks-online-public-charter/
From 2014, "NC Policy Watch" shared how NC blocked K12, Inc. via the State Board. See: http://pulse.ncpolicywatch.org/tag/k12-inc/
From the John Locke's Lockeroom, NC's track record with Pearson. See: http://lockerroom.johnlocke.org/2015/02/11/politico-nc-dpi-gives-no-bid-contracts-to-no-good-pearson/
From NC's DPI, just one of the many contracts they've awarded Pearson (you can use this link to access the one and then search for the others). See: http://www.dpi.state.nc.us/publicnotices/notices/2013-14/20140515-01
An announcement from 2013, June Atkinson writes  about Pearson's presence. See: Pearson-IIS_Announcement
From LadyLiberty1885, in 2014, the contract Pearson got with NC Community Colleges (which are also CCSS aligned). See: http://ladyliberty1885.com/2014/10/12/pearson-equella-contract-for-nc-community-colleges-35284419/
The back door for Non Public Students to CCSS is the NCVPS. See the below screen shot to see how.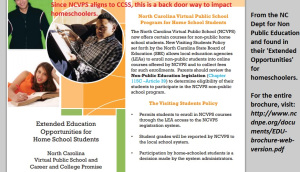 So, what about your state? Is it providing for its students in the ways NC is? Have you looked at every corner of your state's budget, state's education legislation? Have you contacted any home school group or private school group to see if they are aware of the back doors? Don't let your state get dumber when it comes to CCSS!