Warriors Against the Core, We know there are all kinds of great ways to teach and to learn. Common Core has ruined this in SO many ways. With the push for digital this, digital that, on-line courses, and all the other resources available via the computer it can be SO confusing to know which are CCSS aligned and which are not. While the question I've posed to you in the title is rhetorical, we still should see what are some of the latest offerings out there. Why? To help steer clear of them, to inform others who might need to know, and to see what pro CCSS organizations are behind them.
English Language Learners:
As an avid education researcher, I get all kinds of notices about educational products which are new. One such recent announcement was a way to help those learning the English language with a new " innovative digital ELL curriculum designed to help close the achievement gap." The goal? Improved student outcomes. According to the sales pitch the product was to 'boost performances' of those ELL students. Shameful..we boost the performance of our cars. In my researched opinion (and personal experience as an educator) we shouldn't be teaching to 'boost performance' of our students. We should be seeing educational resources which 'encourage and help our students to LEARN' not to 'perform'! The on-line lessons are provided by Middlebury Interactive Languages. However, MIL worked in tandem with 'We Are Teachers'.  MiL (Middlebury Interactive Languages has courses for K-12 students in all school choices, including homeschooling). If you're curious about the CCSS Machine's propaganda, don't be, it is there plain as day. Here is an excerpt from the website, "Middlebury Interactive Languages is the academic leader in digital language learning for K-12 students. We provide access to superior world language and English Language Learner curriculum solutions that prepare students with the skills and cultural understanding to compete in the 21st Century global marketplace." So, what company or organization is behind MIL? Middlebury College! What is also interesting is that most of the board managers have had some tie (at one time or another with K12, Inc. K12, Inc. has ties to CCSS, as well.) We can come back to them in a minute or two. If you look at MIL's education partners, you will see quite a few members of the CCSS Machine. See them: http://www.middleburyinteractive.com/about/partners
K12, Inc. I previously showed you their CCSS ties in two articles. One ties them to the NASBE (National Assoc. of State Boards of Education). See: https://www.commoncorediva.com/2015/02/14/sic-em-saturday-do-you-know-nasbe/
The next one showed you how this on-line school fared with North Carolina. (hint: it wasn't nice) See: https://www.commoncorediva.com/2015/02/23/monday-musings-two-wrongs-no-right/
We Are Teachers, (WAT) This group has a ton of resources available for anyone who is on the internet. When I found it I could get anything from lessons, to free printables, and free recipes. When I looked closer, I saw I could get all the STEM stuff I wanted, as well as PD, Professional Development. As you know, my research has proven just how twisted the ties between STEM and CCSS are. But back to the website, it seemed everything was easy to find EXCEPT who runs WAT. We Are Teachers is a LLC (Limited Liability Corporation) based in TX. It appears that all kinds of educational information is available for anyone on-line. See their terms of use policies, http://www.weareteachers.com/homepage/terms-of-use
The concern is, with this type of information sharing can have you come face to face with CCSS, STEM, or who knows what else? The screen shot below is from the WAT 'Assessment' section of the website.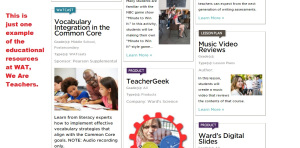 My fellow warriors, what do you think about all this? An on-line educational company so bad they were at once run out of a state, only to at a later day, be allowed?! Educational services based out of a college that has been around for years, which not only offers its CCSS aligned materials to public students, but extends them to those who are homeschooled?! A LLC where teachers are encouraged to share, but has a nebulous side to it?! Not to mention STEM?! Why, oh why, must everything  connected to education seem to always come back to the CCSS Machine?! I am so beyond mad over the fact that the CCSS Machine has slicked up its offerings to include any student or teacher in or outside of the traditional public schools!
What is a take-away from this article which I most hope you will share with others? If you must choose on-line for all your student's needs, SNOOP! Be nosy, ask questions about what group created the educational content. Has the curricula been vetted properly? Bottom line: if something does not appear to be trustworthy, walk away! If it sounds too good, check it out anyway! We say in the anti CC warrior conversations that 'we will not conform'. If we really mean those words, we MUST investigate everything! When we find ANYTHING connected to the agenda of the CCSS Machine, we MUST expose it! Warriors, let's learn a valuable lesson from our proCCSS fellows about what NOT to do when it comes to education.
It can best be summed up in an old saying.  'Ride the fence too long, you find splinters in your bottom'.