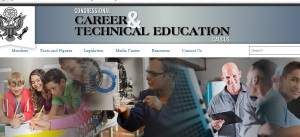 If you've not heard of the U.S. Congress' Career and Technical Education Caucuses, by the end of this article, you will know quite a bit.
Websites: http://careerandtechnicaleducationcaucus-langevin.house.gov/ (*Note: this is the U.S. House of Representative's Caucus)
http://www.portman.senate.gov/public/index.cfm/2014/1/portman-kaine-announce-career-technical-education-caucus (*Note this is the press release announcing the Senate's CTE Caucus from 2014)
Differences between the two (aside from the separate chambers in D.C.)?:
The House's CTE Caucus has been in action since 2007; The Senate's geared up in 2014.
ACTE, Not the First Time I've Written About Them:

The ACTE (Association for Career and Technical Education) has this tidbit on their CTE Caucus page,
"…call attention to CTE as a proven method for promoting America's continued economic growth and ensuring that our students have the skills they need to succeed." To see more from ACTE about the background of U.S. Congressional CTE caucuses: http://www.acteonline.org/caucus/#.VVPesflViko
From the Senate Caucus link above, Senator Portman's announcement put CTE this way, "The Senate Career and Technical Education Caucus, a counterpart to the House Career and Technical Education Caucus, will support efforts to ensure all students have access to high-quality, rigorous career and technical education to prepare them for college and for their future careers. It will also work to ensure that unemployed and displaced adult and youth workers have better access to training that is accountable, equips them with skills that are relevant in the job market, and ultimately delivers results for the taxpayer."
ACTE's Letter to the U.S. President encouraging MORE aligned CTE and that it be rewarded!!
Here's the text of the letter (the emphases you 'll see are mine):
May 23, 2014
The Honorable Barack Obama
President of the United States
1600 Pennsylvania Avenue NW
Washington, DC 20500
Dear Mr. President,
We write today regarding the U.S. Presidential Scholars program, and career and technical education.
The U.S. Presidential Scholars program celebrated its 50th class of scholars this month.  President Johnson created this outstanding program by Executive Order in 1964.  It honors graduating high school seniors for academic excellence, artistic accomplishments, and civic contributions.  High school students apply based on their scores on college entrance assessments (the SAT or ACT).  Further evaluation occurs based on school transcripts, leadership, and contributions to the community.
This program also has a component for students in the arts.  Each year, up to 20 U.S. Presidential Scholars in the Arts are also selected, based on nominations by the National Young Arts Foundation through their YoungArts program.  These Scholars in the Arts are chosen for their accomplishments in the visual, literary and performing arts, as well as for their scholarship, leadership and public service.
The existence of the Presidential Scholars in the Arts program demonstrates a commitment to recognizing excellence in our high school students in multiple ways.  We urge you to create, by Executive Order, a Presidential Career and Technical Scholars program.  
Career and technical education (CTE) programs are a proven method to prepare secondary and postsecondary students with the rigorous academic and technical skills needed to compete in today's global economy and to further their education.  It is in our national interest to not only provide all students access to rigorous CTE programs of study, but to also encourage high attainment by CTE students.
Over the past two decades, CTE programs around the country have responded to the growing skills gap by increasing the rigor of their programs through secondary-postsecondary links, dual enrollment and alignment with business and industry needs.  Today's CTE programs are aligned with the needs of the 21st century workforce in career fields such as engineering, information technology, healthcare, and advanced manufacturing. In response to the increased rigor in programs, CTE student performance has risen to the challenge in dramatic fashion.
The Department of Education recently announced that the average U.S. high school graduation rate was 80 percent and Secretary Duncan pledged to push forward to close the gap to 90 percent.  CTE is playing an important role in achieving this goal, with the average graduation rate for CTE concentrators already above 90 percent. Moreover, secondary CTE students are more likely to pursue postsecondary education than their non-CTE counterparts. And CTE students are competing in world class competitions to test their knowledge in ways no standardized test could.  For example, the Skills USA WorldTeam earned a silver medal in the 2013 World Skills competition in Leipzig, Germany.
Your administration has called for an emphasis on college- and career-ready standards in our schools. In your most recent State of the Union address, you highlighted the importance of students obtaining some form of postsecondary training.
As you prepare to deliver the commencement address at Worcester Technical High School on June 11, 2014, we urge you to support rigorous CTE programs around the country and to recognize high-performing CTE students.  It is time we recognize and value the efforts of our students who have chosen CTE pathways.
As cofounders of the Senate Career and Technical Education Caucus, we urge you to issue an Executive Order to establish a Presidential Career and Technical Scholars Award in line with other presidential awards for student achievement in academics and the creative arts.
Sincerely,
U.S. Senator Tim Kaine
U.S. Senator Rob Portman
U.S. Senator Tammy Baldwin
I'll be sure to include the links for you to follow so you can see why I emphasized the portions of letter that I did. But let's continue the Caucus focus, shall we??
The House's Caucus:
Right now, H.B 2317 is in the spotlight. What's the bill about, Career Choice Counseling. Why is this a big deal? If you've not seen my article exposing how big the push to align school counselors is to all things CCSS, CCR (college and career ready) and CTE is, then read it first, then read H.B. 2317's description. (See: https://www.commoncorediva.com/2014/10/10/fridays-post-breaking-news-you-need-to-know/)
Here's a portion of the description for H.B. 2317, "Amends the Elementary and Secondary Education Act of 1965 to direct the Secretary of Education to award competitive establishment grants to states to develop and implement comprehensive school counseling programs that provide students with effective postsecondary education planning and career guidance services." (to read the rest of the description, http://careerandtechnicaleducationcaucus-langevin.house.gov/legislation) To access the H.B. 2317 full text, https://www.congress.gov/bill/113th-congress/house-bill/2317
The Senate's Caucus:
Recently, they passed a resolution (March 2015) supporting all things CTE/STEM related and even added language that appears to glorify rigor, college/career readiness and so much more. You'll need to read it for yourselves to see what I mean. See: https://www.congress.gov/congressional-record/2015/03/03/senate-section/article/S1254-1
Back to the ACTE for a moment:
If you'd like to keep up with what the Caucuses of BOTH the House and Senate are up to, the best place is the ACTE's Caucus page titled "CTE Policy Watch".  For example, if you go to their website right now, you'd see how we as citizens of each of our states needs to urge our members to push for MORE CTE via Perkins Funding! To access the CTE Policy page, http://ctepolicywatch.typepad.com/blog/cte-caucus/
Related resources to help you connect the dots:
*How Perkins Funding is being used to push more adult level CCSS (aka CTE):
https://www.commoncorediva.com/2014/11/20/tech-thursday-perkins-gets-the-common-core-squeeze/
*How Skills USA and others are connected to CTE and more CCSS:
Part 2: https://www.commoncorediva.com/2015/05/07/tech-thursday-upskilling-america-part-2/
Part 1: https://www.commoncorediva.com/2015/05/06/wybi-upskilling-america-part-1/

*How CTE and CCSS intersect:
1) https://www.commoncorediva.com/2015/04/09/tech-thursday-recapping-higher-ed-cteccss/
2) https://www.commoncorediva.com/2014/09/04/common-core-after-high-school-reality-check/
*About Job Development Grants our States are up for (ties CTE and more competitive funding to each of the 50 U.S. States)
https://www.commoncorediva.com/2015/03/25/wybi-job-development-grants-and-ccss/

*More on ACTE:
https://www.commoncorediva.com/2015/03/12/tech-thursday-difference-between-careers/