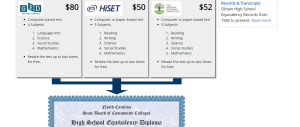 No, the GED's makeover ISN'T the biggest news at the moment in the War Against the Core. However, as we've seen in this fight to save our educational system from the massive agenda which accompanies it, WHAT has been going on SINCE the GED Makeover??
If your state is anything like the one I live in (NC), plenty. If you refer to the picture at the beginning of this post, you'll not one, but 3 testing services now offer the NC HSET (North Carolina High School Equivalency Test). Your diploma will be awarded to you by the NC Community College System. The NC Community College System has 'sold out' to the Common Core Standards/Career Tech Education.
Before we look at the 2015 update, step back with me to gain a better context of HOW CTE and Common Core are related:
From 2014:
How do I know the NC Community College System has aligned itself to the CCSS Machine? Please refer to my  former article exposing the alignment:
Here's an excerpt from the "Despicable Moves" article, "all 58 of NC's Community Colleges are in tune with the businesses in our state. The "master plan"? Kindergarten-12th grades, as well as community colleges (those 4 yr colleges will be added soon, or so it is hoped) to have classroom lessons in tune with the jobs in manufacturing , finances, logistics and healthcare." (the entire article:
https://www.commoncorediva.com/2014/10/09/tech-thursday-ncs-workforce-despicable-moves/ )
How do I know the rest of America's Community Colleges are also aligned? Here's an excerpt, "'THE' College Board involved with local community colleges. I hope this, because, it should continue to illuminate just how big of a grip on upper level education the group has. One part of the College Board's organization is known as the Office of Community Colleges…. It is their job to work with local community colleges & help guide their decision making among other goals. The Board for the OCCI has many members. At least 2 are vocal about their support of & promotion the CC Standards in community colleges.  Kenneth Ender, Chair of the Advisory Board, "There is considerable work to be done to assure our K–12 curricula align with that of community college higher education. Our goal should be nothing less than assuring every high school graduate is prepared for postsecondary training and/or postsecondary education. The economy and workplace of the 21st century demands nothing less." Nancy MacCallin, "If we do not address alignment of our K–12 and higher education systems, we will not be competitive in the global economy. Remediation needs of postsecondary students continue to worsen and need to be addressed in order to increase educational attainment. I hope to align assessment with the common core to provide an authentic assessment to ensure students move quickly through the remediation sequence and into a program that leads to a skilled workforce."  (see the rest of the article: https://www.commoncorediva.com/2014/09/18/tech-thursday-common-core-community-college/)

Step Back, Circa 2012:
Before NC could become so aligned in all that's related to the Common Core, there had to be some states to be the 'guinea pigs' for post-secondary Career Tech Education. From 2012 (or close to it), this is what was happening, "Since CTE is a federal level national initiative, there will be all kinds of funding, programs, etc. To get us to this point in education reform, research had to be conducted. From what I've been able to find, there were 5 states of OR, CO,KS, MN, MA, were awarded funding to participate in Advancing Career and Technical Education (CTE) in State and Local Career Pathways Systems, a two-year project managed by Jobs for the Future through a contract with OVAE(Office of Vocational Adult Education, which, by the way, has been renamed to OCTAE or the Office of Career, Technical Adult Education). Technical assistance will be provided to assist these states in building their capacity to integrate CTE Programs of Study (POS) into their broader career pathways system development efforts." (Read the rest of the article: https://www.commoncorediva.com/2014/10/02/tech-thursday-ccss-career-pathways-and-workforce/)
Modern Day "Progress":
Now that you've got a bit of context as to HOW the post-secondary CTE and the K-12 CCSS are related (if you need more evidence, I've got plenty, just let me know), let's look at the current 'progress' via the High School Equivalency Test (aka the GED) from North Carolina. NC has 3 options, some states only have one or two options for measuring high school equivalency.
ETS's HiSET: (Educational Testing Service), is a well known pro CCSS assessment maker, educational research entity and student data miner. According to their website for the HiSet, by offering you MORE options than every before for high school equivalency testing, you have greater opportunities! (see their encouragement letter to potential test takers,
http://hiset.ets.org/test_takers/letter/)

Other States using the HiSet are California(specific locations), Iowa, Louisiana, Maine, Massachusetts, Missouri, Montana, Nevada, New Hampshire, New Jersey, New Mexico, Tennessee, and, Wyoming. (see: http://hiset.ets.org/requirements) The U.S. Territories are also in the CCSS/CTE 'mix'. Click on the U.S. Territories tab to see their requirements.
To see the 2015 HiSet's "Test at a Glance" pdf: 2015_taag
"GED": Since GED is now a registered trademark owned by the American Council on Education (see this from their legal page, "The trademarks and logos used on our site identify our products and services and are owned by the GED Testing Service LLC or are used under license by GED Testing Service LLC. GED® and GED Testing Service® are registered trademarks of the American Council on Education ("ACE")), much about the assessment has changed. For example, the main 'selling point" as per their website can been seen below.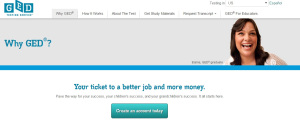 The North Carolina Community College page shares that the "GED" is available in all 58 locations. Be sure to refer back to the fact that all 58 locations are tied to the CCSS Machine. (see above). Unlike the HiSet, "GED" is an anywhere, anytime assessment. See:
https://ged.com/how-it-works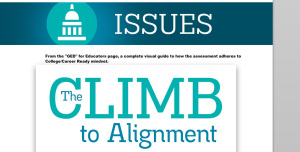 The TASC ("Test Assessing Secondary Completion"):
This particular assessment is tied into MacGraw Hill's CTB arm of assessments as well as the Data Recognition Corporation (DRC). See the links for much more information,
http://www.tasctest.com/about-ctb-for-educators.html
http://www.datarecognitioncorp.com/Pages/News%20Articles/news-3.aspx
Proof of the association can be seen in this screen shot:


TASC's position on "Common Core" can be found in this excerpt, "TASC Test Item Types Reflect College and Career Readiness. Field tested and normed in 2013, the TASC test delivers the newest high school equivalency content available. It is aligned to Office of Career, Technical, and Adult Education (OCTAE) National College and Career Standards for Adult Education, Next Generation Science Standards, and Social Studies national frameworks."
Wait, I didn't see "Common Core State Standards" in that excerpt. You're exactly right. Here's HOW the CCR(College/Career Readiness) and the CCSS (Common Core State Standards) are basically the same thing, "In April 2013, after the TASC test development was initiated, the Office of Vocational and Adult Education (now named the Office of Career, Technical, and Adult Education) completed a project identifying a subset of the Common Core State Standards most appropriate for adult preparation for college and/or careers and issued its report, "College and Career Readiness Standards for Adult Education."  You can access the rest of the document from which the above excerpt was taken when you click on the provided link. It's an alignment timeline plan from McGraw Hill's CTB Plan. TASC_Test Transition Plan_Revised_May.11.2015
The NC Memo from the US Dept. of Education which connects the high school equivalency tests to FASFA (post-secondary financial aid) forms can be found at
 http://www.nccommunitycolleges.edu/sites/default/files/numbered-memos/cc15-001.pdf
How does that memo tie to the CCSS Machine? The makeover of the FASFA for one, the U.S. Dept. of Education is another, the NC Community College is next.
Not shown in the memo or any of the above is the NC Chamber of Commerce's involvement in education, but it's there for sure. It has to be. Why? Simply put, the NC Workforce combines education and businesses.
In Your State:
As you know I use NC as an example for you to see where in your state these CCSS/CTE/CRR ties are. However, here are some articles I have previously published which tie the national organization for Community Colleges, as well as others,  to all this aligned agenda. Please,  use these, share these! The re-authorization of the HEA (Higher Education Act) will be upon us very, very soon! It is meant to be the second part of the re-authorization for education in America. It will directly follow up the re-authorized results of the K-12 education (Every Child Achieves Act/Student Success Act). Why? You cannot have complete education alignment that's been stated as 'cradle to career' without our K-college system being distorted.
Every one of the links below is written from the national level of involvement, not just NC's.
This ties so many ends of the CCSS Machine/Initiative together: https://www.commoncorediva.com/2015/04/25/sic-em-saturday-using-community-colleges-for-more-core/
This one features some of the current proposed legislative moves in Washington, D.C.:
https://www.commoncorediva.com/2015/07/10/may-day-may-day-ccsscte-urgent-news/
This one shows how the high school assessments (GED, SAT, and, others) are being used against us:
https://www.commoncorediva.com/2015/06/12/fom-post-secondary-ed-the-ccss-trojan/
My two part "Upskilling" articles pack a 'one, two punch':
https://www.commoncorediva.com/2015/05/06/wybi-upskilling-america-part-1/
https://www.commoncorediva.com/2015/05/07/tech-thursday-upskilling-america-part-2/
The Council for Higher Education (CHEA) and the CCSS Machine:
https://www.commoncorediva.com/2015/04/14/ftf-chea-cte-ccss-and-america/


A Parting Thought:
Anti CCSS/CTE Warriors, please note post-secondary education, no matter if it's community colleges, for profit trade schools, on-line classes or certifications, public or private 4 year schools, every student who enters into them comes from a different educational choice. No education choice will be saved from the CCSS/CCR/CTE agenda as long as the illegally based initiative is allowed to survive.