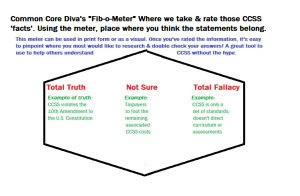 "Fib-o-Meter" Friday!! Today's article will take another look at the SBAC and PARCC CCSS aligned assessments.
The original article:
Back in January of this year (2015) I shared with you all kinds of information on the 2 assessment consortia. All kinds of "Total Truths" were shared..even the technical bulletins detailing what flow the data collected follows. Here's one of those "Total Truths",
"Jan. 31, 2012 – "The SMARTER Balanced Assessment Consortium and the Partnership for Assessment of Readiness for College and Careers (PARCC) today announced they have awarded a contract to Pearson to develop a new Technology Readiness Tool to support states as they transition to next-generation assessments. This new open source tool, with the assistance of the State Educational Technology Directors Association (SETDA), will support state education agencies as they work with local education agencies to evaluate and determine needed technology and infrastructure upgrades for the new online assessments to be launched by the two consortia in the 2014-15 school year." Then a bit further down, "SMARTER Balanced and PARCC both received grants from the federal Race to the Top Assessment Program to work with states to create next-generation, comprehensive assessment systems. The development of the Technology Readiness Tool is one component of their initiatives to establish infrastructure and content for common online assessments."
To access the entire original article, see: https://www.commoncorediva.com/2015/01/12/monday-musings-assessments-data-mining/
SETDA, State Educational Technical Directors Association:
Website: http://www.setda.org/ (below is a screen shot of SETDA's partners; be sure to enlarge the picture):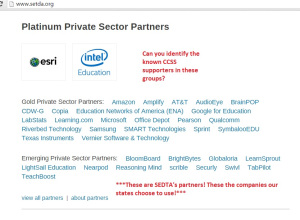 As far as how the non-profit is funded, it appears to be a combination of P3s (Public, private partnerships). See:
http://www.setda.org/about/
Here's more "Total Truth" about the non-profit SEDTA: (click to enlarge)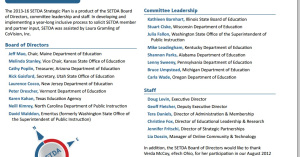 See the SETDA's Strategic Plan (set to take us through 2016): SETDAStrategicPlan2012
In it, you'll find such "Total Truths" as increasing the states digital presence; how technology is an imperative (therefore supporting new acts, bills, and laws which put more in place); how the non-profit seeks to increase its influence to impact federal, state, and local education policies. There are other "Total Truths" as well.
Back on  SETDA's website, you can find out how supportive of ConnectEd they are. If you're not familiar with ConnectEd and how it's also mixed in with CCSS, please refer to my earlier article, https://www.commoncorediva.com/2015/02/28/sic-em-saturday-no-laurels-to-rest-on-yet/
If you want to find out where your state is as far as the technology infrastructure, you'll want to use the following pdf as a tool to help point you in WHERE it's hiding in your state. I've included one screen shot from the pdf so you can see 2 connecting dots of truth…CCSS and Jeb Bush. brief-2-alignment Yes, this pdf is a bit dated, but when  we know WHERE to look, time can be saved and actions can be made sooner!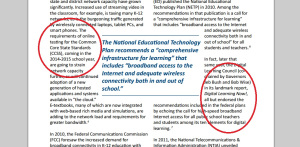 For much, much more on SEDTA's Common Core/SBAC/PARCC/Next Generation Standards alignment: http://www.setda.org/priorities/interoperability/gim-css/

For the "Total Truth" about this alignment and just whom SEDTA thanks? I give you this excerpt from the bottom of the page for the link directly preceding this sentence,
"While many state and national experts provided their valuable input into the development of GIM-CCSS technical products, SETDA retains sole responsibility for their contents. They are made available to interested parties 'as is' and with no representations, express or implied. SETDA would like to thank the generosity of multiple funders, including the Bill & Melinda Gates Foundation, the Carnegie Corporation of New York, and the William & Flora Hewlett Foundation, for the support to conduct and release this important work."
The "Total Fallacies"?:
Earlier this week, I saw on Twitter, 2 posts about SBAC and PARCC that qualify for the "Fib-o-Meter's "Total Fallacy" side.
Here's the screen shot for the SBAC's boasting: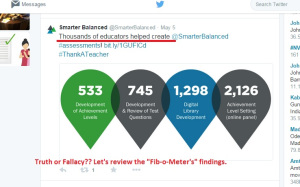 Here's PARCC's from the same day: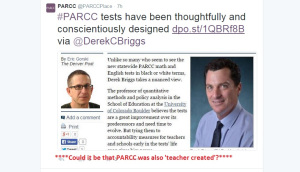 Why both are in the "Total Fallacy" category? Refer to the bold statement I found on SEDTA's site, THEY took sole responsibility for content!
Links to both full articles: SBAC's, http://www.smarterbalanced.org/news/close-200-colleges-universities-use-smarter-balanced-scores-part-placement/
PARCC's, http://blogs.denverpost.com/coloradoclassroom/2015/05/11/parcc-adviser-opt-out-propaganda-mischaracterizes-comments/5007/
(*Note: take the Denver Post article with a grain of salt..Gates is tied to the paper)
Among all the sources out there, I was able to find a petition on Change.org where it gives links to access information. Among that information is the Gates Foundation's "Media Group" (Denver Post is part of that group). See: https://www.change.org/p/the-colorado-legislature-repeal-senate-bill-191-linking-standardized-test-scores-to-teacher-pay-and-performance/u/9985771