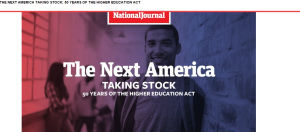 Sen. Alexander has been a huge supporter of aligning education for quite some time, especially where CCSS?CTE are concerned. He's presently rewriting both the HR5 AND the HEA legislation which will impact (and align) everyone from K-College. Mr. Mitchell, with the U.S. Dept. of Ed has also been at work (quietly) on 5 agenda driven initiatives concerning education. What's ironic is that while Alexander's been getting a lot of press, Mitchell has been continuing on in helping the CCSS Machine roll on. Today's post is Mr. Mitchell's turn to be featured. (*Note: we'll look at Sen. Alexander's portion of this conference in Thursday's 'Tech Thursday' post) So, let's find out just what Mr. Mitchell shared with the "Next America" folks. 
I've included the host group's history for you, as it also needs some anti CCSS warrior attention.
National Journal Media, the Group Hosts for "Next America":

First, a bit of history.  If you don't know what publication the "NJ" is, the website for the National Journal, states the following: National Journal is regarded as the most influential publication in Washington, providing more than 3 million influentials in public policy and business with the insights they need to make government work.  Fiercely honest and scrupulously non-partisan, National Journal has a four-decade history of serving leaders in Washington—and around the country—with trustworthy, in-depth analysis on legislation, politics, and the structural trends shaping America.
(website address: http://www.nationaljournal.com/nj/about-us-20131001)
If you're curious as to who owns the National Journal, it's the Atlantic Media Group. AMG also owns the "Atlantic" magazine (and others). The leadership of the "Atlantic" has proven very friendly toward CCSS. (*Note: here's an excerpt from my Sept. 2014 article about the Technocratic grasp for education. "The Atlantic Media owner is a favorite featured guest of the Aspen Institute (which has invested over $3 million in Common Core). Aspen, another group pushing Common Core. Aspen also is a big pusher for technology in the classroom. Just this past week, 9/16/14, the U.S. Dept. of Ed's Deputy Secretary, Jim Shelton,  was the featured speaker. (See, http://www.aspeninstitute.org/about/blog/impact-of-technology-in-the-classroom-q-and-a-with-jim-shelton"  To access the entire article, https://www.commoncorediva.com/2014/09/21/rmt-sunday-technocratic-education-design/)
As far as the event held on the 9th of June, NJ proudly announced it was underwriting the conference. (To see more about all the NJ hosted events, be sure to read the bottom left corner of the link to access the conference video.
Ted Mitchell and a Panel of Speakers: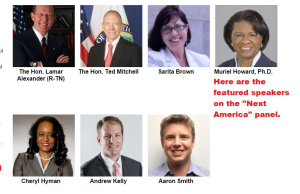 On the website page with this picture you can get a brief biography and all the contact information you could want. I urge you to look at each one's biography.
From Mitchell's bio:
 "To spur education, economic growth, and social prosperity, Mitchell is charged with planning and policy responsibilities to implement President Obama's goal for the U.S. to have "the best educated, most competitive workforce in the world" as measured by the proportion of college graduates by the year 2020. Mitchell and his team are keenly focused on implementing President Obama's American Graduation Initiative to improve college access, affordability, quality, and completion.  Mitchell is the former CEO of the NewSchools Venture Fund and served as the president of the California State Board of Education.
Can you see the potential for Common Core and Career Technical Education here? I can!
To see all the biographies and how they are fitting with the alignment of our education/nation to fit the CCSS Machine's plan, visit: http://www.nationaljournal.com/events/the-next-america-taking-stock-50-years-of-the-higher-education-act-20150609
The Conference video:
In its entirety, the Conference is 2 hours and 34 minutes. Subtract from that the first 23, almost 24 minutes of introductory music, you have plenty of time to hear the modern education reform battle cry from more than one person. Leading the charge is Mr. Mitchell, the undersecretary for the U.S. Dept. of Education. The actual dialogue begins at about 26:51. (between the first 24 minutes and now, you're encouraged to follow the Conference on social music with #NJNextAmerica; see: https://twitter.com/search?q=%23NJNextAmerica&src=tyah)
Ted Mitchell's Speech highlights:
During Mr. Mitchell's time, he extols the virtues of the ESEA and the HEA; how they are forever joined and how each is a 'moral imperative' (see the 27:40 mark). From this point until the 28:50 mark, you'll hear about the national credentials in education. Following this are the buzzwords 'pipeline', 'equity', 'opportunity'. Then at the 29: 04 mark, you'll hear the buzzword 'rigorous' immediately followed by 'college and career ready'. What could be better, you ask? How about 'modernizing education via standards and assessments'?Then by the 29:25 time mark, Mr. Mitchell has successfully told the audience that all his previous claims can be 'deepened by the HEA'.
From this point on you'll hear some of the following catch phrases or programs. I urge you to take the time to listen to Mitchell's speech. It's followed by a one-on-one interview that is also filled with rhetoric for education reform we've become used to.
'Civil right; civic duty' patriotic message.  America is experiencing 'islands of excellence' and creating a template for the future with universal access for all from down to Pre-K and up to college.' Not content to end there, Mitchell continues on with 'early college' and 'dual enrollment'; a seamless transition for students from 2 year to 4 year schools and (33:50) reaching the President's North Star. (*Note: to find out just what the "North Star" is, see:
https://www.whitehouse.gov/photos-and-video/video/2014/02/11/reaching-north-star-2020)
Near the 34:00 mark, listen for the federal role in technology; 36:00 mark, how Congress is needed to back up the U.S. Dept. of Ed's efforts completed thus far; '21st Century Learners'; how much better America is since the Feds took over student loans; how Congress needs to empower the U.S. Dept. of Ed even more; making college as a 'universal learning' opportunity just like high schools have become; 'student outcomes' or 'outcome based schools'; 'evidence based interventions' and finally 'skills vs. developmental learning'.
Mr. Mitchell will also bring up one more program he's pushing for the President. It's called "First in the World" (it's near the 40:27 mark). What's FITW? From the U.S. Dept. of Ed's website page for the brand new program, "The FITW program is designed to support the development, replication, and dissemination of innovative solutions and evidence for what works in addressing persistent and widespread challenges in postsecondary education for students who are at risk for not persisting in and completing postsecondary programs, including, but not limited to, adult learners, working students, part-time students, students from low-income backgrounds, students of color, students with disabilities, and first-generation students."  To learn more about FITW, see:
 http://www2.ed.gov/programs/fitw/index.html

(*NOTE: at the 50 minutes mark, Mitchell refers to the 'blueprint' for re-authorizing the Higher Education Act. If you've not seen that 'blueprint', let me know. I shared news about the document on last week's Women on the Wall conference call. I'll be happy to share it again.)
[youtube https://www.youtube.com/watch?v=0ovSJREgrLA&w=560&h=315]
Closing:
Tomorrow, we get to know what CCSS/CTE plans Sen. Alexander shared during this all important conference. Oh, as by the way the Lumina and Gates Foundation not only helped host this event, they weighed in on WHY the HEA needs to be re-authorized as well. Gates' guy spoke at the 1 hour, 8 minute mark; Lumina's president spoke at the 1 hour, 14 minute mark.