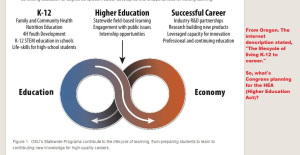 Greetings, Warriors! What's the latest on the re-authorization efforts concerning the Higher Education Act, but HOW is the "Common Core" involved? The quick answer is "Career Technical Education". (what I've proven to be the 'adult version of the K-12 "Common Core Standards"). Another short answer is the " Initiative behind the entire alignment of education."
What is Congress up to concerning the education/workforce? We've seen what they've highlighted so far in the "Student Success Act" and the "Every Child Achieves Act".  The HEA hasn't been talked about much lately, that's true. However, the CCSS Machine (my reference to the entity that involves and surrounds the "Common Core State Standards"), has plenty of plans.
The above image is from Oregon. Does your state have a similar 'track' for the aligned "K to Career"? Here's one from California that is specifically for higher education.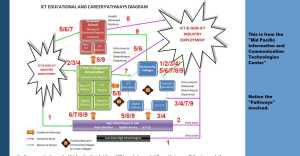 From Indiana: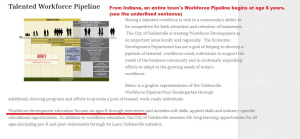 From the U.S. House of Representatives:
NC Representative, Virginia Foxx said this back in March, " In recent years, as the postsecondary student population has changed, many institutions have developed new approaches to delivering higher education, including competency-based curriculums and online classes. The federal government should make every effort to support these innovations, as they have enabled more Americans to earn a degree or certificate faster, with less cost, and without additional disruption to their daily lives." She then states the following a bit later on, "these pillars will translate into meaningful federal reforms that reflect the evolving needs of students and the workforce."
To see her entire statement, visit: http://edworkforce.house.gov/newsroom/documentsingle.aspx?DocumentID=398559
From the entire U.S. House of Representative's Education and Workforce Committee's March 2014 Budget and Fiscal Views for 2015, "In critical areas such as early learning, workforce development, and higher education, the Obama administration's latest budget proposal aims to make an existing maze of programs even more costly and confusing. Spending more money on broken programs will not provide the support our most vulnerable children, workers, and families desperately need. Education and workforce policies are vital to the success of our country and the future prosperity of our citizens. We all want to ensure students receive a quality education and workers acquire the skills necessary to compete in today's workforce. To achieve these goals, we must abandon the status quo and enact meaningful reforms that lay the groundwork for a stronger, more prosperous nation – without piling more debt on future generations. Throughout the first session of the 113th Congress, the House Education and the Workforce Committee successfully advanced responsible proposals to revamp the nation's job training system, raise the bar on K-12 education, promote workplace flexibility, and strengthen higher education."
What follows in the rest of the Budget for Fiscal Year 2015, is simply astounding in its support for the "Student Success Act". As we witnessed, much evidence has been produced to show just HOW embedded the HR5 (Student Success Act) is with the 'workforce' agenda which BEGINS in the K-12 portion AND extends to Higher Education! Read the document for yourselves, Edworkforcebudget
From July 2015, a  press release from the Education and the Workforce Committee, headed up by Rep. John Kline, shared the following,  From Rep. Kline, "There is a lot of work to do in the coming months, and I am confident we will be able to craft a bicameral education bill that reduces the federal role, restores local control, and empowers parents and education leaders." From Sen. Lamar Alexander, "Fifty million children and 3.5 million teachers deserve to get a result, and we should be able to achieve that this fall." Also speaking up, were Sen. Patty Murray and Rep. Bobby Scott. Murray's comments included this, "As we head toward conference, I look forward to continuing to improve the final bill to make sure all students have access to a good education." Scott shared this, " I stand committed to producing a bipartisan bill that eliminates resource inequities and effectively addresses achievement gaps." To see the rest of the press release gloating about the greatness of BOTH the HR5 and the S1177, http://edworkforce.house.gov/news/documentsingle.aspx?DocumentID=399220
From the U. S. Senate's HELP Committee:
HELP is short for "Health, Education, Labor, and, Pensions. This is the committee that's comparable to the House's Education/Workforce one. Here's an excerpt from their homepage on the website, "The HELP Committee is ensuring our country's workforce is prepared to meet the challenges of the 21st Century through a lifetime of learning for our citizens. We have jurisdiction over various issues related to education and workforce development, including Head Start, the No Child Left Behind Act, Higher Education, the Arts and Humanities, Student Financial Assistance, Individuals with Disabilities Education Act (IDEA), Job and Vocational Training and the Workforce Investment Act."
At a July 2015 hearing concerning re-authorizing the HEA, members of the HELP heard from the Lumina Foundation, The Higher Learning Commission, and others.
To see the entire archived hearing, visit: http://www.help.senate.gov/hearings/reauthorizing-the-higher-education-act-exploring-barriers-and-opportunities-within-innovation


Tied to HELP:
Lumina is KNEE DEEP in the CCSS Machine! Here's the link to my June 2015 article where I exposed Sen. Alexander's views on the upcoming re-authorization of HEA in a conference featuring Lumina, Gates Foundation, and the National Journal's sponsorship. https://www.commoncorediva.com/2015/06/11/tech-thursday-more-alexander-hea-and-the-next-america/
Wait, there's more proof! Here's my article where I shared how the Southern Regional Education Board (SREB) is producing research in support of MORE CCSS alignment between K-12 and post-secondary institutions. Lumina Foundation is among the pro CCSS groups FUNDING the SREB. This article will also give you the other regional education boards as well as other groups helping fund a continued bridge from one educational system to another. See: https://www.commoncorediva.com/2015/04/25/sic-em-saturday-using-community-colleges-for-more-core/
Lumina also has 'profiled' higher education degrees. See: https://www.commoncorediva.com/2015/04/22/wybi-ccss-supporter-profiling-higher-ed-degrees/ Embedded in this article is the Lumina Foundation statement for alignment of K-12 to Higher Education.
Why so much information on Lumina? During the Senate's HELP hearing, the president of the Foundation spoke about the 3 most important things to be included in the re-authorization of the HEA. The #1 priority? Building (or redesigning) clear pathways to careers! It's also important because the president also uses Western Governors University as the most consistent example of higher education CBE (Competency Based Education). I shared with you back in March 2015, how WGU (Western Governors University) is part of the CCSS Machine. See: https://www.commoncorediva.com/2015/03/13/fom-achieving-cc-aligned-competencies/ The Lumina Foundation's president also shared this fact, "In fact, more than 30 institutions have formed a nationwide network – the Competency-Based Education Network, or C-BEN – to keep the momentum going. These models are meeting students where they are, recognizing the learning that they've already obtained – whether in classrooms, on the job, in the military or through life experience." You'll need to see the other things this leader testified about. He includes Starbucks and Arizona State University. Both are pro Common Core/Career Tech Education. See: http://www.help.senate.gov/imo/media/doc/Merisotis.pdf
As far as the Higher Learning Commission, (HLC) and it's devotion to Common Core/Career Technical Education? We'll get there in a minute or so. First, though, the HLC is one of 6 regional accreditation organizations spread throughout the USA. Nineteen states are served by the HLC. To see which ones, https://www.hlcommission.org/About-the-Commission/about-hlc.html
Here's a document where the HLC has an Illinois post-secondary school's Career Tech Education alignment. The document is one of the HLC's action projects. See: HLC CTE project
HLC is also the group accrediting a U.S. Army school where Common Core is taught. See:
http://usacac.army.mil/organizations/cace/cgsc/achievement (one of the explanations given for this? "Natural career progression". (In case you missed it, the U.S. Army has issued a fully supportive CCSS statement. See: https://www.commoncorediva.com/2015/04/16/tech-thursday-common-core-military-special/)
Related to the HLC is CHEA (Council for Higher Education Accreditation). I exposed how tied to the CCSS/CTE they were back in April 2015. See: https://www.commoncorediva.com/2015/04/14/ftf-chea-cte-ccss-and-america/
C-BEN:
Access to their website: http://www.cbenetwork.org/
Lumina is a supporting member of this network. Public Agenda is, too. Public Agenda is known for all kinds of policy reform. Here's an excerpt about them. "Since 1975, Public Agenda has helped foster progress on K-12 and higher education reform, health care, federal and local budgets, energy and immigration."
From C-BEN's resource library, a study by WICHE (Western Interstate Commission for Higher Education). WICHE's been awarded a slew of grants for CCSS/CTE work from the Gates Foundation. See: http://www.gatesfoundation.org/How-We-Work/Quick-Links/Grants-Database#q/k=WICHE
New America Foundation is also among those in the Resources section of C-BEN. How is New America tied to Congress and/or the CCSS Machine? See my two part article set:
https://www.commoncorediva.com/2015/06/10/wybi-sen-alexander-the-hea-and-next-america/ AND https://www.commoncorediva.com/2015/06/11/tech-thursday-more-alexander-hea-and-the-next-america/
To access the C-BEN's resources for supporting outcome based education: http://www.cbenetwork.org/resource-library/
One resource you'll definitely be interested in is the Lumina Foundation/Gallup, Inc. It's all about the redesigning of higher education WITH competency based education as THE only way to learn. See: http://www.cbenetwork.org/sites/457/uploaded/files/Americas_Call_for_Higher_Education_Redesign.pdf
Closing:
Expect more Competency based education in higher education and the re-authorizing of the Act. Expect MORE CCSS Machine rhetoric for Career Technical versions of the Standards. Expect to see Sen. Lamar Alexander speak in favor of MORE alignment. Lastly, expect this: WE, the opposed to the CCSSI (Common Core State Standards Initiative), WILL NOT STOP FIGHTING!