This weekend's news will feature the CCSS/CTE laden Workforce Data collection systems.  We learned how our students are referred to as 'human capital'. We've already learned about the U.S. Government's Workforce Data collection system; the state level 'human capital life tracking systems. Let's find out what the private sector in American business is doing to help out in tracking our students/citizens.
Konos Management (not to be confused with the Konos homeschool curriculum):

You can find the computer based giant at: www.konos.com
You need to know not only help education manage its 'human capital', it helps the government, healthcare systems, and many others manage their 'human capital'. They are in the business of helping your business not only collect massive amounts of data, but helping you streamline information in the guise of saving time and money. Wow, how 'noble' of them. The company also measures compliance, is global in its workforce tracking, and are corporate partners with "Adopt-a-Classroom" and "National Academy Foundation" (NAF is devoted to career tech schools for those 'underserved').
From a 2010 report, find out what "Do You Automate? Saving Time and Money" states. The excerpt I'm sharing is discussing education grant money.
"Given the central importance of grant funding in K–12 education, it is essential to avoid putting these funds at risk. Nearly all schools in this country depend on grants
for a portion of their funding. While it's true that grants come to K–12 schools from many sources, the federal government alone gives out more than $13 billion in
grants each month. Additionally, the American Reinvestment and Recovery Act of
2009 will put nearly $6 billion forward in new competitive grants to states to help them pursue higher standards. A significant portion of those dollars will go to school modernization. The requirements for properly managing the funds available under
the act and other grants are extensive Similarly, the need for district accountability with respect to good time-and-effort reporting cannot be underestimated. Such is the magnitude of the need for rigorous grants management."
This particular document also factors in the NCES (National Center for Education Statistics) report about "Common Core of Data". The particular year of NCES's report? 2007-08.  So what is included in the "Common Core of Data"? Who heads this CCD up? I can answer immediately the 'who' question, it's the IES (Institute of Educational Sciences..as in the U.S. Dept. of Education's IES! The U.S. Dept. of Ed also contains the NCES! Now, it's important to stress here that the "Common Core of Data" is not the same as the 'Common Core State Standards'. The CCD information DOES, however, HELP the CCSS Machine manipulate schools, states, and all those people involved. How? By collecting information of how many students drop out, or at-risk, by looking at where and how money in your school is spent. Think of all the CCSS malarky we've heard about the 'graduation rates MUST' be at a certain number. Think about how the states were 'incentivized'. These two areas are not the only areas in which the CCSS is aided by all the data mining and 'education sciences research'. Oh, one more thing, the data mining happens for ALL ages of our students.
To see the Konos 2010 report: Sept10_SBA_Automated-Workforce-Mgmt
To see the CCD website: https://nces.ed.gov/ccd/index.asp (*Note, when you visit this site, be sure to look at the publications. There you'll find  fiscal reports. These are great for seeing where the CCSS/CTE trail of money lies.)
Getting back to Konos, I was able to find in another document how Konos partners with MicroStrategy. What does this partnership allow? Well, with Konos's  special interest in management of money and data, MicroStrategy is considered a leader in the business world for 'intelligence' gathering software. Here's the excerpt about what you can choose for the Konos/MicroStrategy system to do for you (if you were a customer). "Customers may choose to use all available functionality, but use of specific features may not be supported by Kronos [including: Consolidations, Freeform SQL, Event-based Alerting, Intelligent Cubes, Flash Rendering of Documents, Data Mining Services, Derived Elements, Import Data, Creation of Custom Roles and/or User Groups, Advanced Metrics (Level, Conditional, Nested), Custom Groups , VLDB Property Modifications, MDX Cube Report, Query Builder Report." The name of this system? "Workforce Analytics 8.0 Learning Path" It's important to stress here that this particular system in about minding/managing workers in all the sectors Konos serves. This document: 4704933-001_WFAN_80_learning_path_rev_a-final
Konos has a lot more on their website in the publications section about how the data they manage is used. If you know an anti CCSS/CTE warrior gifted in understanding all this technology, have them dive into the documents to show you how the information being collected is being used to help the CCSS Machine. (See: http://www.kronos.com/search.aspx?searchtext=common%20core)
Before we move on, Konos 2015 Conference is coming up in November, in Las Vegas. Why is this important to a CCSS/CTE Warrior? Anyone involved in schools IT departments, human resource departments, education finances, etc. are invited to attend. A host of other education related groups will also be in attendance. See: http://www.kronos.com/kronosworks15/who-attends.aspx  Remember, Warriors, data and money are what the CCSS Machine thrives on! Also, take into consideration, Konos is considered a leader in tracking, managing, and ensuring employees are "Workforce Ready". What this means to us as anti CCSS/CTE Warriors is simple. After students are shoved through the CCSS/CTE tracks, they have another one waiting upon employment!  See: http://www.kronos.com/products/smb-solutions/workforce-ready/selected-resources.aspx
National Academy Foundation (NAF):
The website: http://naf.org/
One CCSS Machine tie in: The Gates Foundation grants.
From 2006, nation wide engineering academies:
http://www.gatesfoundation.org/How-We-Work/Quick-Links/Grants-Database/Grants/2006/09/OPP45211
2006: for support of existing career academies, strategic placement of new career tech academies across the nation:
http://www.gatesfoundation.org/How-We-Work/Quick-Links/Grants-Database/Grants/2006/03/OPP41757
From 2007 in New York for education reform:
http://www.gatesfoundation.org/How-We-Work/Quick-Links/Grants-Database/Grants/2007/11/OPP49430
2007 in New Orleans for "Learning Labs":
http://www.gatesfoundation.org/How-We-Work/Quick-Links/Grants-Database/Grants/2007/08/OPP48634
2008 for communications support: http://www.gatesfoundation.org/How-We-Work/Quick-Links/Grants-Database/Grants/2008/10/OPP52560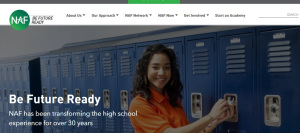 Oh my fellow anti CCSS/CTE Warriors, the CCSS Machine influence isn't only Gates, it envelopes SO many others! The curriculum providers are the Buck Institute (huge on Project Based Learning, which fosters the 'collective collaboration' portion of CCSS), the IB Schools (International Baccalaureate Schools, which are the UNESCO portion of CCSS), Project Lead the Way, the STEM Academy (I've proven to you repeatedly how STEM is the driver behind the CCSS agenda), and  Paxton-Patterson. The list of CCSS/CTE aligned groups NAF belongs to is also there. You'll  see everything from White House initiatives to well known CCSS Machine members. Groups NAF calls "Peer Organizations" includes the NC New Schools (which is so full of CCSS it's toxic), ConnectEd (which is the White House's plan for digital CCSS/CTE overload), and, a host of other well researched/exposed CCSS/CTE members. See all the 'fellowship': http://naf.org/about/our-partners
NAF also offers "NAFTRACK" (yes, another system devoted to keeping tabs on students..and all in the name of getting a good job. See:
http://naf.org/our-approach/naftrack-certified-hiring 
See the NAFTRACK's certification process (which includes a specified curriculum, projects and on-the-job assessments):
http://naf.org/our-approach/naftrack-certified-hiring/naftrack-certification
The specialized careers NAF schools offer: finance, hospitality/tourism, information technology, engineering, and health sciences. Five career tracks, warriors..only 5. Wow.
See: http://naf.org/naf-network/themes
To see those individuals sold out to the STEM portion in the CCSS Machine: http://naf.org/about/stem-advisory-committee
To see NAF's brochure on the corporate sell outs involved in the education reform: NAFCorporateEngagementBrochure
Resources: 
To see my previously published Buck Institute article and how PBLs are ruining education:
https://www.commoncorediva.com/2014/10/25/sic-em-saturday-ccss-progressives-and-pbls/
Other PBL articles (you'll see connections to Gates, STEM, and more):
How those summer programs your students may have been involved in are part of the design to align:
https://www.commoncorediva.com/2015/05/09/sic-em-saturday-aligned-summer/
A brief recap of the PBLs and other anti CCSS/CTE things which are important:
https://www.commoncorediva.com/2015/05/02/sic-em-saturday-ccss-rewind/
See the vast network across the nation:
https://www.commoncorediva.com/2015/03/13/fom-achieving-cc-aligned-competencies/
STEM and other Education Waivers tied to PBLs:
https://www.commoncorediva.com/2014/12/02/wybi-wednesday-rttt-stem-ed-waivers-and-more/