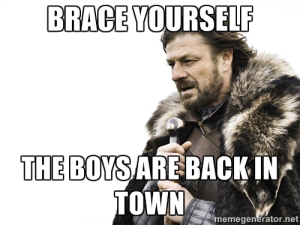 It's a busy day for all of us in this War Against the Core (Common Core, that is). We anti CCSS Warriors have been quite busy over the summer while the 'debates' ran on concerning the S1177 (Every Child Achieves Act) and while we listened as the House didn't vote one 'no' against the HR5 (Student Success Act). Did we let up while Congress was away from Washington? If so, it's time for us to crank up our volume again. We HAVE to..our entire nation is at risk!
While Congress was away, many of the anti CCSS Warriors who are helping lead this War, presented us with fact based evidence as to where in the ECAA, SSA the toxicity for America lies. If you've not seen those, I urge you to! Language has been written that would cause EVERY child to be an 'at-risk' student, therefore, causing ALL students to be on some sort of medical disability list and turning your schools into quasi-pysch wards! I'm including Anita Hoge's research which includes page numbers of each bill so you can see for yourselves HOW each child is to be considered 'medically needy'.
"• ALL students will be identified as "at-risk" allowing government access to ALL children under Common Core, Title I, and IDEA to receive mental health services, treatment, and interventions. [P.38 produce individual student interpretive descriptive, diagnostic reports consistent with (II) children with disabilities; pp. 17, 36, 41, 83, 87, 90, 93, 94, 113, 118, 122, 125, 131, 254, 365]
• Psychological and psychiatric techniques will be employed to change the student's psyche and personality to government qualities and these interventions are included in both bills: "Positive Behavioral Interventions and Supports, Response to Intervention (RTI), Multitiered System of Supports, Functional Behavioral Assessment, Specialized Instructional Support Services," with all techniques researched, validated and proven to change the values, attitudes, beliefs, and dispositions of your children toward Common Core attitudes, values, beliefs, and dispositions. (pp. 24, 120, 244 measure non-cognitive measures; pp. 58, 94, 119, 125, 243-244, 253, 367-368)"
To see the rest of HOW your student will be controlled and manipulated, see: http://www.newswithviews.com/Hoge/anita117.htm

My question to you, as a parent: Are you going to allow Rep. Kline's HR5 and Sen. Lamar Alexander's S1177 to pass so YOUR child can be turned into a CCSS drone?
With the proven facts that Sen. Alexander is ALSO behind the upcoming re-authorization of the HEA (Higher Education Act), don't expect the psycho-manipulation to end at 12th grade. No, it's also written in the HEA, as well!
As recent as April 2015, the American Psychological Association (APA) is working hand in hand with the HELP (the U.S. Senate's Committee on Health, Education, Labor, and Pensions) to include much psychologically influenced parameters. Back in 2003, the Association published an article about it was their opportunity to help strengthen the HEA. Here's an excerpt from that article, "For APA's membership, HEA reauthorization is an opportunity to shine. We have a chance to make college more accessible, graduate study more affordable, careers in the public interest more pursuable and teaching more grounded in science. HEA is a good law–but one that can be made better if influenced and directed by psychology." (*Note: to see the entire article,
http://www.apa.org/monitor/may03/ppup.aspx)
From this article, you are encouraged to see more of their advocacy in the HEA by going to a more specific website page. On that page are no less that 3 papers with Sen. Alexander's name as the only one visible.  Why is this a big deal? Sen. Lamar Alexander is the chairman of the HELP committee!!
If you visit, http://www.apa.org/about/gr/education/news/2015/higher-education-act.aspx, you'll see the 2015 efforts of how APA and HELP are working together. The first of HELP's  'white papers' deals with post-secondary accreditation. It is this paper you'll find the CCSS/CTE  angle for which this psycho-manipulation is to occur at the beyond high school graduation? From what I can read, it's the 'accrediting process'. Read on, warriors!
 " It wasn't until the 1992 Higher Education Act Amendments that Congress defined in law the standards accreditors needed when assessing quality at institutions of higher education. Today, current law outlines 10 minimum standards: student achievement; curriculum; faculty; facilities; fiscal and administrative capacity; student support services; recruiting and admissions practices; measure of program length; student complaints; and compliance with Title IV program responsibility." Then Alexander states this, "Accreditation serves dual roles as both a "gatekeeper" to federal funds and as a process for institutional improvement.."
The next section deals with student learning, academic rigor, issues geared toward OBE (outcome based education), and, their workforce readiness skills! There are other CCSS/CTE/CCR (Common Core State Standards, Career Technical Education, and College Career Readiness) rats woven into this white paper as well. If you read the entire document, you'll find where it's suggested that there becomes more national influence as opposed to regional; that all kinds of pro-CCSS/CTE 'research' is cited as credible evidence for reforming higher education. The list of other 'rats' goes on. However, it's not until you get to the proposals, that you should really be able to see the big rat! " options for consideration in the upcoming reauthorization of the Higher Education Act to redefine accreditation's role, modernize our quality assurance system for 21st century learning, and provide accountability and reassurance to governments and the greater public."
First will be the 'refocus' aspect (which has 4 goals..all supported by pro-CCSS/CTE 'research'), then comes the 'redesign' aspect of higher education (this section has the biggest rats. Redefining Title 4 funding, doing away with regional entities, creating new education pathways which allow MORE P3 (public, private partnerships) to weigh in on what education should be. (again, look at the pro-CCSS/CTE groups used in the footnotes..these are the groups HELP is listening to!)
To see this paper: Accreditation
Oh, the other 2 HELP 'white papers' featured on the American Psychologists Association website? You'll need to dive into those as well. The second one deals with 'cohort graduations', the "GED", 'skin-in-the-game' reforms (one such is that colleges/universities become responsible for a students outcome..not the student), and more. Again, note the pro-CCSS/CTE/CCR backers cited in this paper. See: Risk_Sharing
The last one, will certainly tie back to more proven fact based research concerning the abuse of the FERPA law. It has to do with data mining (supposedly it's transparent). If you look at the current HEA (2008), you'll find in Section 113 (which is using Title 1 funding), you'll see the parameters for databases in higher education. If you stop there, you'll assume all is well; that your post-secondary student's data is safe. However, look at Section 802 (under "additional programs"). The National Center for Research in Advanced Information and Digital Technologies is named. If you're not familiar with the NCRAIDT, it is also known as "Digital Promise". DP is 'non profit'. Think they are free from the pro-CCSS/CTE group? Not a chance! See their current corporate partners: http://www.digitalpromise.org/initiatives/corporate-partnerships#current-partners
Digital Promise is used in K-Adult education. You can find your own evidence by looking at the "initiatives" section of their website.
To see the last of the 3 HELP papers: Consumer_Information
One of the last points I'd like to make about the HEA's ties to the CCSS/CTE/CCR agenda is this. There are many other sections of the 2008 HEA which are foundations for MORE alignment to this illegally based and now, Congressionally 'high-fived' legislation we're seeing in the current session! This is WHY it's so important to call and STOP HR5, S1177. It was stated by Sen. Alexander is his gloating speech that what was being started in S1177 would be finished in the HEA's re-authorization. Warriors, he was revealing the next area of educational overhaul! We CANNOT allow any student, no matter their age to be aligned anymore to the CCSS/CTE/CCR debacle.
Call Washington, D.C. now that Congress is back in session. Tell them 'NO!'
The main switch board number is 202-224-3121. The main operator will ask with whom do you wish to be connected to.
For Senate and House Bill Status: 202-225-1772
If you want to call your legislator directly and do not have his/her number, use the following website to pinpoint them: http://www.contactingthecongress.org/
Closing note: 
By the graphic at the top of the article, I was not excluding the female members of Congress. I was using the graphic to refer to the 'good ole boy network' attitude so noticeable in Congress. It is this 'network' which has allowed bad legislation like HR5, S1177, and the HEA to even exist. We, the citizens MUST not allow them to survive!