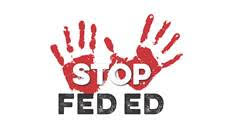 Greetings, Anti  CCSS Warriors! Anti Fed Led Ed Warriors! As we saw and heard yesterday, we have much work to do. While the CCSS Machine continues its course on grinding down our nation, we know the ESSA (Every Student Succeeds Act) will indeed play a massive part in the process. We know that the upcoming re-authorization of the HEA (Higher Education Act) will also play an equally massive part.
While the U.S. Senate listened to the citizens (or didn't listen), our first action is to ensure their return to the Senate after the November 2016 races DOES NOT happen. Why? Look at those who voted to usher Dr. King in as the next Secretary of Education. Most are career politicians! If they aren't career members, they are folks who have sold out to the Status Quo for education. Let us join together to make sure their Status Quo stance is no longer acceptable! To see just who voted for Dr. King, who didn't, and who skipped the opportunity to vote, see:  https://pbs.twimg.com/media/Cdi1wmJVIAAcr8V.jpg
A bit hat tip to Michelle Malkin for this.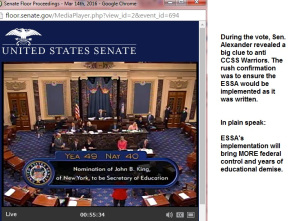 A huge thanks to every Warrior who voiced their dissent publicly via the #StopJohnKing Action Page. We have a big hat tip for the U.S. PIE (United States Parents Involved in Education) and the PJNET (Patriot Journalists Network). Both these groups joined forces to create the campaign. Thousands of messages were sent to the U.S. Senate! We were successful in this campaign on several levels. 1) We influenced 6 members of the U.S. HELP Committee to change their first vote of confidence for Dr. King to a 'no' vote at the second meeting. 2) Several Senators have voiced big concerns and think Dr. King is the wrong man for job. This means they are listening! 3) Public records will now reflect our voices and will be superior evidence. When Senators seek our votes, we can use our evidence to hold them accountable!!
A big thanks, to you my blog followers for being patient with me as I put aside the blog long enough to help lead the #StopJohnKing efforts. Trust me, as big, deep, and wide as the CCSS Machine is, there will still be plenty to research and write about.
In the meantime, I am embedding the last two articles I wrote before the Twitter campaign. They were 'hot' enough to get me blocked on Facebook both days. The articles will discuss the movements of the CCSS Machine in aligned education in ways you wouldn't think matter.
The Pearson article: Gender Intelligence and Career Tech Education, CCSS alignment.
It is a 2-in-1 article.
See: https://www.commoncorediva.com/2016/03/07/pearsons-gi-more-alignment-in-the-workplace/
Then, the connections between voting for education bonds in your state (using NC as the example) and the CCSS Machine. It includes a video presentation which is great on information and definitely not a slick production. My goal was to get it out there before the NC Primary (3/15/16), but as important as voting is, we need to know what our local governments are trying to pass over us as if we couldn't see the connections.
See: https://www.commoncorediva.com/2016/03/10/update-ccss-cte-stem-and-connect-nc-bond/
Thank you for your continued trust in my research. Thank you for your teamwork.