Anti CCSS Warriors, here are the upcoming items I will be focusing on either this weekend, or next week in the War Against the Core. Participate when and where you can. If you cannot participate, use the information as tools for what is coming up in your State.
Sunday, an Interview:
Normally, my media appearances on scheduled for Wednesdays. However, when I am asked to speak out, regardless of the day, if I can, I do.
This Sunday, May 15th, I will be the guest on the Lori on Liberty Show, based in CT. While setting things up with Lori, she shared with me that she is in this War because she is experiencing, first hand, the damage of CCSS through her high school children. You can access the show, set for 2 pm, Eastern Daylight Time. See the screen shot below: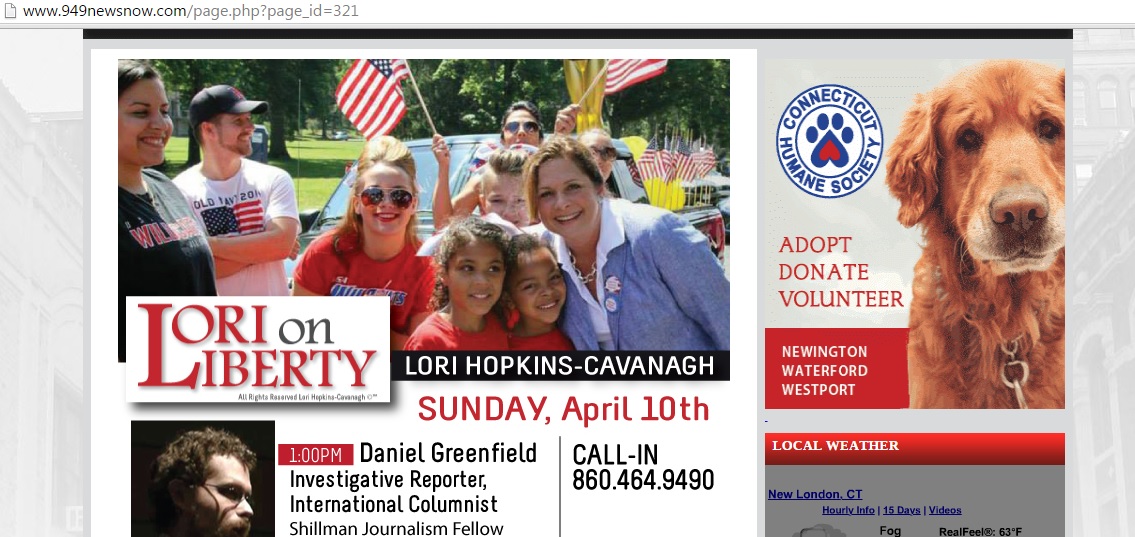 Tuesday, an Opportunity to Speak Out:
This live event will find me joining several other NC based anti CCSS Warriors when we gather at a NC Dept. of Public Instruction "Stakeholders meeting". We will meet at the East Forsyth High School (2500 W. Mountain St., Kernersville, NC). According to the NC DPI website, this meeting (held from 4 pm to 6 pm) is one of a handful held across the State to seek stakeholders input on how to make the ESSA (Every Student Succeeds Act) truly a state controlled education reform.
Now, Warriors, we know for a fact that this goal is merely a posturing move by the Dept. to give the illusion of grandeur. Why would I say this? Consider the mountains of evidence I have shared with you in the recent past about the ESSA's TRUE intent; think about the other mountains of facts other anti CCSS Warriors have shared about the agenda embedded in the ESSA.
So why would we go to such an event?
1) It will be video recorded and and can be shared.
2) It can be used as an example of what you can expect from your State if and when they decide to host stakeholder meetings.
3) We are to have 3 minutes each to ask questions or make comments. Going on public record in opposition is ALWAYS worth it. Public dissent helps our War efforts tremendously! Oh, I almost forgot, if you wish to speak up, you must register to do so before the meeting begins (so, my group is planning on being early, so we can be among the first to speak). The Dept. has also said we are invited to come prepared with written copies of our questions or statements. Almost as an afterthought, the Dept. has stated that we can also use their on-line 'ask a question' page.
4) According to the NC DPI Communications leader, there will be NO NC DPI responses given. This meeting is to only HEAR what the citizens have to say. I was told by the Communications Dept. that these Spring 2016 meetings are only the FIRST round of public interaction. So, I guess if I have a question and not a comment, it will not be answered right away.
Also, the NC DPI Communications lady said there is to be more ESSA interaction in Fall 2016, as well as when the Final Draft of NC's ESSA Plan is up for Review (which should be just before it is submitted to the U.S. Dept. of Education.)
This leaves me with a few questions, a) Will the Final Draft stay the same by the time it leaves NC and heads to Washington, D.C.? b) Since NC is using so much pre-canned ESSA material (see below), how truly 'local' will this Draft be? c) What recourse is there for parents after the Draft has been sent away to be judged and it comes back unacceptable, will we be included in the tweaking process at all?
To see the NC DPI page for these meetings:
http://www.dpi.state.nc.us/newsroom/news/2015-16/20160308-01
Related: To see the NC DPI ESSA Timeline for Implementation:
http://www.dpi.state.nc.us/program-monitoring/succeeds/
To see what the NC decisions are said to be:
http://www.dpi.state.nc.us/docs/program-monitoring/succeeds/state-decisions.pdf
(*Note: at the bottom of the page, it is revealed that the supposed NC specific decisions are largely copied verbatim from the Penn Hill Group through the CCSSO (Council of Chief State School Officers! This explains why the header of the document says 'Key State Decisions' and not "NC Key ESSA Decisions"!)
Warriors, see if your State has this same document!!
Related: To find out about the Penn Hill Group (a D.C. based bipartisan group):
http://pennhillgroup.com/ (*Note: from their website, this excerpt: "Members of our team have been involved in the most recent authorization or reauthorization of nearly all major bills in these areas, including the Elementary and Secondary Education Act, the Higher Education Act, the Perkins Career and Technical Education Act, the Workforce Investment Act, and the Patient Protection and Affordable Care Act.")
So much for objective bipartisanship, huh?
Back to the NC Decisions Document. Here is the downloadable version of the 7 pages for NC's 'state decisions': state-decisions
While the document does say States are to submit plans to the Secretary, they left out that this is the U.S. Dept. of Education's Secretary! They omitted the fact the ESSA states said Secretary must approve those plans, too!
A slightly different contrast to NC and the ESSA will find what you see below. A Draft Timeline NC has created. Look at what groups are involved (and which ones are NOT):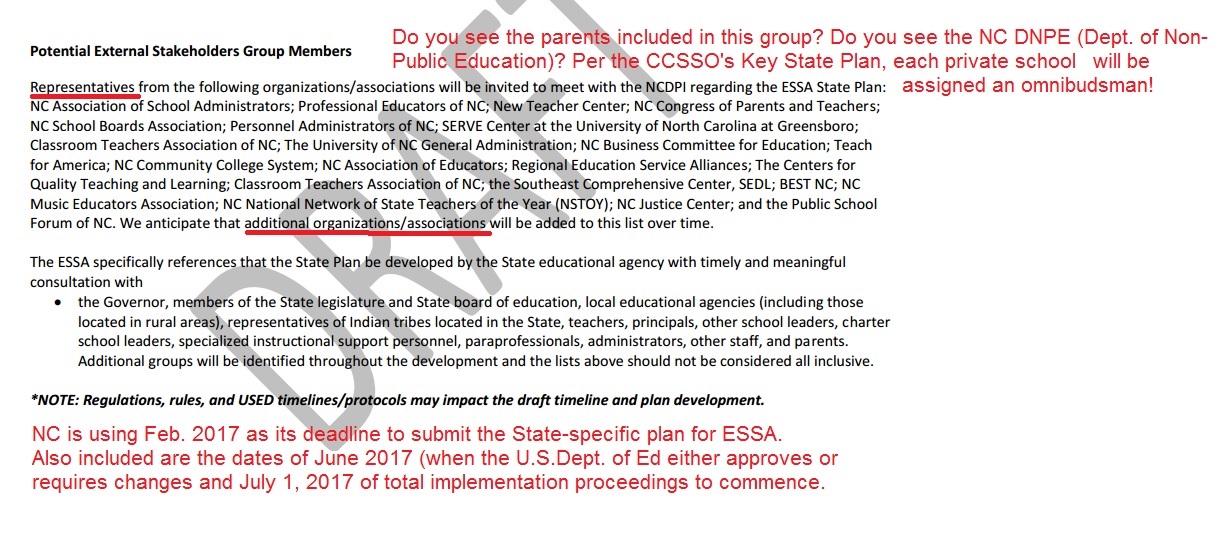 To see the rest of the Draft Timeline: http://www.dpi.state.nc.us/docs/program-monitoring/succeeds/timeline.pdf (*Note:  look at the bottom to see that NC will even subject its timeline to that of the U.S. Dept. of Ed. Again, if it were truly local, wouldn't it need to only include those dates for meeting the U.S. Dept. of Ed instead of using every one of the Ed's? Another note: This Draft does include the approval by the U. S. Dept. of Education.)
When looking at your State for ESSA timelines, implementation plans, etc. Be sure to know what groups are involved (and which are left out), note if there are any specific ESSA committees or sub-committees being put into motion. Are they elected or appointed? If so, whom is deciding who serves? Are the ESSA committees/sub-committees accountable? If so, to whom?
Wednesday, Women on the Wall:
Make sure you mark the calendar for this call. I will be joining Alice Linahan (our hostess) and long time education researcher/Warrior, Diana Anderson. We are taking a fine-tooth-comb approach to the recent White Board Advisor's Education Insiders May 2016 Report. The Report features their look at the ESSA, higher education, and the upcoming Presidential election. We will be focusing in on the top choices by both the Democrats and Republicans for the next U.S. Dept. of Education's Secretary. It is important to note that the current U.S. Dept. of Ed Secretary, Dr. John King, may OR may not be asked to stay on as the leader under the next President. If he is allowed to stay, we already know what to expect, but IF he is relieved of his duties, who will be taking his place? This Report has several 'qualified' candidates we will be discussing. Many of them are tied to the CCSS Machine..some moreso than others. But, still, any tie, is one too many.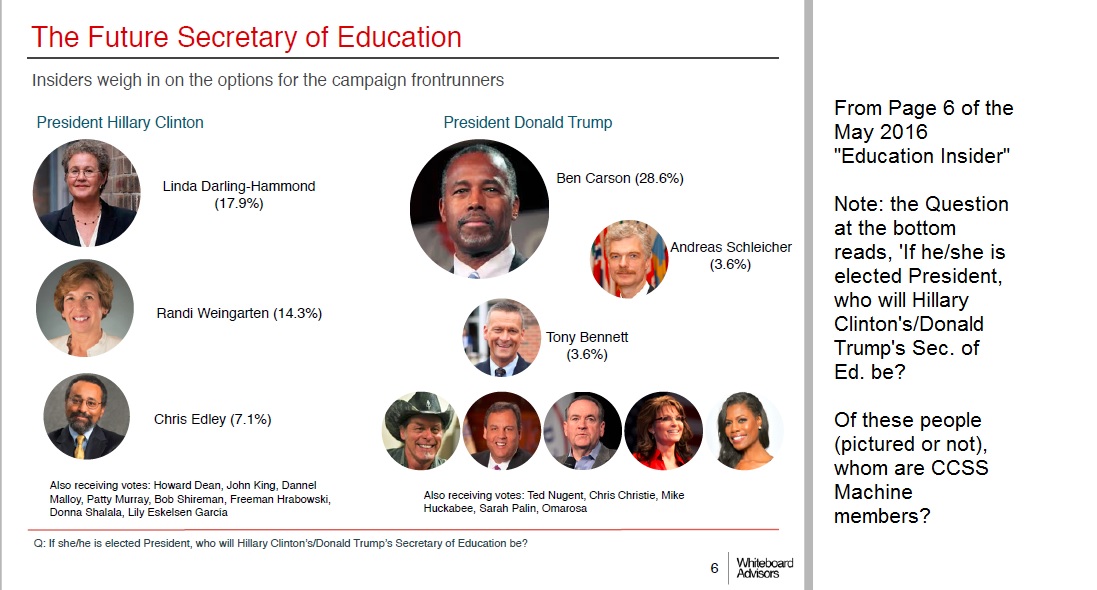 The Women's Call will begin at 8:30 pm, Central Daylight Time. Access it:
302-202-1110, code 702165 or use the SoundCloud app on your mobile device. You can find the Channel under Alice's name.
To access the White Board Report: Whiteboard_Insider_May 2016_0