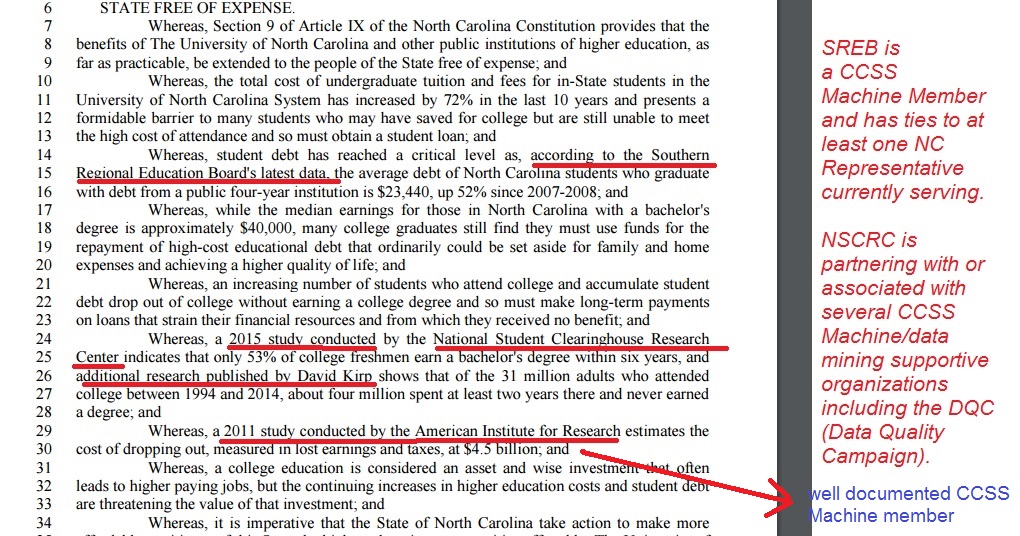 For this Weekend News article, I want to help shine the light on the CCSS Machine in higher education..specifically in the name of college/post-secondary affordability. Who is involved? How does this connect to the CCSS Machine?
Above, you see a screen shot of the NC Senate Bill 873. Its short title is the 'Access to Affordable College Ed Act'. Since you, my fellow  anti CCSS Warriors may NOT live in NC, what will your State have in the works for higher education reform where saving money is a selling point?
If you have heard any of my more recent interviews, you may recall I have shared that one of the ways in which we, the citizens of the USA, will be taken in by the CCSS Machine's higher education grasp is through the affordable cost of post-secondary education. Look closely at the above screen shot and you will see the easily identifiable Common Core Machine ties. But trust me, there are MANY more not in black and white print.
However, before we get to a State level look, let's review what the federal level of the CCSS Machine's education overreach in the name of savings for post-secondary education.
The Feds in Post-Secondary Education:
In Feb. 2016, I shared with you the intent Dr. John King (U.S. Dept. of Ed's Secretary) and the OPE (Office of Post-Secondary Education) in regards to CCSS/CTE/CCR (Common Core State Standards/Career Tech Education/College and Career Readiness). Here is a quote,
'Once you are in the OPE website pages, you can find this declaration "OPE works to strengthen the capacity of colleges and universities to promote reform, innovation and improvement in post-secondary education, promote and expand access to post-secondary education and increase college completion rates for America's students, and broaden global competencies that drive the economic success and competitiveness of our Nation." '
To see the rest of the article and how FASFA (the paperwork for federal student aid to go to post-secondary education) plays into all the education reform:
https://www.commoncorediva.com/2016/01/12/ftf-a-dependent-truth/

Also in Feb. 2016, I dug into the 2017 Fed Ed Budget Requests and found how college and other post-secondary education is to seem more affordable. Early College programs; where funding for HBCUs (Historically Black Colleges and Universities) and MSIs (Minority Serving Institutions) were to be impacted as well.
Right slam in the midst of all this is the connection to the SREB (Southern Regional Education Board). How? In the name of 'research'! If you go back and look at the NC legislation in the works, see how SREB's research is being relied upon as well as written into the Bill.
(*Note: If you have followed my blog long, you know how deep into the pockets of the CCSS Machine, SREB is. More about SREB will be below.)
In the article I also gave you how the funding will impact TRIO programs, Job Development Grants, and more. The article also shows you how each one of these ties back to the ESSA (Every Student Succeeds Act), WIOA (Workforce Innovation and Opportunity Act), as well as HEA (Higher Education Act). 
See: https://www.commoncorediva.com/2016/02/13/big-bucks-for-post-secondary-ed/
SREB, NC, and the Nation:
Past research has connected SREB to the CCSS Machine's intent to use community colleges (post-secondary education) as a breeding grounds for CTE (Career Tech Education, the adult portion of CCSS) and more educational alignment to workforce based education. See below for what CCSS Machine organizations fund SREB: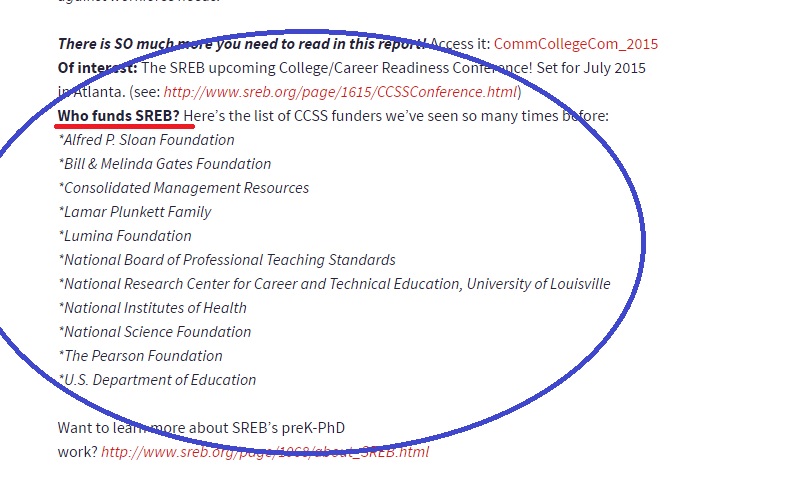 To find out more about how and what SREB is doing to education and those who are in education, as well as find out about the other regionally based education boards and their involvement, see: https://www.commoncorediva.com/2015/04/25/sic-em-saturday-using-community-colleges-for-more-core/
So, the burning question is, why is NC using a known CCSS Machine organization like SREB to create legislation? Take a look at this 2014 screen shot. I believe we can glean from it WHY NC relies on CCSS Machine backed research: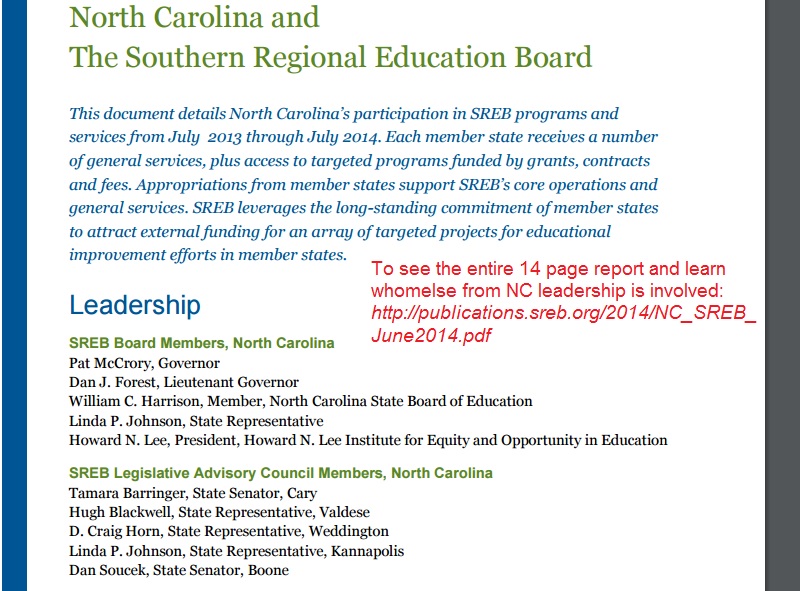 Others NOT included in the screen shot include Dr. June Atkinson (head of the NC Dept. of Public Instruction, as well as the President of the CCSSO, Council of Chief State School Officers, which own half the copyright to CC Standards!) and Dr. Scott Ralls, the (at that time) head of NC Community Colleges. Ralls has moved on to become President of a Community College in VA since this report.
Now, I know some of my NC anti CCSS Warriors may be shocked to see some of the names they see. My concern is how many of these people have we heard publicly state they were/are against CCSS, but are participating in embedding it in various ways into the State Laws? Do they KNOW the connections already and just turn a blind eye, or has the truth been kept from them?!
For those of you NOT in NC, look at your regional boards to see who is in state government AND serves on these types of boards!
The Clearinghouse Featured in the NC Legislation:
If you refer back to the top of the article and see the National Student Clearinghouse Research Center, you may not know that this Center is ALSO a CCSS Machine member, but it is!! Furthermore, it is being used as MORE research and evidence to create legislation!
From the Clearinghouse's 'About Us' portion of their website you can learn they have been data collecting/sharing since 1993, that they adhere to FERPA (remember it got overhauled to not be as protective as it once was?), and how they abide by the HEA (Higher Education Act). See:
https://nscresearchcenter.org/aboutus/
For an even more in-depth look at the Student Clearinghouse, see this article by Douglas Shapiro (Research Exec for the Student Clearinghouse): 
http://www.nacacnet.org/research/PublicationsResources/bulletin/2015Bulletin/04-08-2015/Pages/A-Closer-Look-at-the-National-Student-Clearinghouse.aspx
The ties to the CCSS Machine the Clearinghouse has: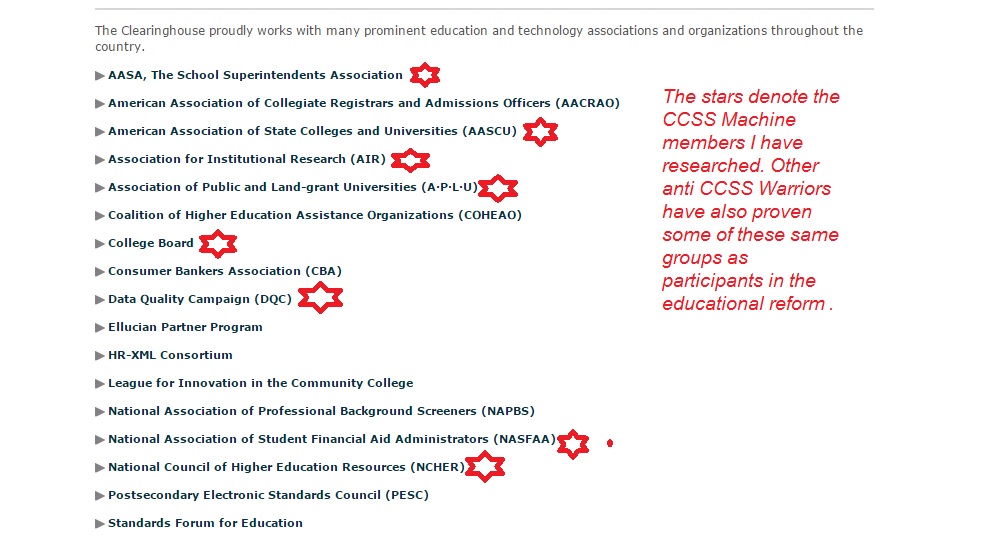 See below for what CCSS Machine member is helping fund the Clearinghouse: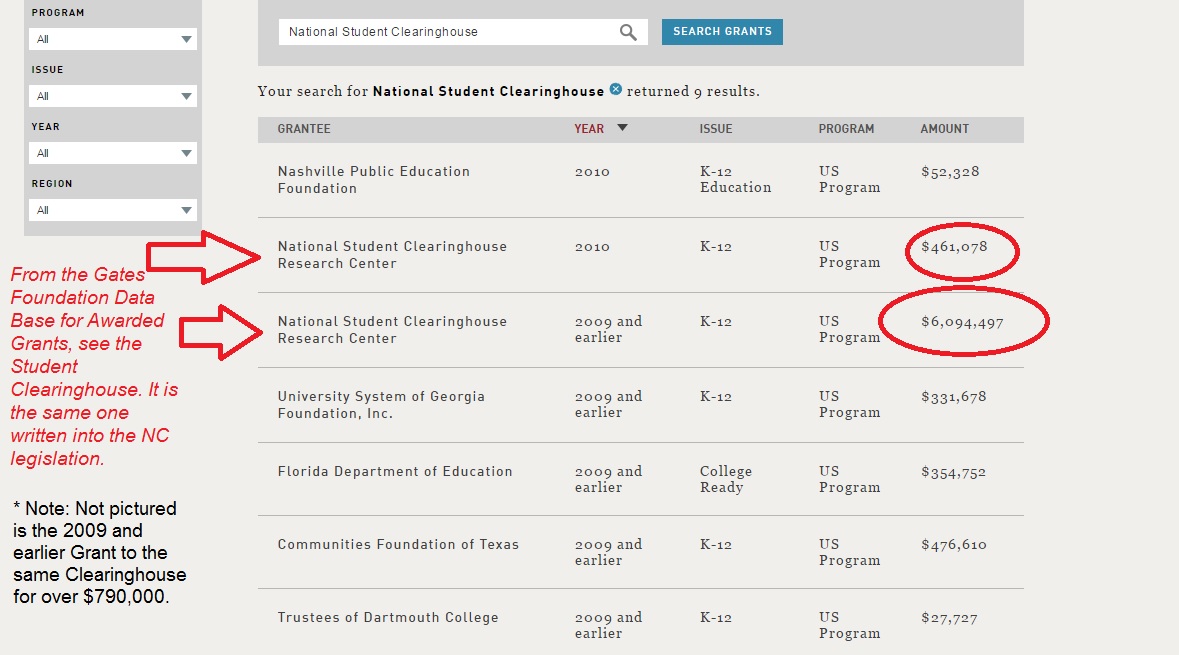 To access the Gates Foundation page: http://www.gatesfoundation.org/How-We-Work/Quick-Links/Grants-Database#q/k=National%20Student%20Clearinghouse
If you would like to see the Clearinghouse's 2015 Data Report: Clearinghouse2015data
(*Note that the Report is about the Clearinghouse from another post-secondary group, IHEP, Institute for Higher Education Policy. As of this writing, I will look into IHEP in the future.)
So, How Does All of the Above Impact NC Legislation?
1) It further embeds the CCSS Machine, the federally led, privately funded education overreach into the State. Remember, since ALL the States are impacted by the U.S. Dept. of Education, WIOA, ESSA, and HEA, there is NO reason to think NC stands alone in this.
2) Another short answer is it is embedding education reform in the name of student debt reduction. Who will bear the brunt of the debt load? The taxpayers! Here in NC, a recent state-wide Bond was passed in the name of educational updates that will burden our taxpayers for at least 2 generations! (If you like, you can search my blog for the 'NC Connect' and learn how the CCSS Machine is involved.)
3) By overhauling how colleges, universities, and all other post-secondary educational institutions are to be held accountable and accredited, you will see a continued chipping away at local control and MORE federal overreach increase. (I have written about this issue as well and how the CCSS Machine is behind it. If you would like that research, let me know.)
4) In the body of the NC SB873 (Access to Affordable College Ed Act), you will see how by taking 4 year state-led colleges and turning them into community colleges it plays right into the hands of the SREB intent/CCSS Machine agenda to use community colleges as not so much educational facilities, but worker prep facilities.
See the NC Legislative Bill:
http://www.ncleg.net/Applications/BillLookUp/LoadBillDocument.aspx?SessionCode=2015&DocNum=7614&SeqNum=0
A Couple of Loose Ends Worth Noting:
In the NC Legislative Bill screen shot, you may notice I underlined the name of David Kirp.
Who is he? 'Senior Fellow in Residence, is the James D. Marver Professor of Public Policy at the Goldman School of Public Policy, University of California at Berkeley.'
I found this excerpt about him on the Learning Policy Institute's website (that is where the Sr. Fellowship comes in). The Learning Policy Institute is funded by some pretty big CCSS Machine members (Ford Foundation, the Hewlett Foundation, etc.). The President and CEO of the Learning Policy Institute is none other than  Linda Darling-Hammond (a notoriously known CCSS Machine disciple)!
To access the Learning Policy Institute's website: https://learningpolicyinstitute.org/people/
AIR was also underlined in the screenshot. American Institutes  of Research are also notoriously tied to the CCSS Machine. Many anti CCSS Warriors have shared the ties, the deceptive moves for data mining carried out in the name of 'research'. One anti CCSS Warrior in particular has mountains of documented evidence on AIR. Her name is Deb Herbage (FL).  She has recently begun her own blog, DezignzbyDeb (it is on WordPress, like mine). Contact her for any thing AIR related.
Closing:
As twisted as the CCSS paved road is in each of our States, I trust you can see why legislation, either State created or federally, is being used to continue the vicious cycle of grinding down our nation education-wise.
Please, look into your State's governing bodies.
NC residents: PLEASE contact the leaders and DEMAND accountability while you share the truth.
Warriors, many of these leaders are seeking to be re-elected. Will we continue to put them in office?