Greetings, my fellow Anti Fed Ed Warriors! As we've known for quite awhile the alignment facing our nation's schools is no longer hanging back in the shadows. No, since ESSA's passage (Every Student Succeeds Act), it has been very easy to see even more alignment being flaunted in our faces.
While I've been away from my home taking care of a family crisis, I've been  keeping up with most of the education news.  Warriors, as you know,  I've shared with you the moves of  the NC Dept. of Public  Instruction (NC DPI). You've also seen my evidence where the NC DPI and the NC SBE (NC State Board of Education) unite forces to  project the grinding down of our educational system. 
Since it's a new year,  new faces are popping up in the NC DPI/NC SBE. Among these faces are their ties to  CCSS Machine member groups which have posed as groups with only the best of intentions concerning your child's education. The stark reality is that  these groups do NOT have the best of intentions at all concerning education. Their feigned interest is propelling the CCSS Machine's alignment for workforce based  training to every school in America, regardless of choice.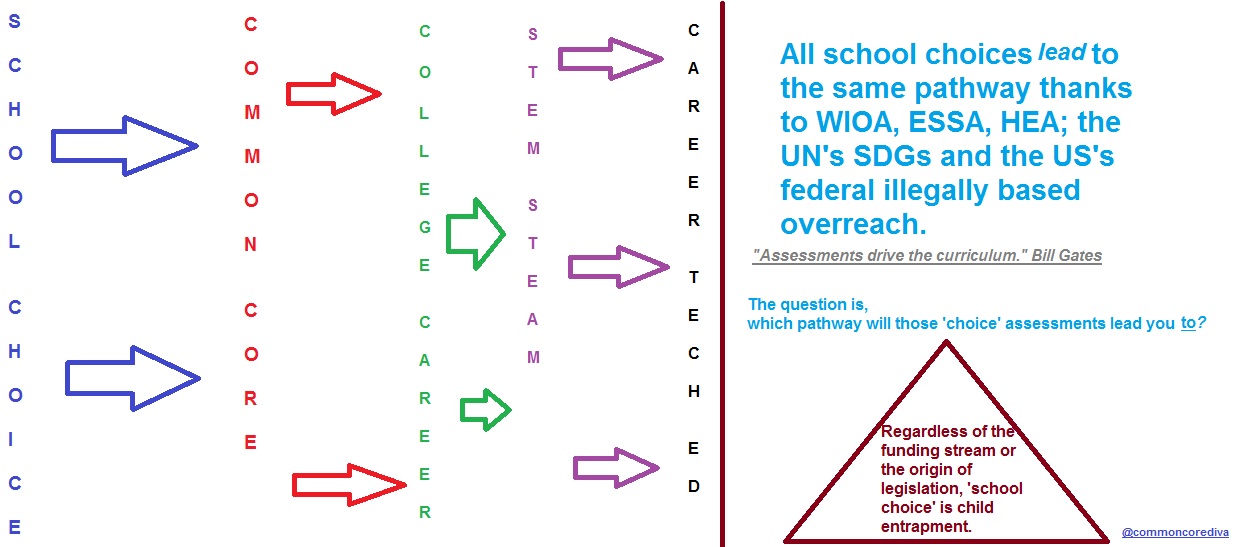 Meet The New NC  SBE Attorney: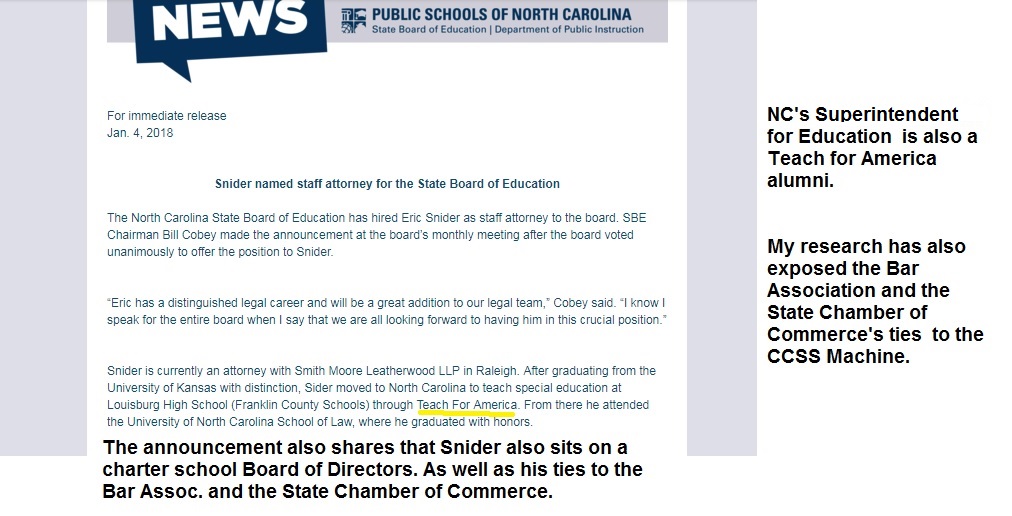 Warriors, that's right Eric Snider, a former Teach for America member will now be the attorney for the State Board of Education. While this may not seem like a big deal, consider that our current State Superintendent, Mark Johnson, is also a Teach for America alumni.  When you access Snider's LinkedIN profile, notice he also is involved with the NC Business Committee for Education. The sole goal for the NC Business Committee for Education is aligning workforce training to the CCSS Machine's grasp on education in the name of the economy. To see how the American Bar Association (which includes the NC Bar Snider belongs to) is helping promote the CCSS Machine, go here. If you missed how much the NC Chamber of Commerce is on board with the CCSS Machine, here it is. *Warriors, remember the Gates Foundation has given millions to the national level Chamber of Commerce to divide up and distribute money to each State for the express intent of alignment between jobs and school based education.
Helping Widen The Back Door Approach:
Warriors, you should be able to find the Joint Education Oversight Committee in your State. For NC, 2 of the Co-Chairs are virtually CCSS disciples. Rep. Craig Horn and Rep. Linda Johnson.  To see the entire list of serving legislators, go here.
Among the Joint Committee's 2017 Reports received includes quarterly documents from Teach for America. From the introduction of one of the reports comes what you see in this screen shot: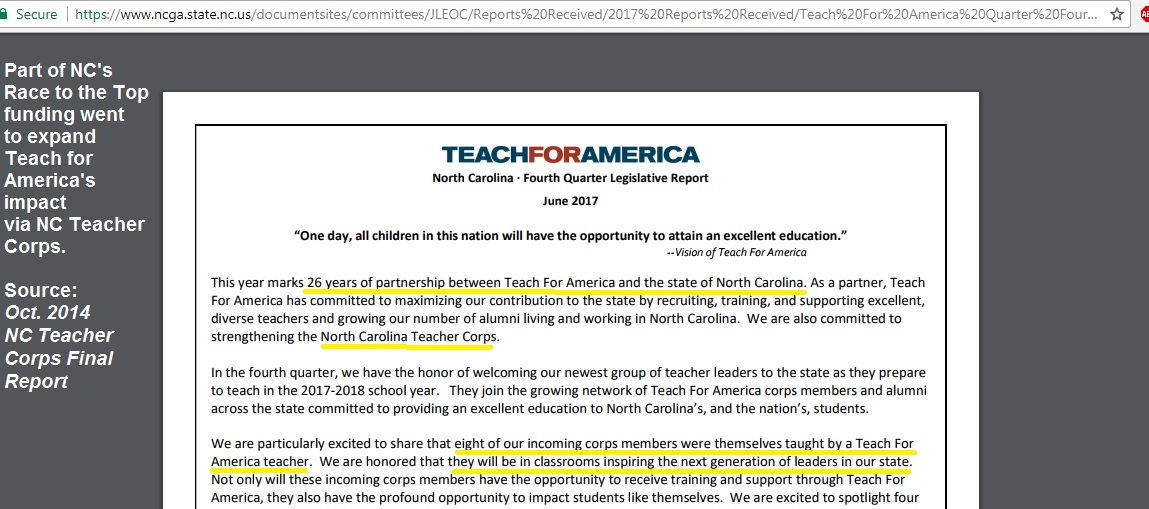 To access the Oct. 2014 Report, go here. To access the NC Joint Report the screen shot exposes, go here. From my archives, the researched article where I exposed how the Consortium for Educational Research and Evaluation (CERE) is tied to the NC Teacher Corps as well as how CERE uses the national GEAR UP program for CCR (College and Career Readiness). In that article, you'll see the numerous States involved in GEAR UP.

Enter NC's 2017 Education Report:
Warriors, even if you do not live in NC, you can use this as evidence to look for what's afoot in your States. This recently released publication details not only the laws and bills concerning education, but dollar amounts the taxpayers will need to cough up to support the back door alignment. For example: the DLP (Digital Learning Plan) will need over $2 million in funding so there can be an increase in how much time is spent on a computer. Then the Workforce and Education Innovation Commission will need big bucks to move from it's current State level position to the NC DPI! Then there's legislation and funds for specialized high schools (more workforce training institutions), CTE (Career Technical Education) for 6th and 7th graders. Alignment for early education, 'future ready' students, and so much more!
Closing:
Warriors, while we are seeing more and more overt moves in education, we MUST continue to see, speak, and, act on what is exposed. No State is exempt. No child will be excluded. How do I know this? ESSA's chilling language that ALL education MUST align to workforce based industry credentialed standards.