Recently, anti CCSS/ESSA Warriors, the CCSS Machine organization known as Act, Inc. (think high stakes assessments, data mining, and workforce based alignment) published a  paper about the 'soft skills' education alignment MUST include if we are to have employable students. It is the 2016 National Curriculum Survey (more about this later).
Many researchers, like myself, have been sharing with you over the years how the CBE (Competency Based Education) is a huge component of the illegally based education reformation we are witnessing. The evidence is plentiful, so I will not waste our time rehashing CBE's roots.
I would like to point out to you this recent publication so we can see just how MUCH more propaganda the CCSS Machine has spun in regards to 'soft skills' and how ONLY the Common Core/ESSA (Every Student Succeeds Act)/HEA (Higher Education Act)/WIOA (Workforce Innovation and Opportunity Act) can do it all!
The Acts That Keep on 'Killing':
From the Act, Inc. 4 page document promoting how great a national workforce based credentialed system is and WHY everyone should be involved, is in the screen shot below.
Note how the data base of skills is ONLY available at Act, Inc.
What does this have to do with 'killing'? When we stop educating people to do what they desire and rely on skewed tests which align us to learn what the CCSS Machine demands, we KILL the love of learning.
This 4 page document is geared for the students and refers to them as 'Career Seekers'.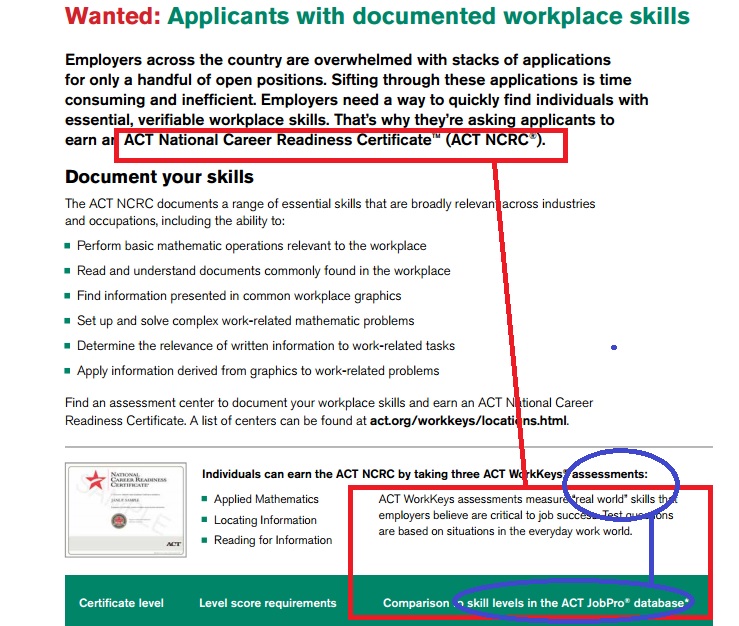 To access the rest of the 4 page document, https://www.act.org/content/dam/act/unsecured/documents/NCRC-CareerSeekersBrochure.pdf

Act, Inc. has also published another 4 page document for educators and how THEY can make sure students are CERTIFIED for workforce based national tracking!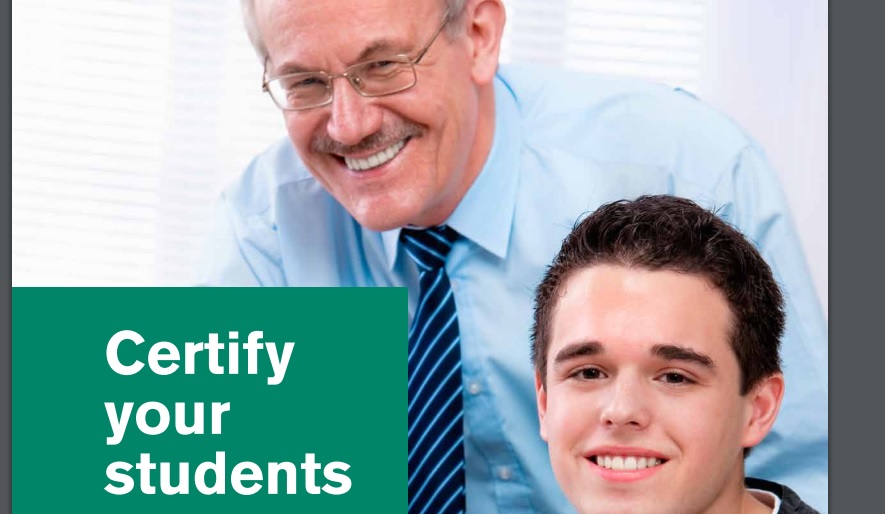 This document informs us that there are 3 nationally based assessments students must take; that their scores to be workforce ready must be certain numbers which also translate into platinum, gold, silver, and bronze levels.
As educators, we are 'killing' our students spirit with alignment like this. Think about it, our students (of ALL ages) will not be as recognized for WHO they are, but WHAT level of certification they have!
To access this document (which harps on how all the certification is key to success for post-secondary readiness),
https://www.act.org/content/dam/act/unsecured/documents/NCRC-EducatorsBrochure.pdf

Engaging Us All for a Workforce Agenda:

Warriors, Act, Inc. also has a document explaining how they have studied all this workforce based/competency based education. They wax on about the case studies, the need for alignment, the ease of it all via data mining.  As part of the alignment, Act, Inc. has a self assessment we can take called, Act 'Engage'.
When I take this self assessment and COMBINE it with the other Act, Inc. workforce based assessments, I become part of a global workforce skills based company's database called Envision. See for yourselves, below. Notice how early this alignment is starting, notice the personalized learning component, and yes, the data mining.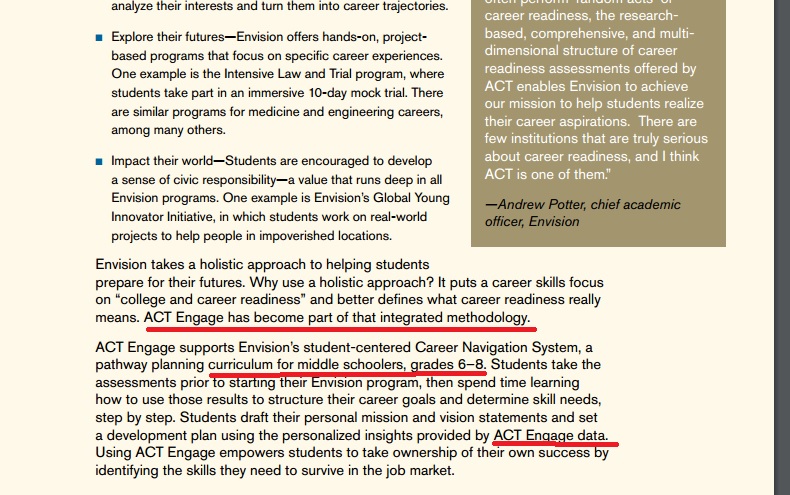 To access this 21st Century Job Readiness document,
http://www.act.org/content/dam/act/unsecured/documents/ACT_Engage_Case_Study_Envision.pdf
(*Note: There will be a separate article on Envision in the coming days.)
For the First Time:
Look below at this screen shot. Notice how Act, Inc. is stating that for the first time workforce stakeholders were included in the National Curriculum Survey!!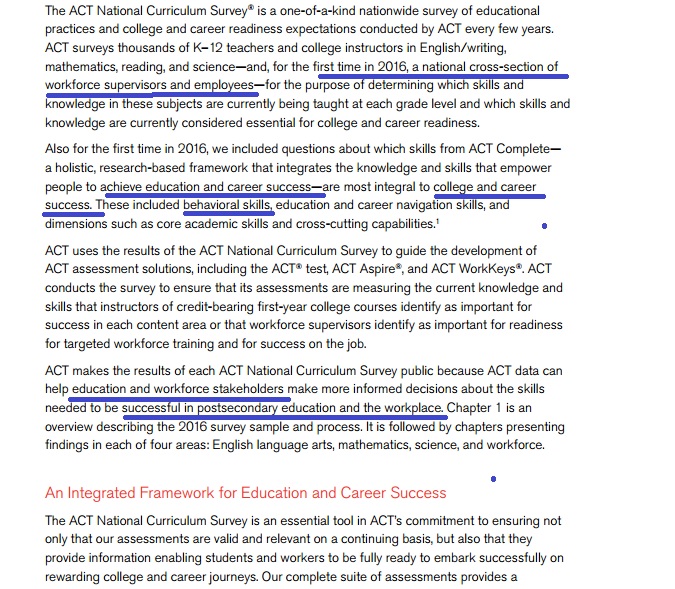 This almost 90 page document is full of CBE information! It is full of all kinds of ways education is being made over with workforce as the ultimate goal!  Act, Inc. also states, in this report, that the College and Career Readiness Standards are theirs. Throughout the ESSA, you will find the phrase 'college/career readiness'.
It has been reported by other anti CCSS/ESSA Warriors that the ACT test is also being considered as one of the 2 national assessments that would replace the SBAC and PARCC. Think this is all a coincidence? It certainly doesn't seem that way to me.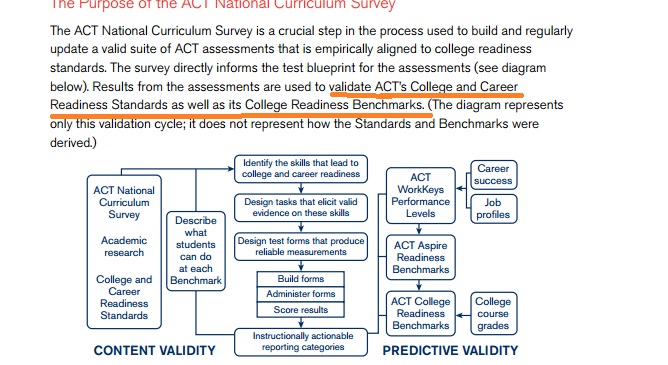 Page 3 of this Survey will connect ACT, Inc. to the Common Core State Standards, as well as continue the ties to workforce based education. To access this information,
NCS_Report_Web
If  you would like to see the Act, Inc. National Campaign for College/Career Readiness (it began in 2013), be sure to watch the video embedded here:
http://www.act.org/content/act/en/policy-and-advocacy/college-and-career-readiness-campaign.html
Notice that the Campaign includes policy and government relations. That means Act, Inc. has a front row seat in Washington, D.C.! Notice the States and leaders from those States tout how great Act, Inc.'s College/Career Ready efforts are.
Lastly, from Act, Inc.'s website, you can find a recent report for the purposed use of dual enrollment which also blends in quite easily with the education agenda for workforce readiness. Dual enrollment is a favored option for home educated students. So, when the CCSS Machine set out to align ALL educational choices, they meant it. You can find this 2015 Report at the bottom of the website page: https://www.act.org/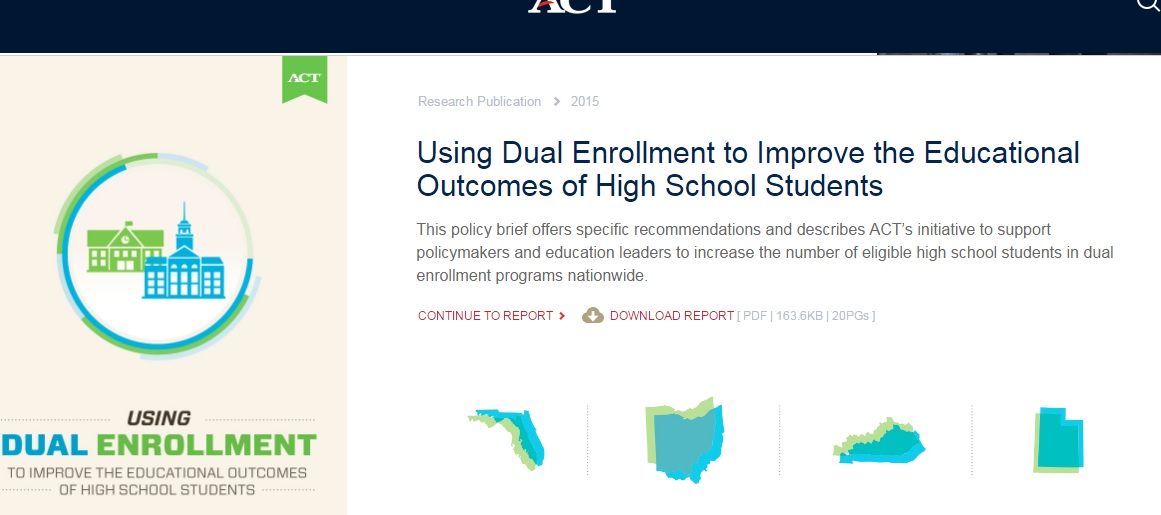 Closing:
Warriors, find out how far down the Act, Inc. alignment path your State is. What legislation does your State have for Workforce Development? Is your State aware of the ties to the CCSS Machine with the College/Career Readiness?