Anti CCSS/ESSA Warriors, what you see above is hardly new information for you. Yet, it is still worth displaying.
It is my belief that the CCSS Machine not only knows this, but is doing all it can to plot opportunities to be as shrill sounding as possible.
In the words of the the Center for Education Reform, CER, now is the time for a 'clarion call' in education reform. If you look up the meaning of 'clarion', you will find the first definition refers to shrillness. The second one refers to loud and clear. While the CER would LIKE to fool us into believing they are using the second version, it is my researched opinion (as well as other anti CCSS/ESSA Warriors) that they are using the first version without abandon.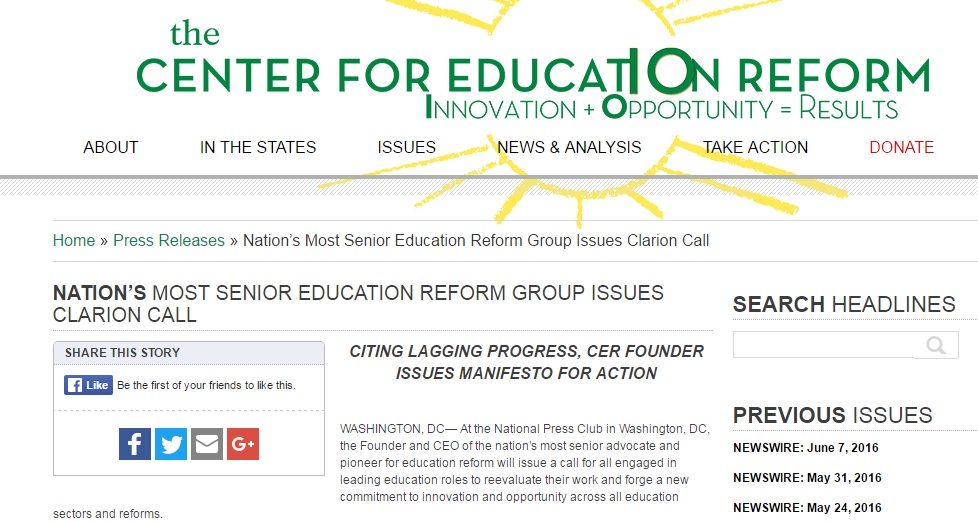 CER and the BR:
Above, you see the CER, Center for Education Reform, but who/what is the BR? BR stands for Business Roundtable, one of the CCSS Machine BIGGEST organizations! If you do not know, BR has about 200 corporations which have (in the past) pledged their undying support for all things Common Core (which includes College/Career Readiness, Career Tech Education, etc.). Since the passage of ESSA (Every Student Succeeds Act) mandates MORE P3s (public private partnerships), we can expect the SHRILLNESS of BR to be heard, as well as CER's. Why the shrillness? Corporate greed; control; and, changing our nation.
In the past couple of days, Deb Herbage published a terrific expose related to corporate greed in education. See:
https://dezignzbydeb.wordpress.com/2016/06/20/evidence-based-research-based-data-sharing-big-datadata-data/
So, how did CER and BR meet recently? What did they decide was 'clarion-worthy' about education?! In a nutshell: 'reform means achievement.' How did I get that message? The President of the BR at the recent CER gathering! Below is the YouTube video where you can listen for yourselves:
[youtube https://www.youtube.com/watch?v=V_DGdNUp6BM&w=560&h=315]
Want more? Access the CER's Manifesto for Education. See: https://www.edreform.com/2016/06/ed-reform-i-o-innovation-opportunity-results-a-manifesto/
Below is a screen shot from the Manifesto. Notice the 'Innovation' and 'Opportunity' words. Yes, Warriors, we have seen those before. They are part of the SHRILL call from WIOA (Workforce Innovation and Opportunity Act of 2014).
WIOA, is also embedded in the ESSA. After all, you can't have businesses succeed and corporate greed without workforce based education! ESSA, WIOA, and the HEA (Higher Education Act) all have shrilly embedded this shift in education FROM academics TO competency workers.


When you read the entire Manifesto, notice all the different aspects of greed, control, and a reshaping of our nation..it is ALL there.
From Twitter, here is a screen shot of a few of the pro CCSS/ESSA and education reform messages. All involve businesses. Note the shouts out to charter schools, too.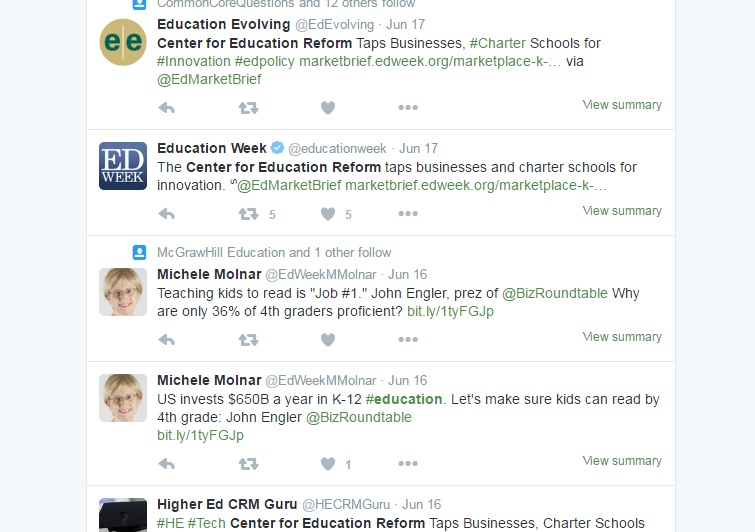 I hope some true educators will point out to the BR President (and all those education reformers), that teaching reading has been a problem in America long before now. Illiteracy is NOT a new problem, NOR can it be fixed with modern ELA materials and agenda items. However, I guess we cannot expect much from BR when they hone in on proficiency instead of mastery. When you teach a child to read CORRECTLY, proficiency follows mastery, NOT vice-versa.
CER, Backing Politics?
Warriors, you know 2016 is an election year. You know we will have all kinds of political races, including Governors of our States. However, did you know the CER (Center for Education Reform) has a campaign called 'Education 50'? If you would like to see the Mission of the Education 50, https://www.edreform.com/education-50/faq/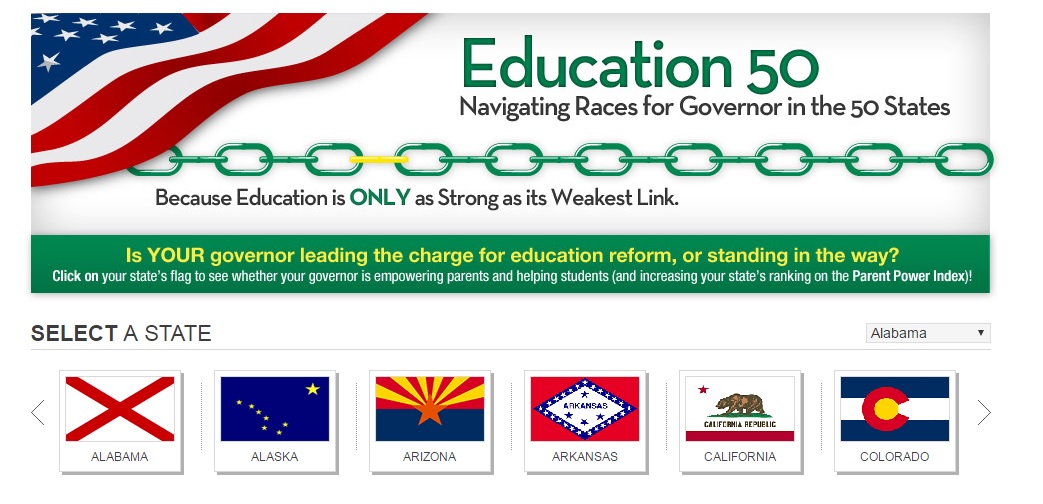 Included in the Education 50 is a resource which is supposedly to steer you to REAL education minded reformers and combat posing education reformers. What do I mean?
According to the CER (and duly representing the CCSS Machine's idea of reformers). https://www.edreform.com/2014/09/the-field-guide-to-education-reform/

Really, CER?! C'mon. A real measure of our Governors/education reformers, or any candidate running would be to look at the CBE (competency based education) shift. A real measure would be which candidate supports this shift or not. What do I mean? Look at the NGA (National Governors Association, which all 50 Governors belong to) and their stance on CBE. See: 1510ExpandingStudentSuccess
A real measure of a candidate who WILL give first voice to the citizens (parents, students, and taxpayers) is someone who has NOT publicly declared their love of Career Tech Education, Competency Based Education, Common Core, College and Career Ready Standards, Job Development Growth (which encompasses both WIOA and CTE), etc.!
 Any candidate using the educratic buzzphrases of CCSS Machine type ed reform is a candidate we DO NOT need in our elections. Any candidate supporting business and jobs OVER education or in conjunction with education need not be elected either. What do I mean? The best example is the Resolution the NC State Board of Education wrote and delivered to the Governor of NC in support of all things CBE/CCSS related. See below: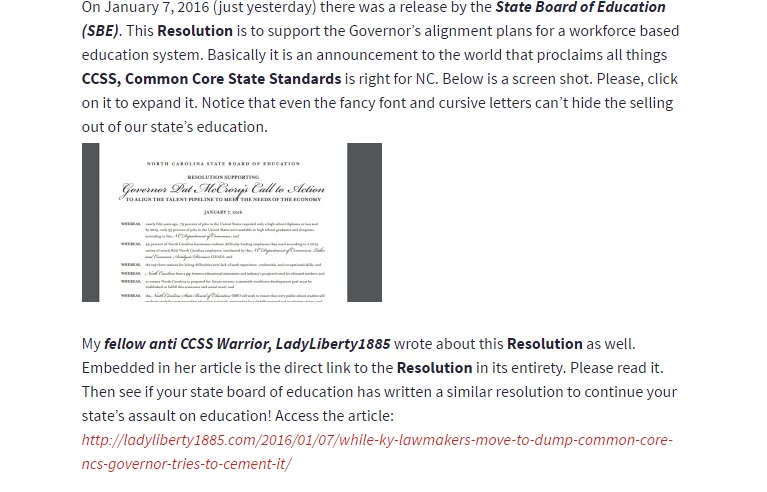 To access the entire article: https://www.commoncorediva.com/2016/01/08/weekend-news-tangled-webs-of-educratic-moves/
(*Note: look at the list of key points the Resolution has. Find out what your State has done which is the same or similar. Compare it to the NGA's checklist, too!)
As far as knowing the Governor of NC fully supports the shift in education from academics to workforce based, my first hand account of his appearance in 2014:
https://www.commoncorediva.com/2014/10/09/tech-thursday-ncs-workforce-despicable-moves/
NC's Governor, Common Core, Career Tech Ed, Prosperity Zones, data mining for workforce based education, etc.:
https://www.commoncorediva.com/2015/10/10/weekend-news-collective-workforce/
For all States and Related:
a) A real test of how your State stacks up in College/Career Readiness just in time for the elections and the implementation of ESSA,
https://www.commoncorediva.com/2016/03/17/states-get-graded-ccr-style/
b) The real look at the CBE shift for all States:
https://www.commoncorediva.com/2016/02/16/competency-pathway-update/
Closing:

If your State is anything like the one I live in, the State Board of Ed will have members from every grade group possible, from birth to post-secondary. What is their stance on REAL education? What resolutions have they passed which support the SHRILL voice of education reform for workforce based learning? Who among our leaders will lead the TRUE voices of those MOST valuable in all this?!