Recently, it was announced, here in NC, that 4 math and science teachers were given Presidential honors for their hard work.  President, as in the head of the United States.
In fact, the 4 (2 from 2014 and 2 from 2015), can receive no higher honor in our nation in K-12th grade education when it comes to math and science.
The irony? While the NC Dept. of Public Instruction is tripping over itself about these winners, in a few hours we will know the latest numbers in 'student success' here in the State. If the 'success' is anything like it has been in the past few years (horrible), no one should be celebrating!
So, What Award?
The award is known as PAEMST, or Presidential Awards for Excellence in Mathematics and Science Teaching. The PAEMST program, however, is run by the NSF (National Science Foundation). In case you've missed my research on how sold out to the CCSS Machine the NSF, I'll include some evidence for you in a bit. For now, let's just say I have a distinct case of mistrust about the NSF. It's a part of our federal government, but yet it's not. It gets tons of taxpayer funding and is pushing a global agenda in several areas of concern for us, as a nation. NSF runs the program on the behalf of the White House Office of Science and Technology Policy.
In the email I received announcing these 4 esteemed teachers, it included the following,
"In making the announcement, President Obama said, "The recipients of this award are integral to ensuring our students are equipped with critical thinking and problem-solving skills that are vital to our nation's success. As the United States continues to lead the way in the innovation that is shaping our future, these excellent teachers are preparing students from all corners of the country with the science, technology, engineering, and mathematics (STEM) skills that help keep us on the cutting-edge."
Our State Superintendent was also featured in the award email, "North Carolina is fortunate to have such exceptional mathematics and science teachers in our public school classrooms. Students who graduate high school with a strong mathematics and science foundation will be well-positioned for the high-demand careers for tomorrow's economy."
Coming from the lady who is not only our State leader in education, she's also the President of the CCSSO (Council of Chief State School Officers), I find her words less than meaningful. A huge conflict of interest when it comes to 'quality education' in NC, or anywhere else Common Core/STEM touch our citizens.
The 4 teachers will receive $10,000.00* each to spend as they wish, a Presidential citation, and get to go to Washington, D.C. to officially receive their awards.
(*NSF gives the cash awards. NSF is a government entity. The majority of its funding is taxpayer based.  To see the 2016 NSF Budget, http://www.nsf.gov/about/congress/114/highlights/cu16_0104.jsp)

OSTP, Office of Science and Technology Policy:
The website: https://www.whitehouse.gov/administration/eop/ostp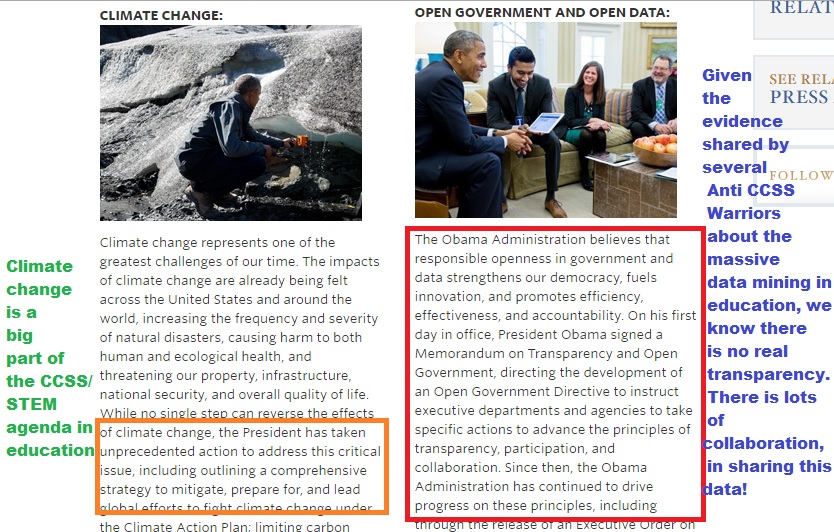 This is what I found on the OSTP main page. Scroll down it a bit and you'll see the President's 2016 Science Fair, where STEM was everywhere. In my research, where you find STEM, you'll find CCSS, or as it is called now, College/Career Readiness (CCR). ESSA (Every Student Succeeds Act) even calls it 'challenging state academic standards'.
What else is OSTP up to? Very recently, announcing a new national push for STEM in K-12th grade education AND higher education. Below is a screen shot of the announcement.
Why we need to be raising some red flags:
a) I've gone over the 2017 Fed Ed Budget Requests the President has made, I know exactly were all the ties to the CCSS Machine are.
b) ESSA has big bucks set aside for STEM Master Corps and career exploration activities.
c) ESSA has even bigger bucks set aside for digital and technology infrastructure updates, implementations.)
d) The "Computer Science for All" the "100K in 10", etc. are all programs I've researched and shared evidence on how toxically aligned they are to the shift in workforce based education.
e) ESSA also has big bucks set aside for teachers/leaders PD (professional development). The development is for ensuring they are aligned to not only the workforce based education shift, but are grooming students for post-secondary readiness. Regardless of grade or age.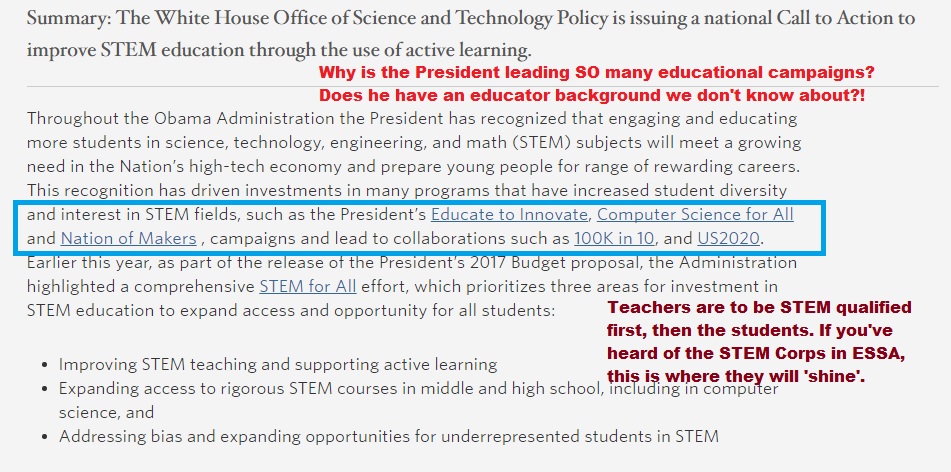 Read the entire 8/17/16 blog post: https://www.whitehouse.gov/blog/2016/08/17/call-action-incorporating-active-stem-learning-strategies-k-12-and-higher-education
PAESMT Program:
This program's been around since 1983. The official website is: https://www.paemst.org/
PAESMT is Congress established, and thus, approved. Each year 108 teachers from across our nation are awarded. The U.S. Territories are also included in these awards. If you would like to see more about the Awards, https://www.paemst.org/about/view
Here's a short video where you can see how these honored teachers are called out as models for their peers, and leaders for their students. Warriors, any teacher modeling an agenda driven education and/or leading others to one, is no teacher I want to know.
[youtube https://www.youtube.com/watch?v=9cZI8UhE4GU&w=560&h=315]
If you wish to find your State's PAESMT Coordinator,
https://www.paemst.org/coordinator/find_coordinator
NC has 2 Coordinators, one for Math and one for Science.
NSF, National Science Foundation:
Sometime before 2009, Gates Foundation gave the NSF $24 million dollars for agricultural research and development. (See: http://www.gatesfoundation.org/How-We-Work/Quick-Links/Grants-Database/Grants/2008/11/OPP51589)
NSF is the one which created the STEM acronym as a marketing tool based off the PCAST* 2010 Report. I have shared with you countless times how this Report stated that the purpose for STEM wasn't so much about education, as it was to be about economy (both national and globally), jobs, and a population. As the Report put it, a STEM people for a STEM workforce for a STEM nation. (* PCAST is short for President's Council of Advisors in Science and Technology)
To see the archived article where you can get this 2010 Report:
https://www.commoncorediva.com/2014/09/02/from-the-files-pcast-stem-and-common-core/
To see what other research I found on NSF,
https://www.commoncorediva.com/2015/02/18/wybiupclosewithnsf/
Related:
To see the 2017 Fed Ed Budget for Computer Science for All ($4 billion over 3 years),
https://www.commoncorediva.com/2016/02/11/fed-ed-2017-are-you-ready/
To see the 2017 Fed Ed Budget figures for Teachers/Leaders PD, including STEM,
https://www.commoncorediva.com/2016/02/12/fed-ed-budget-for-teachersleaders/
To see how the Higher Ed Fed Ed Budget is to play out:
https://www.commoncorediva.com/2016/02/13/big-bucks-for-post-secondary-ed/
Closing:
If you wish to receive more information about my research on any of the topics is this article, please let me know. Make no mistake, STEM is out to align just as much as CCSS is in our schools, communities, and homes. WE MUST FIGHT this overreach. As far as 'winners', in the grasp of the CCSS Machine, no one is.