Anti CCSS/ESSA Warriors, if you remember watching "Mary Poppins" you know the title of my article should point to something simply wonderful or extra special. So why did I pick this when what I have to share is anything BUT wonderful and good?! It's an attention grabbing word. It also got my mind to thinking…..
"Step in time; step in line"
(this is a line from another "Mary Poppins" song which translates extremely well to the timing of a Congressional Committee, the ESSA (Every Student Succeeds Act)), the U.S. Dept. of Health and Human Services, and how they will align as many young children as possible!
We all know Head Start and Early Head Start are government programs with top-down, federal-to-state-to-you control. Both have been embedded in the modern education reform, thanks to the CCSS Machine's planning, funding, and implementing. ESSA (Every Student Succeeds Act) will most definitely ensure the continued alignment between the U.S. Dept. of Education and the U.S. Dept.of Health and Human Services, where Head Start and its Early version are housed.
Since I began publishing research in 2014, I've written at least 4 articles about Head Start and/or Early Head Start. If you've missed them, here they are:
1) https://www.commoncorediva.com/2016/05/25/aligned-workforces/ (connects Head Start to massive data mining)
2) https://www.commoncorediva.com/2015/10/08/tech-thursday-technically-speaking-for-ccss/ (will show you the top-down alignment for ages birth and up for an 'educated' workforce)
3) https://www.commoncorediva.com/2016/02/11/fed-ed-2017-are-you-ready/
(shows you how Head Start/Early Head Start are in the 2017 Fed Ed Budget Requests from the President)
4) https://www.commoncorediva.com/2016/08/11/the-education-road/ ( a real life example of how the federal-to-state-to-you the CCSS Machine alignment is going and how Head Start/Early Head Start is being folded in)
An Awful 'Spoonful of Medicine':
From the U.S. Senate's Education and Workforce Democratic Committee:
http://democrats-edworkforce.house.gov/media/press-releases/-scott-statement-on-final-rule-for-head-start-performance-standards-


According to the embedded document attached to the Press Release (above),
"45 CFR Chapter XIII RIN 0970-AC63 Head Start Performance Standards", the Head Start Program Standards were last updated in 1998. Then, the  Improving Head Start for School Readiness Act of 2007, we found Congress instructing the Office of Head Start to update itself.
Basically, it was a 'step in time, step in line' move. Since 2007, tons of 'research' has been conducted; public feedback has been gathered; and, now is the time to 're-up' the Head Start again. This 2016 final version of updates? Only 621 pages long!
Gee, just in time to step in line with ESSA (Every Student Succeeds Act) and its overreach into early childhood 'education'.
On Page 15 of the latest and final version for updating Head Start/Early Head Start, you'll find the "Compliance Table". This table gives federal statutes, start dates, and descriptions of what each Head Start/Early Head Start Program AND location MUST do to 'step in time, step in line'.
Included in the mandates of compliance:
Alignment of education in school and at home
Data mining
Streamlining the data collected
Credentials required to conduct 'in home' visits
Hours each program and location must be available
Curriculum to be used
Assessments
Here's what the curriculum portion will embed: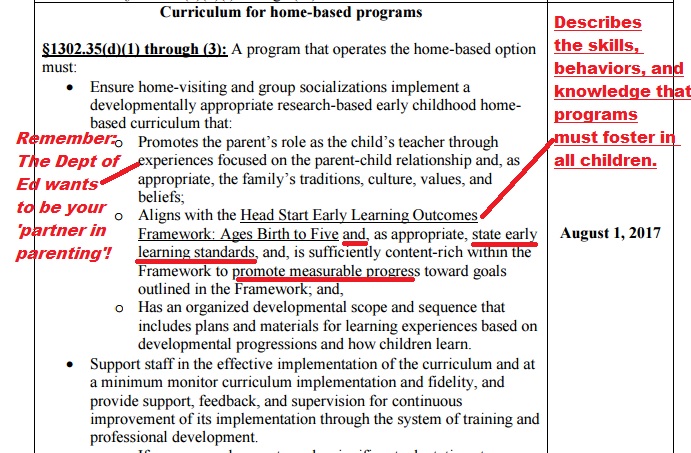 So, what does the 'partnership' boil down to? An absolutely bitter pill to swallow!
The screen shot below is from the "Early Learning Outcomes" Framework.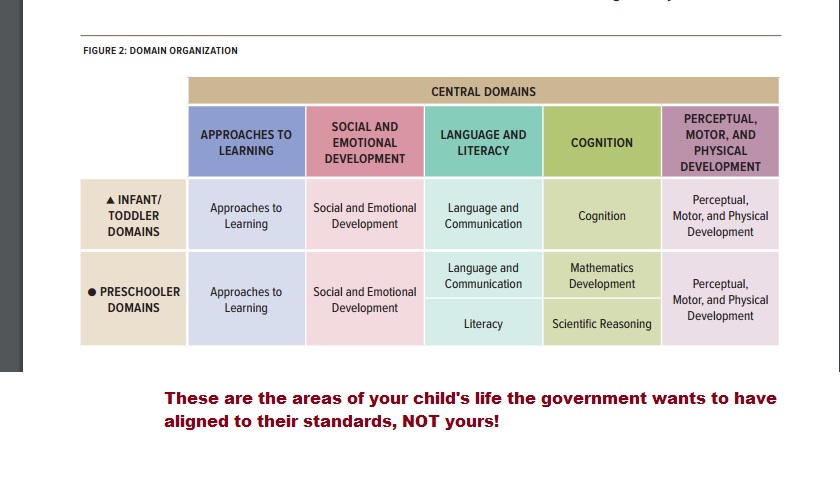 To access the entire Framework document,
https://eclkc.ohs.acf.hhs.gov/hslc/hs/sr/approach/pdf/ohs-framework.pdf
For the Data mining connected to Early Head Start/Head Start?  Learn the CCSS Machine's alphabet code "Quality Rating and Improvement Systems (QRIS)" and Data systems. (Page 14 of the 621 page document). It too, must be in place by Aug. 2017.
What is the QRIS? Their website: http://qrisnetwork.org/
From their website, you can learn that QRIS is a part of Build's Initiative. Before we get to the Build's Initiative, let me show you the once again, tangled web of the same CCSS Machine member organizations connected to the QRIS.
QRIS's website also tells you there are public private partnerships involved in the quality control/data mining. Thus, the tangled web begins…
a) from the QRIS Newsletter's August 2016 post, (http://qrisnetwork.org/sites/all/files/lt/private/NEWSLETTER%20QRISAugIssue2.pdf)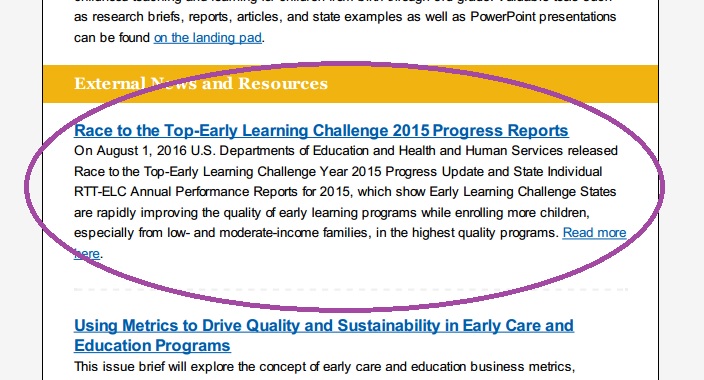 b) This redirects you to the QRIS page featuring MORE reports (where you can get State by State progress reports). http://qrisnetwork.org/resource/2016/race-top-early-learning-challenge-2015-progress-reports
When you click on the external link at the bottom of the page, you are, once again, redirected
c) This takes you to the U.S. Dept. of Education's website,
https://elc.grads360.org/#program/annual-performance-reports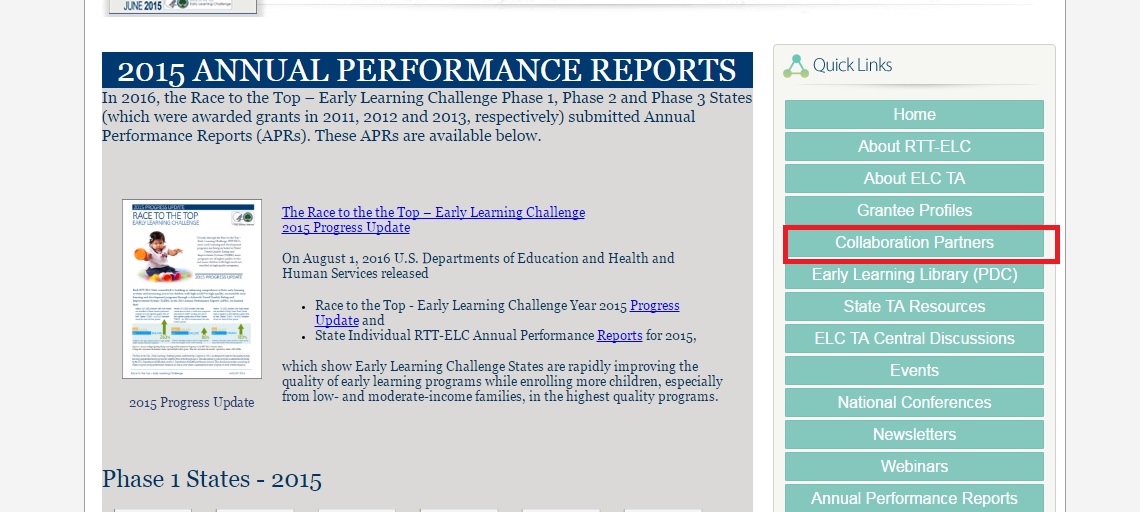 d) Still not finding the public private partnerships in QRIS, I desperately was hoping the U.S. Dept. of Ed's 'collaboration partners' may reveal something. Boy, did it. A huge bitter pill of CCSS Machine 'medicine' to swallow.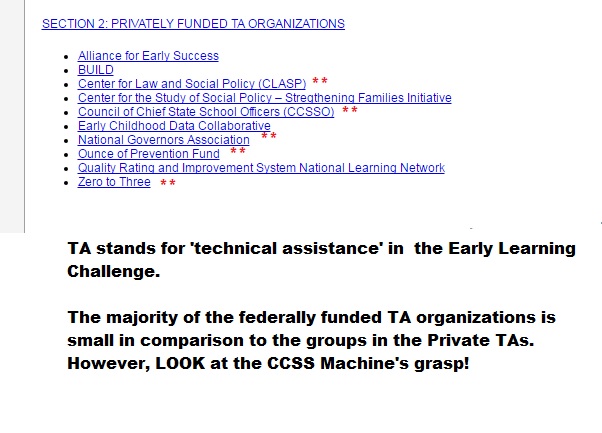 The groups with red stars are ones I've researched and have proof of their P3 (public private partnership) grasp on American education. The CCSSO, the NGA, are well known to you, the anti CCSS/ESSA Warrior, thanks to many who've researched their ties.
If you've missed my findings on CLASP, Zero to Three, etc. just use the search bar on my blog. If you can't find them that way, contact me. It's proof you need to fight for your children.
To see the other Technical Assistance groups helping undermine early education,
https://elc.grads360.org/#program/collaboration-partners

More 'Spoons' of Fed Ed "Medicine":
1) Unlike the other documents I've researched which are from the federal government, this one (that 621 page document with a long title) actually has a redesignation table for you to see what old Standards are being shifted to. As the writer of this document put it, it's a roadmap for ease of access. It begins on Page 16.
2) After the "roadmap", you are 'treated' to all the 'research', 'reasons', and 'purposes' behind the latest Early Head Start/Head Start shift. In all honesty, the parts about how all this aligns to ESSA didn't surface, that I could easily see. However, having read ESSA and listening to both Senator Alexander AND Senator Murray, it is easy to find the early education overhaul.
3) To access the 621 page document: 2016-19748
Finding Early Ed Alignment in ESSA:
When I read the 1,059 ESSA Final Conference Report, I found the following. These are selected excerpts from my previously published articles.
ESSA and the digital overreaches for the little ones:
*) "Page 630: Preschool and 'Ready to Learn' digital content, especially via PBS (Public Broadcast Stations).
Page 943 begins Section 9210 of the ESSA Law. This is the biggest overreach of all!
Why? "Student Home Access to Digital Learning Resources"! To find out how successful students are at HOME, a Study conducted by the Director of the Institute of Educational Sciences (IES) no later than 18 months AFTER all portions of ESSA are in place! Details of the Study will be found on Page 944."
You'll want the article these are in because it links you to the other areas of concern for your little ones. Near the bottom of the article, you'll find out how I learned that Sesame Street is now CCSS Machine controlled, thus aligned.
https://www.commoncorediva.com/2016/02/04/essa-and-digital-overload/
ESSA's use of immigration to overreach into early education:
*) "Page 2 reveals Sections 3001-3004 (these sections begin on page 408 and follow from there) will break down what alignments, accountability, etc. will be taking place in education and services related. I found on page 409, under the Section 3001 and "Appropriations", the following figures of the tax dollars up for grabs by the states and awarded by the federal government for this express purpose, "(1) $756,332,450 for fiscal year 2017;  (2) $769,568,267 for fiscal year 2018;(3) $784,959,633 for fiscal year 2019; and (4) $884,959,633 for fiscal year 2020." Page 410 will show you how the ELLs (English Language Learners) will have to meet those 'challenging state academic standards', too.'
Skip down to section 3115 (page 421) , however and you will find that all schools will have to jump through a hoop or two to reform education so that no child will be excluded. How? Through 'sub grants' to eligible entities as long as they are educating students in ELA to the tune of 'challenging state academic standards'!"
You'll want the rest of the article this comes from so you can learn the 4 purposes of ESSA's ties to WIOA (Workforce Innovation and Opportunity Act). Why? One of the 4 is EARLY CHILDHOOD LEARNING!
https://www.commoncorediva.com/2016/01/05/essa-ties-to-wioa-2014-and-new-citizens/
ESSA in your neighborhood:
*) "Over on page 612 you can learn about types of schools and what they must provide to the neighborhood will include. Follow this through to page 615. There you will see the following language. "(2) INDICATORS.—The performance indicators  established by the Secretary under paragraph (1) shall be indicators of improved academic and developmental outcomes for children, including indicators of school readiness, high school graduation, post-secondary education and career readiness, and other
academic and developmental outcomes…" The next section is 2465 and this is where the full service community school is laid out in detail."
ESSA's authors used the law to codify "Promise Neighborhoods". You'll want to read the article this portion comes from so you can learn how your entire family will assessed, graded, and 'encouraged' to align with educational resources from the U.S. Depts. of Ed/Health, Human Services.
https://www.commoncorediva.com/2016/01/04/meet-your-new-neighbor-essa-seriously/

Closing:
If you are interested in viewing a 2014 Head Start/Early Head Start webinar, you'll find the video below. While the information is dated, you will find out from those involved in the P3s for early education how valuable they think your kids are (look about the 19:58 minute mark). The entire video is just over 1 hour. Be sure you listen for the 'wedding' remark near the end of the video.
To all those involved in the grab for our children, I say their hearts are as black as the soot on Bert's face as he danced with the chimney sweeps in 'Mary Poppins'.
[youtube https://www.youtube.com/watch?v=R43Hndn774o&w=560&h=315]