Recently, anti CCSS Warriors, there's been a tremendous amount of 'buzz' about assessments. If you've not heard, ESSA (Every Student Succeeds Act) has lots of assessment jargon contained within its many pages.
Yeah, I know, we were misguided by the CCSS Machine about the NUMBER of assessments. Nonetheless, assessing our students, teachers, and schools constantly (NOT less, as Sen. Alexander so plainly shared.) is EXACTLY what ESSA will continue. In fact, ESSA INCREASES the amount AND types of assessments in our schools!
A Group:
A national group, U.S. PIE (Parents Involved in Education), is one group I'm involved with to help stamp out fed-led-ed. The group has spent countless hours pouring over the latest proposed changes in ESSA where assessments are concerned. They have an EXCELLENT letter ready to send to the U.S. Congress. Why Congress? In my opinion, the team within US PIE which has researched the assessment components of ESSA, has plenty of evidence suitable for Congress to take action AGAINST the law! There's certainly enough issue raised that Congress SHOULD conduct an investigation.
Warriors, we have a few more days to join U.S. PIE in signing the letter. To read it:
http://www.uspie.org/stop-national-assessments-.html
All signatures need to be submitted NO later than 9/11/16. Share this letter!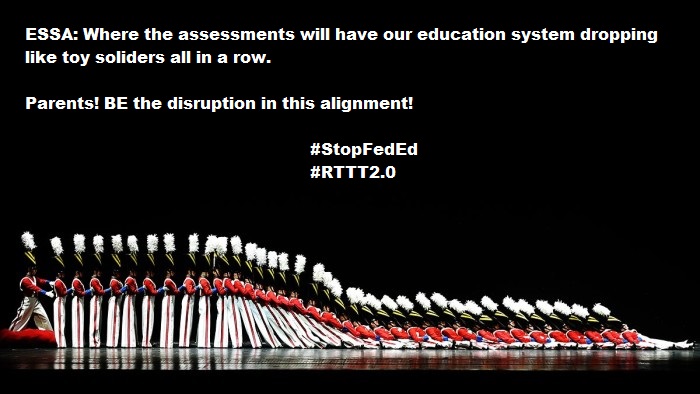 Closing:
On Sunday, 9/11, I'll be joining my fellow CT Warrior, Lori Hopkins-Cavanagh on her radio show, "Lori on Liberty" (http://www.949newsnow.com/page.php?page_id=321). While the date you see will be from April, use the other information (time, call in number, web address to stream live). I'll be on at 1 PM, EDT. Our topic will be 4 federal education/workforce bills which tie ESSA, their assessments, and WIOA (Workforce Innovation and Opportunity Act) together.
On Monday, 9/12, I'll be publishing a more about the ESSA assessments. Here's a small preview.
"Among some of the evidence revealed by that team of volunteer parents for U.S. PIE, was the use of the word 'modular' in the language describing the 'innovations' ESSA's assessments are bringing us."