For those of us dedicating our lives to fighting to preserve American education and its freedoms, some things are easier to learn than others.
It was easy to learn what goes on behind the scenes in our school districts, for the most part. It was harder, however, when we discovered how much of what goes on means to undermine our children, not equip them.
It was easy to trace the CCSS Machine (and still is). It's not been so easy getting those around us to get involved in stopping the manaical agenda that comes WITH the CCSS Machine.
Some of us have become Warriors Against the Core. Others, have remained by-standers. Likewise, on the OTHER side, there are Warriors For the Core. Then, there are those who pretend to be by-standing all the alignment, data mining, and just plain egriousness of it all.
We've learned about many of these types of education posers through the years, right, my fellow Warriors? Well, I've got one more..maybe you know this group; maybe not.
"Stand For Children Leadership Center":
I first learned about this noble-esque sounding group a couple of weeks ago, while researching the SMART and HARD Goals originally designed for business and being liberally applied in classrooms now.
While the 'Stand for ChildrenLeadership Center' didn't invent either of the Goals, it's interesting to learn what type of 'standing' the organization DOES do.
Simply put, lots of collective plotting and planning for a) 'college readiness', b) school choice, c) the type of educational standards used, e) engaging the family, f) STEM, and many other education-related issues. See their entire menu of stances.
Warriors, in other words: "Stand for Children" should be re-named "Stand for the CCSS Machine". Why? Our first clue is below.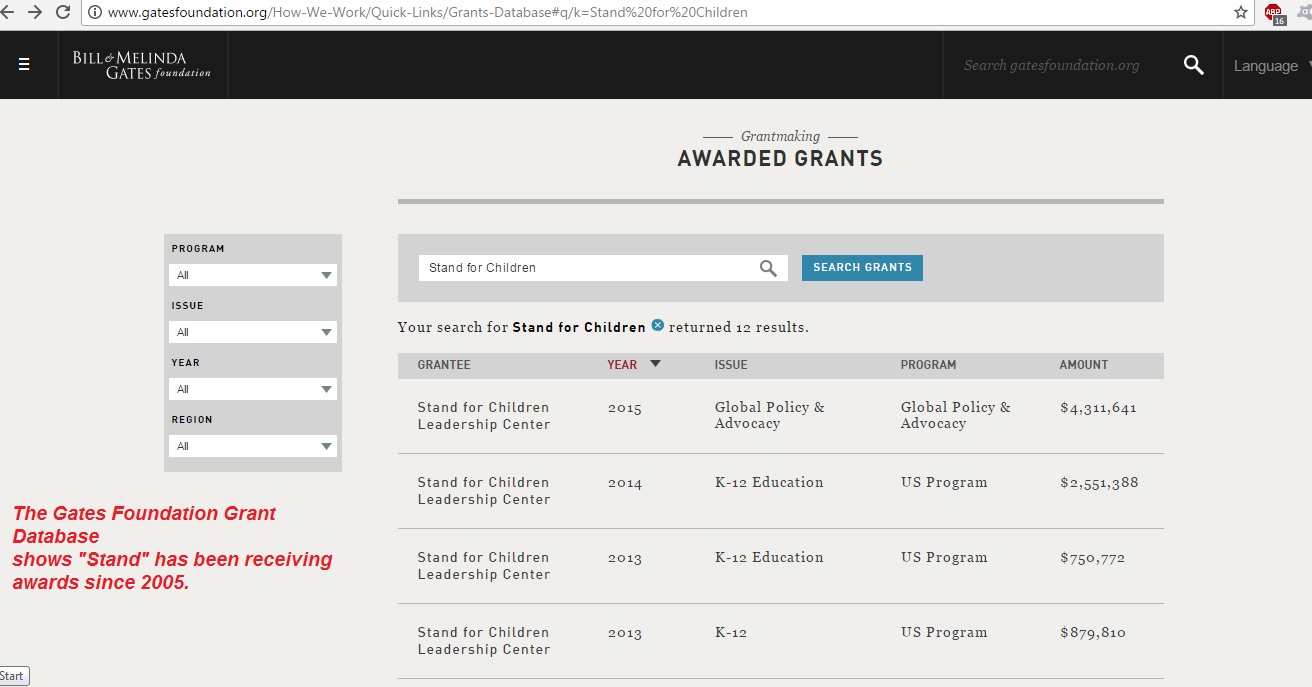 The Bill and Melinda Gates Foundation have been funding "Stand for Children's Leadership Center" for many years.
A second clue? "Stand for Children Leadership Center" is a part of a bigger group by almost the same name.  That name is "Stand for Children". This separate website can be found here.
The mission for this group? "Our mission is to ensure that all children, regardless of their background, graduate from high school prepared for, and with access to, college or career training."
Here's a sample from their Stand For Children. I've summarized some of the information.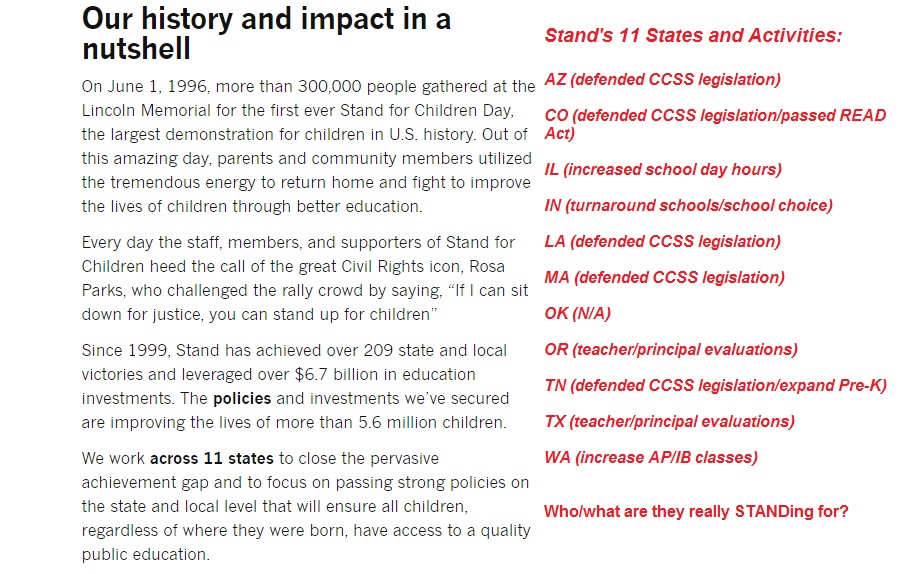 While the "What We've Done" website page didn't reveal activity in OK, the 2016 Annual Report does. In fact, the Annual Report shows how "Stand" fought to keep aligned assessments, CCSS, and even which candidates were financially supported. Stand's entire group is a non-profit with over 500 state-level associated groups. You can also find out who and/or what organization gave funds to Stand for Children. While Gates funds the Leadership Center; you'll find Bloomberg Philanthropies and Education Reform Now as donors to the Stand for Children portion of the overall non-profit.
Related Information:
Tied to the Stand for Children, you'll find two Board members have had previous (and who knows if these connections are not still viable) positions with:
a) Stand for Children's Chair Board member is an active working member with the Emerson Collective (where you can find the XQ Super School Project). The President of Emerson Collective also sits on the Boards of Teach for All, New Schools Venture Fund, and others. Her name is Lauren Powell Jobs. She also founded College Track.
I wrote about the XQ in 2015. Emerson's update on the XQ from May 2017.
You can find one of my New Schools Venture Fund articles, here.
If you'd like to learn more about Teach for All, look below for a quick summary: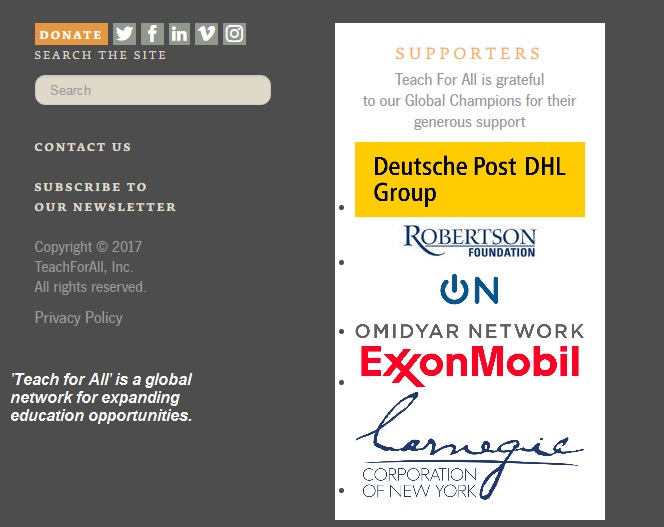 b) Another Board member is tied to KIPP Schools, and founded a non-profit called Murmuration. It's a politically active education group. Her name is Emma Bloomberg (daughter to Michael Bloomberg). She is the CEO of Murmuration. If you'd like to see the Murmuration campaign donations, Emma Bloomberg made, see them here.
Closing:
Warriors, as you can see from above, lots of inner connections back and forth to the same old well-known CCSS Machine members and their organizations. It appears Stand will expand their impact from 11 States to all 50 at some point. Project XQ is tearing through our nation's middle section with a reform bus (literally) full of propaganda to spread. KIPP, as we know is all about charter schools and reform agenda. As we can also see, political funding is ripe in the CCSS Machine.
As Warriors, we've learned (easily) that throwing money at anyone or any thing does not FIX education. We also have learned (painfully) that aligning education does not FIX it either. So, why is the CCSS Machine grinding America down to support alignment?
I believe, from researching, it is to wear us down to the point we give up and give in.
What can we take forward with us from all this information? To remain firm and strong. Look how many have become by-standers at each advance of the CCSS Machine. Will we be next in bowing down to it? While it is the Machine's goal, it isn't ours.
It's clear that the stance by the sold out CCSS Machine members and groups is one of total conformity. We MUST make it clear that our stance is one of fierce protection. We cannot afford the stand and look the other way any longer.