Anti CCSS Warriors, back in May 2015, I shared with you the article about the "Redesigning American High Schools". However, just yesterday, I had a warrior from the NE USA, send me the picture you'll see below. It's part of the "XQ, American Super School Project".
To access my May 2015 article, see: https://www.commoncorediva.com/2015/05/09/sic-em-saturday-aligned-summer/
To access the document about the redesign, you can search the internet for "Reinventing the American High School for the 21st Century" from the Association of Career and Technical Education, published 2006 or click here. Reinventing_American_High_School  Part one of this older document shows you the (then) current efforts to redesigning American High Schools. Go back and read what those efforts were when you can. However, for the rest of this report, we'll look at the XQ Project and even more related to it.
Apple's Part:
"The XQ Project" has ties to Apple, Inc. (as in the computers branded "Apple") Who's behind "XQ"? Steve Jobs widow. See: http://mobile.nytimes.com/2015/09/14/us/laurene-powell-jobs-commits-dollar50-million-to-create-new-high-schools.html?referrer&_r=0
If you're not sure who Steve Jobs was, he was one of the co-founders of Apple Computers. Now known as "Apple, Inc.".  How is Apple connected to CCSS? CTE? For starters, see the 'education' section of the Apple, Inc.'s website: http://www.apple.com/education/connectED/
Here's another Apple/CCSS, CTE tie, the assessments connected to CCSS/CTE, see: http://www.cft.org/news-publications/newsletters/california-teacher/september-october-2013/a-year-of-transition-preparing-for-the-common-core-standards.html
What's "ConnectEd"? The ConnectEd is a direct link to the White House and more CCSS/CTE. How? Digitally, my fellow warriors. See the pdf document:
https://www.whitehouse.gov/sites/default/files/docs/connected_fact_sheet.pdf
The 'smoking gun' for ConnectEd, digital, and CCSS? Race-to-the-Top! See: http://www2.ed.gov/programs/racetothetop-district/index.html
The XQ Project:
Website: http://xqsuperschool.org/challenge
The mission/challenge is longer than the excerpt I'm including, but it's important you see this much.
"The Super School Project is an open call to reimagine and design the next American high school. In towns and cities far and wide, teams will unite and take on this important work of our time: rethinking and building schools that deeply prepare our students for the rigorous challenges of college, jobs, and life."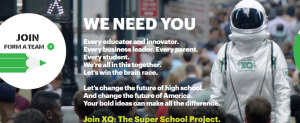 So What Does "XQ" stand for? According to the website, it's a combination of one's IQ (your cognitive abilities)  and your EQ (how well you learn with others) to create something 'extra special'. To learn more about how this is to all work together for rigor for all, see: http://xqsuperschool.org/about (*NOTE: you'll also see the 'collective' partnerships)
If you'd like to see the student led 'voices' connected to the XQ, visit: http://xqsuperschool.org/voices
As far as much more information, you'll find it's not very transparent, at least on the website.
However, jump over to Twitter, look up the #Rethinkhighschool and you'll see celebrities, athletes, and others weighing in with ideas like "What if parents got tax deductions based on their kids grades?"(Ashton Kutchner) and "We talk a lot about innovation and problem solving, but we aren't training our kids to do it." (Joe Montana)
However, the tweets worth noticing aren't from the rich and famous, they are from groups which support aligned assessments, more in-depth skills based learning, and on and on. Watch for "New Tech Network" and "American Dream Schools". The former supports the deep learning, the latter is on a mission to transform thousands of high schools in the next 10 years. (*Note: "American Dream Schools" has 2 Twitter accounts, one tagged "Deeper Learning" as well as their ADS name).
American Dream Schools:
Their website: http://www.righttosucceed.org/
Serving advisors include a Gates Foundation Senior member as well as a member of the IL Charter Schools! (See: http://www.righttosucceed.org/#!advisors/c165s)
Their take on the educational crisis? Preventing drop outs in high school. Here's an excerpt from one of the co-founders, "I worry that education reform is so focused on what we are fighting against (bad schools, bad teachers, bad unions, bad districts, bad funding, bad parenting, bad kids, and bad communities) that there is no vision about what we should be fighting for – great schools for every neighborhood!"
Want to see what a real ADS looks like? (be prepared..it's about preparing for the workplace)
https://youtu.be/OTzeQQ6hE4k
Notice, this began in Napa Valley, CA (very close by is Silicon Valley, where many businesses are. As are many venture capitalists. How do these play into this redesigned education movement? See my previously published article: https://www.commoncorediva.com/2014/09/16/from-the-files-tuesday-down-in-the-valley/
Deeper Learning:
Their website: http://deeperlearning4all.org/
Their base of research appears to be AIR (American Institutes of Research), however they also use PISA assessments and other well connected CCSS/CTE/CCR groups or tools. In fact, I'm sharing with you the 30 CCSS results I got when I searched the website for "Common Core" (see:
http://deeperlearning4all.org/?s=Common+Core&source=global)
If you'd like to see just how deeply the Deeper Learning folks are into all things Common Core (including college and career readiness (CCR), career technical education (CTE), be sure to look at the 'resources' page. Just be sure you have something to throw at the wall when you read it all..it's like a 'who's who' of agenda laden CCSS supporters. (see: http://deeperlearning4all.org/resources)
The group behind "Deeper Learning" is the "Alliance for Excellent Education". I wrote about AEE back in July 2015. See: https://www.commoncorediva.com/2015/07/13/todays-the-day-will-ecaa-survive/
Why do I bring up the Alliance? Simple,refer to their statement on student data dashboards. http://all4ed.org/wp-content/uploads/2015/01/DataDashboards.pdf

Here's what the cover illustration looked like: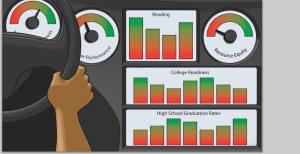 Closing:
It seems the ties to connect all of the above are in reality quite simple. Data, agenda, and our schools. The chokehold on our schools? The Common Core State Standards Initiative and all that it encompasses. The payoff for the likes of Apple, Project XQ, Deeper Learning, the Gates Foundation, the Alliance for Excellent Education, and all those others joined at the hip? A manageable trained workforce creating a rich economy for a select few.