Recently, an Anti Fed Ed Warrior from out West asked me for several resources concerning a CCSS Machine group which is ramping up alignment in her State. During our exchange, I was asked if I knew "AVID", or had any research on the group. I did not, but I do now. 
Interestingly enough, another Warrior in another State out West, shared some news she had discovered about AVID, too. Her pointed out these objections: The cost is too much, agenda is woven throughout, and, the CCSS Machine makes a profit. 
AVID is short for "Advancement Via Individual Determination"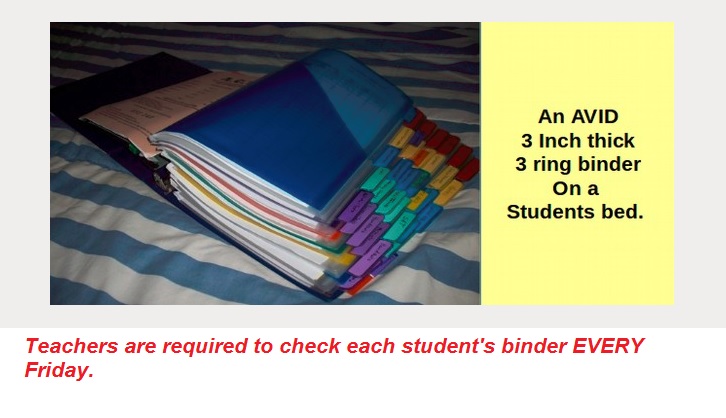 Warriors, you'll find the picture you see in the embedded link 'some news' above.
So Why A Beaver?
If you look at the AVID website, you'll see how much hype is placed on being eager to get somewhere in life. Hence, the eager beaver. How anyone can be excited to a 3 inch thick binder filled with agenda, I don't understand.
Looking Into AVID:
AVID's approach in education sounds like a CCSS Machine dream: open classrooms, collaboration, closing opportunity gaps (aka: closing the skills gap), and turning teachers into classroom facilitators. ESSA (Every Student Succeeds Act) has these exact mandates, Warriors!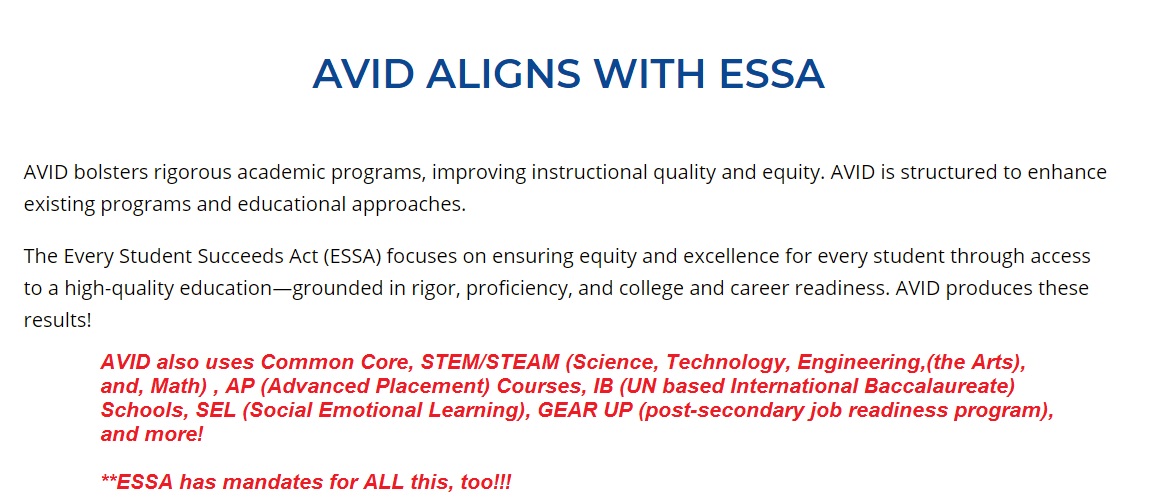 (Source)
To access the AP/IB links with AVID, go here. (*Note: this is where you'll also find College Board.)
To see the STEM/STEAM information, look here. (*Note: like IB Schools, STEM/STEAM is UN, United Nations, based.)
If you'd like to see the SEL proof, find that here. (*Note: you'll see CASEL's 5 competencies are aligned to AVID. CASEL is short for Collaborative for Academic Social Emotional Learning. "Competency" is also part of the ESSA mandates, as is, CBE, competency based education.)
To learn about AVID's partnership with GEAR UP, that's here. (*Note: You'll find GEAR UP in WIOA, Workforce Innovation and Opportunity Act, the HEA (Higher Education Act), and any other law for education and labor.)
Warriors, as you know, I've exposed how every one of these programs and partnerships tie back the CCSS Machine! However, if you've missed any of the connections, use the search bar on my blog.
AVID's Leader: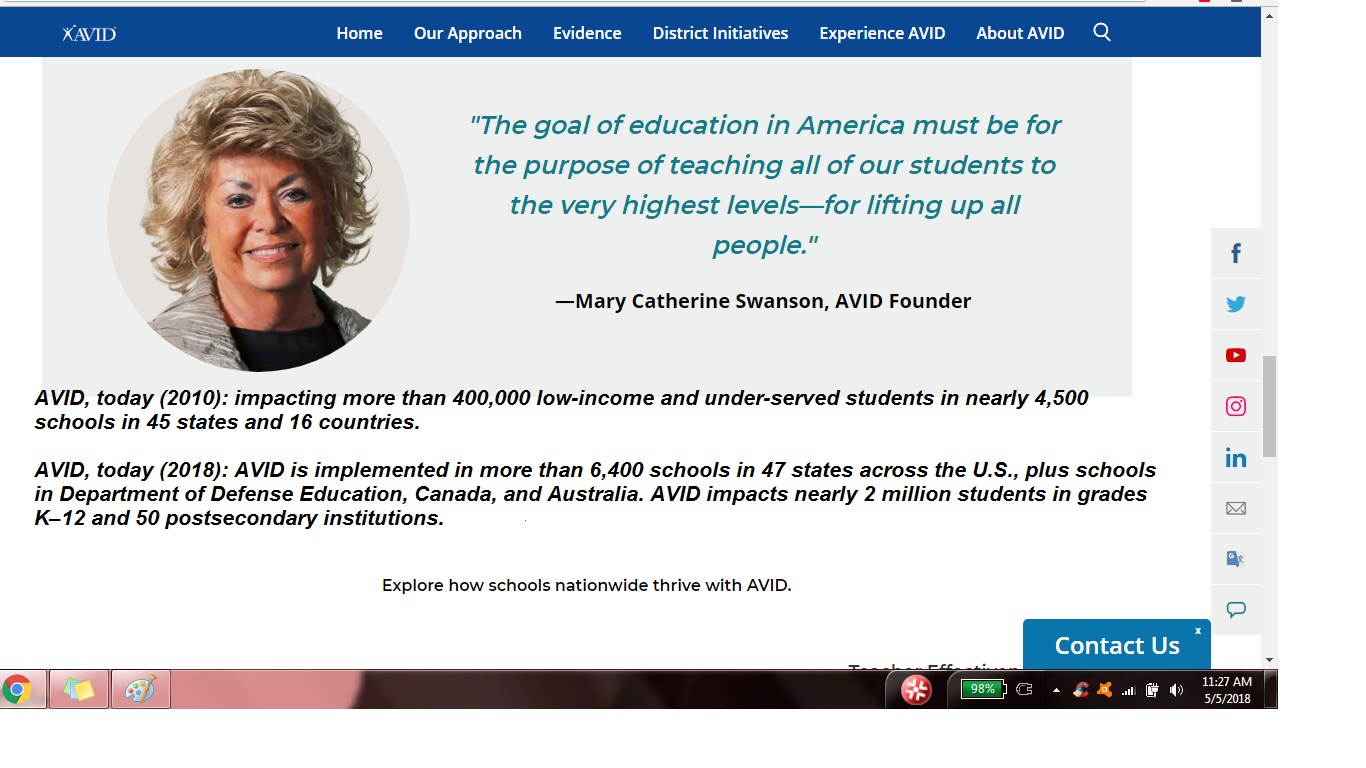 AVID's founder was featured by her alma mater (Univ. of California: Davis). You'll find the 2010 information there. The current information is from AVID's history page on their website. Be sure to note that in 2003, College Board joined forces with AVID.
(*Note: meet the other leaders of AVID.)
AVID From A High School Viewpoint: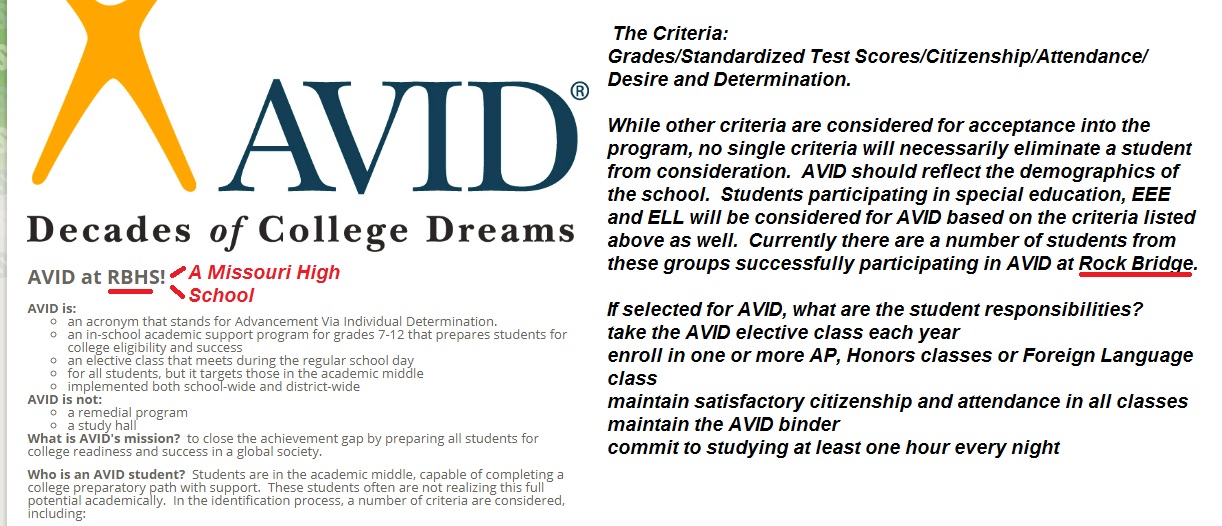 (Source)
Warriors, according to the MO school's website, students are recruited for AVID. Here's a video where you'll hear current AVID students share what the coordinator is using to entice new students. You'll hear "AVID Rocks…We Want YOU!"
From TX, Channelview ISD's Avid Recruitment document lays out the year long schedule teachers are to use to add new students to the program as well as lay out what the students must do, once an AVID member.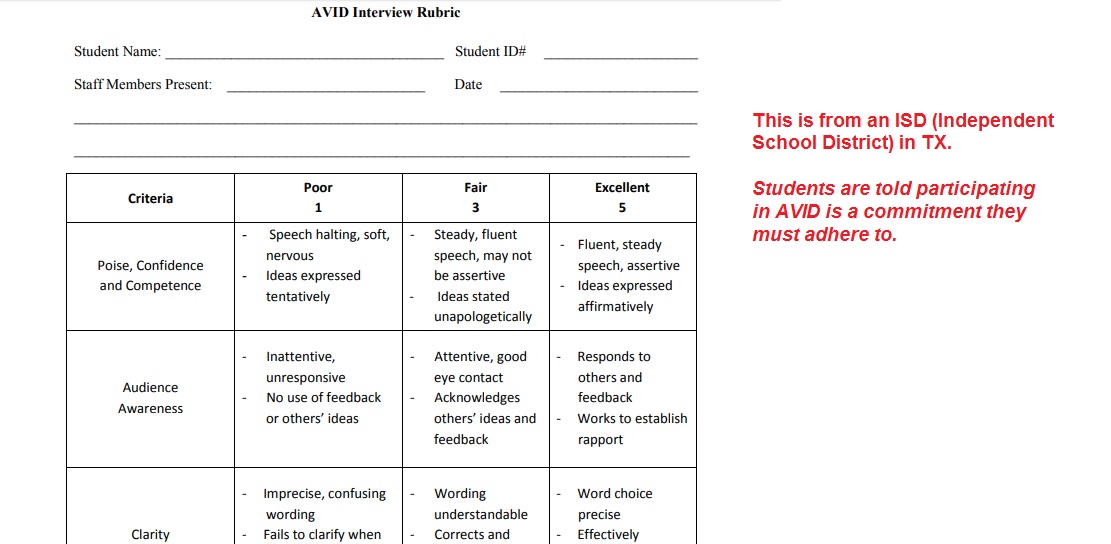 From another TX school, this You Tube video (about 5 minutes) details more about AVID in real time. A couple of interesting notes, the teacher featured in the video is a TX Teacher of the Year as well as married to an AVID employee.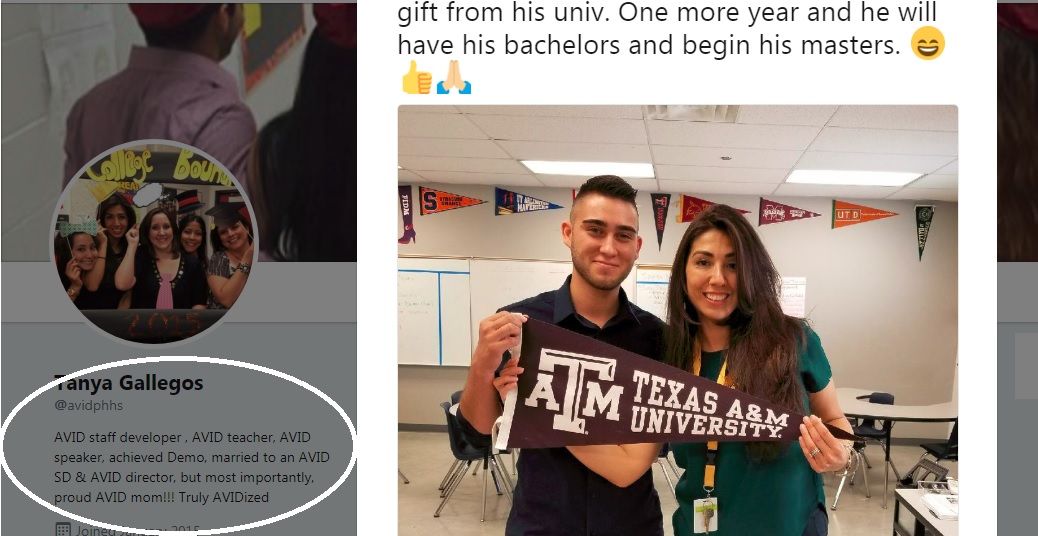 The other interesting thing? All AVID students MUST use the Cornell University Notes system.
Warriors, back in 2015, I showed you how the Gates Foundation, Cornell University, and many others were uniting to bring about Career Passports.
Think about this, my fellow Anti Fed Ed Warriors, ESSA streamlines the way kids learn and the way teachers teach to ONE way, so, in essence, taking notes in only ONE way makes sense. However, it totally overlooks the fact NOT everyone learns that way OR takes notes that way!
For example, if someone were to look through my notes (and I am a copious note taker), they'd see scribbles, drawings, words, lines, arrows, and circles. What I've seen from my children proves, a cookie cutter system would of been harmful!  One color coded everything in word form only; one drew or wrote in languages from Lord of the Rings, Klingon, etc.; my last child only wrote down key words, the rest of her information? She listened!
Warriors, time and time again, in looking at AVID material the readiness for college is evident. Do a quick search on note taking and you'll see several colleges have resources of effective note taking that are NOT Cornell University derived.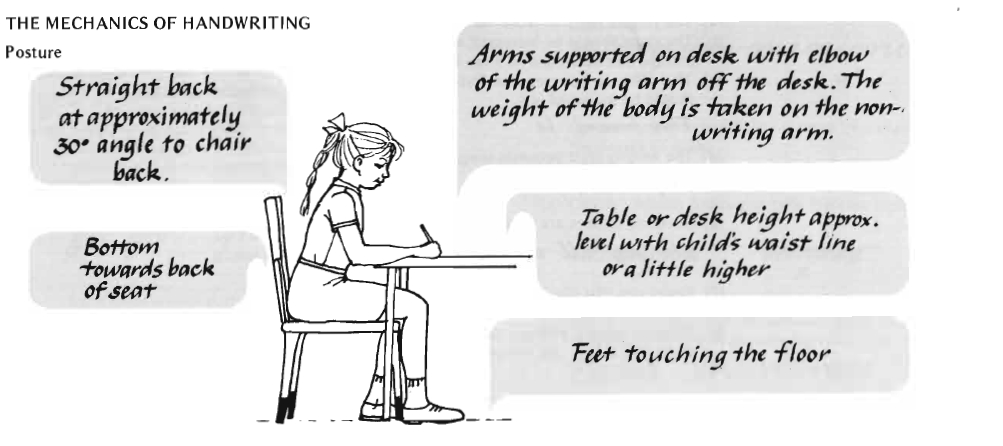 AVID From The School Choice Viewpoint:
One Anti Fed Ed Warrior stance is ESSA gives school choice back to the States and parents. Reading ESSA proves this stance is incorrect. ESSA is clear that it will NOT matter which school location your child uses, ALL education will be the same. AVID plays right into this. Just look at the evidence!
Included in 'school choice' are the home educated. Will AVID impact those learners? What about private schools, so far the only evidence I have found has been from public schools. I have found a private Catholic high school in WI where AVID is used.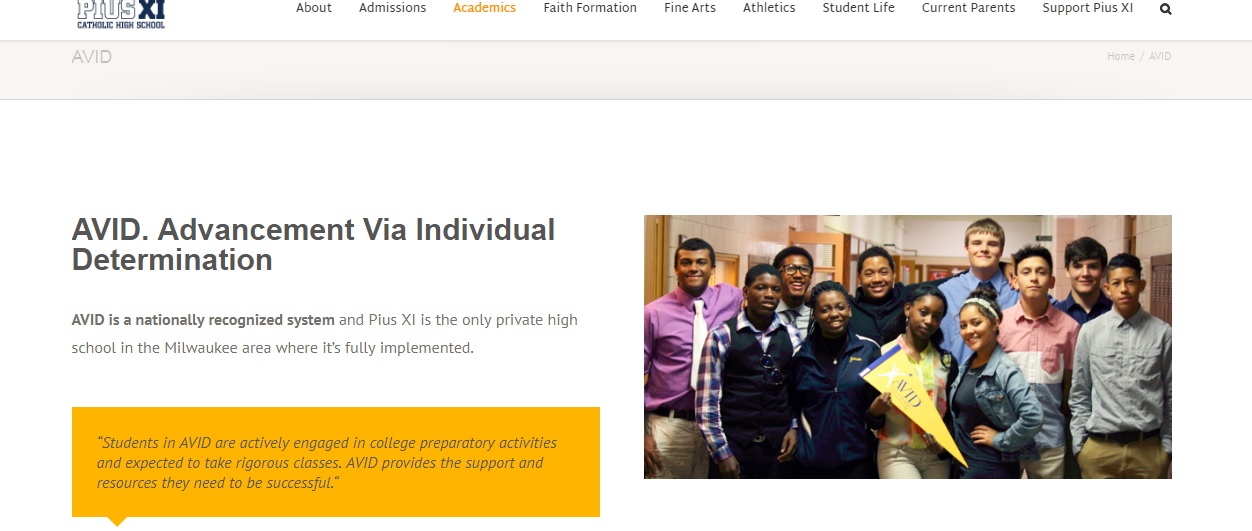 Notice, the website states this is the only high school (private) where AVID is fully implemented. Does this mean other private schools are beginning the AVID process?
AVID is also in post-secondary education which includes private education. As we know, those who homeschool usually see their kids go into post-secondary schools.
Be sure to access AVID's research and data information. You'll see so much subjective material. Warriors, click the 'learn more' buttons every chance you get. You'll see lots.
Closing:
Warriors, sure, we'd love to see kids eager about learning. Given a choice, though, I really believe we'd rather see ESSA thrown out, the CCSS Machine shut down, teachers able to do what they love, and parents assured the education system isn't out to conform their kids into some former shadow of themselves.