Anti Fed Ed Warriors, back in 2016, I published an in-depth look at the Congressional 'love affair' with CTE, Career Tech Education. That 'love affair' began well before Common Core's alignment, and, like a toxic relationship, has only grown deeper since Common Core's alignment. If you have not seen the connections between Common Core and CTE, know that CTE IS the 'adult' version of Common Core.
Warriors, CTE's name was changed FROM Common Career Technical Core when the national news surrounding the egregiousness of CC was at its' peak. Those in the CCSS Machine (Common Core State Standards Machine) were trying to distance themselves from the heat. Trouble is, Warriors like us, saw the change and have it archived and well documented.
Below is the "CTE Pledge" from 2015. The article where I exposed it, is right here.
(*Note: also from 2015, how the IDEA funds associated with special needs was used for CTE alignment. You can bet this practice has NOT slowed down one bit.)


Where will you find the 'pledge' now, since ESSA (Every Student Succeeds Act) is the law of the land? College/Career Readiness (CCR). If you look back at any RttT (Race to the Top) applications, you'll more than likely see CCR as an 'alternative' name. Hence, CCR IS CCSS, too!
We MUST remember that ESSA's mandate for post-secondary readiness is based off WIOA (Workforce Innovation and Opportunity Act) Standards NOT State derived academic standards. WIOA's 'standards' are all about CTE, workforce readiness!
The Latest From the CTE Watch: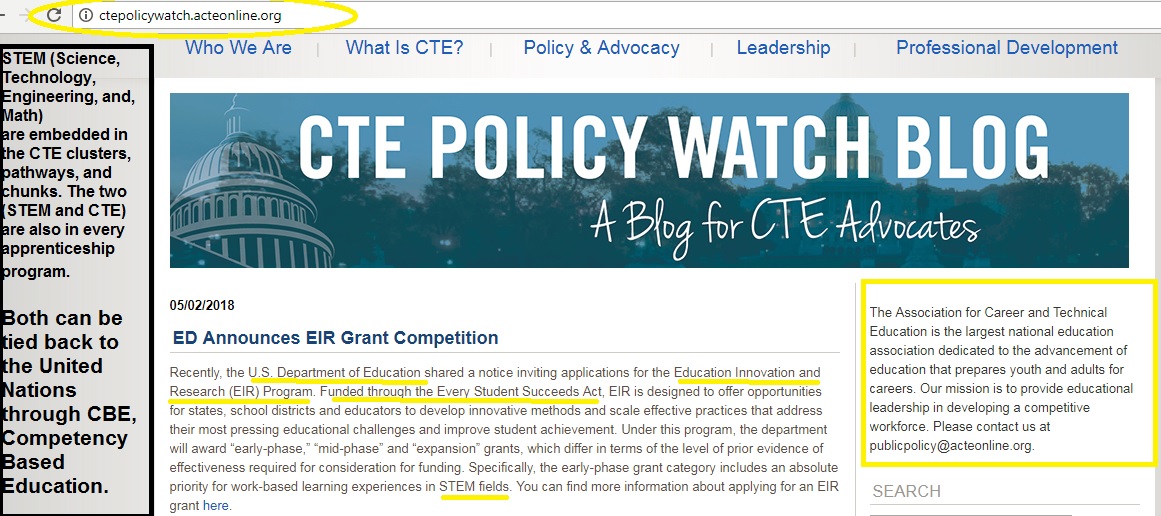 (Source)
Just yesterday, CTE Policy Watch shared that the U.S. Dept.of Ed announced a new ESSA funded 'research study' for education. Warriors, we know anytime Ed uses 'research' it is code for student data rape to access their private information without consent to track their career paths.
What's noteworthy is while the CTE Policy Watch shared this as new news, the U.S. Dept. of Ed's website shows that it was March 2018 when applications were released for funding. As true to U.S. Dept. of Ed's form, you can SEE the information, but accessing it is loaded with 'go here, download this' kind of moves.
Also, according the CTE Policy Watch, new legislation to run our teachers through the CCSS Machine's track. Known as S 2737,  Creating Quality Technical Educators Act, 
Sen. Kaine (VA) and a host of other Senators from across the nation, are backing this. As of this writing, the only version of S 2737's text is a Scribd document. Read Sen. Kaine's press release, it's eye opening, to say the least.
A brief look at S 2737 shows there will be assessments (data tracking), grants, blended finances (aka: P3s, public private partnerships), amending the HEA (Higher Education Act), adhering to WIOA (Workforce Innovation and Opportunity Act), who is eligible to become a CTE Teacher/Educator, how they will be trained in student pedagogy (lesson planning, student data, scientific based teaching practices, and, more), how these CTE Teachers/Educators will need to incorporate industry standards into school classrooms, licensed by their States, and everything in between.
Below, is a CTE Policy Watch member's support for new legislation:


(Source)
The intended outcome for all that goes with S 2737, a better American economy.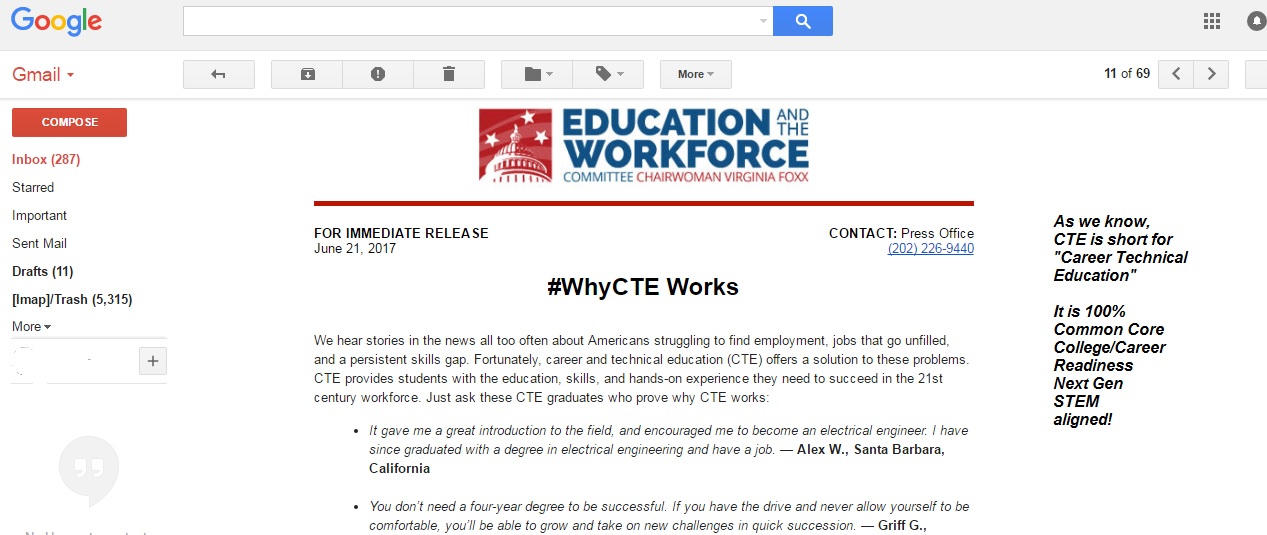 ************************************************************************************
HR 2353 (Strengthening CTE in the 21st Century Act) is currently in the U.S. Senate HELP Committee. It sailed through the U.S. House back in 2017. This whopper would increase the amount of funding for CTE through 2023. You can find out my research on HR 2353, here.
AdvanceCTE's Blog:
Warriors, when I first started blogging, I showed you the  NASDCTEc (the 'National Association of State Directors of Career Technical Education Consortium'). Since then, they, too, have changed their name to AdvanceCTE.  Below, is a screen shot of their latest CTE propaganda: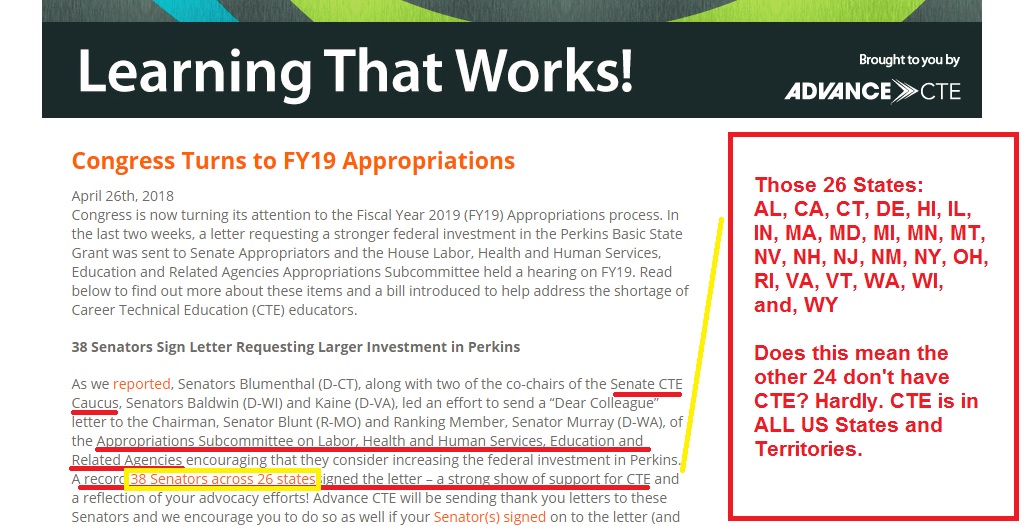 To see the 38 Senators by name, look here. To access the Blog, go here.
To learn about the global ties to CTE, find that information here.
To visualize how CTE and CBE (Competency Based Education) intersect with the (United Nations) UN's SDGs (Sustainable Development Goals), look below: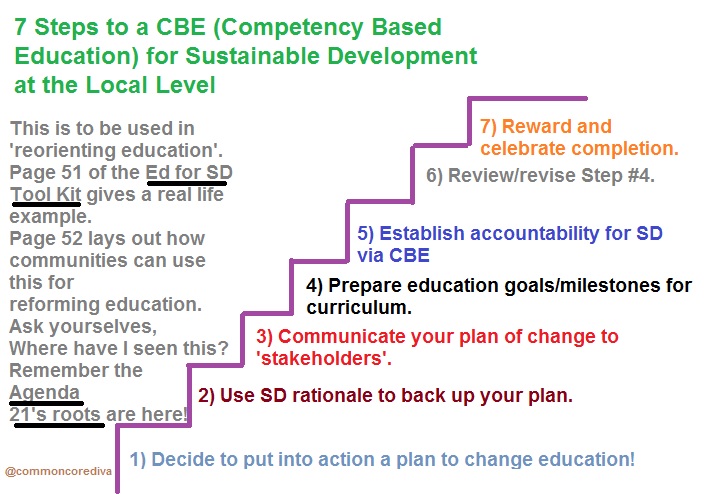 (Source)
********************************************************
S 1004, The Perkins Fund for Equity and Excellence Act, was introduced in May 2017. Look at the evidence I found on it from Sen. Portman of OH (one of the co-sponsors):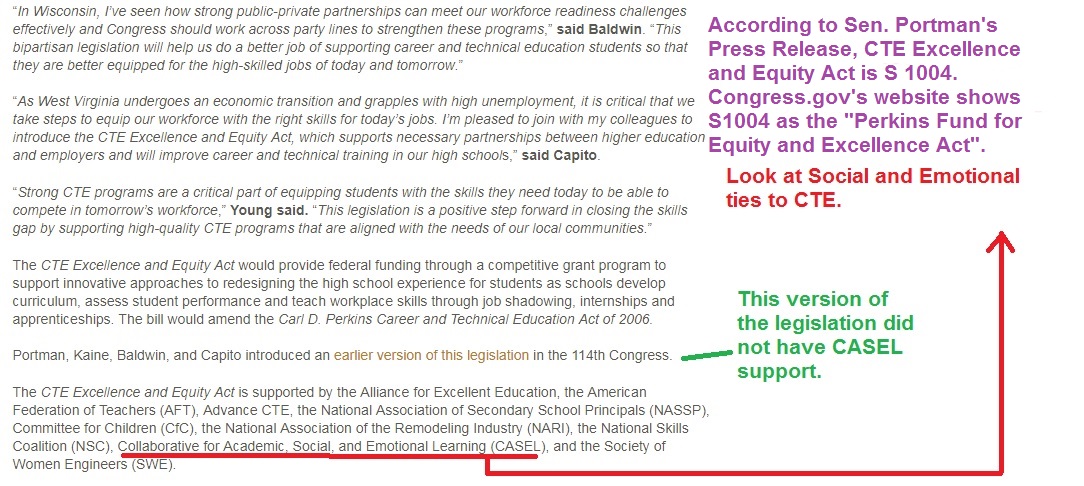 (Source for press release)
Sen. Portman's 'fact sheet' for the CTE Excellence and Equity Act (aka Perkins Fund for Equity and Excellence Act).
S 1004's not the only legislation with a different name. Look at when I first detailed
S 1004 for you. This article will also reveal the SEL (social emotional learning) wrap around services embedded with CTE.
Below is an archived screen shot of mine. The point you need to know, several federal level agencies embrace (and quite openly) CTE.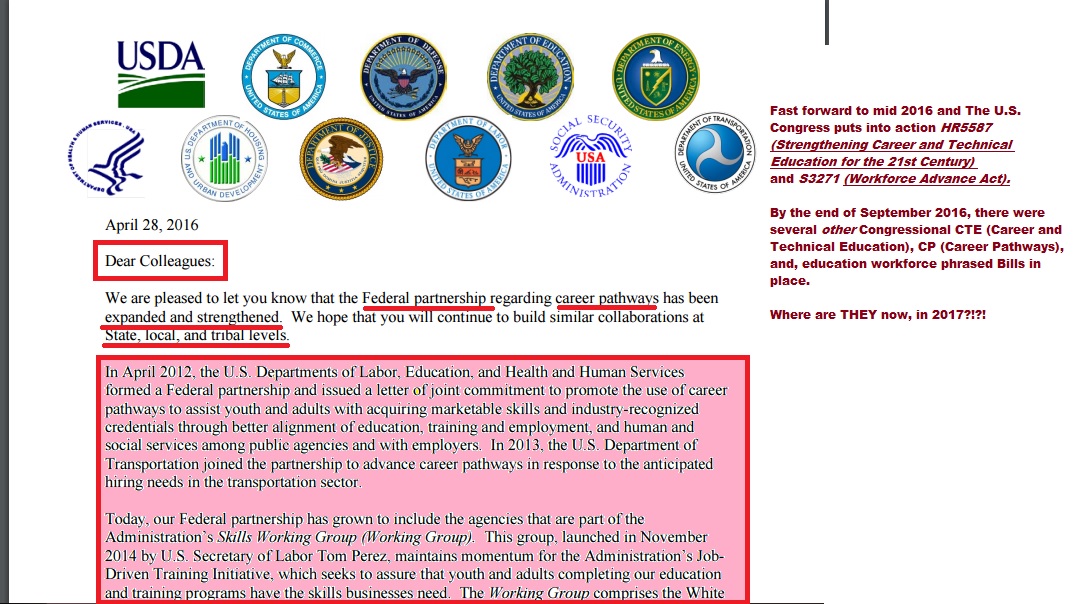 Closing:
Warriors, the biggest thing I'd like to leave you with today, is that CTE is a great weapon being used against every age level and every school choice. How? Regardless of your Pre-K to 12th grade school location, CTE awaits you in apprenticeships with State or federal Perkins funds, community colleges, for-profit trade schools, CTE regional job programs (including CTE specific high schools), re-skilling programs, universities, and some internships. CTE is also embedded in every STEM program via BOTH STEM funds and Perkins funds. Because of so many 'blended finances' (P3s), these will overstep into these programs too. Look in the 21st Century Community Learning Centers and the Promise Neighborhoods. Both of these were embedded in ESSA.