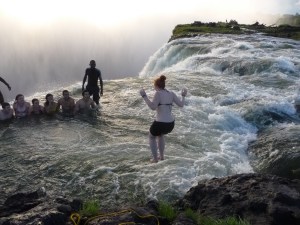 Have you heard of "Springboard"?
According to the 'College Board's' website, the product line is a foundation. The description also goes on to tell you how great it, how it's been proven, and so on. (http://professionals.collegeboard.com/k-12/prepare/springboard) What's interesting is that to find out about Springboard, you have to go the site's 'K-12 Services'. Oh, gee, thanks College Board, for considering willfully aligning our students to CCSS as a service! Next thing you know, you'll be telling us there are no sharp rocks in the picture above, as a service!
What the product line does:
Targets 6th-12th graders with customized content full of rigor, performance based assessments and all professional developed. Sounds great, right?  Here's a link address for a video of one of the schools used as a testing site. There are a total of 22 schools in a select number of states. http://media.collegeboard.com/digitalServices/video_audio/springboard/qcsd-qchs-video.mp4
You jumping in? We did! The 'water's fine'!
So far, 8 states have adopted Springboard:  CA, GA, TN, FL, NM, UT, OR, and TX. From what I can gather, member states get free workshops, especially during the first year of a mutli-year implementation process. I picked a state to see just what else is in store for them, here's Georgia's Teacher workshop: "introduces the key components of the SpringBoard framework, emphasizing rigorous instruction, alignment to the Common Core, formative and summative assessments, and other challenges facing Georgia educators. Teachers learn how to use SpringBoard's digital and print components to differentiate instruction, ensuring all students are engaged in education that leads to college and career readiness." For the school districts: "SpringBoard coaches collaborate with district leaders in partnerships that grow stronger every year. They work together to design and implement a program of professional development that meets the needs of each school and evolves as those needs change." This is just the first year, the second year is building expertise and covers even more implementation of the standards. The third year is for capacity building, after all, everybody's gotta jump in at some point.
Learning Walks:
Another partnership Springboard offers the states, is called "Learning Walks". If you've not heard of these they are quite something. While the state I live in hasn't adopted Springboard, they DO use it in some of the schools. However, the state does use Learning Walks. I'm including the pdf file from one of the public schools: Learning_Walks_Overview
"Using the Learning Walk system (handhelds, laptops, or paper forms), "walkers" collect specific data that provides a series of snapshots of the teaching and learning process. Learning Walks are brief, often lasting no more than four minutes. The focus of a Learning Walk is on student work and teacher responses in the context of teaching and learning. Over time, the observer collects data on five specific components supported by research related to student learning. This information provides the walker with the opportunity to pose questions based on trend data to engage the teacher, PLC team, or entire faculty in thinking about beliefs, goals, practices, and instructional decision making. Promoting reflective practice will result in several benefits for all educators: • building trust in the reflective practice process itself; • inspiring teacher-driven research through the self-reflection focus; • informing dialogue about teaching and learning between the walker and teacher; • expanding capacity for analyzing thoughts, actions, beliefs, and emotions; • enhancing dialogue about teaching and learning within a professional learning community; • fostering self-monitoring of professional growth; and, • creating a school-wide climate of inquiry and research. In the formative performance appraisal process, observers use the Learning Walk model to collect observation data as a basis for posing periodic reflective questions as well as for sharing trend data periodically." The five focus areas? Curriculum, lessons, students, work, and the quality framework. You'll be interested to know that the opportunity for EVEN more data collection is available. The goal behind this particular county's schools?  "All ________ County Public Schools students will graduate having actively mastered the lifelong-learning skills they need to succeed as 21st century learners, workers and citizens." Of the 'lifelong competencies, not one was based on specific subjects. they do contain a long, lofty list of character attributes. Collect and organizing data, think critically, be ethical, be healthy, communicate clearly, be civic minded among others.
How 'Springboard' is aligned to CCSS:
You will need to enlarge the picture, but it's worth a 1,000 words.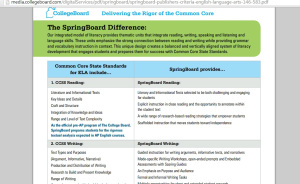 You'll want to read some of the texts, books, novels used in the program, among them, Fahrenheit 451, Pygmalion and others you will find interesting. Also included is a Socratic seminar (this should be interesting as well, considering only a few days ago I wrote and shared with you the before/after treatment of Socrates/Plato) Here's the link to see the rest of what's in store for your students.
http://media.collegeboard.com/digitalServices/pdf/springboard/springboard-publishers-criteria-english-language-arts-146-583.pdf
I can tell you the Springboard Student textbook I have (part of my CCSS evidence collection), is directed to "All About Me", the changes I'm facing, the changes in my perception, my world, measuring all those changes. If I were you, I'd want to sit in on a class or two with this subject matter.
What you can do:
1) If offered a choice for your student to have another English/Math class, take the non Springboard one. IF there's no other choice, test the waters..ask to see the teacher's guide, look at your student's book. The website for Springboard has samples, so be sure to access those, print them out and take to your school board. Advance Placement courses are all being run by College Board, which means they are under David Coleman's direction! You may know how the AP U.S. History has been rewritten, there are other courses that will also be rewritten in similar fashion.
2) Inform other families who have students using Springboard! Share this post, resources. Spread the word. Be willing to accompany those conducting "Learning Walks". Find out how far the data sharing goes. Inform those in charge you will not allow your student to participate. Remember, exercising your rights as an informed parent is making a statement. It is NOT asking permission. You do not need the school's permission to do what's best for your student/child.
3) Be a step ahead of your students. Since you may be able to get the reading list (it can't hurt to ask the teacher), get the book from the library, borrow it from a neighbor, buy it in a store, etc. Use family time to discuss what the actual vernacular is and contrast to the aligned assignment. If you would like other suggestions for how to counter English assignments with non CC aligned activities, leave me a comment with what you are looking for. I can help!
4) Participate, if you can, in the upcoming "College Board" Forum. They'll be having a grand time discussing more alignments, more rigor, how the SAT alignment is progressing and more! The Forum is in CA, and is to be held 10/27-29, 2014. (details: http://forum.collegeboard.org/) Can't make it to CA? There's a Twitter handle already set up, you can follow it, #CBForum14 If you are interested, be sure to look at the extensive list of colleges who will be participating in the College Fair (a portion of the Forum). I spied several public AND private colleges. Hmmm..makes you want to see if all of them are CCSS aligned as well.
5) Draw up a petition to present to your school board that expresses the parents/students wishes to NOT use Springboard, College Board or AP classes! Write your legislators urging them to STOP their paid support of College Board CCSS aligned products. Help stop the misconception so prevalent..that all with CCSS aligned materials is a calm pool of delight. Stir up the water, folks!