The 'burning' question: WDED? Or, "What Did Education Do?"    Too stupid much!
Think of it as this way, my, anti CCSS Warriors. What 'our' U.S. Dept. of Education is doing since ESSA (Every Student Succeeds Act) has become law makes as much sense as a sponge wearing pants.
Before I get to why I'm comparing a federal agency to a fictional character, let me back track a few days to my article about Dr. King's road trip. Since taking over the U.S. Dept. of Ed's Secretary role, Dr. King has stunned us almost daily with one agenda program or mandate after another. So when 'his' road trip (which, by the way WE are paying for with our tax dollars), hit the press,  I hit it even harder.
From my "King's Bandwagon, It's A-comin'", here are his words, " "I hope in the end it's that folks see that they have a stake in the success of other people's children. The reality is you can't build walls high enough to keep the fate of your kids separate from the fate of the kid down the block, down the street, down the road, in the next community over – all our kids' fates are bound up together. And the work that we're doing on supplement not supplant, the work that we're doing on socioeconomic diversity in schools and promoting efforts to increase school diversity, all of that is about saying we are one community and we are ultimately stronger together." "
  See the entire article, https://www.commoncorediva.com/2016/09/08/kings-bandwagon-its-a-comin/
So, 'ED's' On the Road:
While Dr. King was in D.C., he appeared to be on what is a Southern term for well mannered, "minding his Ps and Qs". But alas, take King out of D.C. and he seems to of 'let it all hang out'. What in the world do I mean? Check out the latest ESSA related press release that ED is so proud of!
The Fed ED Press Release link:
https://content.govdelivery.com/accounts/USED/bulletins/164b0b6?reqfrom=share
The excerpt I'm highlighting is in the screen shot below: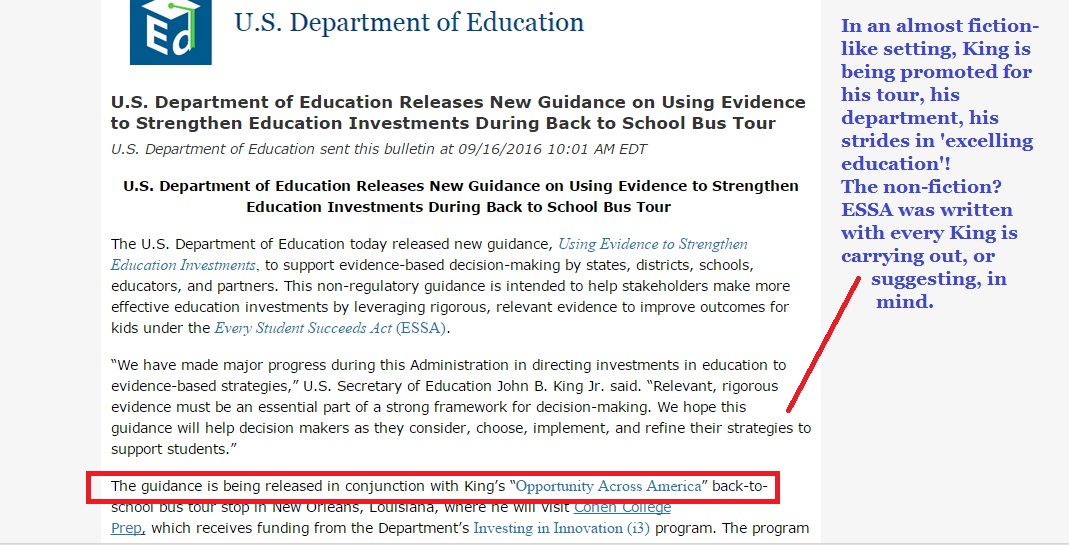 Now, before I share a bit more about the 'ball and chain' ESSA will put on all the States by these 'new guidance measures', let me give you the side stories ED (and at least this press release have left out).
One: Note that in King's statement there's pointed direction to 'return on investment'. "Great progress"?! Look below, Warriors: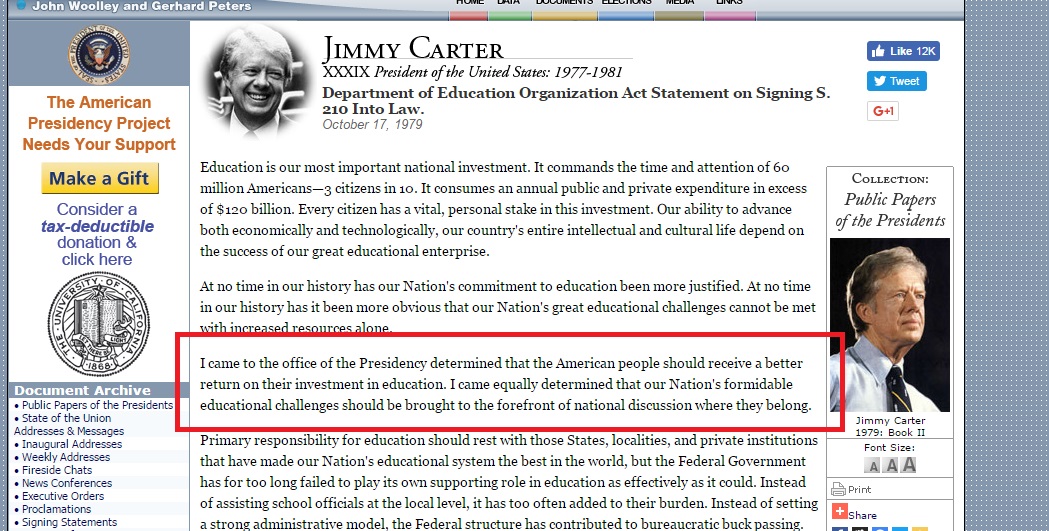 Almost 40 years ago, President Carter uttered some pretty similar sentiments. The "Goobernator" as he was referred to as I was growing up in GA, obviously missed the days in class where the Constitution was taught.
Otherwise, he'd of known that NO federal investment in education is legal! Investing/return on investment in education is 100% illegal! It was then and it is now!
Two: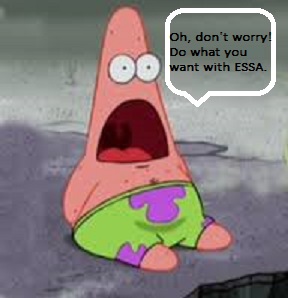 Yes, just like "SpongeBob's" side kick,"Patrick",  Dr. King has a sideshow host, Sen. Lamar Alexander!
Oh, Alexander's quite the poser. Look at how long he's been spewing rhetoric about 'investing in education'. Look how long he waxed on every time ESSA was on the Congress' schedule. Think about how long he gloated about those helping pass ESSA. They were NOT all legislators. There were scads of private groups sold out to the CCSS Machine!
Look how long he droned on at Dr. King's confirmation. Oh, sure, he bellowed, he beat his fists, he's since spread poppy-cock about ESSA and how 'upset' he is over King's behavior!
This coming from the man who stated back in the 80s about 'cradle to grave' education alignment?! Alexander/Patrick's latest sideshow? Do what you want with ESSA!
See: http://truthinamericaneducation.com/elementary-and-secondary-education-act/alexander-assume-can-want-under-essa/
*Note: any resemblance is certainly something that's in the eye of the beholder.

What ESSA Really Says About All That 'Guidance':
Increased public private partnerships for not only students, but entire communities. Not only will your student succeed, he or she will succeed because everyone in town had a hand in it. The reality? Non educators will have more opportunities to teach. More ideology you may not wish to have your child exposed to at this time will be 'in their faces'. These P3s will also be rewarded by the LEAs and SEAs for 'performing'. Want your child to advance a grade? It won't be up to the teacher anymore, but the LEAs and P3s.
Below is just one example of the kind of guidance education is getting. It's not in the name of 'quality academic education' BUT Career Tech Ed (adult CCSS) for workforce!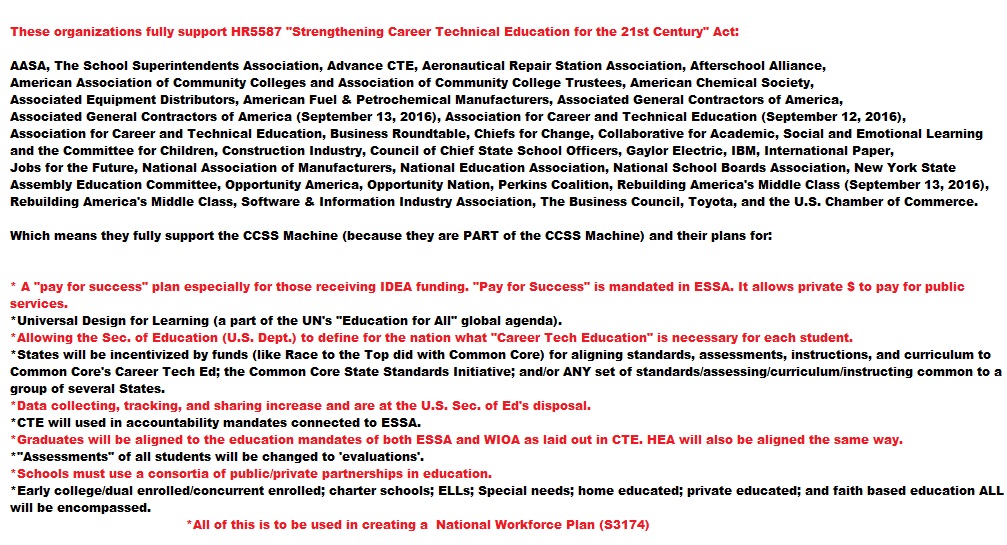 More research conducted, especially by the U.S. Dept. of Ed's special teams, in the name of understanding people. The reality? Constant measuring, assessing, and reporting. Our students AND their families will become lab rats. Entire communities will be graded, measured, and assessed as well. Not performing well? Funding for certain programs will be on the chopping block. ESSA will have the assessments reach (quite literally) into your homes.
Those 'returns on investment'? That's the CCSS Machine's new way of referring to our sons and daughters. They've been reduced to financial commodities, including 'human capital'.

What Works, but Really is Dependent:
The splendorous Ed Press Release also boasted of the NEW "What Works". Oh joy, (sarcasm intended).
First off it's in the IES (Institutes for Educational Sciences). IES is behind the lab rats programs and assessments, including that in-home assessment for how well your family is hooked up for the internet.
Then, there's the REL (Regional Education Labs). More lab rats.
ESSA has 'region specific education' language for a purpose.
ESSA also has lots and lots of language for career and college readiness; post-secondary readiness. The CCR (college/career readiness) Centers have our nation broken into regions, too. Coincidence? Hardly.
Then, there's NCEE (National Center for Education Evaluation and Regional Assistance). More assessing, and measuring. More alignment to a global agenda. More 'region specifics'. See my article about how the regional and the global meet under NCEE. https://www.commoncorediva.com/2015/03/04/wybi-ccsss-ego-issues/
To see the What Works, newly re-designed website: http://ies.ed.gov/ncee/wwc/?utm_content=&utm_medium=email&utm_name=&utm_source=govdelivery&utm_term=
To see IES and ESSA's plans: https://www.commoncorediva.com/2016/02/05/weekend-news-the-ies-and-the-essa/
A screen shot of how the CCSS Machine, ESSA, and IES connect to so much more than we've seen to date: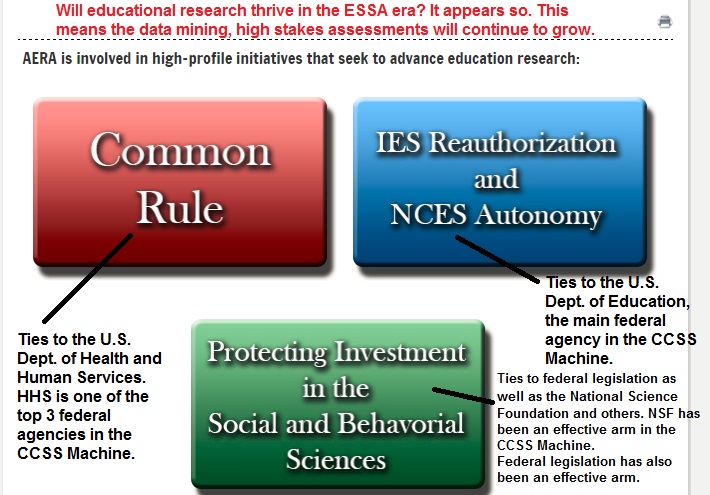 So, Warriors, What SHOULD  ED do? How about become non existent?!