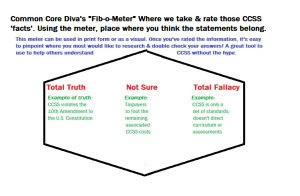 IB Schools are more prevalent today than ever before. They are supposedly the 'greatest thing since sliced bread' in the education world. So, with such a global agenda, is there room for Common Core?! Let's find out!
Today's "Fib-o-Meter" is charged up and ready to weigh the 'facts, fallacies, and buzzwords'! Our focus is the 2012 IBO (International Baccalaureate Organization) Presentation given at the "Conference of the Americas".
First statement from the presentation:
"The IB supports the creation and adoption of the Common Core State Standards." Now, we know the context of this, at least from the IB veiwpoint, is 'Total Truth", however, we aren't the IB. Supporting the creation..would that be the 'state led, state created' version of the truth or would it be the public-private, non legislative created version? It could also mean the creation version that didn't include a single classroom experienced writer! As far as the adoption process?! It was hardly voluntarily completed. Kind of lets us know right off the bat the moral compass of the IB, doesn't it? I think we'll have to stick with "Fallacy" overall on this statement.
Next statement to be measured:
"The main aims of the common core initiative are to raise academic standards and improve college completion rates in the US." Really? That's not what we've been told, IB! Shameful..telling such "Total Fallacies" as such. Straight from the official Common Core Standards website, "to prepare all students for success in our global economy and society" 
Then, there's this set of statements :
"Common standards create a foundation for districts and states to work collaboratively."
"Clear and coherent standards will help students (and parents and teachers) understand what is expected of them."
"All students must be prepared to compete with not only their American peers, but also with students from around the world."
"Common standards can help create more equal access to an excellent education."
Of all of the statements in the set, only one is "Total Truth". Even that's a stretch. Which one? Why the state working together collaboratively. By the time the entire CCSS alignment, Career Pathways, College and Career Readiness,  and Workforce alignment (not to mention the data mining), we'll have no choice in the matter…we'll HAVE to work together! The rest of the set..all "Total Fallacies". I'm sure there are thousands of citizens who can provide evidence to prove it. Lord knows, You Tube is full of  evidence to disprove this load of less-than-fine-upstanding-truth.
How About This Whopper?
No, I don't mean the sandwich, I mean the whopper of a fallacy this next statement is. (CCSS) "Provides more precise definitions of academic success, a logical pathway toward goals while considering international benchmarksƒ." Is this group serious? "International benchmarks"? There are NONE!! They obviously weren't invited to the debut of Dr. Stotsky's article as it appeared on the Pioneer Institute's website about the proof no international benchmarks were around. (See: http://pioneerinstitute.org/news/wanted-internationally-benchmarked-standards-in-english-mathematics-and-science/)
Sorry, IBO, you get "Total Fallacy" for this one!
Closing:
Before we part today, remember this, as I've written before, IB Schools are part of the UN. So, it stands to reason they would support Common Core. UN is global, that's its nature. However, we're Americans. We should have American schools. That's our nature.
Finally, if you've not seen this yet, it is worth watching. Out of the state of Ohio from the efforts to stop Common Core, a 'Pink Floyd' classic has been updated to fit CCSS. When you sing along, insert your state's name!
[youtube https://www.youtube.com/watch?v=qUoC7_fW1j4&w=560&h=315]