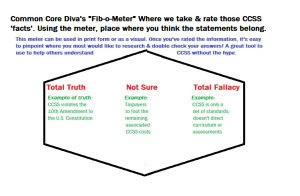 Today's "Fib-o-Meter" Friday is a quest to see if we can find any modern education reform NOT impacted by Common Core Standards from just a few of those in the 'education' business.
First up, Nellie Mae Foundation:
Maybe you've heard of Nellie Mae? Maybe you haven't. Nellie Mae hangs out in the upper eastern side of the USA. She's been around since 1990 and is a huge fan of public school reform. Way back when, she was helping fund education for students. Fast forward to today and you'll find Nellie's had a makeover!! One of her 'sugar daddies'? Gates Foundation! Since 2009, Nellie Mae's  gotten well over $1 million to transform her entire outfit. (see: http://www.gatesfoundation.org/How-We-Work/Quick-Links/Grants-Database#q/k=nellie%20mae%20foundation) Let's see how!!
Changing, according to Nellie Mae, begins at the school district level. Here's our first statement that the "Fib-o-Meter" will rate.
"School districts are essential actors in any education reform
and will have to play a vital role in any efforts to expand
student-centered approaches to learning. Without district
leadership of student-centered reform initiatives, widespread
implementation is likely to fail."
"Fib-o-Meter" will be rating this as "Neutral". Why? It is becoming more and more unclear how essential school districts are when filtered through Common Core. One only has to turn to the media to find real life accounts of how local control is being misused, undercut, and ignored. One school board official I've met shared how mandated the state has kept them. However, ask the state and they share how much freedom the school districts have. To make this a "Total Truth", we'd need to be free of the CCSS in all shapes and forms. To make this a "Total Fallacy", we need only to listen to those convinced it's the business world that's the new reformer. What makes the above statement so worthy of the "Fib-o-Meter"? It's one of the findings educational experts discovered.
"School districts serve as a key connection between communities and their schools."
While this may be true in the upper eastern portion of the US, I highly doubt this is a statement the rest of the nation can agree on. "Fib-o-Meter" is giving this statement a "Fallacy" rating. With all the funding being thrown around in the nation for those 21st Century Community Learning Centers and CCSSO movements like "Strive Together", added to the overall aspirations of some business groups to dissolve school boards, it's a hard sell to believe this finding.
If you'd like to read the rest of the report geared on why schools need to reform to student-led learning vs. teacher-led (a big portion of CCSS; notice the CCSS in the upper left hand corner too), http://www.nmefoundation.org/getmedia/b43eeeb6-0a13-4f71-955f-fdd49486fc90/Changing-district-practices-exec-summ?ext=.pdf
ILN (Innovative Lab Network):
One of Nellie Mae's  'boyfriends' (aside from Gates) is the ILN, an arm of the Chief Council of State School Officers. I found this CCSSO/ILN video embedded on Nellie Mae's website. As you watch it, run the statements you hear through your "Fib-o-Meter". Be sure you note the white board in the opening moments and look for CCSS.
[vimeo 47025452 w=500 h=275]
Related to ILN are 2 of my previous posts and one from fellow anti CCSS warrior, LadyLiberty1885.
1) https://www.commoncorediva.com/2014/10/21/ftf-tuesday-common-core-network/
2) https://www.commoncorediva.com/2014/10/24/fom-friday-knowledgeworks-or-knowledge-quirks/ 3) http://ladyliberty1885.com/2014/10/24/the-ccsso-unc-nc-and-india/
Here's what CCSSO says about ILN, "The Innovation Lab Network (ILN) is a group of states taking action to identify, test, and implement student-centered approaches to learning that will transform our public education system. The goal of the ILN is to spur system-level change by scaling locally-led innovation to widespread implementation, both within and across states, with a constant focus on student outcomes. Current states in the ILN include California, Iowa, Kentucky, Maine, New Hampshire, Ohio, Oregon, West Virginia and Wisconsin. Schools and districts within these states have been given the opportunity to act as pressure-testers of new and innovative ways to address the needs of their students, with backing and support from their state departments of education. In the context of the ILN, CCSSO acts as a centralizing entity that facilitates collaboration and communication among ILN states, and provides leadership as states move forward with their innovative efforts." Based on the fact CCSSO owns one half the copyright to CCSS and has vested interest in education reform, "Fib-o-Meter" rates them as "Total Fallacy".
The Framework Institute:
Nellie Mae's been busy, she helped this institute come to life. She had lots of help, however. This Institute could double for a "Who's Who Among CCSS" event! See for yourself, "With funding from Nellie Mae, Ford, Hewlett, Mott, Kellogg, NoVo and Raikes Foundations; significant previous related funding from Lumina and The John D. and Catherine T. MacArthur Foundation; and recently-added funding from the Noyce Foundation, this collaborative endeavor has supported extensive quantitative and qualitative research to identify how to reframe critical issues in education reform." You really need to see their entire list of funders/supporters: http://www.frameworksinstitute.org/partners1.html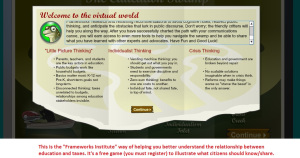 I found the above game, "Swamped" on the FI's website. It is geared for adults. You really need to access this game and see the 'pay it forward collective' agenda. It's complete with 'think/say this', 'don't say/think that'. For example, you, the player are told to NOT focus on the triangle of 'parent, student, teacher'. ("Totally Fallacy" via the "Fib-o-Meter, by the way. We SHOULD be focused there. CCSS is damaging all in the triangle!)
More "Total Fallacy" from the Framework Institute, an entire 'Talking Points" guide to STEM in education!
STEM-talking-points, Sorry FI, if you want me to discuss STEM in education, I'm using the PCAST report that explains how STEM is the agenda for "STEM citizen for life" in education (see my 09/02/14 post about PCAST, STEM and Common Core)
Well, folks, looks like if we truly wish to find education that works without CCSS, it won't be from any of these organizations.
****
Important Note: Beginning 12/20/14 I will be going on Christmas break, here on my blog. I'll be featuring my most read blog articles immediately after Christmas Day (beginning the 26th of December). Fresh articles will begin again on Jan. 5th, 2015. I thank you for your continued support and readership.  IF you have any article ideas you'd like to see researched, please leave me a comment.