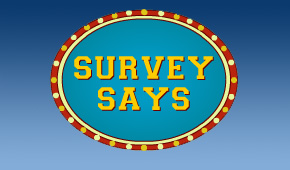 One of the great things I've learned about fighting Common Core across the globe is when we warriors get to help each other out. If you've been able to access other state's surveys when opened to the public, you know what I mean. For example, when one of my warrior/followers alerted me to the survey in her state about what the Dept. of Education needed to glean from us, we let them have it! We stormed the questions with valid reasons WHY CCSS had to go! We now have the opportunity to help NC do the same. The NC Dept. of Public Instruction (NC DPI) has FINALLY made a general public survey available on-line for us to have the opportunity to share WHAT WE can DO BETTER in education than CCSS.
Here's a statement from the NC DPI's page about the announcement, "Parents know first hand the impact that standards have on student learning and the importance of having clear, rigorous and reasonable standards.  Community/Business stakeholders care deeply about preparing our students for careers and college," said State Superintendent June Atkinson. "We need to hear from parents and the broader community as we move forward with reviews of our content standards to make sure that standards help students reach high goals and prepare for the future." To see the full statement, http://www.ncpublicschools.org/newsroom/news/2014-15/20150216-01  (*Note: if you didn't know this Atkinson is the current president of the CCSSO (Council of Chief State School Officers) which is half owner of the copyrighted Common Core Standards.)
Accessing the survey is easy. However, taking the survey (which MUST be completed by 4/30/15) will need to be completed in one session. To give you an example, when I clicked on the ELA Standards, I got several grade groupings to choose from. I began with the Kindergarten portion. It had 26 questions. Each asked something a bit different, but all the questions asked if I thought the Standards were fine as is OR what changes I'd make. If you can't complete the entire ELA survey questions in one session, my suggestion is to bookmark the survey and go back as often as you need to so you can complete ALL the grade groupings, questions. See the screen shot below.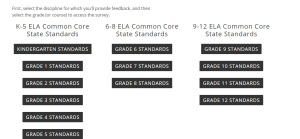 Here's the Math portion: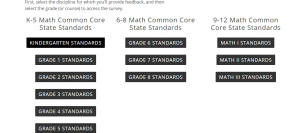 Survey website address: http://ncdpireview.weebly.com/community-surveys.html
Survey introduction (where it will ask you to define your roll as a participant): http://ncdpireview.weebly.com/
REMEMBER, this is only open until 4/30/15. Act today, give the NC DPI hell about selling out to CCSS!