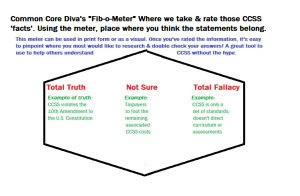 Common  Core Standards are everywhere. We know this is "Total Truth". However, have you heard of this one service designed to help your student ace the ACT or SAT? Let's start the Fib-o-Meter!!
"Testive":
I found this company on my smartphone as I was scrolling through my Facebook. The ad featured an adorable fox with glasses and promised great things about passing the ACT/SAT. That got me to thinking…Since ACT and SAT are CCSS aligned, just how aligned is the service to help me make a better score?
Website: http://learn.testive.com/  Right off the bat on the homepage, "raise your score by 200+ points". You'll see the 'study anywhere, anytime' pitch. The 'free' access, the team of folks who are SO ready to motivate you into greatness. There's a catch, however…according to the video introduction, you should of already taken the ACT or SAT at least once and tell them when you plan to take it again. Watch it below:
[youtube https://www.youtube.com/watch?v=ZC98PXyel2E&w=594&h=334]
Did you catch the part about who has access to your information? Did you hear which major school developed the service? Did you see the word 'free'? (Fib-o-Meter's rating this "Total Fallacy". Why? See their page called 'refer a friend'. You'll save $100.00 off your payment during the 2nd month. Doesn't sound 'free' to me, does it to you?)
Let's see what the Fib-o-Meter can filter for us about some more of what was spoken.
MIT:
Long considered a stellar institution for learning, has MIT gone the way of the Core?

Fib-o-Meter also found these other "Total Truths" about MIT and Common Core.
a) Gates Foundation awarded MIT over $3 million to develop this game back in 2011 for not only CCSS, but Next Gen Science Standards as well. See: http://www.gatesfoundation.org/How-We-Work/Quick-Links/Grants-Database/Grants/2011/12/OPP1033732   See one of the developers tout the CCSS in the game featured in the above screen shot.  https://vimeo.com/41505984
b) If you use "BLOSSOMS", it's MIT/CCSS, see: http://blossoms.mit.edu/news/stories/mit_blossoms_lessons_can_be_searched_common_core_state_standards_and_next_generation_sc
c) See not only MIT's involvement in the Reading Standards for CCSS, but Harvard, Boston University, and others in this published article by the New American, http://www.thenewamerican.com/reviews/opinion/item/13077-will-common-core-standards-solve-the-reading-problem
Harvard:
Here's a Fib-o-Meter find from Testive's website, (click to enlarge the graphic below).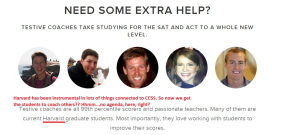 More "Total Truths" about Harvard and CCSS can be found in some of my previously published articles. Use the link to access every one of them. They are chock full of other useful links, videos, documents, and more information. See: https://www.commoncorediva.com/tag/harvard/
Fib-o-Meter found this "Total Truth" about Harvard and the Gates Foundation, click to enlarge the picture.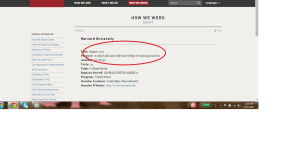 Back to Testive For a Moment:
Fib-o-Meter wasn't able to find "Testive" in the Gates Foundation grants. So where does it get its funding? From a 2013 press release here's what might be a clue for us, "Today, the National Tutoring Association named Testive as its official Test Preparation Technology and will offer discounts on Testive's SAT preparation software to all of its members. Tetsive and the NTA say that this partnership helps tutors grow their businesses by improving their current offerings and cost-effectively reaching students who want the private tutoring experience for a more modest cost." Wait, there's more. "We only partner with companies of the highest educational quality and professional integrity. Testive's product is unique in that it seeks to enhance the power of the tutor rather than replace it with a machine. We're excited to bring this and other services to our members that can both help them grow their businesses and improve their educational outcomes," said Dr. Sandi Ayaz, Executive Director of the NTA." (Is it only me or do you find the statement about highest integrity to be a bit fallacious? How can your service be integrity filled when Common Core's involved?) See the entire press release: http://www.marketwired.com/press-release/national-tutoring-association-teams-with-testive-give-members-cutting-edge-blended-learning-1839375.htm
As far as funding, this article bears all the "Total Truth" about how Testive got started financially. See: http://www.bizjournals.com/boston/blog/startups/2015/01/edtech-startup-testive-raises-500k-in-preparation.html  Contrast that with the 2014 announcement of a fee reduction. (not sure why, if this is true, the current website still discusses payments/pricing.) See: http://assets.bizjournals.com/bizjournals/how-to/growth-strategies/2014/11/this-entrepreneur-grew-revenue-by-giving-away-his.html
National Tutoring Association:
According to their website, http://www.ntatutor.com/, they are thousands strong across America AND the ONLY association of its kind. Here's an excerpt I found in one of their archived newsletters, "The National Tutoring Association is the oldest and largest association dedicated solely to the advancement of tutors. The NTA is the only association in the United States accredited to train and provide certification to tutors, tutor trainers, and tutorial programs. We are also the only association equipped to provide tutor training both face-to-face and online." To access the archived newsletters, be sure to look in the "Resources" list when you scroll over the tab. So, Fib-o-Meter discovered the CCSS tie (without the CCSS brand name showing up). In press release from January 2013. Check out the 'college/career readiness' shout out.
"The Mentoring Academy is the key community engagement program of AT&T's $350 million investment in Aspire, focused on high school success and leading to college and career readiness. AT&T's employees are helping their communities with a goal of providing 1 million hours of mentoring to students at risk of dropping out of high school. The NTA was chosen by LEAD, the organizer of this particular program, as the primary tutor training resource. With over 20 years of experience, NTA is the only US educational association accredited to train and certify tutors, tutor trainers, tutoring programs and centers, and academic coaches.
The mentoring and academic readiness program incorporates NTA training and certification of high-school peer tutors at approximately 36 schools to be designated in the coming weeks. AT&T employees may also elect to receive academic coach training and national NTA certification in support of their mentoring activities."  The rest of the press release can be found at http://www.ntatutor.com/press-room.html (*Note: scroll down until you see the happy people in cowboy hats) Fib-o-Meter found another tie to CCSS and the NTA. Click on the image below to see how expense this "Total Truth" is: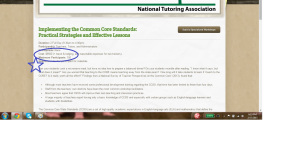 To see how much NTA has worked with ACT, SAT, and others; as well as see what the $9500.00 worth of CCSS training will get you, see: http://www.ntatutor.com/implementing-the-common-core-standards.html
Crossroads of Learning:
Website: http://www.crossroadsoflearning.com/, they describe themselves as being  "a division of Media InfoSystems, Inc., a Los Angeles based training and IT consulting company. Our mission is to bring valuable tools and connections to a variety of audiences using the most effective and friendly techniques and technologies available." Fib-o-Meter discovered in the publication called the "Journal" there are several articles geared for tutors on how to factor in CCSS. I've included the link for all the search results so you can find several "Total Truths" and "Total Fallacies" on your own. See: http://crossroadsoflearning.com/journal/?s=common+core+standards
Global Tutoring Association:
I learned about this group when I read on NTA's website about their leadership attending a GTA conference. GTA's website: http://globaltutoringassociation.org/
According to their information, "The GTA has been formed in recognition of the need for responsible self-regulation in an industry that is growing rapidly. As national governments become increasingly aware of the phenomenon of private tutoring there have been important questions asked of the industry." To see how many members worldwide they have, visit http://globaltutoringassociation.org/index.php/membership/global-members While I didn't find any CCSS information, I did find in their code of ethics , members MUST keep up the the absolute latest trends in education, help supply data, and a lot more. You might find their information on assessments very revealing. See: http://globaltutoringassociation.biz/pdfs/code_of_ethics_english.pdf
International Tutoring Association:
Fib-o-Meter found this group for you and you definitely will want to see how it's tied to college/career readiness. Website: http://www.itatutor.org/
From their "About Us" page, this "Total Truth", "ITA has been recognized as a Tutoring Industry Expert, and was chosen to assist O*Net and the US Department of Labor in their compilation of data for the Tutoring Occupational Code." 
What does THIS have to do with Common Core? It's career profiler the U.S. Dept. of Labor sponsors. You can even browse the 16 CTE Career Clusters through Onet! (see: http://www.onetonline.org/find/career) Here's a "Total Truth" , Onet relies on massive amounts of student data.
Fib-o-Meter found this You Tube video explaining how to use two websites to make the career pathway.
[youtube https://www.youtube.com/watch?v=1cQO3cuFh1A&w=560&h=315]
Closing:
It's no secret tutoring is a booming industry. Millions of dollars are being poured into it, yet look at the leadership. Filled with self regulation and Common Core. What a dangerous mix. Forbes predicts billions will be made by 2018 in the private tutoring sector.
Forbes article: http://www.forbes.com/sites/jamesmarshallcrotty/2012/10/30/global-private-tutoring-market-will-surpass-102-billion-by-2018/
Please note that I understand not every single private tutor out there adheres to the CCSS. However, look at the truths Fib-o-Meter exposed about who's training those tutors. We can't leave any stone unturned when it comes to education.