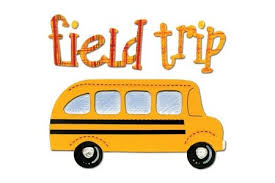 Who doesn't love a great field trip with the class or group? How far as CCSS gone to line up these educational excursions? Let's see if we can find out!
Road Trip Ahead!:
I don't know how much you may or may not know about field trips. I know plenty. It used to be my business, literally. My business partner and I had a great time planning educational field trips for private schools.
Then, 2008 came, and suddenly, the business dried up. Times were so financially tough, field trips fell to the back side of the planning table. Since then, I've noticed in researching Common Core that many of the destinations schools or educational groups go to are becoming more and more aligned. Then, I got my latest issue of the Student Group Travel magazine (seems my free subscription didn't get cancelled). While not one mention of CCSS was in the glossy ads, plenty of clues to lead to the alignment were.
Down on the Farm:
So, why would some these destinations CHOOSE to align themselves with CCSS? After all, most of the places chosen for a field trip have no full time teachers for lesson planning. What do I mean? Well, take for example, a local farm which has become an agritourism location. What this means is the farm gets visitors, the visitors get activities and lessons. Here in NC, the agritourism has partnered with the NC Dept. of Public Instruction. No question about Common Core's presence there. Below look at the graphic which was put together by NC State and is on file in the NC General Assembly's website.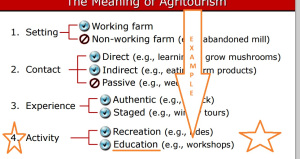 In fact, in this 2014 report, education is the second highest benefit of agritourism! I'm including the entire pfd, as you'll want to see how 'community(collective) minded' the entire movement is. See: 2. NCSU_Agritourism_2014 You'll also note that MO and NC worked together on this and that most of the data appears to be from 2011. I imagine, you may be asking the question, "That's great, Lynne, but where's the NC DPI tie in?" See this graphic from a farm near where I live in NC: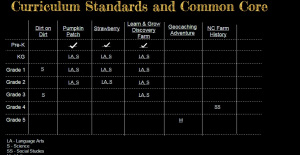 If you were to click each of the Standards, you'd be taken to a separate page where the CC is laid out for Preschool and up. Please note that I'm not suggesting ALL agritourism is CCSS aligned, but I've found where back in 2009, all kinds of agribusiness leaders met and were learning from each other how to increase agritourism for the 'collective region' of TN, GA, NC,and SC. Grant money was used to fund this educational meeting. See: http://www.caes.uga.edu/center/caed/pubs/agritourism/documents/AgritourismTrainingforAgricultureProfessionalsManual.pdf  How this can be helpful in your area? It will show you where to look in your state's agritourism (example: USDA grants). I was able to find in SC, a specific type of grant used, RBDG (Rural Business Development Grant). Among the institutions which may be able to benefit are higher learning facilities. See: http://www.rd.usda.gov/programs-services/rural-business-development-grants
Don't think I'm out to kill the farmers, I grew up on a farm. I love farmers. However, when CCSS is involved, I'm not afraid to dig up the dirt!
Going shopping or to the classroom?:
You, as a warrior of CCSS, know, it is everywhere, but what about at the mall? Yes, I found it at the Mall of America! Remember I said I had a magazine with suggested field trips? This one was a featured destination. In the event you've not been to MOA (Mall of America), it's in MN, where supposedly, there's no CCSS. So, is it true? MN has only adopted the ELA portion of CCSS. See: http://www.mprnews.org/story/2013/06/07/education/common-core-standards
Nickelodeon has a big place at the Mall. So big, it's called "Nickelodeon's Universe". Nickelodeon is the #1 brand with kids. It also is part of Viacomm. Viacomm is a huge supporter of STEM (yes, STEM is absolutely connected to CCSS). At the "Universe", you can get a 3 or 4 hour physics class. The materials have recently been updated. I did find the old physics guide, but to access the updated version, you have to contact group sales. I was able to find that on Nick, Jr. preschool games are crammed with STEM. See: http://www.nickjr.com/blaze-and-the-monster-machines/about-blaze/blaze-curriculum_ap.html
American Girls brand and Legos each have big stores in MOA. Both have chosen to align with CCSS, as well. AG (American Girls) uses history as a main feature in their dolls. Legos, we know, involves science and creativity. The news about AG broke a couple of years ago when a Pearson Publishing mini textbook showed up in the accessories for the dolls. See:
http://thefederalist.com/2013/12/13/even-american-girl-dolls-spared-common-core-national-standards/  As far as Legos,  they have an entire page of CCSS ELA, Math, and Science, see: https://education.lego.com/es-ar/lesi/elementary/storystarter/ss-curriculum/ss-standards
Other Field Trips:
Aquariums, museums, and yes, even amusement parks can have CCSS.
For example, I live near Carowinds Amusement Park. Each year there's an Educational Day where school groups of all educational choices may join in and learn engineering, science, physics, math, and other subjects. Is CCSS there? Through the partnering group, Discovery Place, yes it is! While DP supplies the lessons, which are aligned, Carowinds provides the place lessons are carried out. Sneaky! If you'd like to see the STEM/CCSS Teacher Workshop Guide (funded in part by Bank of America, another big supporter of the CCSS Machine), http://www.discoveryplace.org/content/education_studio/resources/educators/pdf/7.pdf
Where can you find the CCSS tie to museums? If they are connected to any sort of U.S. Department, you can bet your school bus, CCSS is there. If they are associated with the Smithsonian Institute, CCSS will be there. If your museums are gifts to the state citizens, CCSS will be there. For example, here in NC, we have public aquariums on the coast. Aligned lessons are there. Why? Funding is part of the answer. The Dept. of Public Instruction's the other. See the below screen shot: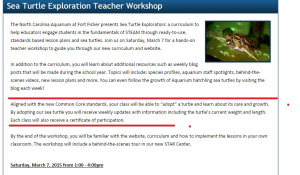 It's a shame CCSS is ruining education, but it's absolutely horrid that field trips are going down the same road.