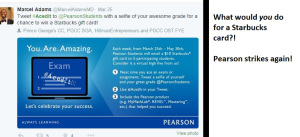 Common Core Warriors, have you taken a stand against some of the P3 (public, private partnerships) yet? I hope after today's "From the File" Tuesday, you will!
The Club:
Over on Twitter, it's the "Pearson Students", especially their "AcedIt" campaign. (see the photo above)
On the Internet, it's also "Pearson Students"..tag line, "Join Pearson and help build the future of higher education." Website: http://www.pearsonstudents.com/ You can access all the other PS social media sites from this main page.
Turning Students to "Pearsonites":

Before we delve too much into this information, look at the screen shot. The emphasis you see is mine to point out the subtle messages packed with punch.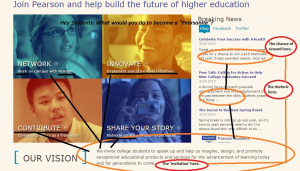 Across America and Canada there are now 40 Pearsonites (actually their real title is Pearson Campus Ambassador). Responsibilities? Oh yes, interacting with the company, endorsing products, influencing others like you, and all the while, putting career tech education into motion. You'll even get paid to do it.
Oh, the campuses? Why they are public AND private universities as well as  community colleges in CA, OR, MN, MI, OH, IL, MO, KS, TX, FL, GA, SC, TN, NC, and VA in the US. In Canada, you'll find the Pearsonites in Ontario and British Columbia.
I feel I must point out that one of the VA Pearsonites is on the campus of Liberty University..you know, a private Christian college. But, as I've shared before even Christian schools are not exempt from CCSS. (See: https://www.commoncorediva.com/2014/12/05/fom-friday-christian-colleges-exempt-from-common-core-not/ ) To see the entire "Pearson Campus Ambassador" page/information: http://www.pearsonstudents.com/get-involved/campus-ambassador-program/index.html
Becoming a Pearson "Free Agent":
What better way to utilize your subjects than by having them choose to be a free agent? No long term commitment to Pearson, the ability to be project based or work from home, all the while seeking information from your fellow campus buddies. Check out the promo video to entice you to sign up:
[youtube https://www.youtube.com/watch?v=msG6axL1n68&w=560&h=315]
Be a STEM Pearsonite:
Maybe all of the previous Pearsonite opportunities aren't to your liking, maybe being an intern for the CCSS profit maker is however. The company has a place for you there as well. What's even more exciting is you can be a STEM Pearsonite, too!! Can't get enough of Common Core? Need some STEM, Pearson covers you well!
Here's their description of themselves, "Pearson is more than just the world's leading learning company: we are a global organization revolutionizing both what and how people learn in and outside of the classroom."
As a STEM Pearson Person you can data mine! You can test curriculum and assessments! You can influence social media for Pearson/STEM! Here's a list of the cities where STEM Pearsonite are spreading their agenda:
Austin, TX
Bloomington West, MN
Boston, MA
Boulder, CO
Chandler, AZ
Centennial, CO
Columbus, OH
Denver, CO
Glenview, IL
Houston, TX
Iowa City, IA
Menlo Park, CA
New York, NY
Indianapolis, IN
Old Tappan, NJ
Portland, OR
Rancho Cordova, CA
San Antonio, TX
San Francisco, CA
Sandy, UT
Upper Saddle River, NJ
Washington, DC
Oh, I almost forgot, as an intern you are handled by a Pearson Mentor…and more career path incentives, training, and alignment. Unlike the other positions for leading the masses to convert to Pearson-ology, this unique group is the leaders with strong skills. To find out more, be sure to use the above website address and look up at the top for the other categories I've shared, as well as learning about the other 'opportunities' Pearson has to sway your students.
Pearson's Outreach "Mission":
Not content with our Pre-K through 20 year olds, Pearson's got a bead on all the adults. I've included a website address where you can see all the agenda-driven events that are either archived or coming up soon. You wouldn't want to miss the opportunity to be a possible Pearsonite, now would you?! See: http://www.pearsoned.com/events-and-webinars/higher-education-events-and-webinars/
Pearson's College/Career Ready Disciples:
Since it's "From the Files Tuesday" here on my blog, it wouldn't be complete without a download to share. You'll love this one. All the 'research' Pearson could muster to tell us exactly how and what CCR (College/Career Ready) the Pearson Way can be. CCR_WEB_FINAL Pearson If you need more 'subjective' research, visit: http://home.pearsonhighered.com/research.html
Need Funding? Let Pearson Guide Your School:
To round out a fine CCSS/STEM/CCR army, you've got to get the leaders in on it as well. Pearson doesn't disappoint here, no sir, not at all! No matter if your school is Title 1 – 1 billion, Perkins to Workings, they've got your back (just watch for the knife). Here's where their Grant Keepers can get your school the money:
Title I
Title II
Title III
IDEA
21st Century Community Learning Centers
Head Start
School Improvement Grants
Carl D Perkins
School Climate Transformation
The Danger of 21st Century Community Learning Centers:
From the list above, be sure you pay especially close attention to the 21st Century Community Learning Centers. (If you've not heard, the 21stCCLCs are a 'present' to our nation from the likes of the Partnership for 21st Century Skills. CCSSO, Council of Chief State School Officers is also working with other groups to get in on the action as well. The federal government is part of the process to.
Look into them, you'll find the 21stCCLCs are what will replace our traditional schools systems..if all goes as they have planned. See: http://www.p21.org/ (for P21); To see all the results for the CCSSO's plans and parts of 21st Century Community Learning Centers, see: http://ccsso.org/Search_Results.html?q=21st+century+community+learning+centers; the Federal Government's role in 21stCCLCs? Oh, that's another resource you'll need in your state. See: nri_pb_agencies_final_9 You might also want to learn about the 2014 Conference, where several states got together and gleaned from each other. See: http://21centurymultistateconference.org/ *(Note, be sure to look at the very bottom of the page to see how the ESEA factors into all this.)
Maybe the Policy Updates from the After School Alliance, will help you, see: http://www.afterschoolalliance.org/policyFedNewsArchive.cfm *(Note, be sure to see how Congress's treatment of the budget factors in.)
If you'd like even more of a context in background about 21st CCLCs, be sure to use the search bar of my blog. Use 'venture capitalists', or "Silicon Valley" to access the articles and vast networking others are going to to rearrange how education is conducted in America. Lastly, if you've heard me speak out on Women on the Wall, you've heard me refer to the eerie "KnowledgeWorks" and their "Strive Together" Program.
Closing:
My warriors, do you see the picture here? Pearsonites doing Pearson's bidding while marching to the agenda of those with plans to re-arrange our educational landscape. As we've known for quite some time the CCSS Machine is looming, it's large, and it's coming for our future leaders.