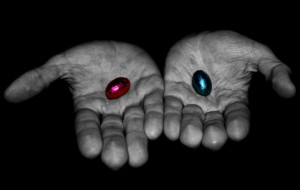 Good Warrior Day to you, anti CCSS fighters. We've been gearing up for a 'showdown' so to speak for months now over HR5, S1177, and  other proposed CCSS/CTE laced legislative bills before Congress in Washington. It's down to the wire. The voting surrounding most of these is set to possibly happen in a couple of days.
While those of us fighting to END the newer versions of the ESEA (Elementary and Secondary Education Act), there are those pushing to FIX the newer versions! No, this fact isn't new news, but what is new, is the amount of fervor on the 'fix it', 'get it right', or that other pro CCSS aspect; the 'pass it now!' groups.
We've seen the #StopECAA, #StopCommonCore, and other Twitter handles used to raise awareness for the HOW and WHY our education system needs to be set free from the illegally based CCSS. We know how often those social media outlets (and many others related) are shared in an effort to get all anti CCSS warriors in the game. Case and point, today, many anti CCSS warriors will be active in the efforts to STOP Congress.
Many of our fellow anti CCSS warriors have exposed those from the 'pass it now' group of pro CCSS sections, but have we really looked at the 'fix it' sector? I think we should.
#getESEAright:
It appears this Twitter handle is related to the NEA (National Educators Association). Specifically an offshoot of their 2015 Conference going on now. (another riddle for today could be 'Why is the NEA 2015 Conference so conveniently scheduled before a huge voting issue in the U.S. Congress?' However, I'm digressing with that query.) It's important to note that the NEA is very supportive of the CCSS Machine. (see:
http://www.nea.org/home/46653.htm)
Here's a screen shot for youas proof of the Twitter page and its related group: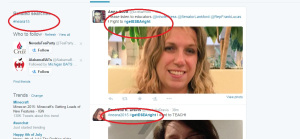 So, what are some of the 'getting it right' parts of ESEA?
According to these attendees of the NEA2015:
One conference attendee's tweet, "All Kentucky students deserve an opportunity to learn and be successful!"
A member from NY, "Please speak up for students to #getESEAright. The Every Child Achieves Act is a good start." (this same person said the ESEA is 'standing up' for students)
Here's a visual from another 'tweet':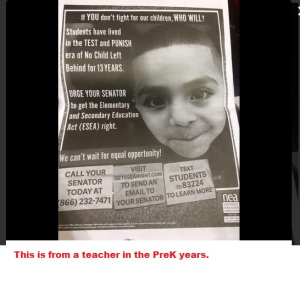 From NC, where I live, comes this picture of an unknown person. This particular picture was used as a way to influence the elected officials this went to. If you live in NC, you know these officials voting records concerning CCSS and/or education.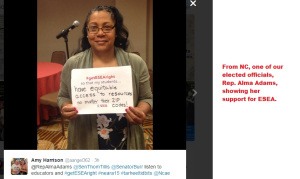 The AFT (American Federation of Teachers) is gathering at least 10,000 letters to the U.S. Senate in support of the ESEA, so far not quite 2, 500 have been sent. If you'd like to see the letter, https://actionnetwork.org/letters/pass-the-every-child-achieves-act
Believe me, there's much more on this particular Twitter page.
One point I must stress however, is this:
While most of the sentiment is correct that the versions of the ESEA on the table need to be overhauled, the danger is in the rhetoric of just WHAT needs correction. If you look at the above evidence, note what's been generalized..what's taught. It seems the ONLY specific this 'get it right' group is after is ending the testing, or ending the 'teaching to the test'.
While these are worthy goals, the overall CCSS/CTE alignment is completely UNSPOKEN! CCSS/CTE is SO toxic to our education we MUST not leave any portion OUT when seeking change! To do so, is to not protect our students and teachers ENOUGH.
If we aren't specific about ending CCSS/CTE alignment how can we expect Congress to abandon it?!
One last visual you need to see, as an anti CCSS Warrior: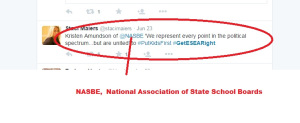 https://www.commoncorediva.com/2015/02/14/sic-em-saturday-do-you-know-nasbe/
This one lays out the money and agenda
https://www.commoncorediva.com/2015/03/27/fom-the-ccssos-hungry-eyes/
This one lays out the agenda and ties to the NGA (National Governors Assoc.) and the CCSSO (Council of Chief State School Officers)
What's also being left unsaid is how all of this is tied to the overhauling of the HEA (Higher Education Act) and the overhauling of the Zero to Three Year Olds.
(*NOTE: CCSS/CTE are heavily laced in the HEA! I just published a huge article yesterday on how the CCSS/CTE agenda is being geared for the little ones.) 
We, as anti CCSS warriors and citizens only have today to fight. We've not a clue if we'll be blessed with a tomorrow.
We've ONE 'shot' to make our voices heard. We've ONE opportunity to expose our Congress members to the TOTAL array of CCSS/CTE issues laced in ALL the education proposed legislation. We've not time to pick and choose parts of CCSS/CTE to hold on to, or to see improved. Common Core/Career and Tech Education is ALL illegally based, untested, not educator based, and UNACCEPTABLE!