Anti CCSS Warriors, the U.S. Senate is set to begin again for the week, today. The "Every Child Achieves Act" will be in the proceedings at some point. Will the Common Core laden legislation survive? Only time will tell. I know all eyes will be on Washington, D. C.
As always, C-Span2 will be carrying the broadcast. When the Senate adjourned Thursday evening, the time stated to begin on Monday was 3 pm.  If you'd like to go ahead and sign up to receive an alert when the Session begins, C-Span2 will be happy to set you up. See: http://www.c-span.org/video/?327050-1/us-senate-morning-business (*Note: this is the same channel which you'll need if you watch the Senate's business)
So, those 100 Senators? You've still got time to call them, 202-224-3121; text them (you can use the website "Open Congress" to search for your Congress members using you zip code. Once you've found your members, use their contact information provided.) See:
https://www.opencongress.org/people/zipcodelookup ; or you can use the Patriotic Network's Action page to tweet your Senators. Each day this past weekend, I've been able to easily reach all 100 in less than 10 minutes. See: http://patriotjournalist.com/CommonCoreAction.php?v=6
In Case You Missed It:
Held Sunday, July 12th, a Roundtable Discussion on the rewriting of the ESEA (Elementary and Secondary Education Act of 1965) was held by the Washington Journal. It's about 40 minutes in length if you watch it. If, you don't have 40 minutes and you'd like to know some of the key points brought up during the discussion, here are a few of them from the transcript version of the broadcast. NIna Reese with the National Alliance for Public Charter Schools and Phillip Lovell of the Alliance for Excellent Education Policy and Advocacy were the guests, who along with the host, answers callers questions.
On assessments: "MATH AND NOW IN ELEMENTARY, MIDDLE SCHOOL, AND SCIENCE — HIGH SCHOOL IN SCIENCE. THESE PROVISIONS WILL STAY IN PLACE IN THE HOUSE VERSION.." (meaning assessments will be in HR5)
"TESTS THAT ARE NOW BEING PUT IN PLACE IN MOST STATES THAT MEASURE THE SKILLS NEEDED FOR THE 21ST CENTURY ECONOMY."
On obtaining great assessment results: "TEACHING TO THE TEST EVERY DAY. THE CHALLENGE BEFORE US IS BETTER TEACHER TRAINING" (meaning more 'teaching to the test and professional development)
Oh, there's lots more, bunk about states being able to create their own accountability, money following the students, acknowledging the Senators Alexander and Murray banding together for ECAA, etc.
To access the roundtable: http://www.c-span.org/video/?327036-5/washington-journal-roundtable-child-left-behind-rewrite
National Alliance for Public Charter Schools:
Just in case you're curious about this group's stance on CCSS, you don't have to guess. The funders are a 'Who's Who" in the CCSS supportive Machine.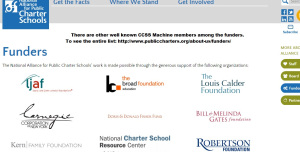 The Alliance for Excellent Education Policy and Advocacy:
This group's name is actually the Alliance for Excellent Education. They have a Policy and Advocacy Department. (see: http://all4ed.org/)Here's their CCSS friendly funders: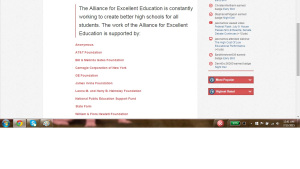 Be sure to check out their upcoming July 23rd webinar about whole school reform. They, too, have some very interesting publications you should check out later. I've written about this group before.
Here's the article where they are involved in aligning school leaders to CCSS: https://www.commoncorediva.com/2015/05/30/sic-em-saturday-ed-leaders-aligned-standards/
Here's an article featuring them in Career and Technical Education CCSS alignment:
https://www.commoncorediva.com/2014/09/25/tech-thursday-cte-career-technical-education-workforce/
Here's another one where you'll find them working with AIR (American Institutes of Research) on massive amounts of data mining. See:
https://www.commoncorediva.com/2015/06/02/ftf-anti-ccss-files-recap/
So, I'm guessing their comments about the rewriting of the ESEA will be pro CCSS, don't you agree?
Lastly, Just Hours Before the Senate Meets Again:
If you'd like to leave a comment of two for Senator Alexander, here's his tweet to us: