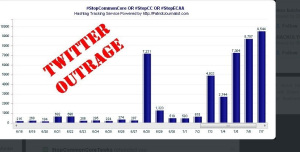 Anti CCSS Warriors! Time is our friend today. We've still got some hours let to contact Congress before the Senate picks up where it left off on Thursday with the 'Every Child Achieves Act'. We've known it's a war, but the punches pulled this weekend to try to deter us from the pro CCSS side have been many. However, our powerful messages have also been seen, felt, and heard. With so much at stake, neither side is willing to back down. We must stand firm!
The above screen shot is from a few days ago. Last night's figures were well over 7,000 tweets strong to D.C. Congratulations, warriors! We have a fresh day today to make that number go even higher AND a Patriot Network Anti CCSS Rally tonight from 9 pm to 11 pm, Eastern Time.
If you'd like to track the anti CC outrage for yourselves, be sure to use the following PJNET page: http://patriotjournalist.com/Tracking.php?Seq=56 (*NOTE: you'll need to reload the page to get the absolute latest information)
You can also retweet every previously sent message! That also sends even more ire to D.C.! Just use the numbered tabs at the bottom of the "Action" page. Action page, ICYMI:
http://patriotjournalist.com/CommonCoreAction.php?v=6
The Pro CC Side's Barrage:
Why am I bringing their side up? Some of our most effective information tactics can be found in the rhetoric from their propaganda. How? Think about it, most everything the pro CC side has dished up to us for a long time now, has sounded like it's all from the same person…no matter how many different supporters you find.  The truth, however, has much power! Yes, it needs to be repeated, but since it is the truth, it won't sound like a worn out recording. So, that said, let's look at the biggest 'info' barrage messages the pro side gave us during the past few days:
1) From the Education and Workforce Committee's Twitter page, comes this supportive message for more 'Core':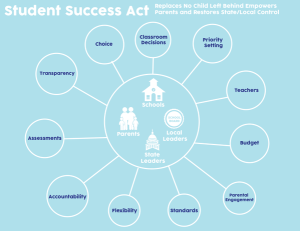 Rep. Mike Bishop shared the above and called it 'one step closer to fixing NCLB'. Rep. Bishop is from Michigan.
How, we, the anti CCSS Warriors can use this? As a visual, show how inaccurate this is! As a verbal or written message? Think about how if House members are calling HR5 'one step closer', know the Senate's mindset is the same. Knowing that you can express how Every Child Achieves is, in fact, not one step closer to fixing anything in education!
2) From the Sec. of Education, July 7th's message to the world:

How, we, the Anti CCSS Warriors can use this one, is simply this. Use all the facts we have to show where the inequalities of a CCSS education are!
3) From the Network for Public Education, as seen Saturday, July 11th:
The article being referred to? This link will take you to it:
 http://dianeravitch.net/2015/07/11/network-for-public-education-offers-qualified-endorsement-of-every-child-achieves-act/

How, we, the Anti CCSS warrior can use this to 'fire ire to D.C.' over the ECAA?
Well, for starters, know that there's more to the story.
Back in May 2015, I published an article that surrounded Sen. Tester's amendment about assessments and how NPE was backing it. This is important NOW, so take a few minutes are read it. I want to you to connect the dots on your own.
See: https://www.commoncorediva.com/2015/05/26/ftf-ccss-testing-bill-maybe-maybe-not/ (*NOTE: Sen. Tester's amendment has since been voted to be part of the ECAA. You will see I refer to HR5, as well. HR5 is brought up, only as a comparison, since at that point in time, it was to be voted upon first.)


Related resources to further illustrate the toxic ties between one of the ECAA's leaders and one of NPE's leaders:
a) Anita Hoge's documentation tying Sen. Alexander and Ms. Ravitch, NPE's co-founder.
https://drive.google.com/file/d/0B6zikOSdV-TAZHZSVmxUWUlmakE/view?pli=1
b) My previously published article about the CTE  Conference where Ravitch was a featured speaker. Also included in this particular article is the U.S. Vice President, organized unions, and MORE! (*NOTE: CTE, Career and Technical Education, aka post-secondary CCSS, which has been shown up in elementary grades, too)
https://www.commoncorediva.com/2014/11/16/rmt-vp-unions-career-tech-and-common-core/
c) The ACTE (Association for Career and Technical Education) has a priority list out for any federal legislation (HR5, Student Success Act;  ECAA, Every Child Achieves Act; HEA, Higher Education Act; and the CPA, College Promise Act). Those priorities? Embed CTE in every one of these so that America would be:
"Ensuring all students have access to high-quality CTE programs in high schools and post-secondary institutions o building a strong system of CTE around the country, which should begin early in a student's education with career awareness and broad knowledge and then build pathways to more specific career-readiness skills through connections among secondary and postsecondary education and the labor market.
To support the notion of a strong system of CTE around the country and access for all, ensure that the Perkins Act remain primarily a formula grant designed to support all CTE programs that are willing to make a commitment to high levels of quality and continuous program improvement."
(*NOTE: this priority list was not released this weekend, it's been out for a while. You can see the entire document: 
www.acteonline.org/uploadedFiles/Assets_and_Documents/Global/files/Policy/Perkins_%20Priorities_Final.pdf)
Closing:
I've shared all the above, so that we can see just how deceptive the pro CCSS side has been. If we are resisting Common Core and its Machine, we MUST know exactly where those who are supporting it stand. We've known they will stoop to all levels of deceiving us. However, we must press on. We have the truth! We must protect our students, teachers, and families!
Our purpose this weekend is clear: influence the Senate with as MUCH truth about the illegally based CC Standards;  the inappropriate education continued in ECAA and all related bills; and how, we, the citizens will NOT STAND FOR THIS!