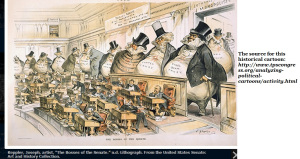 Anti CCSS Warriors, it has been said that there is nothing new in life. Last night we saw our U.S. Congress commit an old tactic: a tyrannical treason. By the lack of backbone, our elected officials chose to let CCSS live on! They chose to let data mining of our students live on, the assessments which judge our students and teachers unfairly will survive as well. The lie of control being giving back to the states will also live on! Much like the old picture above of a monopoly run Congress, we are witnessing in modern times a Congress run by the P3s(public/private partnerships) of CCSS, NOT the citizens.
Our educational reform being handled so illegally (consider the U.S. Constitution's parameters for a 'we the people' government), so rushed, so without due diligence is the worst example of leadership I have ever seen. It certainly is the worst Christmas present Congress could give America!
In spite of all this, the problems of the CCSS (social emotional learning, aligned communities, cradle to grave education reform, etc.) and all its other names (CTE, Career Tech Education, STEM, Next Generation Science, Career Pathways, etc.) will not be what is brought up by the spin doctors. What will be is how great the ESSA (Every Student Succeeds Act) is. You'll probably hear Congress members brag on how they are true education champions for ending NCLB (No Child Left Behind). In my researched opinion, not one Congress member needs to gloat about any of it. Why? THEY DIDN'T READ the BILL! They rubber stamped the Bill! They ignored the citizens completely. Yes, there were 64 who voted 'no'. They do deserve a check mark for saying 'no'. However, will they continue to say 'no' when all the parts of ESSA are enacted in real time? Will they say 'no' when the re-authorization of the HEA (Higher Education Act) comes up for votes? After all, Sen. Alexander is overseeing that re-write, too!
Because the House of Representatives voted by a landslide to let a horrible education reform become law doesn't mean it is one YET. The Senate must still vote on it (yesterday they elected to wait a week or two for that move). Then, it hits the President's desk. During some of the 'down' time yesterday, one media source speculated all this could be signed into law BEFORE Christmas.
We still have time to fight.
Even if the worst happens, we still need to fight on! Why? As I stated previously, there's nothing new in life. So, just like a 'puppet Congress' has happened before, so has an 'opposed society'. We ARE those oppressed. Our students, teachers, school staff members will become even more oppressed! Our state legislators will be hog tied to ESSA, too!
According to the language of the ESSA, the states will have to answer to the federal government even more so! The freedoms of choosing your child's educational choice will be taken away, you'll see your community become aligned to resemble the stuff of science fiction. Am I making any of this up? Oh, no. I've read portions of the ESSA, I've done research on the push for national standards (and all that goes with it since 2009). I've considered the documented evidence provided by a network of dedicated group of everyday citizens showing how all of the above is about to happen in real time.
As I listened to some of the live proceedings yesterday, I heard Representatives chatter on about 'new Common Core Standards'; how the media had reported it right when they said ESSA is better than ESEA; how our society would have a work ready student base; how local communities would be the biggest reaper of all this educational reform. The sad part, these spineless members actually believe what they are saying! The even sadder part, they will NOT be around to see your students, your teachers, your school officials put all this alignment into action! BUT, we will be! What will we do?!
We MUST remain our students champions! We must be even more aware of what is written in the ESSA so we can be one step ahead. When a portion of the ESSA is enacted where more power is given to our LEAs (Local educational agencies) we MUST know HOW that power is to be used (I can tell you much of it appears to be directed toward parents). When the 21st Century Community Learning Centers come to your town, you MUST know exactly what they will be joining the community together with. When the mental health components (which will impact every student), we MUST know how to block them! There is SO much work we have to do to not only champion education, but to protect our citizens! Even if you don't have a student 'in the system', your tax dollars are being used to make all this (and more) happen! Think of it as 'taxation with zero citizen input'.
In the coming days, I'll share with you my evidence from not only the ESSA, but some of my previously published articles (containing documents and other evidence) of how the ESSA has WIOA (Workforce Innovation and Opportunity Act) ties, how it aligns post-secondary education to K-12th grade, how state funding formulas will dictate it all, and more.
Before I close for today, one of my fellow anti CCSS Warriors had an idea that Congress should, in the future, be made to sign a form stating the legislation they are voting on has been duly read, considered, and had adequate citizen feedback on. From a personal standpoint, I like that idea very much. It would mean we've not see a rushed hack job of a bad bill survive past the trash bin.
Make no mistake Warriors Against the Core, ESSA is a recycling 'masterpiece', NOT a better bill for America. If we truly want 'better' for our next generations of children, we will have to fight for it!
Take heart, my dear Warriors, we aren't done yet. It's tough, but we're tougher. The battles we still have left to fight need our total commitment. We are strong, we are the champions of our children.