Normally on Thursdays, I treat you to an article about Common Core in post secondary education. Today, however, I've got a special article. Collaborative for Student Success has just released a new infograph about Common Core and our U.S. Military students.
What you don't see below is the staggering number of students set to be in the direct line of fire for receiving CCSS in military schools. Eighty-two thousand (82,000).
Outside those military families, look at those students wishing to get in the military, no matter where they attended high school, a CCSS laden exam awaits (more on that later). As far as not having enough students qualify to to join the military upon graduation from high school? I found one article which suggests the reason isn't because of education, but because the recruiters don't need as many service men and women, so they can be a bit more choosy in selecting new members of the armed forces! Something the Collaborative folks left out in their infograph. (see: https://news.vice.com/article/the-common-core-military-readiness-and-the-myth-of-americas-dumb-youth)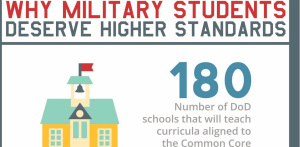 From 2003:
A document I found on the State Dept.'s website caused me to pose a question. Could the 'common core curriculum and programs' developed for the military training be the same as the CCSS of today? I've provided a screen shot where you'll be able to see how some funding was being used. While I've not been able to actually see the curriculum, it does leave a question for us.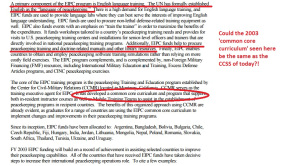 Why this question is of concern:

While the above may or may not be THE CCSS, it should concern us. Why? If you look at some of the courses taught in the Civilian Military Naval Post Grad School, you'll see that the United Nations plays a huge role in it; you'll see that legislators are involved in some of the classes as well. How do I know this? As an example, take a look at the Naval Post Grad School. Knowing that the UN is behind CCSS and has recently (as in yesterday) been pushing for more CCSS globally, we should be very concerned! We should be finding out all we can!!
(see: http://www.thenewamerican.com/culture/education/item/20657-un-pushes-common-core-style-global-education-regime)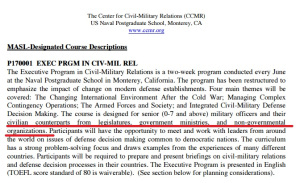 Army Supports the CCSS:
Read the statement from the head of U.S. Army in full support of CCSS. Hasn't anyone told him as a defender of the U.S. Constitution, support for the Core is treason?
http://www.corestandards.org/assets/ccsi_statements/StatementArmy.pdf
Dept. of Defense Backs the Core:
Read the Rand Corp. book detailing how the DofD has implemented CCSS into military schools. Again, why are those who took an oath to uphold the Constitution even considering such an act of internal hostility??http://www.rand.org/pubs/occasional_papers/OP384.html
If you aren't familiar with Rand, here's their description from their website, "The RAND Corporation is a research organization that develops solutions to public policy challenges to help make communities throughout the world safer and more secure, healthier and more prosperous. RAND is nonprofit, nonpartisan, and committed to the public interest." What's ironic is that Rand prides itself on fact based research. How in the bloody heck can you even consider CCSS fact based research when so much has been proven to be totally undeserving of being used?! While copyright protection bars me from sharing the Rand 2014 Annual Report, what I CAN share is where to access it. I can also tell you to read the section on education (begins on page 12) and then refer to the list of donors who supported Rand in 2014. You'll find the complete list on page 64. Count the well known CCSS supporters. Then, check out some of the others to see if they, too, support the Core. http://www.rand.org/pubs/corporate_pubs/CP1-2014.html
Collaborative for Student Success:
If you look at the Collaborative more in-depth (http://forstudentsuccess.org/) You'll see all kinds of support for CCSS. Here's one of 4 main screen pictures you'll see: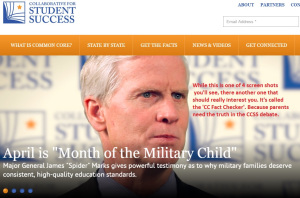 To see the video where the Major praises the CCSS:
[youtube https://www.youtube.com/watch?v=1fPvvou6fWU&w=560&h=315]
Who Backs the Collaborative? See the list of CCSS Shameful:
The Eli and Edythe Broad Foundation
Carnegie Corporation of New York
Bill & Melinda Gates Foundation
Helios Education Foundation
Leona M. and Harry B. Helmsley Charitable Trust
William and Flora Hewlett Foundation
Lumina Foundation
The Charles and Lynn Schusterman Family Foundation
Who is in the Collaborative?
"The members of the Collaborative share the belief that the successful implementation of the Common Core State Standards is an important next step in ensuring that all students are prepared to succeed at college level work. The mission of the Collaborative is to support the state-led efforts of State Education Agencies and local education organizations responsible for educating and informing all stakeholders — parents, students, teachers and community leaders — about the new state standards and assessments. There is great support for the Common Core State Standards among educators – from the National Network of State Teachers of the Year, the National Council of Teachers of Mathematics to the National Board for Professional Teaching Standards, the National Education Association and the American Federation of Teachers."
So much for objective facts about CCSS!
Related to Those in Military Families:
See my fellow warrior, LadyLiberty1885's article about the military and CCSS:
http://ladyliberty1885.com/2015/03/23/military-leaders-mission-readiness-is-back-pushing-common-core/
See Achieve, Inc.'s thumbs up for CCSS:
http://www.achieve.org/military-and-common-core

The Daily Caller has an article about all the military branches and CCSS:
http://dailycaller.com/2013/10/07/support-for-common-core-strong-in-u-s-military/
Related to Those Wishing to Become a Military Member:
Achieve, Inc.'s ASVAB (Armed Services Vocational Aptitude Battery) article:
http://www.achieve.org/be-all-you-can-be-first-master-common-core%E2%80%A6
To see fellow warrior, Nancy Bailey's article on ASVAB and data mining:
http://nancyebailey.com/2014/07/16/the-asvab-are-you-handing-your-students-information-over-to-the-military-with-out-knowing/
To see fellow warrior, Shane Vander Hart's article on ASVAB and CCSS:
http://truthinamericaneducation.com/tag/asvab-tests/
The U.S. Dept. of Defense:

From the U.S. Dept. of Defense's press release back in 2012 about how CCSS was a great way to fix schools for military children, this excerpt, "DOD provided about $3.7 billion over five years to fix these schools." Remember, that's your hard earned tax dollars at work. See the entire press release:
http://www.defense.gov/news/newsarticle.aspx?id=117695 Keep in mind the Defense's job is national security. Our public trust is that the men and women providing that security are a) honoring the oath they are sworn to take, b) upholding the American values our Founding Fathers based the U.S. Constitution, and c) that the protection provided is not driven by substandard education! To better visualize just how damning CCSS in our military is, visit the DofD's website link below. Just look at all the areas of access the DofD has over our nation. Do you really want a CCSS aligned military? Especially given what objective, fact-based evidence, we the people had uncovered??
http://www.defense.gov/RegisteredSites/RegisteredSites.aspx
Finally, considering the vast reach the DofD has, you'll want to read the U.S. White House's document on data sharing:governmentdatashare