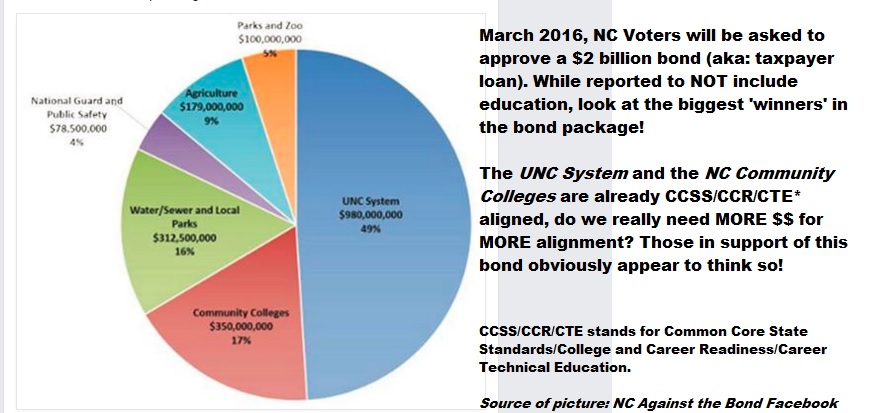 I call this picture above, "Bond, bad bond". Why? As a dedicated education policy and law researcher who has uncovered many ties to Common Core and its related entities, I can smell a foul stench when I see something like this. The great news is, I am NOT alone! I will go back to the Bond later in this article, but first, these important pieces of the 'picture' NOT seen above:
A) With the recent news of the ESSA (Every Student Succeeds Act) and its purposed exclusion of the phrase "Common Core State Standards, or, CCSS", we have all been told CCSS is dead, is no longer an issue.
Ha, ha, I am not laughing. Nor are many of the other anti CCSS Warriors I know. Why? We have discovered the ESSA replaced CCSS with the following (interchangeable phrases):
1) 'College and career readiness', 'college and career readiness standards' (in some instances 'career pathways' and 'career technical education'  were also variations)
2) 'Challenging state academic standards'
3) 'Workforce' (WIOA, Workforce Innovation and Opportunity Act) which was usually located in the direct vicinity of 'education'.
If you missed my articles exposing these phrases and their locations in the ESSA, please see: https://www.commoncorediva.com/?s=ESSA
B) So what does the ESSA have to do with 'Bond, bad bond'?
In my opinion, it will have a  great impact. However, knowing that the workforce based education movement involves not only education, but labor and commerce, we need to know what those projects will be as well. And since we, across America, have seen how non-transparent a lot of the projects are, we must be ever watchful!
C) So, if you don't live in NC, what can you glean from this type of bond activity?
1) As always, use it as an example of what is going on in your state!
Every state has departments for education, labor, commerce. Every state has bonds placed on their ballots.
2) In this day and age if one side says the bonds are imperative for education, find out how and WHY!
3) We can NO LONGER assume the supportive side in ANYTHING related to education is all that we are being told it is. NOR, can we always assume the non-supportive side in ANYTHING related to education is being up front.
4) With 2016 being SUCH an important election year, we CANNOT let any sneaky move by the CCSS Machine pass. Their omnibus bonds, bills, etc. CANNOT live on! Why? Not only does it grease the Machine's gears, it lassos our future generations into MASSIVE debt.
Back to Bond, Part One:
Returning to the graphic you see and the statement I have about NC higher education being sold out, here is what I am referring to.
"Here's the basic idea about state policies in education, at least in the CBP(Competency Based Pathway) Way:
a) 'good' policy moves include using students outcome to drive precedents.
b) 'guarding' those high quality academic standards
c) 'create' a community wide education effort (ie: must include ALL 'stakeholders')
d) offer incentives to help force certain outcomes and remove any rules or regulations not encouraging 'more ways to learn/earn'." (source: https://www.commoncorediva.com/2015/08/06/tech-thursday-career-pathways-meet-competency-based-pathways/) In  this August 2015 article, you can not only see NC's progress in CBP but how it encompasses CTE (Career Tech Education)! You can find the links and other resources for what to look for in your state, too!
The Connections:
So, what has the supportive side for this mega bond for NC stated? The Bond's real name is Connect NC. According to the Raleigh News and Observer, the entire Bond will be for infrastructure projects. Here is an excerpt,
"The $2 billion worth of projects expected to be paid with bond dollars include university and community college infrastructure, parks and North Carolina Zoo improvements and N.C. National Guard and agricultural projects. On its website, NC Against the Bond points out that the funding wouldn't pay for transportation projects or K-12 education programs." (see the rest of the article: http://www.newsobserver.com/news/politics-government/politics-columns-blogs/under-the-dome/article53288900.html)
I would like to pause to remind you, my fellow anti CCSS Warriors, that this media source is very CCSS Machine friendly, and has slanted many articles concerning education in the past.
Another media source, from a smaller county in NC (Alamance) had this to report in support of Connect NC: "If voters do approve, Alamance Community College would get $6,100,339 out of $350 million earmarked for state community colleges. President Algie Gatewood said ACC's Board of Trustees would need to talk about how best to spend the money, but much of it would probably go to nursing and other medical training programs.", Wait, there is more you need to read! "BOND SUPPORTERS, and there are many, say the focus is on funding education in growing areas of employment like the medical professions, engineering and the sciences."This allows the community college to train more nurses, medical assistants and nurses' aides," said Dan Ingle, ACC trustee and chair of the Alamance County Board of Commissioners. (see the rest of the article: http://www.thetimesnews.com/article/20160109/news/160109142)
I would like to point out that the ACC President is stumping this Bond. It is in the article.
Back to the Bond, Part Two:
Now, as far as the Connect NC Bond, it is part of a movement. It has the Governor's blessing. If you missed my Weekend News article, it focused on the NC State Board of Education resolving to align education NOT to true academics, but to career tech education/college and career readiness/workforce related education for BUSINESSES and the ECONOMY in 100 % support of the Governor's plans!(See:https://www.commoncorediva.com/2016/01/08/weekend-news-tangled-webs-of-educratic-moves/)
When you take into consideration the Resolution in support of the gubernatorial office to the alignment to all things CCSS/CTE/CCR related it isn't hard to see where the statement made in support of Connect NC is too far removed. Here is an excerpt, "The $2 billion bond will connect North Carolina to the 21st century through statewide investments in education, parks, safety, recreation, and water and sewer infrastructure."
In the screen shot below, you can see the Connect NC projects are already in the works to some degree. In this PDF you can see Alamance County's project specifically states 'new construction, repairs, renovations'
With as crafty as the CCSS Machine is, you can see the education updates will most likely fall in the renovations portion of the funding. Very non- transparent, don't  you think?! Get the pdf:
http://connect.nc.gov/Final%20Bond%20Project%20List_12.11.15.pdf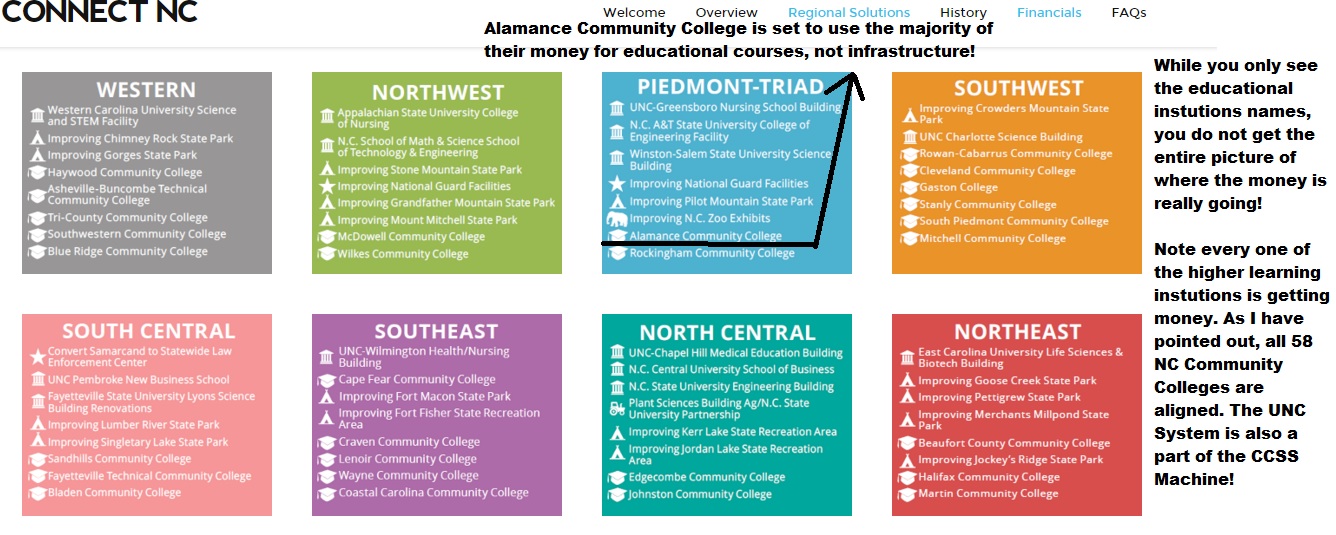 Oh, if you are wondering, there is NC State legislation for the Bond. See:
http://www.ncleg.net/gascripts/BillLookUp/BillLookUp.pl?BillID=H943&Session=2015

It is here in the language of the law you can find the loophole Alamance County appears to be taking advantage of with its plans to use the bulk of its Connect NC Bond money for educational courses. "It is the intent of the General Assembly by this act to provide, subject to a vote of the qualified voters of the State, for the issuance of two billion dollars ($2,000,000,000) general obligation bonds of the State for the purpose of providing funds, with any other available funds, to update the State's public facilities for the 21st century, including, without limitation, construction, repair, renovation, and furnishing of new facilities in order to (i) enhance other economic development efforts of the State and (ii) attract new and assist existing industry, business, technology, and tourism for the benefit of the State and its citizenry." (NOTE: you can access the rest of the ratified law by clicking on the embedded link to it from the website above.)
Again, if you don't live in NC, how can you find similar activity in your state? Use the upcoming primaries to see what bonds, taxes, etc. are being added which are connected to education in ANY way. Then, see what connecting legislation (and/or policy) is being used as the justification!
More Connections:
Since STEM (Science, Technology, Engineering, and Math) are part of CCSS, CCR, and CTE; as well as being so specifically pointed to in the Bond and the Law providing for it, we need to see where NC has STEM (already in the works, too).
From the NC level:
https://www.commoncorediva.com/2014/12/02/wybi-wednesday-rttt-stem-ed-waivers-and-more/ (This ties our Race to the Top funding to STEM as well as CCSS)
https://www.commoncorediva.com/2015/11/09/monday-musings-global-readiness-and-ccss/ (Since Global economy and global competency were including in the NC SBE Resolution, this article will be important)
https://www.commoncorediva.com/2016/01/07/the-great-education-experiment/ (This shows not only NC in the thick of STEM, but Workforce alignment to CCSS/CTE, too)From the federal level and to where to watch for in 2016:
https://www.commoncorediva.com/2015/07/28/ftf-update-for-stem-workforce-and-the-hea-part-one/
https://www.commoncorediva.com/2015/07/30/tech-thursday-part-two-of-the-hea-stem-the-workforce-and-america/
https://www.commoncorediva.com/2015/05/27/wybi-stem-to-steam-ties-to-common-core-pt-1/
https://www.commoncorediva.com/2015/05/28/tech-thursday-pt-2-stem-to-steams-ties-to-common-core/
https://www.commoncorediva.com/2015/05/29/friday-special-post-part-3-stem-to-steam-ties-to-ccss/Three aspects the Connect NC folks left out of their hype and probably wishes you didn't  know:
1) https://www.commoncorediva.com/2014/10/09/tech-thursday-ncs-workforce-despicable-moves/ 
2) https://www.commoncorediva.com/2015/06/17/wybi-nc-businesses-and-common-core/
3) https://www.commoncorediva.com/2015/03/25/wybi-job-development-grants-and-ccss/Again, if I am not an NC resident, why should I read these?
Since all 50 states have state governments, are aligned to the CCSS Machine via federal funding in some fashion, have jobs and careers where those businesses are forming the educational plans, educational institutions which must carry out the P3 (public private partnerships), we can use each others PRO CCSS movements to see where in the other states similar activity may be.
Career Clusters, Part of the Whole Mess:
Notice that Alamance County Community College wants to use the bulk of its money for updating courses. (see above) How does that factor into the CCSS Machine and Connect NC Bond? The short answer is they are part of the Career Technical Education arm of CCSS.These clusters usually begin in the K-12 area of education, but are also in post-secondary education. My article from 2015 about the Clusters and data mining may be of help in your state as well. Linda Darling-Hammond is connected. See: https://www.commoncorediva.com/2015/01/20/ftf-tuesday-career-readiness-and-data/
Impacting all 50 states is the U. S. Dept. of Ed's Career Clusters road map for education, see: https://www.commoncorediva.com/2015/03/12/tech-thursday-difference-between-careers/
How special needs students and those deemed as 'alternative' will be sucked in: https://www.commoncorediva.com/2014/12/03/tech-thursday-career-techcommon-core-and-alternative-education/
And the biggest way in which not only NC is tied to this, but your state as well: Perkins Funding! See: https://www.commoncorediva.com/2014/11/20/tech-thursday-perkins-gets-the-common-core-squeeze/
Closing:

If you want to find out more about NC Against the Bond, you can find them on Facebook. Here is their link: https://www.facebook.com/AgainstTheBond/

If you wish to sign the petition against the Bond and pledge your vote to a 'no' on March 15, 2016, visit: http://againstthebond.com/petition/
(I will happily share that I am among those who are saying "No!")
As far as a federal level of education bonds or legislation which would impact infrastructure in education's name, that will be another article for another day.