Anti Fed Ed Warriors, just a few days ago, I shared with you how 'great' NC's updated school-wide report cards are. ICYMI, here it is.
Worth repeating, though, is this: A CTE (Career Tech Education) specific school in my county had ZERO textbooks (according to the NC Report Card website).
What does this have to do with workforce based education? Everything! Not only is NC (Old North State) getting 'worked over', every other State is too!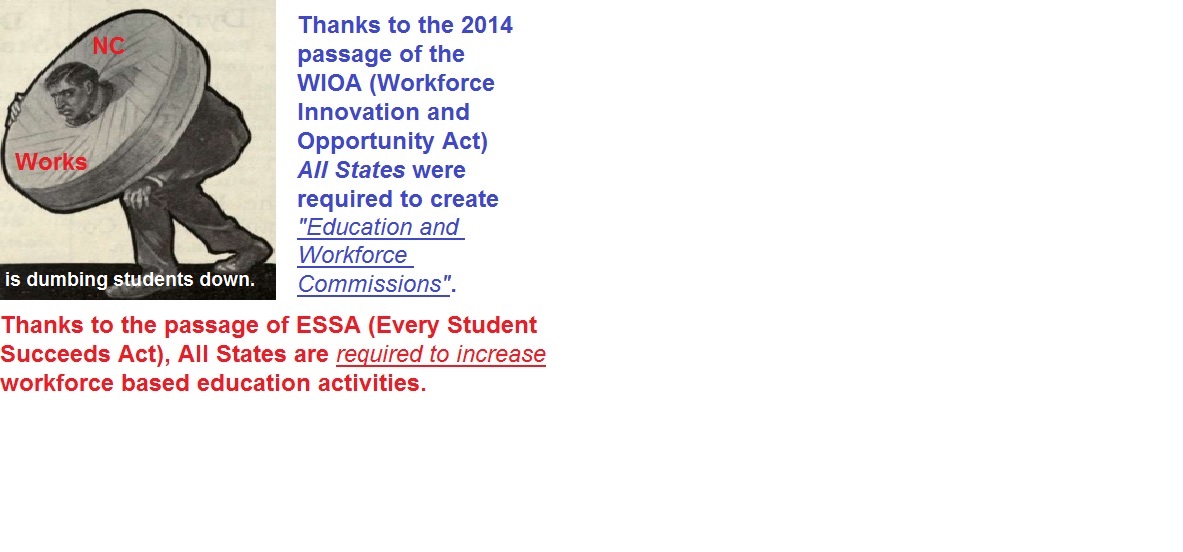 Warriors, the name chosen for one of the  NC (Old North State) Workforce Education based programs is "NCWorks".
Look below and tell me, Warriors, how well this federal-to-state-to-your child's education has workforce woven into it. This is meant for ALL school choices.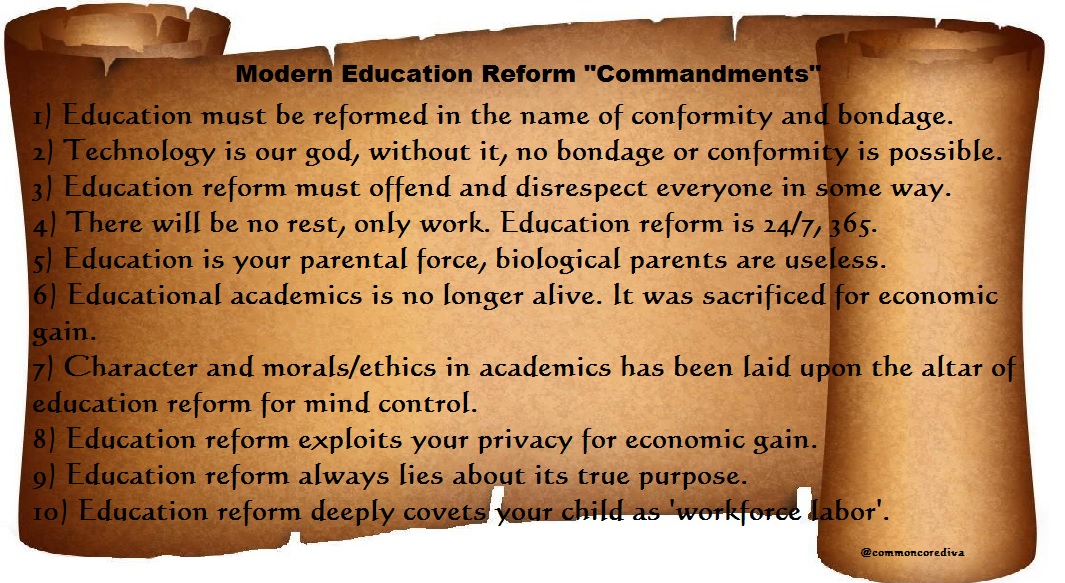 It's been said for years that the goal for 'education' isn't being well educated, it's being well-trained.
***************************************************
Not long after I began my blog (2014), I attended an meeting held on a local community college campus. The rhetoric spilling out of the elected officials and school employees was eye-opening, to say the least. It was all about workforce aligned schools. See this article. (You'll even see the embedded You Tube video about national workforce credentials. As the business owner stated in the short film, 'no certification; no job'.)
Programs like "NC Works" bring the workforce aligned schools to 100% fruition.
I also shared with you how the NCWorks program came to be in Sept. 2014.
An updated article about NCWorks in 2015 showed you how the Governor of NC ( Pat McCrory) had laid out a 'smooze fest' of CCSS Machine member groups and citizens to carry out his plan for education and workforce training to intersect.
Warriors, every Governor did likewise. It was due to the language of WIOA (Workforce Innovation and Opportunity Act). Governors were given more power. Using it to create aligned school-to-work systems was just the beginning.
In 2016, I gave you an update on NCWorks and how it was connected to a bond for statewide community colleges. The bond was a poorly disguised taxpayer disaster for generations to come. Thanks to the CCSS Machine, the bond was voted on and passed.
**************************************************************
Warriors, when the Education and Workforce Commission was started, it was housed in the Governor's administrative branch. During the summer of 2107, the Commission was moved from the Governor's office to the NC DPI (North Carolina Dept. of Public Instruction).  From what I can find, the new location is in the NC DPI's CTE (Career and Technical Education Office)
The announcement I found about the move is from the Public Schools First NC website: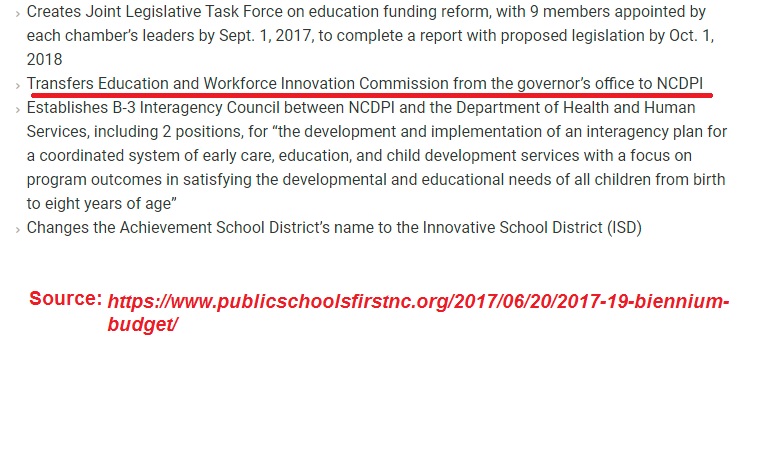 If you are curious, the Public Schools First NC states its a group of nonpartisan citizens. However, "Mapping the Left" website shows the Public Schools First NC, has received some previous funding from The Reynolds Foundation.
Reynolds Foundation supports all kinds of community groups, social justice projects, and education. Among one of the red warning signs I found on Reynolds 2015 Grant page was to a non-profit called "DigiLearn". DigiLearn was founded by former Governors (NC) Perdue and (WY) Geringer. (*Note: Perdue was in office when NC's Race to the Top funds were awarded.)
DigiLearn's Board has two well-known CCSS Machine members, one is NC legislator Craig Horn and the other is Tom VanderArk.
From a DigiLearn 2017 presentation, this screen shot: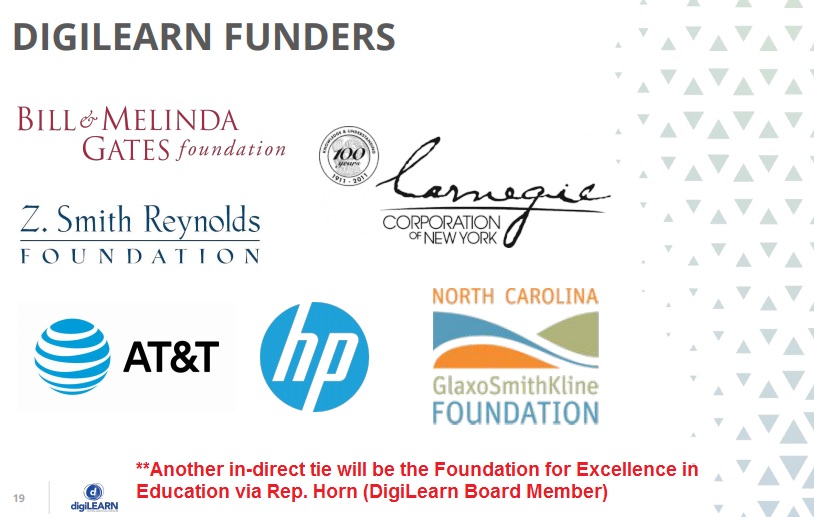 If you'd like to see the Policy guide which goes with the DigiLearn presentation, look here. Note that by 2018, all NC school districts are to digitally ready.
If you'd like to see how the Reynolds Foundation is represented in the current NC Governor's (Roy Cooper) appointed Education Commission, go here.
******************************************************
So, Why Share This Now?
Warriors, I share this now, as the NC DPI is wrapping up 2017, with sights set for 2018. Planned? A new workforce based learning program AND approach. It all appears to be housed in the NC DPI's CTE Office, too. You'll more than likely find this type of activity in your State.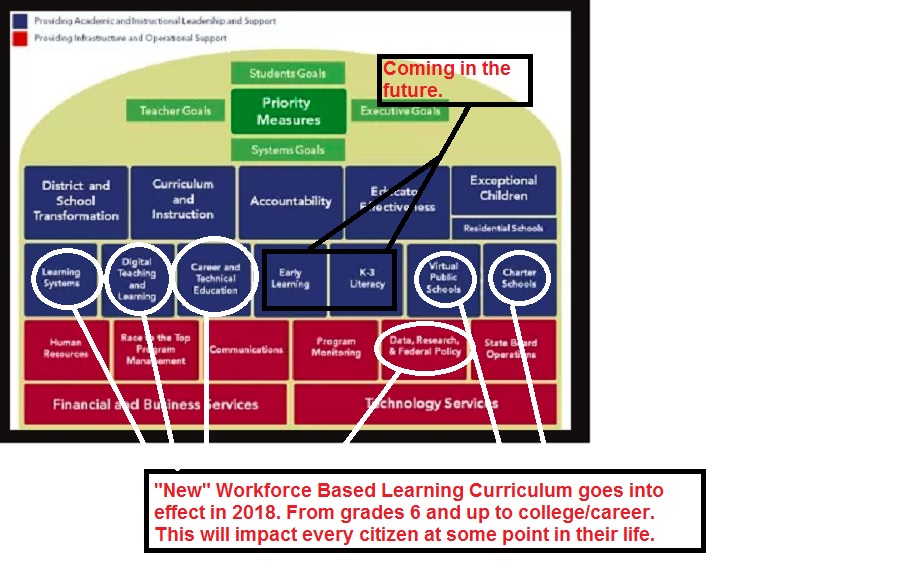 The 'new' program? "The Students@Work is a project of the North Carolina Business Committee for Education in partnership with the North Carolina Department of Public Instruction." Warriors, the new program won't replace NCWorks. It compliments it!
********************************
Both NCWorks and CTE use Perkins funding. Perkins funding was not to be embedded in K-12th education when it first began. Perkins funds were for post-secondary educational institutions and programs. However, when the CCSS Machine began the shift from academics to workforce, Perkins funds found their way into the classroom. ESSA (Every Student Succeeds Act) even embeds CTE and Perkins funds.
*********************************
Where can you find the "Students@Work"?  I found it in the 2018-19 NC CTE Standards.
You can also watch a short YouTube video about the program. The Students@Work website is here. Members of the NC Business Committee for Education can be found here. Every business and/or school you see is tied to the CCSS Machine.
Warriors, "CTE Standards" are CCSS Standards! (More information)
You can also read about the recent 6 States (NC, AL, IA, IL, NV, and RI) involved in the CTE/STEM Workforce based Siemens Corporation education initiative.
CTE also marries Common Core to STEM.
The Siemens Initiative began back in 2015. According to the Siemens overview, it was to target 'young adults' (16-24 years). However, the NC workforce education plan (above) is to start in 6th grade or about 11 years old.  The Siemens Foundation partners are some heavy-hitting CCSS Machine member groups.
**I also am sharing this now to tie all of this to the fact that the HEA (Higher Education Act) is being re-written. It has been for a while now.
In these last remaining days for Congress (before the 2017 holiday recess), Rep. Foxx is the sponsor of HR 4508, PROSPER Act.  It's the House's re-authorization of the HEA (Higher Education Act) .
Warriors, it combines CTE, STEM, CCSS, Workforce agenda, globalization, data mining,  and, cradle to grave data tracking.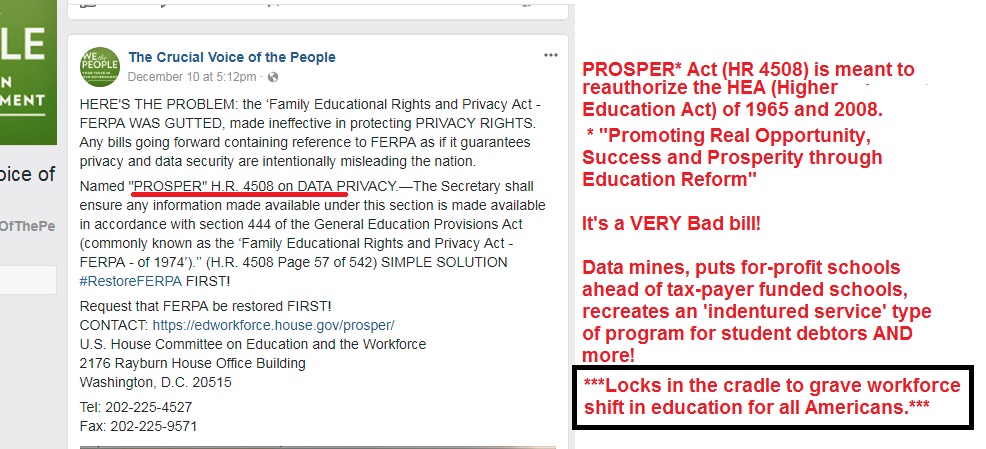 To access the PROSPER Bill, go here. The Politico 12/13/17 Morning Report stated that HR 4508 would shrink the U.S. Dept. of Education; shift some of Ed's business to the U.S. Treasury, and more.
Warriors, remember, while these moves SOUND good, I've already shown you evidence of how DANGEROUS these actions will be to our schools!
Oh, and let's not forget Sen. Lamar Alexander's bragging about overhauling HEA. He'll be a big mouthed liar once again in 2018 when it comes to education.
**************************************************
HEA (as I've said for at least 2 years) is the LAST link in the American education chain which will forever change schools from academic institutions to workforce training facilities…for all ages and educational choices!
As chair woman for the House's Education and Workforce Committee, Foxx is featured in this article about how badly PROSPER's agenda/alignment is needed. If you ever doubted Foxx's view of 'quality education', look below: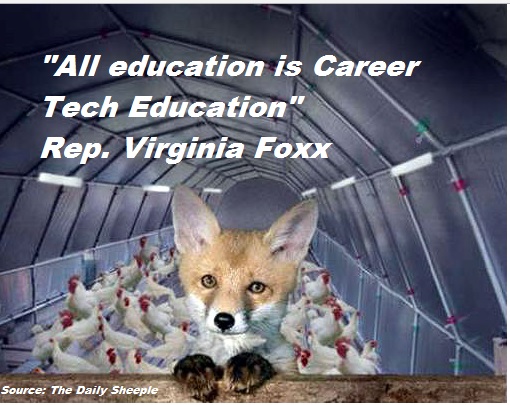 I've researched this 'sold-out-to-the-CCSS-Machine-Representative' several times. Her grasp of truly representing her citizens has been replaced by corporate lies.
**I also share all this now, because several federal level bills seek to create national data tracking in the name of education. HR 4174, S2046; the assault on Net Neutrality will also involve data and our right to privacy (this involves the FTC and FCC: both use taxpayer funds for data mining); the 'data raping' will continue via many more proposed bills.
Data is needed to pigeon hole students into workforce training aka 'education'!
Data is the key, here, Warriors.  On one hand, we need to access HOW the data is being used against our children, as well as protect our civil right to freedom of privacy. On the other hand, as Americans, we know we must use the internet for all kinds of purposes. So, shouldn't it be as open and free to use as possible?
If data becomes privatized or government micro-managed in any way, we're losing our civil rights. Not to mention how terrible a track record the US government has with cyber security lately.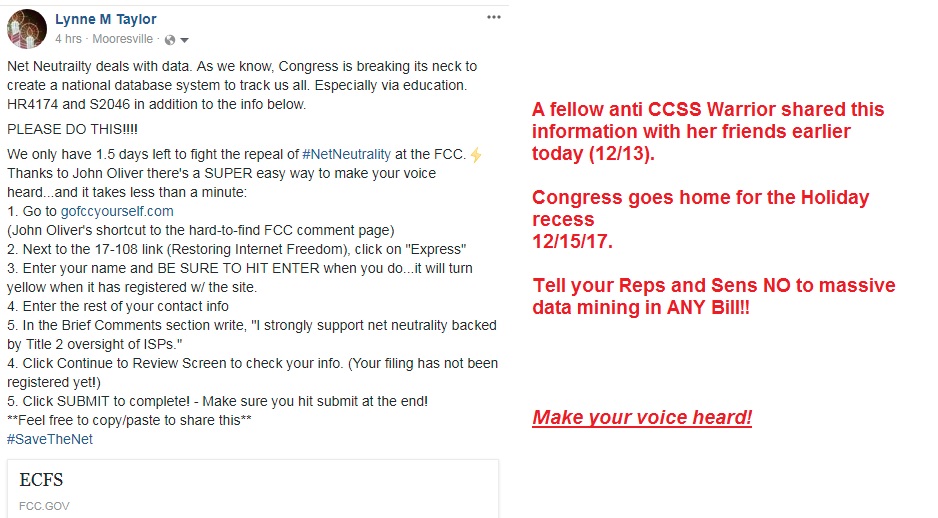 Closing:
Warriors, this is rotten timing, I know. We should be focusing on all the December holidays we have. We shouldn't have to be contacting our Representatives and Senators.
BUT, we must sacrifice our energy and time! We have to do all we can to block the undermining of our nation! Congress is NOT helping our education system; it's NOT representing true American values; and, it's NOT honoring our U.S. Constitution.
Isn't that worth a few minutes of time in the last days of 2017? We must revolt against all that is wrong with these egregious Bills!