Warriors Against Common Core/Fed Led Education, we've sat on the edge of change in this War vs. the Core everyday for years. Since the shift in education AWAY from academics and freedom TO a constricted workforce skill based education, we've seen elections come and go; we've seen re-brands of Common Core desperately passed off (or at least the attempts have been desperate) as something "new, better, more choice, and, the ever famous, 'CCSS is dead.'"; and we've stood firm the ENTIRE time.
Today, on the eve of the most problematic and protested campaigns to date, we find ourselves just as RESOLVED to continue to fight this War, no matter what it costs us. I thank you for that. Together, we Warriors have more gumption (aka: spunk; spitfire; patriotism) than all of Washington, D.C. leadership put together.
We will need even more of these ethics in the coming days, Warriors.
Why? Those in Congress, especially the education/workforce based committees have locked us in to this education shift 100%. SO much legislation and money have gone into this arm of the CCSS Machine, it is quite ridiculous. Had our Congress members devoted as much effort to the issues THEY SHOULD GOVERN, we could have solved a plethora of American problems by now.
While we, the Anti CCSS Warriors, have been busy spreading evidence about the toxic overreach in education by the federal government, these 'education/workforce based sold out Congressional members' have been churning out statement after statement about how FANTASTIC it will be for America to have MORE Common Core in the form of Career Tech Education! They've spit out lie after lie, dressed as a positive growth step for our nation. If you've noticed, I've exposed several of these statements as dribble, especially from the chairmen and chairwomen.

So, do you think on the EVE of the 2016 Elections, they'd ease up on the CCSS Machine rhetoric?!
HARDLY!
The Ed/Workforce Statement Of The Day: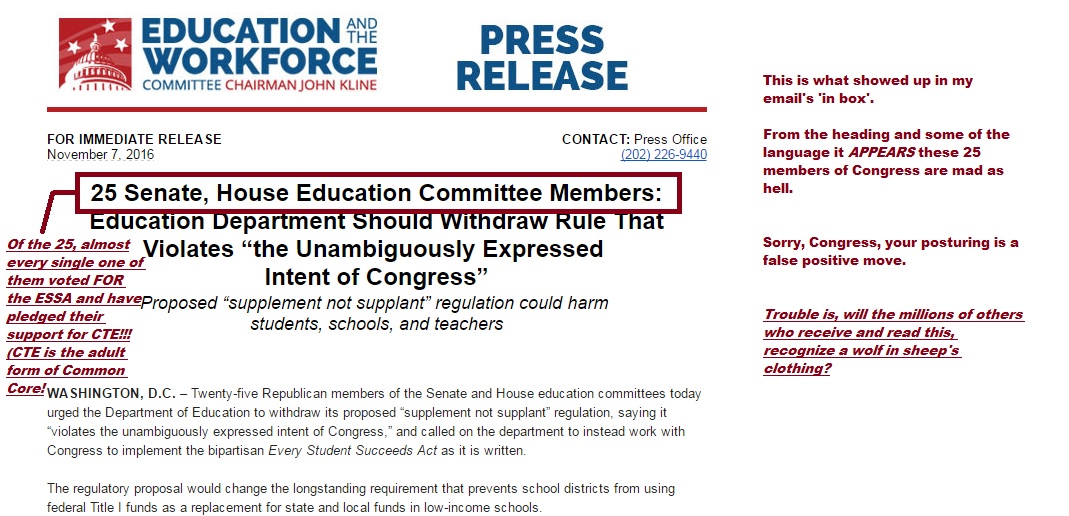 While the email was sent out earlier today, the actual letter of blustering protest and ire was dated 11/4/16.
Here's what is hiding in the email and letter we, as Warriors, should know and expose:
1) Rep. John Kline and Sen. Lamar Alexander (bosom D.C. buddies) are among the leaders of this latest false/positive move to bamboozle Americans.
2) Since there is a tremendous mountain of evidence, we, the Anti CCSS Warriors have amassed, it is no longer a conspiracy theory that Congress is acting illegally, it is a racket.
(Hat tip to my wonderfully sharp Alaska Warrior friend, Barbara H. for pointing this concept out.)
3) The email and letter BOTH use a Chevron vs. the Natural Resources Defense Council precedent.
Here's the excerpt, "In Chevron U.S.A. Inc. v. Natural Resources Defense Council, the U.S. Supreme Court established that the test for reviewing an agency's interpretation of a statute consists of two related questions. First, the question is "whether Congress has directly spoken to the precise question at issue. If the intent of Congress is clear, that is the end of the matter" because the court and agency must "give effect to the unambiguously expressed intent of Congress." Second, if "Congress has not directly addressed the precise question at issue" or "if the statute is silent or ambiguous" the question is "whether the agency's answer is based on a permissible construction of the statute." "
A) It's really ironic and probably a masterful move that the Ed/Workforce House and Senate members pulled this case out of the Supreme Court's files. WHY?
Chevron is a sold out member to not only Common Core, but Career Tech Education, and STEM (Science, Technology, Engineering, and Math)!
B) While the letter goes into lots of details about the U.S. Secretary of Education not carrying ESSA (Every Student Succeeds Act) out as written (an excerpt of the law is even quoted about the restrictions of the Secretary's powers from one section), it (the letter) does NOT reveal to We the People, all the OTHER sections of the Law which are SO loosely defined…including those parts where the U.S. Dept. of Education's Secretary will have increased powers on certain mandates!!
C) Here are the 25 'angered' Congress men and women:
1) Senate HELP (education/workforce) committee Chairman Lamar Alexander (R-TN),
2) House Committee on Education and the Workforce Chairman John Kline (R-MN),
3) Senate committee members Bill Cassidy (R-LA), Susan Collins (R- ME), Michael B. Enzi (R-WY), Orrin Hatch (R-UT), Johnny Isakson (R-GA), Mark Kirk (R-IL), Lisa Murkowski (R-AK), Pat Roberts (R-KS),
4) House committee members Mike Bishop (R-MI), Bradley Byrne (R-AL), Earl L. "Buddy" Carter (R-GA), Carlos Curbelo (R-FL), Virginia Foxx (R-NC), Brett Guthrie (R-KY), Joe Heck (R-NV), Luke Messer (R-IN), Phil Roe (R-TN), Todd Rokita (R-IN), Elise Stefanik (R-NY), Glenn "GT" Thompson (R-PA), Tim Walberg (R-MI), and Joe Wilson (R-SC).
D) Go back and look at how each of these people have voted for HR5 (Student Success Act), S1177 (Every Child Achieves Act)..BOTH were combined to create ESSA (Every Student Succeeds Act). Then, go back and look at each of their votes when it came to HR5587, S3271. BOTH of these bills are not only companion ones, but will lock in Career Pathways, Career Clusters, and Career Tech Education for all students. The power to determine these tracks of 'education' will be in the FEDERAL government's hands, Warriors!
E) Go back and look at the many statements which have been released since the Congress members left to go home in time for the Elections of 2016. Every damnable one of them states repeatedly how much our country needs CTE.
F) See if you can find out how each of these 25 members feels about S3174 (LADDER Act). It's language not only tags the U.S. Secretary of Education as a member of a new Executive elite Workforce based education Council, it creates MORE national control in education geared for skill based citizens, NOT independent THINKERS!!
G) Both the email/letter proudly spew the 'bipartisan' line. That's right, Congress, assume we know so little as to buy that just because it had both sides of the aisle involved, whatever is created is a positive move for America. That's just the opposite of the truth, Warriors! We know the CCSS Machine has BOTH SIDES of the aisle embedded!
Related Resources:
A) My article where you can find S3271, H5587, and the LADDER Act:

B) My article where you will find CTE invading your health care:

C) The Ed/Workforce 'Angered 25 Letter':
http://edworkforce.house.gov/uploadedfiles/11-4-2016_help_ew_republican_letter_on_sns_final.pdf
D) Where Chevron has jumped the 'freedom train' to align to the CCSS Machine:
https://www.2ndvote.com/business-entity/chevron/ (look for the heading 'education')

Closing:
Warriors, while I do know for a fact the U.S. Secretary of Education is overstepping boundaries, these types of Congressional statements are a slap in our faces. Why?
Had Congress been as hard nosed and dedicated to serving the Citizens/Warriors, the Dept. of Education would have been penalized or abolished long ago. Congress is jumping up and down in mock anger, but what about their overreach into education?! They are JUST as guilty. Warriors, we also need to know that simply reining in one federal department is NOT ENOUGH. The CCSS Machine has infiltrated at least 9 federal departments! Chief among these 9 are: Education; Labor; and, Health/Human Services.
It is NOT enough to just rid our government of the CCSS Machine. Why? As long as our federal leaders keep signing agreements to adhere to the United Nations, we will NOT see a decrease in the shift in education.
Regardless of the results: friend or enemy. Much is going to be on our shoulders. We may be asked to be part of the solution for a change OR we may be called upon to present facts from our mountains of evidence which could be used to right the wrongs for our children.
I do not know. However, I do know one thing, we WILL CARRY ON!