Anti Fed Ed Warriors, our Nation has just been shoved further down the 'river of the damned' in education.
How? The U.S. Senate, by a voice vote, passed the U.S. House's "Strengthening Career Tech Education (CTE) in the 21st Century Act" (HR 2353).
By this passage, HR 2353, now advances to our President. The 'mad dash' rushing we are seeing play out? Oh, that's 100% on purpose. Why? Look at the recent events surrounding this: a "Made in the USA" exhibit, Ivanka's main stream media blitz, the big showcase of CCSS Machine groups surrounding President as he signed a NEW executive order on July 19th.
So, WHY is all the activity hyping up? Think about the ESSA (Every Student Succeeds Act) mandate for ALL education to be 'aligned to post-secondary readiness'. Then, consider the timeline which all was to be in place by: the beginning of the 2018-19 school year.
Warriors, we are quickly approaching the beginning of that 'academic' calendar!!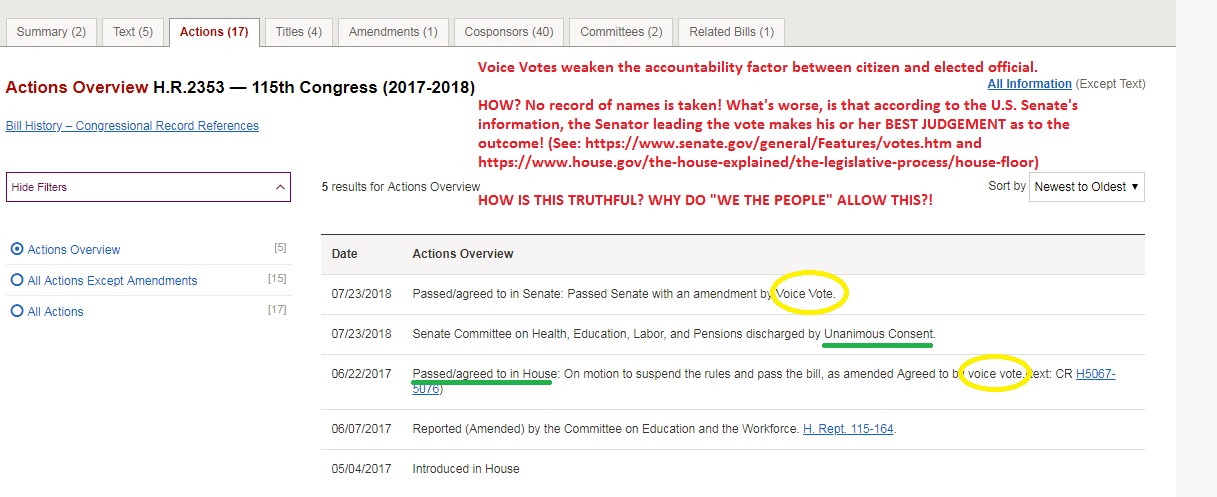 (To see the complete list of actions for HR 2353, visit this link.)
Think back, my fellow Warriors, we saw the same 'rush' job when it was time for ESSA to become law.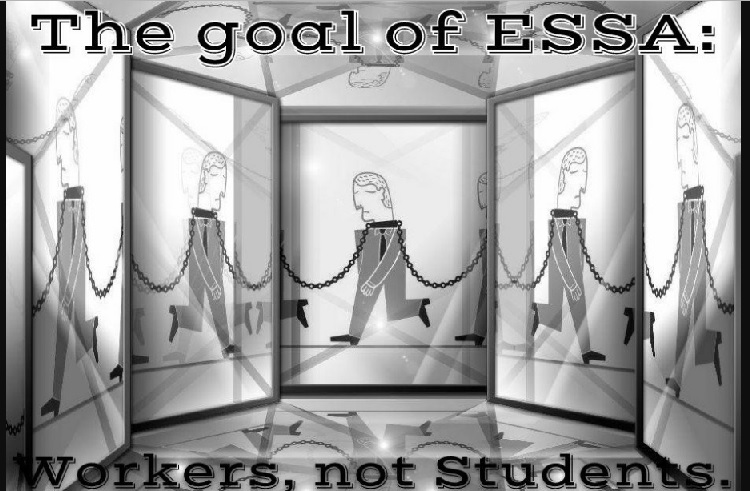 Here's a timeline BEFORE I show you some of the latest information. The timeline will help you better 'connect the dots'.
****************************************************************************
A Timeline:

If you'd like to see the 'sales pitch' from 2014, where CTE was being pumped up by Congress and the CCSS Machine (it's the featured shot for this article), here it is in full form:

2014: Where the 'career clusters' and 'career readiness' supporters and their alignment to Common Core were beginning to surface.
2014: The 'skills gap' fallacy begins (so to speak.)
Important note: WIOA (Workforce Innovation and Opportunity Act) was made into law in 2014. It specifically tied work/labor to education.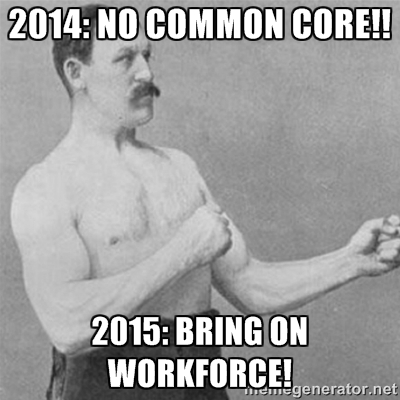 ***********************************
2015: The 'labor reform' (aligning education to jobs) hits the HEA (Higher Education Act of 2008).
2015: This duo of articles ties STEM (Science, Technology, Engineering, and, Math) to the WIOA and HEA. As we know STEM is a tool of the United Nations to create global workforces.
(*Note: in 2010, the Obama Administration inserted STEM into education about the same time CCSS rolled into the classrooms. The point? A UN (via the NSF, National Science Foundation) directive: "STEM education for STEM people to have STEM jobs to create a STEM economy for greater global good.")
2015: The career based high schools begin popping up. Dangerous CCSS Machine groups push them out nationally.
2015: This duo gives you a look at the career 'reassignments' for adults. The workforce alignment isn't simply for pre-K to 12th grade, Warriors: Even senior citizens are expected to be aligned!
Important note: ESSA was passed and signed into law by the end of 2015.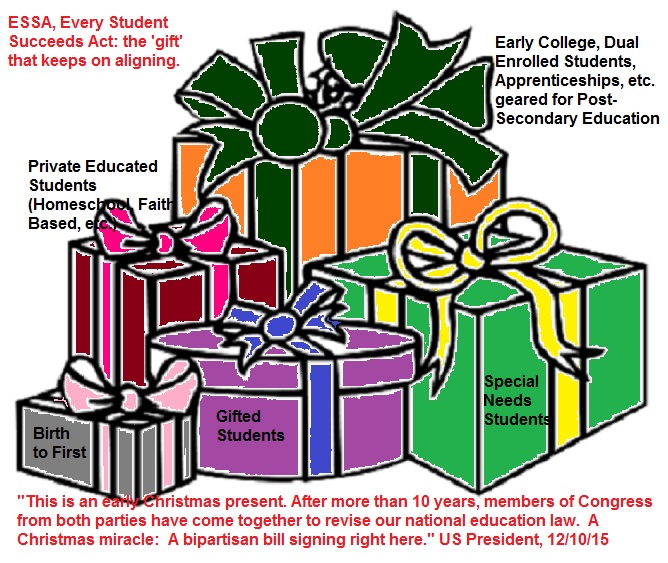 *******************************
2016:
By August of 2016, WIOA was well in place, HEA was being discussed to be re-written, and ESSA was just getting off the ground, right? A look back at the truth.
2016: Before Rep. Kline left Congress, he got together with Sen. Alexander one last time to make sure their united efforts would live on in combining academics and workforce.
2016: By the end of 2016, the CCSS Machine was trying to convince us all "CCSS was dead", that CCR, College and Career Readiness, was the 'new' kid on the scene and that our entire communities needed to get on the CCR/CTE 'bandwagon'.
Back in 2016, the 'sales pitch set-up' for America was part of the "Better Way" scheming plan from Congress. Workforce globalism courtesy of Rep. Kline, Sen. Alexander, Rep. Ryan, and more.
To see a more recent Congressional view of CTE from Congress and the CCSS Machine, which shows how well the "Better Way"  'sales pitch' has worked, look below.
(*Note: look for "Better Way" in the "We Have Answers" paragraph.)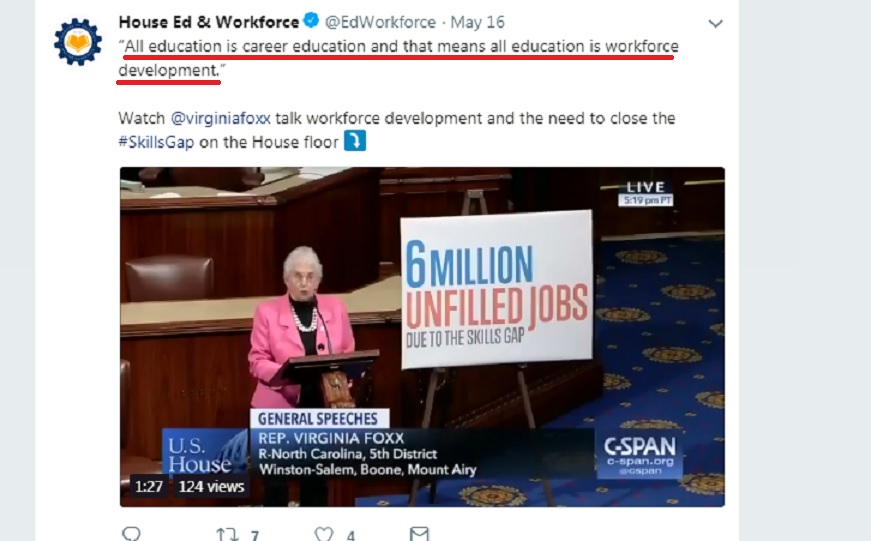 ******************************
2017: The quest for searching out the roots of the UN-directed shift in US education hit 'pay dirt' when I uncovered the workforce shifting evidence from Minnesota which dated back to the 1990s! Since, then EVERY State in America has this plan for workforce based learning.
2017: While bills like HR 2353 were getting much attention, here were just a few of the other workforce/education bills designed for complete alignment between education and jobs.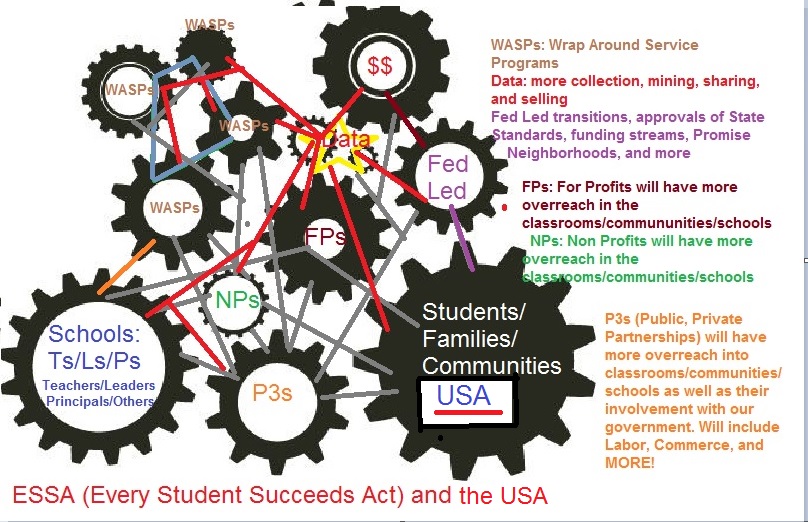 ********************************
How The Past Has Met The Present:

Warriors, in 2016, I gave you these words, "You CANNOT have CTE without Common Core! No matter who you are. The CCSS Machine has spent years embedding CCSS, CTE (and STEM: Science, Technology, Math, and, Science) into 2 and 4 year colleges, apprenticeships.."
These tentacles embrace EVERY school choice and every citizen.
HOW? The goal is 'cradle to grave' workforce. Warriors, we are seeing this play out in present day 2018!!
From the files, is a picture of (then) President-elect Trump's Plan. Warriors, this is happening right now!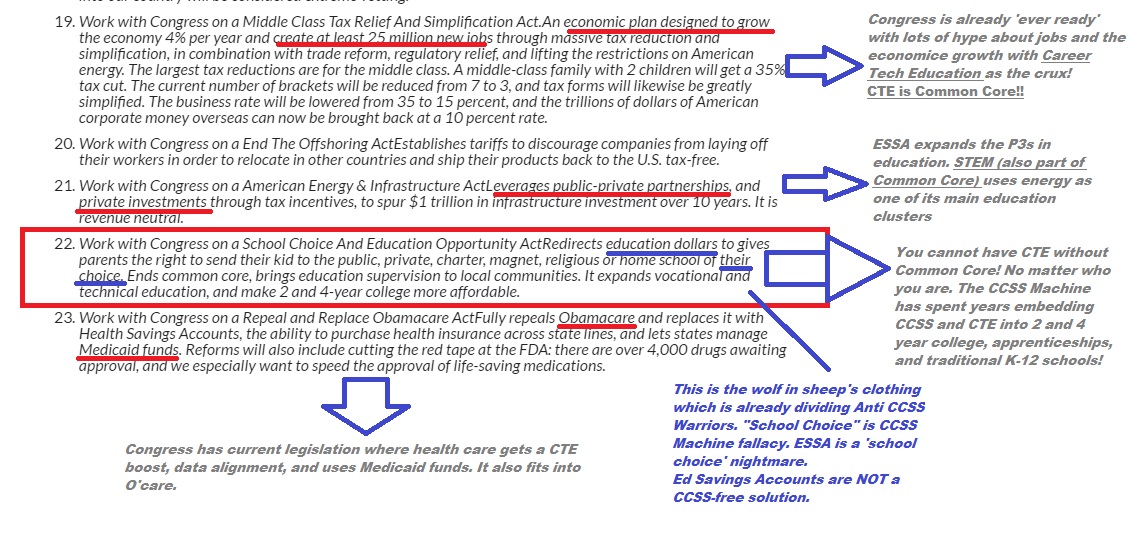 Warriors, the evidence that our President supports CTE is overwhelming. Regardless of how  you feel about him personally, the truth is right before us.
As much as it appears the President is turning his back on us, the Vice President is probably doing some sort of happy dance over the CTE expansion. Why would I say that? Again, evidence speaks, NOT my opinion!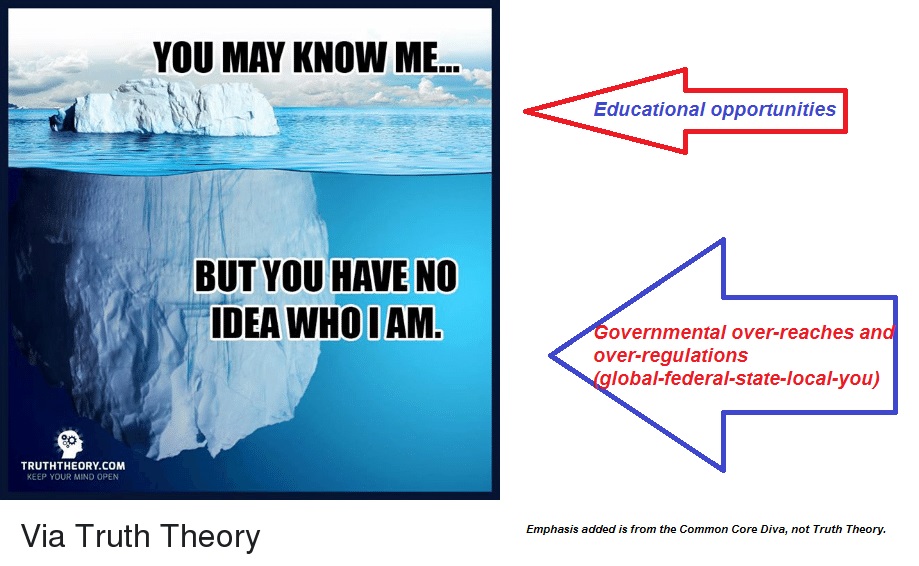 The horror and further shoving our nation done the 'river of the damned' is that by supporting and expanding CTE, the Trump Administration is supporting and expanding Common Core. Search the archives of campaign rhetoric and you'll find that supporting and expanding CC wasn't supposed to be what America got.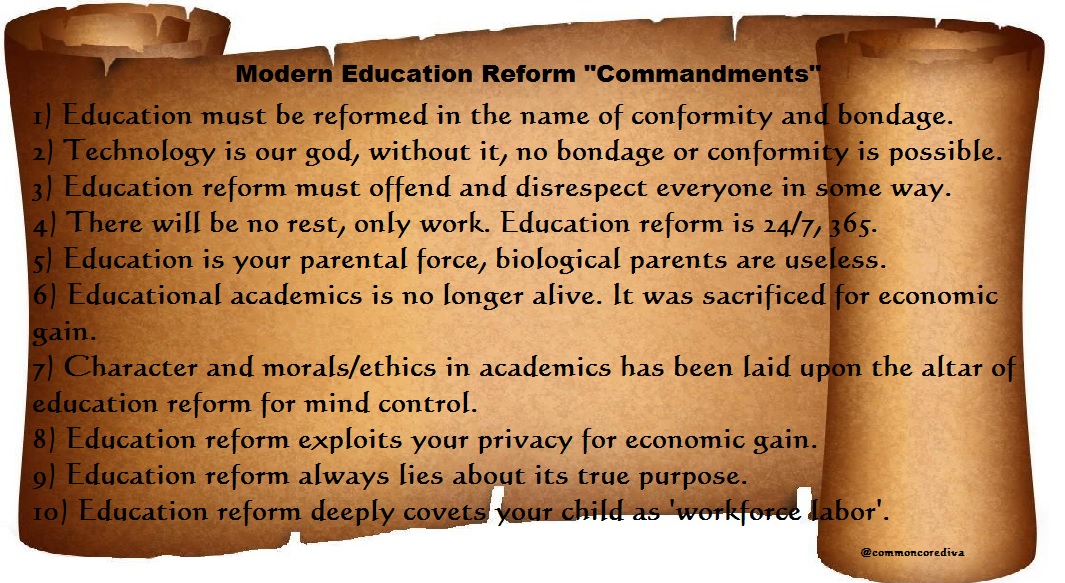 *********************************************
Coming To Fruition?!
In 2017, The U.S. Senate brought us a LADDER Act. This Bill was a huge 'set up' to globalism workforce AND socialism all in the same 'place'. How's that? My article detailed it well. The stark reality, is the most recent (July 19, 2018) Executive Order culled some of the same socialistic bullets from this LADDER! That EO is #13845.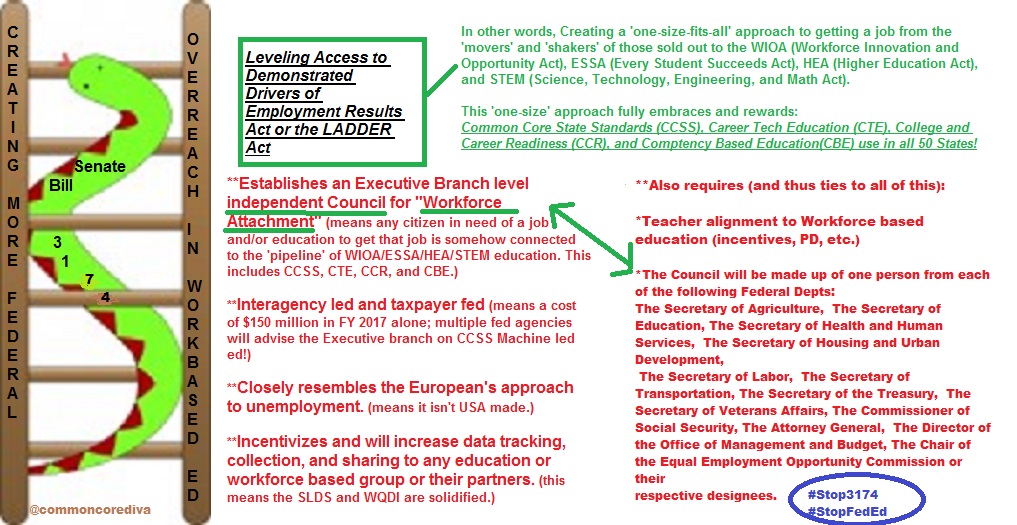 *********************************
Presidential Slams:
Warriors, note, President Trump is only doing what every other President before him has done:
Used his Administration to grease the wheels of progressiveness, socialism, and Marxism. The 'selling out' of our freedoms (via education) will also be furthered by future Presidents and their Administrations.
Thus proving what and WHY the CCSS Machine churns on..we are the cogs which they need to make the wheels turn!

(*Note: The Presidential 'greasiness' dates back to the 1930s (and further). See the trail.)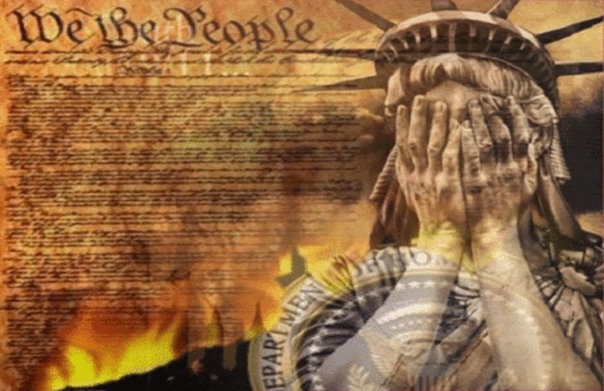 It hasn't mattered who was President or what political party they represent when it comes to ruining real American education. Just look at the timelines which come with all the bogus educratic laws, mandates, and programs: 5 years, 10 years, etc.
For example, HR2353's impact lasts until at least 2023.
*********************************************************************
Sure, all jobs and skills sound and look great, but our freedom is the intended price we'll be sacrificing. How? Along with all the CCSS Machine workforce based education (which is WHAT CTE is) comes predetermined career tracks, NOT free choice.


The shift being so championed is a UN (United Nations) led one, plain and simple. So, for everyone embracing the expansion of CTE and apprenticeships (which are another global tool in the CCSS Machine's toolbox), this visual is for you! This is WHAT you are truly embracing.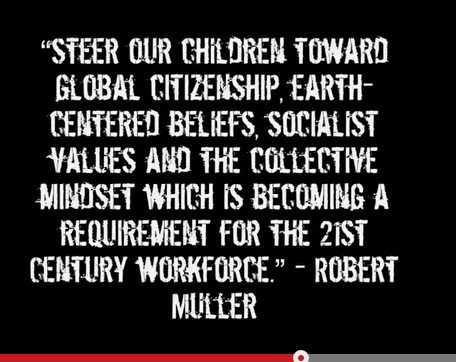 An Older Trump EO Meets A New One:
In 2017, President Trump signed EO (Executive Order) #13801. This Order expanded apprenticeships, especially at the beck and call of P3s (public private partnerships). Ivanka Trump, during her recent press appearances, kept referring to P-Tech (part of the globally led CCSS Machine's effort to redesign high schools into worker prep factories).
Warriors, remember: ESSA mandated an increase in P3s in K-12 education for ALL school choices!
Warriors, the Task Force which #13801 put into action has been meeting up until recently (2018). It's job was to come up with ways in which education and jobs were not only 'joined at the hip', but the only way to learn. (Remember, the ESSA mandate about ALL education being the same?!) The agenda from #13801 is being carried out in the new #13845 (see the link above).
Here are the 26 Agenda driven 'suggestions' from the #13801's Task Force: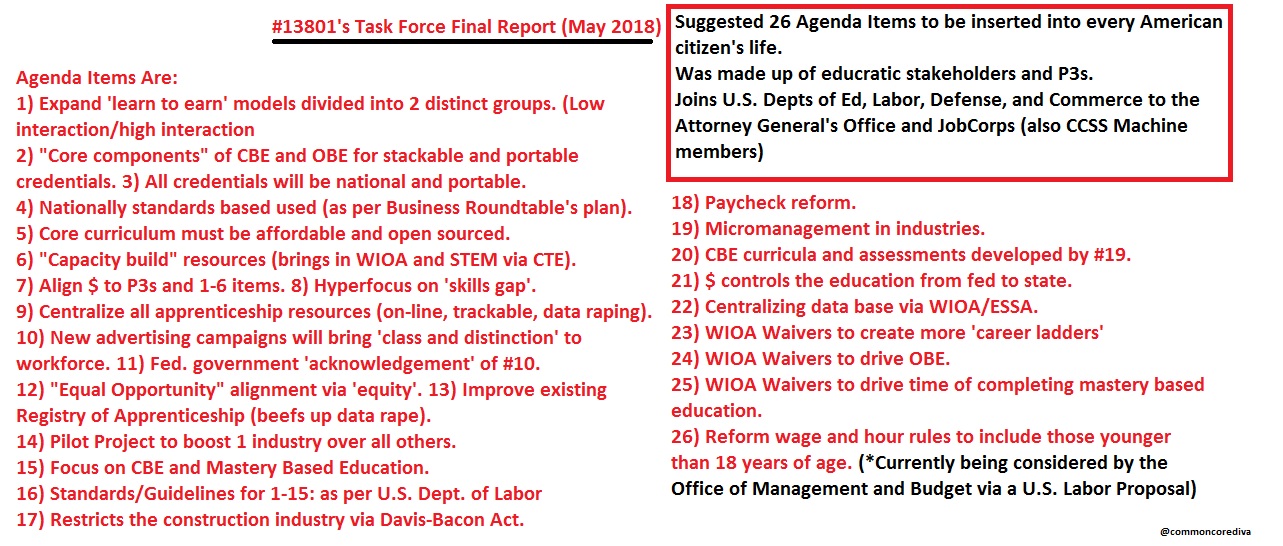 Warriors, #13845 establishes a nation-wide council to oversee and micro-manage not only education, but labor in all 50 States. Does anyone remember that BOTH these federal departments are unconstitutional and therefore ILLEGAL?! The proposed merging of these two as well as the relaxed child labor laws play directly into the expansion of CTE and the apprenticeships!
Lastly, #13845 brings about the shift of education, control, AND, continued loss of individual freedoms! It also brings all the actions of every other related law and program under the thumb of FEDERAL government, not LOCAL control! #13845 brings to life #13801! It INCREASES government!!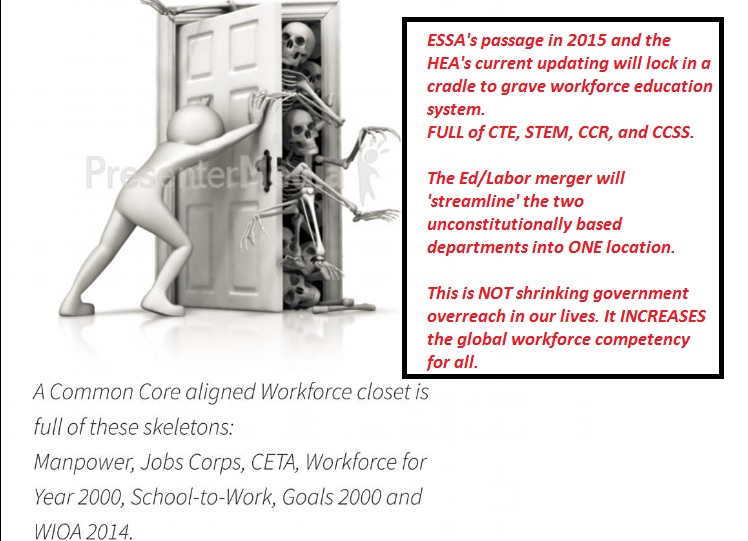 Closing:
Warriors, we must note that the CTE overload, the apprenticeship rush, and the alignment intended for every single citizen is NOT only for students, but the teachers, too.
It's for Johnny and Suzy, Johnny and Suzy's parents, and, Johnny and Suzy's grandparents. This shift is also for Johnny and Suzy's children. I've lots more information I need to share, so watch for an upcoming Facebook Live video from me. I'll be sure to give you all you need to know to resist this!