Just a quick note to all my Fellow anti Fed Ed Warriors:
There's been a health care urgency in my family since 1/13/17. The article I'd been working on will be published very soon, but I wanted you to know what happened.
What's really important is that the Betsy DeVos hearing is scheduled for 1/17/17 at 5 pm (EST) in Washington D.C. If you'd  like the link to listen in:
http://www.help.senate.gov/hearings/nomination-of-betsy-devos-to-serve-as-secretary-of-education
If you've been using the Truth in American Education article with all the U.S. Senate HELP Committee members Twitter accounts embedded, great! I've been using it everyday I could spare a few minutes to blast them with why DeVos is the wrong choice for our educational system. I've done in-depth research into her background and shown you much evidence as to why she's not qualified. So have countless others. No matter where in this War Vs the Core we all are, we do agree on this one item. "DeVos should NOT be the Ed Boss!" (My quote for 1/17 I'll use.)
Truth in American Ed's article: http://truthinamericaneducation.com/federalized-education/new-u-s-senate-education-committee-members/
My article: https://www.commoncorediva.com/2016/11/26/a-nation-scorned/
Warriors, we also need to blast these 20 Governors who have written Sen. Alexander in support of DeVos! Breibart News broke this story back on the 9th of January 2017. See: http://www.breitbart.com/big-government/2017/01/09/america-rising-20-governors-write-in-support-of-betsy-devos/
Here's the list of the sold out Governors: "The letter is signed by Governors Rick Snyder, Michigan; Robert Bentley, Alabama; Doug Ducey, Arizona; Asa Hutchinson, Arkansas; Edward Baza Calvo, Guam; Bruce Rauner, Illinois; Eric Holcomb, Indiana; Sam Brownback, Kansas; Paul LePage, Maine; Phil Bryant, Mississippi; Eric Greitens, Missouri; Pete Ricketts, Nebraska; Brian Sandoval, Nevada; Chris Christie, New Jersey; Susana Martinez, New Mexico; Ralph Torres, Northern Mariana Islands; Mary Fallin, Oklahoma; Bill Haslam, Tennessee; Greg Abbott, Texas; and Scott Walker, Wisconsin."
Below are some screen shots I've created to use on Twitter to encourage the Senate HELP members to vote 'no'. Use them if you like.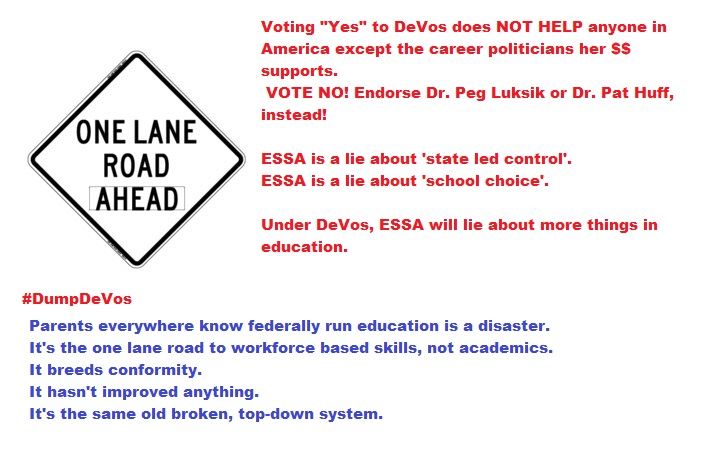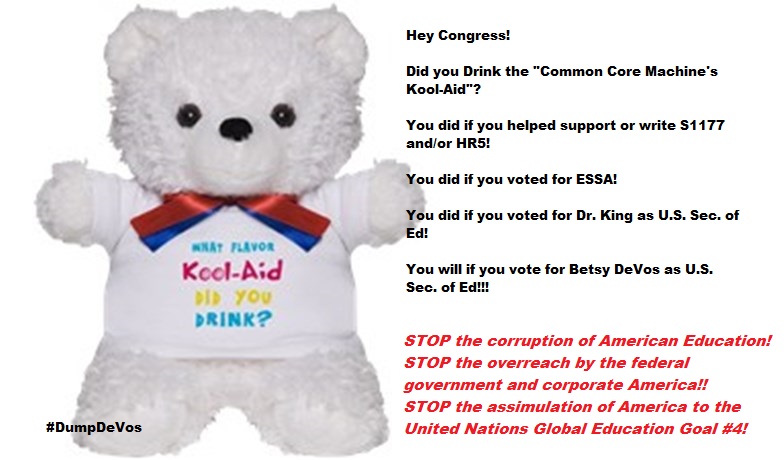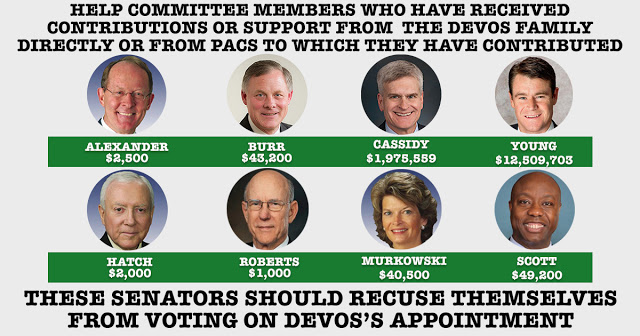 I'll be listening in at 5 pm January 17. Hope you will be there as well. I'll be on Twitter sharing what I can.